July, 30, 2012
7/30/12
12:00
PM ET

DAVIE, Fla. -- There is a growing debate in Miami. The topic: Is South Florida changing from a football town to a basketball town?
The perfect storm is taking place in Miami sports. Both the Dolphins and Miami Hurricanes' college football team cannot get their act together, while the Miami Heat just won an NBA championship. The Heat, led by LeBron James, had Miami abuzz in the spring and summer during their title run. Basketball dominated the airways in South Florida and captured fan interest in a way the Dolphins have not for a while.
Dolphins owner Stephen Ross recently touched on the subject.
"The Heat winning, I don't need to be motivated any more than I am, to be very honest with you," Ross said. "I think it's great for Miami that the Heat does win. But, at the same time, South Florida is about football and I think fans will feel a lot better when the Dolphins are winning in the Super Bowl."
Is Ross correct? Is Miami still a football town?
The Dolphins have struggled to sell out Sun Life Stadium, while the Heat do not have that problem. At the very least, the Dolphins must step up their game sooner than later.
June, 25, 2012
6/25/12
11:00
AM ET
A championship parade will take
place in downtown Miami
on Monday, courtesy of the Heat. LeBron James, Dwyane Wade, Chris Bosh and Co. will show off the NBA's Larry O'Brien Trophy for thousands of adoring Miami sports fans.

Is this a good or bad thing for the
Miami Dolphins
?
I think a case can be made for both sides. Let's examine.
Less pressure
A pro sports championship buys time for the rebuilding Dolphins. Miami fans cannot be spoiled to the point of expecting two championships in a calendar year. That rarely happens.
The Heat's championship should carry over to football season. Even if the Dolphins struggle, it probably won't overtake the buzz of Miami fans still riding high from a basketball championship. The Dolphins do not have to make a title run, because Miami has already crowned its champion for 2012.
More pressure
The Dolphins are competing for sports and entertainment dollars with the Heat, who have dominated the market since the arrival of James in 2010. Tickets to pro games aren't cheap, and it's clear South Florida residents prefer to spend their hard-earned dollars to see the Heat, which is a better and more entertaining product.
Also, Miami is very much an event town. It's a glitzy place where people want to see and be seen. American Airlines Arena, home of the Heat, currently is that place.
Sun Life Stadium has lacked
that kind of environment for a while. It doesn't help that the Dolphins are struggling.
Football has a longer history in South Florida, but at some point history starts to fade. It's premature to say Miami is now a basketball town thanks to the Heat. But each Heat championship certainly closes the football-basketball gap in Miami, especially when the Dolphins and Hurricanes aren't nearly as competitive.
The Heat have raised the bar for sports teams in Miami. The Dolphins, in particular, must get their act together. It's increasingly clear many Miami fans now are only willing to pay for a good product, regardless of history.
June, 4, 2012
6/04/12
5:30
PM ET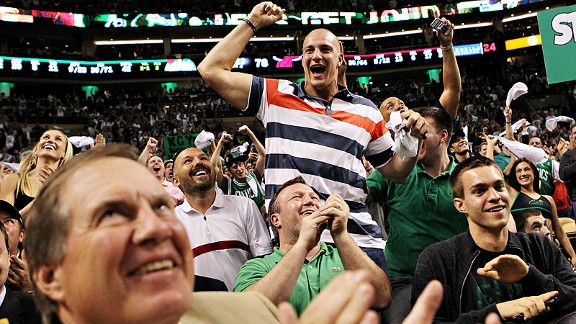 Jim Rogash/Getty ImagesBill Belichick, lower left, and Rob Gronkowski, center, took in the Celtics-Heat playoff game Sunday.
The
New England Patriots
were out in full force to support the Boston Celtics in their overtime victory over the Miami Heat in Game 4 of the Eastern Conference Finals.
And why not? This series involves two cities that share big rivalries in both the NBA and NFL (Patriots and Dolphins).
Here is a cool photo of Patriots Pro Bowl tight end
Rob Gronkowski
and head coach Bill Belichick from the game. It appears "Gronk" is being "Gronk" with his new haircut and Belichick is showing off a rare smile.
Provide your best "Caption this" summary of this photo in the comment section below.
April, 17, 2012
4/17/12
1:34
PM ET

After spending some time with
Tim Tebow
, NBA star Dwyane Wade is convinced the
New York Jets
' quarterback will thrive in the Big Apple.
Tebow and Wade attended Sunday's baseball game together between the Yankees and Angels in New York. Both players received jeers when shown on the big screen, despite wearing a pair of Yankees hats.
The two high-profile athletes talked throughout and shared some laughs. Wade later
told the New York Post
he can tell Tebow has what it takes to thrive in the high-pressure situation in New York.
"He's a winner," Wade told The Post. "You can sense it when you speak to him and you're around him. The confidence that he portrays as a person probably wears off on the guys in the locker room. That's why they were successful in Denver and that's why he'll be successful in his role with the Jets."
Tebow was acquired in an offseason trade with the
Denver Broncos
. He is the No. 2 quarterback behind embattled starter
Mark Sanchez
. Tebow will primarily run a Wildcat package. But Tebow also could push for the starting job if Sanchez struggles.