January, 21, 2011
1/21/11
11:30
AM ET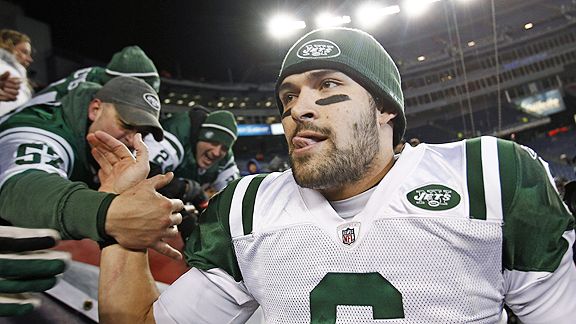 AP Photo/Winslow TownsonAlthough he's nearing the end of just his second pro season, Mark Sanchez has already tied the NFL record for road playoff victories.
FLORHAM PARK, N.J. -- On most throws,
Mark Sanchez
is unimpressive. His body language shows he's still learning how to carry himself as an NFL quarterback. Stats would imply his season ended weeks ago.
The reality, however, is that Sanchez has made it to the AFC Championship Game in each of his first two seasons with the
New York Jets
. He turned 24 years old in November, yet he already has tied the NFL record for road playoff victories.
Mediocre quarterbacks don't do that.
Clutch quarterbacks do.
"He's just one of those kids that has 'it,'" Jets backup quarterback
Mark Brunell
said, "and whatever 'it' may be is the ability to make the play that needs to be made -- clutch."
Sanchez's detractors don't see anything special, but among others, he's developing a reputation as one of those rare quarterbacks who excels in difficult spots. He can erase doubt Sunday by advancing to the Super Bowl with a victory over the
Pittsburgh Steelers
and one of the NFL's few established clutch quarterbacks,
Ben Roethlisberger
.
Like art, the concept of "clutch" is difficult to define, but you know it when you see it. Clutch performers execute when consequences escalate.
Joe Montana
was clutch. Michael Jordan was clutch. Tiger Woods, Reggie Jackson, Patrick Roy -- all clutch.
Sanchez isn't remotely near that echelon, but some expert observers claim he's getting there.
"It seems like it,"
Miami Dolphins
consultant and two-time Super Bowl champion coach Bill Parcells said. "He's in his embryonic stage. So time will tell, but he's certainly showing some of the characteristics that are vital to that type of player.
"Sometimes with these quarterbacks it's not always pretty. But it becomes efficient."
Sanchez's numbers don't shriek competence. He ranked 25th in passer rating. Only three qualifying passers averaged fewer yards per attempt. Two completed a lower percentage of throws.
But over Sanchez's past 20 games, including the playoffs, he has directed
five fourth-quarter comebacks and two more winning drives
when the score was tied in the fourth quarter. Two of those victories were back-to-back on the road and in sudden death -- something that never before had happened.
[+] Enlarge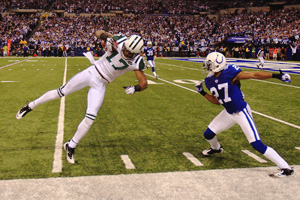 Jonathan Daniel/Getty ImagesSanchez's 18-yard strike to Braylon Edwards set up the game-winning field goal against the Colts in the wild-card round.
A pair of his fourth-quarter comebacks were postseason games, including the wild-card victory over the
Indianapolis Colts
two weeks ago. He took the Jets 40 yards on five plays, completing all three of his passes for 38 yards. He feathered a beautiful pass up the right sideline to
Braylon Edwards
at the Colts' 14-yard line, setting up
Nick Folk
's point-blank field goal as time expired.
Clutch? You betcha.
"Sanchez qualifies in the discussion for sure," noted quarterback guru Sam Wyche said. "Their record and the fact they have prevailed in this single-elimination tournament tells me he's had some clutch plays in 2010. There's no way a quarterback can be off much and get this far in the playoffs."
Wyche knows a little about clutch. He was the
San Francisco 49ers
' passing game coordinator for Montana's first four NFL seasons. Wyche later watched from the
Cincinnati Bengals
sideline when Montana orchestrated one of the most sublime clutch drives of all time to win Super Bowl XXIII.
Wyche explained clutch as a combination of attributes a quarterback must possess when the margin for error is skinniest. The quarterback must be poised, have the rules mastered, be mindful of field position, be skilled at clock management and be in command of his teammates.
"Clutch means making quicker decisions, generally unforgiving decisions," Wyche said. "You're at the end of the game. You don't have the second half to come back and rebound.
"In a time squeeze with two options -- throw the ball away or try to get it into a tight hole -- who makes the right decision?"
Another clutch quality is raising the performance level when it's essential.
Sanchez's 2010 regular-season stats were ordinary, and in many cases below average. He completed 54.8 percent of his throws, averaged 6.6 yards per attempt and tossed 17 touchdowns with 13 interceptions. His passer rating was 75.3, lower than
Chad Henne
's. The Dolphins benched Henne twice because of lackluster play.
A look at Sanchez's effectiveness in key situations indicates an even shakier quarterback. Among those who threw at least 10 times in the regular season, ESPN Stats & Information showed, Sanchez's passer rating was 48th in the fourth quarter and overtime, 38th on third down and 27th in the red zone.
But in Sanchez's five career playoff games, he has completed 60.5 percent of his throws, is averaging 7.4 yards per attempt and has seven touchdowns with three interceptions.
His 92.2 career postseason passer rating -- accumulated entirely on the road -- is 22.0 points higher than his regular-season rating.
Jets head coach Rex Ryan said that when it comes to being clutch "you either have it or you don't" and that Sanchez probably had it as a kid, regardless of the sport he tried "because the great ones, the competitors, find ways to win, and I think Mark is that kind of guy."
Back in November, with the Jets on a death-defying win streak, Ryan was asked about Sanchez's success. The Jets notched consecutive overtime road victories and a miracle against the
Houston Texans
at the Meadowlands, where Sanchez drove the Jets 72 yards for the winning touchdown in just 45 seconds.
Sanchez delivered a dazzling 42-yard strike to Edwards
along the right sideline and a perfect 6-yard toss to
Santonio Holmes
in the left corner of the end zone one play later.
[+] Enlarge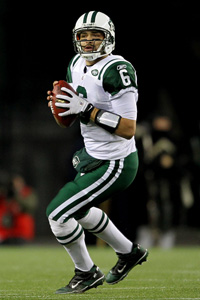 Jim Rogash/Getty ImagesMark Sanchez's 92.2 career postseason passer rating is 22.0 points higher than his regular-season rating.
"It doesn't get too big for him," Ryan said a few days later. "The stage here, he plays on this stage every week and he can handle it, where a lot of guys can't. A lot of guys can be great quarterbacks, but on this stage, not so fast."
The Steelers have one of those quarterbacks, too.
Roethlisberger owns two Super Bowl rings and has delivered
19 fourth-quarter comebacks and 25 winning drives
over his career, according to ProFootballReference.com data. Three of them happened in the postseason, including that famous dart to a toe-dragging Holmes in Super Bowl XLIII.
Wyche compared Roethlisberger to Montana, whom the
NFL Network named the No. 1 clutch quarterback of all time
.
"This guy has the same kind of good fortune in the game," Wyche said. "He seems to zig when he's supposed to zig and doesn't zag. He seems to be able to throw the ball away or maybe get a great run out of his running back, and the players around him perform because they have the confidence that he's going to perform.
"He's just got that quality. It's a charisma thing, and you don't bet against it very often."
Sanchez already has beaten Roethlisberger head-to-head at Heinz Field this year. Roethlisberger posted better passing numbers, but Sanchez ran a fourth-down bootleg 7 yards for a touchdown.
No matter the outcome Sunday night, Sanchez should be considered one of the NFL's future stars. A 24-year-old doesn't advance this far twice in a row by accident.
"He's not mentioned in the same sentences as
Peyton Manning
or
Tom Brady
," Brunell said. "He doesn't have those numbers yet. He doesn't have a Super Bowl ring. But all indications are that he's going to be an elite quarterback someday, who will have those numbers and be mentioned with all those top guys like
Drew Brees
.
"He'll be there. For a guy in only his second year, it's pretty dang impressive what he's accomplished."
July, 2, 2010
7/02/10
5:08
PM ET
Tom Brady
rarely had been more surgical. To the
Jacksonville Jaguars
he looked like Kevorkian.
With the AFC East championship there for the clinching, Brady completed 23 of 26 passes for 267 yards and four touchdowns in a runaway
New England Patriots
victory in Week 16 last year.
[+] Enlarge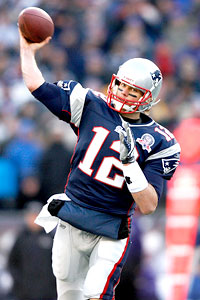 Elsa/Getty ImagesTom Brady still looks to one of his first coaches for guidance.
One of Brady's three incompletions was dropped, another purposely thrown out of bounds. His 149.0 passer rating was the third-highest of his 147-game career behind two games from his record-setting 2007 campaign.
A face in the crowd that chilly, late December afternoon was Tom Martinez. He might not have been grinning as widely as those around him, but nobody could come close to matching his feeling of satisfaction.
"Other than maybe his parents, people don't know what I do," Martinez said of his relationship with Brady. "But he knows."
A week before Brady scalpeled the Jaguars, he summoned Martinez cross-continent from Northern California to Foxborough, Mass. Brady felt battered and a little insecure. His delivery wasn't right. Injuries, sloppy mechanics, whatever it was ... He needed help.
Martinez has been Brady's personal throwing coach since before the three-time Super Bowl champion made his first junior varsity start. They spent the Christmas holiday tinkering in the Dana-Farber Field House. Brady was in a four-week funk that produced three passer ratings below 75.0 and a defeat in the exception.
"He had a broken finger and three broken ribs," Martinez said, ostensibly confirming reports Patriots coach Bill Belichick and Brady himself denied during the season. "He wasn't throwing well.
"It's one of those things where I can see right away what he's doing. He trusts me, so when I tweak him, it's right back to where he wants to be. Then, at that point, it probably is psychological."
Martinez has been working with Brady since 1992, when Tom Brady Sr. brought his 15-year-old son to the College of San Mateo coach for some pointers.
Martinez has been Brady's throwing whisperer ever since.
"What I feel good about is when guys trust me enough to do it, and it actually works," Martinez said. "There's a special relationship that's kind of unsaid between them and me.
"Guys don't say a lot to each other. It's just a masculine thing. On the other hand, you know what you did for them, and they know what you did for them. There's a respect."
Despite having groomed such a star pupil, Martinez hasn't pursued jobs as a quarterbacks coach in the NFL or at a major college. He interviewed for the
Oakland Raiders
opening a few years back but declined the opportunity because of health concerns.
Martinez still resides in Brady's hometown of San Mateo. He conducts youth camps like the one being
staged by JuniorRank Aug. 6
in San Diego for elite sixth- to ninth-graders and works with NFL quarterbacks who seek him out.
He worked with
JaMarcus Russell
before the Raiders drafted the Louisiana State rocket-launcher first overall in 2007. The Raiders released Russell this spring.
Russell has requested Martinez coach him up again
in hopes of getting another shot.
He's tutoring Brady this weekend in the Los Angeles area. They've been meeting once a month throughout the offseason. They're often joined by Patriots receiver
Wes Welker
, who is rehabilitating from major knee surgery with the same specialist who helped Brady come back from his.
The Patriots, of course, have their own quarterbacks coach. Bill O'Brien is a respected member of Belichick's staff. Josh McDaniels was their quarterbacks coach before O'Brien.
So why does Brady still need Martinez after all these years? Martinez explained discussing flaws with a future Hall of Famer's mechanics can be a dicey proposition.
"When a guy gets that good like Brady, the quarterback coach is intimidated because he's not as good as the player," Martinez said. "So they hesitate to say things. Therefore, the player gets sloppy.
"Mechanics should be coached on a daily basis, and I don't know that it is. It's like Tiger Woods' golf swing or Michael Jordan's free throws."
Martinez declines to render opinions on how much Brady's reattached knee impacted last season or whether its stability messed with his confidence. Martinez prefers to concentrate on mechanics alone. He reasoned it doesn't matter why they're off, only that they are.
He will remain on call as long as Brady remains a driven perfectionist.
"He understands what it takes to get to Super Bowls," Martinez said. "A lot of guys don't, so they'll minimize preparation because it might be inconvenient. Where with him, he knows if he's off, that's the difference of whether they keep going or not.
"If he's off a little bit, he's going to be way off. The margin of error is so slim at that level that if you miss by a foot, you're off. Most guys accept that. He doesn't."
August, 7, 2009
8/07/09
2:00
PM ET
| | |
| --- | --- |
| | |
| | George Gojkovich/Getty Images |
| | After amassing 200 sacks over a 19-year NFL career, Bruce Smith will enter the Pro Football Hall of Fame on Saturday . |
If the speech Bruce Smith gave the afternoon the Buffalo Bills added his name to their Wall of Fame is any indication, then the legendary defensive end will proclaim his greatness again Saturday night, when he's inducted into the Pro Football Hall of Fame.
Smith hasn't been shy about
declaring himself the greatest
pass-rusher who ever lived.
2009 Hall of Fame Induction Coverage
Saturday in Canton, Ohio, six men will be hailed as the latest members of the Pro Football Hall of Fame. Bruce Smith, Rod Woodson, Ralph Wilson, Randall McDaniel, and posthumous honorees Derrick Thomas and Bob Hayes form the Class of 2009. The ceremonies will air live, beginning at 7 p.m. ET, on ESPN and ESPNHD. Follow ESPN.com's coverage.
" Our future HOF nominees: Story | Podcast


" Chat: Hall of Fame inductee Rod Woodson

" Chat: Hall of Famer Warren Moon

" Wickersham: Wilson valued for impact
" Scouts Inc.: Top 5 CBs in the NFL today

" Walker: Is Rod Woodson the best CB ever?
" Graham: Bruce Smith, Sackmaster
" Blogs: More Hall of Fame coverage
Funny thing is, Smith's temerity is unnecessary. His numbers speak for themselves.
Smith is a first-ballot Hall of Famer. Since the NFL made sacks an official stat in 1982, no other player has amassed more sacks than Smith's 200. He played 19 years, his final four with the Washington Redskins. He recorded double-digit sacks a record 13 seasons. He played in four Super Bowls. He twice was the Associated Press' Defensive Player of the Year. He was a first-team All-Pro eight times, a Pro Bowler 11 times. The NFL selected him for two all-decade teams.
Not a bad career if you're into that kind of stuff.
Smith has had his problems off the field. After two previous drunken-driving arrests that didn't lead to convictions, he was found guilty of it last month in Virginia Beach, an incident that has tempered the Hall of Fame merriment somewhat. Virginia Beach canceled festivities to honor Smith.
But Smith will take center stage in Canton, where he will assume his place among the all-time greats. He's the greatest No. 1 overall draft pick who didn't play quarterback.
And he'd probably tell you so.
Rather than speak to Smith about how remarkable he was, it's more insightful to speak with those who competed with him and against him.
Tony Paige, Virginia Tech teammate and former New York Jets running back:
"When he visited Virginia Tech, I was the guy that hosted him and showed him around the campus. He was one of the top recruits in the country. We played basketball that weekend, and this defensive lineman was dunking. He was 6-4, about 285 pounds coming out of high school, a phenomenal athlete. I think he a ran a 4.6 [in the 40-yard dash]. Any time you get a 6-foot-4, 285-pound man running the court like that, you knew right away this guy was going to be special."
Chris Spielman, former Detroit Lions and Bills linebacker:
"There've been two players in my career that every single week they did something that made me rewind the film 10 times. That would be Barry Sanders and Bruce Smith."
Jim McNally, former NFL offensive line coach and Buffalo native:
"He was so slippery. He could make himself small by dipping and turning and lowering his hips. He didn't stand up and come at you like a lot of guys. He was slithery."
Paige:
"He pushed guys around him because he practiced hard, played hard, studied the game. That's why he's going into the Hall of Fame. He wasn't just a gifted athlete. He always wanted to be better. He had that something on the inside you can't teach, a passion to succeed on every snap."
Jim Ritcher, former Bills left guard:
"When he arrived, he had so much talent. I've never seen a guy so quick off the ball. Recently, I was just showing one of my sons how quick Bruce was. I was showing him film on Bruce. Just as fast as that ball was coming back, that's how fast Bruce was coming off the ball. It was amazing."
Richmond Webb, former Miami Dolphins left tackle:
"He took no plays off. It was going to be 60 minutes of hell."
Steve Tasker, former Bills special-teamer:
"There was no question there were times he was not only the best defensive end, but maybe the best player at any position in the NFL."
Spielman:
"He'd do something that would make you say 'Come on now. Seriously. You're not doing that to an NFL player, are you?' He was something."
Merlin Olsen, Hall of Fame defensive tackle:
"Bruce was very, very quick coming off the line and coming up field far enough to force that offensive tackle to move violently to try to stay with him. Once you get those tackles moving, you have the chance to do all kinds of things with him. Not only did he have incredible quickness, he was so powerful. He could bull rush you if he wanted to. The offensive tackle knew that was possible
, so he couldn't get on his heels."
Ken O'Brien, former Jets quarterback:
"He had everything going on. He was big. He could power a guy. He could head slap him. He could swim move him. He could spin. He did all these things naturally. You have to figure however many sacks he finished with, two-third of those he was double- and triple-teamed."
Ritcher:
"Every day I had to practice against him was an eye-opener. Being able to study Bruce every day, I can imagine it would be a nightmare for other teams. I practiced against him so much. It was an all-day sucker going against Bruce."
O'Brien:
"We always had a guy that would come up with some injury that week."
Tasker:
"He'd get a shot on the quarterback that would cripple a horse."
Ritcher:
"That had to be terrifying for a quarterback, to know that no matter who they had at tackle -- and he could be a great tackle -- Bruce was going to get to you at some point. That had to be pretty terrifying to know, going into the game, this guy on your blind side is coming at you."
O'Brien:
"If you wanted to block him with one guy, there really was no way. He was going to expose that. It took a while for some people to pick up on it, that traditional methods of blocking weren't going to work."
McNally:
"Whoever was facing him the next game was nervous all week. They double-teamed him with guards, with running backs. Back when you could still get away with it, receivers were chipping him."
Tasker:
"We just got beat in a playoff game in Cleveland, the game when Ronnie Harmon dropped the ball. We were in the locker room, sitting there after a shootout, Bernie Kosar versus Jim Kelly, both teams over 30 points and we dropped a touchdown. So the score should have been even higher. He was getting dressed in his suit, kind of all by himself. I was standing near him. Now, we'd been around the block. We'd been the Bickering Bills. There'd been turmoil on the club, the last three or four games being the turning point for our organization. But Bruce said out loud to nobody in particular, 'You know it was the defense that lost it today. We let them score 40 points. That was our fault.' He was bumming out that the defense had done that, not that we dropped a touchdown. I'll never forget that. He took that loss hard. He also took some responsibility on his own shoulders. He knew there was responsibility that went along with being a great player."
Bill Belichick, New England Patriots coach and former New York Giants defensive coordinator:
"You had to game plan for Bruce Smith like you had to game plan for [Lawrence] Taylor. ... He was slick. A lot of times you look at the play and you say, 'OK, it looks like we got him blocked.' And then he gets off it somehow and is pressuring the quarterback. Similar to Taylor, even when they got blocked, they didn't stay blocked."
Olsen:
"In terms of having to set a game plan, he's exactly the same kind of person as Lawrence Taylor. If you didn't account for him, you were going to have trouble."
Tasker:
"I used to chuckle because he'd be in great shape and come into training camp and be injured and not practice. There was nothing wrong with him. He just didn't like training camp. They were built for veteran players and still Bruce would take the first three weeks off. That doesn't mean he wasn't ready."
Ritcher:
"He was named defensive player of the year a number of times, and when he wouldn't show for camp, we'd smile and know that was Bruce going for his money. Your career is so short. Bruce played 19 years, which is incredibly long, but most guys had to get the money while they could get it, and he was at the top of his game."
Spielman:
"He and [head coach] Marv Levy had an understanding. They were a perfect match. Marv had a saying, 'I don't need you to beat the Bills.' Bruce did what he had to do to get ready. He came to play."
Webb:
"You knew when you went to Buffalo you weren't going to hear snap counts. The thing that really stood out was I knew that he had to be one of the favorite players. If the game was tight and they would go to a TV timeout, when they would come back and blow whistle, he would make this quick motion with his hand, and the noise in the stadium was deafening. I was always amazed he could make that one little hand gesture and the crowd was right with him. That's not right."
O'Brien:
"He had a great sense of humor. He and Tony Paige would joke around. Therefore, Bruce Smith and I would joke around on the field. He was funny. I don't know if you're old enough to remember 'The Gong Show.' He used to have a little dance he used to do. He did it the week before and down at the line of scrimmage, he came up to me and said, 'Gene Gene, huh?' "
Tasker:
"We used to laugh at him. He'd say it when he was playing because, man, the guy would back it up. We go into New York on a Monday night. He gets four sacks and a forced fumble and just tears the New York Jets up. In the game, he unveiled this spin move nobody had seen before. I know there were a lot of left tackles watching the game that night and spitting their coffee out. 'What are you supposed to do with that?!' There's no defense for that. You have to expect that move to stop it. It was unbelievable. It was like a pitcher throwing a perfect game and then, all of a sudden, he throws a pitch he's never thrown in the middle of it. It was like Nolan Ryan throwing knuckleballs for strikes."
O'Brien:
"We tried to run some sort of reverse to maybe get him to bite with a pass rush. It was a quarterback's dream, where I get to block him and take him out. The play got stopped while I'm running outside toward him. He started laughing and said, 'Kenny, what are you doing to do? This reverse isn't going to work.' He would tell you about each formation and dissect the play as it went on. I always thought he would make an excellent coach if he ever had the inclination."
Webb:
"Bruce was probably known more as a pass-rusher and not so much against the run, but I think what he did as time went on, he worked on another area of his game. If they said he couldn't do it, he went out and proved them wrong. I liken it to Michael Jordan. When he came into the NBA, it was offense, dunks, blowing people's minds away as an entertainer. Then he started working on his defense and became defensive MVP, and as he became older he worked on that fadeaway shot. Just like Jordan, Bruce was a great athlete and a student of the game."
Spielman:
"I played with Bruce at the tail end of his career. What I remember is how he reshaped his body to go from 300-plus pounds to the point when I played with him in Buffalo and he was about 270. That was amazing, and it probably extended his career to be a dominant player at a much lighter weight."
Jay Fielder, former Dolphins quarterback:
"By the time I was playing it was little more toward the end of Bruce's career with the Redskins. He still was a great player. He wasn't defensive-player-of-the-year material like he was in the early or mid-'90s, but he was a guy you still had to keep an eye on."
Tasker:
"When he said that he's the best defensive end ever in the National Football League, I agree. In the time that we played, and I remember thinking this while we were playing, there were times he was the best player at any position in the league."