April, 22, 2014
Apr 22
11:45
AM ET
The
Buffalo Bills
are hosting Texas A&M wide receiver
Mike Evans
on a pre-draft visit Tuesday.
Evans is projected to be selected early in the first round of next month's draft. He's the second top receiver prospect to visit the Bills' facility, following LSU's
Odell Beckham Jr.
The Bills are also hosting USC offensive lineman
Marcus Martin
and Georgia Southern running back
Jerick McKinnon
on pre-draft visits Tuesday.
The team has now used 23 of its 30 allowed visits.
February, 25, 2014
Feb 25
6:00
AM ET
The NFL scouting combine wraps up Tuesday with on-field workouts for the defensive backs. We'll take this opportunity to put a bow on the combine, recapping it from a
New York Jets
' perspective:

1. Good hands people:
This is one of those years where the Jets' top need marries with the strength of the draft. Everybody knows they want to rebuild at wide receiver, and the combine reinforced the widespread belief that receiver is perhaps the deepest position. Nearly all of the top wideouts performed well in drills, with
Mike Evans
(Texas A&M),
Brandin Cooks
(Oregon State),
Odell Beckham Jr.
(LSU) and
Jordan Matthews
(Vanderbilt) helping themselves the most. The Jets should be able to get a quality wideout with the 18th pick if they opt to go that route. The abundance of receivers could impact how they approach free agency.
2. Thin at tight end
: The Jets may have to think twice about filling their tight-end need in the draft. North Carolina's
Eric Ebron
solidified his standing as the top tight end with a strong performance, but some of the other top prospects were limited by injuries. For players such as
Jace Amaro
(Texas Tech) and
Austin Seferian-Jenkins
(Washington), it means their pro days will carry greater importance. It's not a terribly deep position anyway.
3. Sanchez saga
: The Jets met with
Mark Sanchez
's reps to discuss the quarterback's future. Nothing was settled, but Sanchez will be rehabbing in New Jersey this week, giving the Jets a chance to monitor his surgically-repaired throwing shoulder. One source said the chances of Sanchez returning are about 20 to 30 percent. Obviously, he'd have to accept a large pay cut. Look for this to play out until March 25, when a $2 million roster bonus is due -- or until they find his replacement.
4. Higher salary cap
: The Jets aren't facing a cap squeeze, but it's always nice to have extra flexibility. The combine began with one report projecting the cap would increase to $130 million, up from $123 million last year. Then came another report saying it would be $132 million. The final number will be announced in the coming days. Either way, the Jets will have the ability to be aggressive in free agency. It'll be a departure from last year, when they were forced to bargain-shop.
5. Meet and greet
: Teams were permitted to conduct 60 formal interviews at the combine. The Jets met with many of the top players, including Central Florida quarterback
Blake Bortles
, but don't put too much stock in these sitdowns. It's called due diligence. They will conduct hundreds of player interviews by draft day. In some cases, the combine interview is just a starting point. Example: The Jets weren't blown away by
Geno Smith
last year, but they scheduled a follow-up on the eve of his pro day. That's when they became more comfortable with him.
February, 23, 2014
Feb 23
8:15
PM ET
If your favorite team needs a wide receiver, like the
New York Jets
do, you've come to the right draft.
Most talent evaluators are calling this an exceptionally deep draft for receivers, a notion that was reinforced Sunday at the NFL scouting combine. It was speed day in Indianapolis -- the receivers, running backs and quarterbacks ran their 40s -- and the Jets had to walk away smiling at their scouting reports. If they can't find a quality wideout in the first or second round, something is wrong.
[+] Enlarge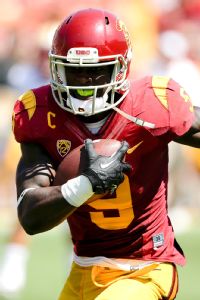 AP Photo/Chris CarlsonMarqise Lee's 4.52 40 time could mean he'll still be around when the Jets draft in the first round.
Clemson's
Sammy Watkins
solidified his status as the top receiver, running an official 4.43 in the 40 -- a time that surprised no one. Texas A & M's
Mike Evans
, a shade under 6-5, helped himself with a 4.53. With so many receiver-needy teams in the top half of the first round, it would be a surprise if Watkins (a possible top-5 pick) and Evans last for the Jets at No. 18.
The speculation will shift to USC's
Marqise Lee
, who did himself no favors by running a 4.52. A shade under 6-0, weighing 192 pounds, Lee was expected to run a sub-4.5. He'll get another shot at his pro day and private workouts. If he stays in the 4.5s, it could work to the Jets' benefit, perhaps ensuring he'd be there at 18. Everybody knows he can make plays -- he was the best receiver in the country in 2012 -- but teams obsess over 40 times.
Speed isn't always an accurate indicator of performance. The NFL Network threw out a cool stat (I hope I remember it correctly), noting that of the 15 receivers with the fastest 40 times in recent combines, only one (Mike Wallace) cracked the 1,000-yard mark in a season.
That said, a great 40 time is worth noting if there's on-the-field production to back it up. Such is the case with Vanderbilt's
Jordan Matthews
, who raised his stock with an impressive combine. Not known for his speed, he ran a 4.46. The dude is 6-3 with the biggest hands (10.3 inches) of any receiver at the combine. Oh, and he's the all-time leading receiver in the SEC. What's not to like? He probably worked his way into the first round. I'm told the Jets were very impressed with him in their private interview.
Other notable 40s: Oregon State's
Brandin Cooks
is short at 5-9 3/4, but he ran 4.33, the fastest time for a receiver. LSU's
Odell Beckham Jr.
will draw first-round consideration after posting a 4.43. He also dazzled in various agility drills.
In case you're wondering, the fastest guy in Indianapolis Sunday was Kent State running back
Dri Archer
, who burned a 4.26 -- narrowly missing Chris Johnson's combine record (4.24).