December, 7, 2011
12/07/11
1:12
PM ET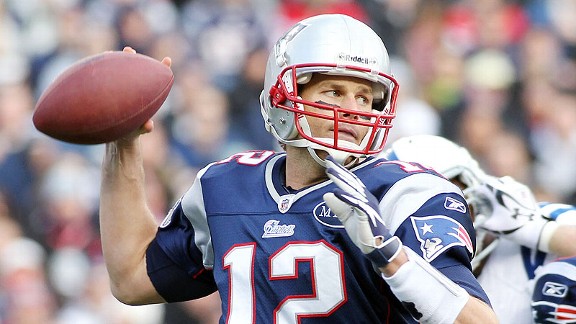 Stew Milne/US PresswireNew England quarterback Tom Brady has thrown 10 touchdown passes and zero interceptions during the Patriots' four-game winning streak.
No. 12 deserves the NFL's Most Valuable Player award this season. But it's not who you think.
Contrary to popular belief,
Green Bay Packers
quarterback
Aaron Rodgers
is not this year's MVP. That distinction, for the second straight year, should go to
New England Patriots
quarterback
Tom Brady
.
Now, before you roll your eyes, open your mind and hear me out.
Brady won the award last year during New England's 14-2 run, and he deserves to be just the second back-to-back MVP since 1998. This is not to discredit Rodgers, who is having a tremendous season. But sometimes numbers and hype get in the way of what the Most Valuable Player award, by definition, actually means.
The award is meant for the player who is the
most important to their team
. Let that sink in, because this is a key element to this debate.
Rodgers has been lights out and putting up great numbers for undefeated Green Bay (12-0). But what happens if you take Rodgers off the Packers? They won't be 16-0, but the defending Super Bowl champs would still keep the ball rolling with highly touted backup
Matt Flynn
and make it to the playoffs.
Green Bay has enough stars on offense (
Greg Jennings
,
Jermichael Finley
,
Donald Driver
,
Jordy Nelson
) and big-time playmakers on defense (
Clay Matthews
,
Charles Woodson
,
B.J. Raji
) to win plenty of games without Rodgers. I think Green Bay could even win the NFC North this year without Rodgers, considering the
Chicago Bears
(7-5) lost quarterback
Jay Cutler
, the
Detroit Lions
(7-5) are inconsistent and the
Minnesota Vikings
(2-10) stink.
In contrast, consider this: Where would the Patriots be without Brady?
With the NFL's worst-rated defense and no true superstars on the roster minus Brady, some believe New England would be similar to the
Indianapolis Colts
(0-12) this year without
Peyton Manning
. I'm not ready to go that far. But New England certainly would have a losing record.
Little-known backup
Brian Hoyer
or rookie quarterback
Ryan Mallett
have virtually no chance of getting this Patriots team to the playoffs. New England is too weak in other areas and couldn't afford poor play at quarterback.
And please do not point to what happened in 2008. That Patriots team had a top-10 defense and was much more balanced. Quarterback
Matt Cassel
is a former Pro Bowler who led the Patriots to 11 wins. Cassel was way more advanced and developed than Hoyer and Mallett.
The "Brady factor" in New England is clearly stronger than the "Rodgers factor" in Green Bay.
Without Brady, the Patriots would be challenging the
Buffalo Bills
(5-7) and
Miami Dolphins
(4-8) for third or fourth place in the AFC East this season. I'm sure
New York Jets
head coach Rex Ryan would be happy about that.
For those who want to focus only on the numbers, Brady's statistics are right on Rodgers' heels. In fact, Brady (3,916) has thrown for more yards than Rodgers (3,844) and is on a faster pace to eclipse
Dan Marino
's single-season passing record of 5,084 yards.
Also, Brady has thrown for 10 touchdowns and zero interceptions in the past month. Brady hasn't thrown a pick since Nov. 6. Rodgers has two interceptions the past three weeks.
The coach of the year award often doesn't go to the coach with the most victories. The award usually goes to the coach who overcomes the most hardship and does more with less. That is why
San Francisco 49ers
coach Jim Harbaugh will most likely get the nod this year over Green Bay counterpart Mike McCarthy.
Just like McCarthy probably will not win the coach of the year, Rodgers should not be the MVP this season. The cupboards are very full in Green Bay, and neither faced much hardship in their quest for an undefeated season and another Super Bowl title.
Brady is doing more with far less talent around him and is much more valuable to New England's success.
So forget that other guy wearing No. 12. Brady is this year's MVP.
November, 30, 2011
11/30/11
1:30
PM ET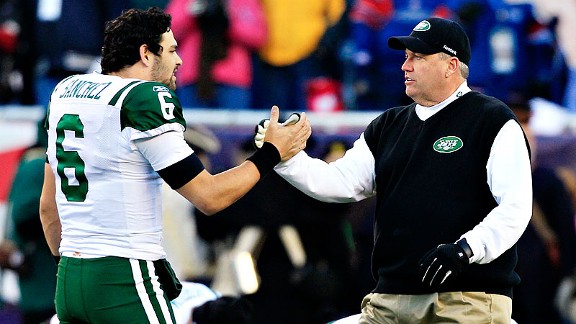 AP Photo/Charles KrupMark Sanchez and Rex Ryan need to be on the same page for the Jets to compete for a playoff berth.
Bill Belichick and
Tom Brady
. Mike McCarthy and
Aaron Rodgers
. Sean Payton and
Drew Brees
.
Rex Ryan and
Mark Sanchez
?
The tie between the head coach and his quarterback is paramount in the NFL. The Ryan-Sanchez tandem needs to grow together now if the
New York Jets
want to win a Super Bowl anytime soon.
Ryan and Sanchez are the two most important people in the Jets' organization. If one is failing, both will fail.
Ryan is doing his part. In his first two years as head coach, he's led the Jets to back-to-back AFC title games despite inconsistent play from his starting quarterback.
This was expected to be the year Sanchez, in his third season, made the necessary strides to take the pressure off his head coach and other areas of the team. Instead, Sanchez has been inconsistent, and the Jets are 6-5 with their playoff hopes hanging by a thread.
"I think until he wins the whole thing, he's going to be criticized just like I'm going to be criticized until we win it," Ryan said this week. "That's fine. It comes with the territory."
Ryan needs Sanchez. Sanchez needs Ryan. There's no way around it.
The Jets and Ryan hedged their bets on Sanchez in 2009 when New York traded up to the No. 5 overall pick and made Sanchez its franchise quarterback. Ryan, also in his first season, started Sanchez right away. Including playoffs, Sanchez has made 48 starts and the pair is 29-19 (.604 percentage) together. Sanchez missed one game in his rookie season.
By comparison, Belichick and Brady are 32-13 (.711), McCarthy and Rodgers are 36-11 (.766) and Payton and Brees are 35-11 (.761). The numbers don't seem too far off. But consider that Brady, Rodgers and Brees are the most valuable players for their respective teams. Sanchez, for the most part, has been along for the ride while experiencing growing pains.
Ryan and the Jets will have a hard time winning a Super Bowl unless Sanchez becomes capable of carrying the team.
"I just don't think he's close to being good enough," said Matt Williamson of Scouts Inc. "Every step of the way, the Jets had to do things in spite of their quarterback. It shows up all the time.
"But I think the best thing he does is play his best football when it matters most. That's shown in the playoffs, it's shown against the Patriots at times and it shows in the red zone. I think he has those qualities where he steps up and that's tremendous."
Jets fans are getting impatient. It was evident by their constant booing of Sanchez in last week's 28-24 victory over the
Buffalo Bills
at MetLife Stadium.
Sanchez started last week's game by completing just 8 of 20 passes for 66 yards in the first half. But he woke up later in the game with a clutch, fourth-quarter touchdown drive that
potentially saved New York's season
. Sanchez was 7-for-9 for 65 yards and a touchdown on New York's final drive.
Ryan gushed about Sanchez after the game, calling him "The Sanchise" and "a stud." He saw a glimpse of what Sanchez could be if he were more consistent.
But, as Williamson mentioned, erratic play and inconsistency are hurting Sanchez the most. He is ranked 30th in
Total Quarterback Rating
(38.6), which is an indication of the type of season Sanchez is having.
The only starting quarterbacks with a lower QBR are
Tim Tebow
(34.6),
Kevin Kolb
(33.1),
Sam Bradford
(29.5),
Curtis Painter
(23.4) and
Blaine Gabbert
(20.2). Players like
Tarvaris Jackson
(39.0),
Colt McCoy
(44.4) and
Rex Grossman
(44.8) are all having better seasons than Sanchez, according to Total QBR.
Sanchez recently admitted he's not playing his best. Sanchez also knows the Jets are a veteran team built to win now and needs him to produce.
"I feel good, physically and mentally," Sanchez told
ESPN Radio 1050
in New York on Tuesday. "I'm just so focused [because] I want this to go right, because I don't want to miss an opportunity like this, with this kind of talent and this kind of coaching.
"I'm usually -- 'bubbly' is not the word -- but I smile a lot more. We're short on time here, and there's no time to mess around or smile or even laugh, in my opinion."
Is Sanchez getting too much of the blame? To his credit, Sanchez has already set a career high in touchdowns (18) and is on pace to set new career highs in yards (2,513) and passer rating (80.9). Other areas of the team are failing, particularly on offense.
With the exception of last week, the offensive line has been terrible with run blocking and pass protection. Offensive coordinator Brian Schottenheimer probably is having his worst year calling plays. And Jets running backs
Shonn Greene
and
LaDainian Tomlinson
have disappeared for long stretches.
Leaks are springing up everywhere, but this is where franchise quarterbacks lift their teams. Brady, Rodgers and Brees all have kept their clubs in title contention despite injuries and weaknesses in other areas. At least Sanchez has New York's eighth-ranked defense on his sideline. That is a luxury Brady, Rodgers and Brees could only dream of.
"To say he's not going to be Aaron Rodgers is not to say he can't be successful," Williamson said. "But Sanchez has to be a complementary option, where they have the fantastic running game and the defense. He has to be
Matt Cassel
or
Kyle Orton
, and to me that's not good enough for him, especially with the draft pick the Jets used."
Sanchez still has five games remaining to write his story of the 2011 season. The Jets are in must-win mode. If Sanchez gets them into the playoffs and makes another run, most will forget his uneven regular season. Ryan, more than anyone, hopes that is the case.
May, 10, 2011
5/10/11
1:00
PM ET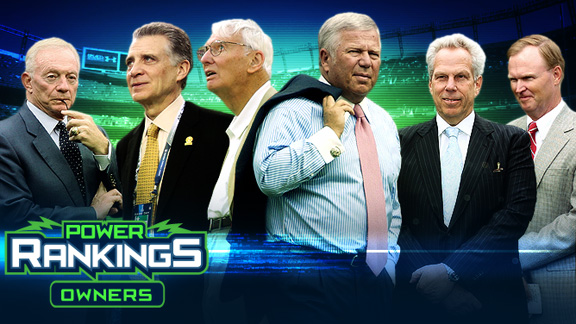 ESPN.com IllustrationThe Rooney family received only first- and second-place votes from our panelists.
There wasn't a whole lot of room for debate at the top.
ESPN.com took its positional Power Rankings series off the field and into the boardroom to rate the owners. None of them are popular fellows these days, but for the purposes of this project, nobody was more respected than the Rooney family.
The
Pittsburgh Steelers
' owners were listed first or second on all eight of the panelists' ballots.
By any definition, Dan Rooney and Art Rooney II qualify as powerful.
They're winners. The Steelers have played in eight Super Bowls and won six of them with three head coaches. The family's success has spanned such a long time that Dan and the late Art Rooney Sr. were inducted into the Pro Football Hall of Fame 36 years apart.
They're transcendent. President Barack Obama selected Steelers chairman Dan Rooney as the U.S. ambassador to Ireland.
They're influential. Dan Rooney was behind the so-called "Rooney Rule," which changed sidelines dramatically by stimulating minority hires. When it comes to the lockout, Rooney is a prominent voice of reason and could help broker the eventual deal.
"The Steelers selection is a no-brainer," ESPN.com senior writer John Clayton said. "The Steelers under the Rooneys have been the model of franchise ownership in sports. They are successful, consistent and supportive.
"They don't undergo the constant changes of other franchises. Plus, the family has been so instrumental in doing things that help advance the league, sometimes at the expense of their own franchise. It's no secret that two Rooneys are in the Pro Football Hall of Fame."
Clayton, AFC North blogger James Walker, AFC West blogger Bill Williamson and NFC South blogger Pat Yasinskas each had the Rooneys atop his ballot.
"The Rooney family is the perfect combination of tradition, consistency and success," Walker said, echoing Clayton's thoughts almost verbatim. "The easiest thing to point out is they've had the most Super Bowl wins and fewest head coaches since 1969. But they also set trends off the field with things like the Rooney Rule. They're very well respected, and there's a special sense of pride about the Steelers from players and fans that you don't see in many places. It starts at the top."
But the Rooneys were not unanimous choices in our ownership Power Rankings.
What about the power of the people?
The
Green Bay Packers
' ownership received three of the four remaining first-place votes. NFC North blogger Kevin Seifert, NFC West blogger Mike Sando and I all listed the Packers first because of their unique kind of power. Rules governing the other 31 franchises don't apply to them.
The Packers are the only publicly owned franchise. Green Bay Packers Inc. is a nonprofit organization formed in 1922. About 112,000 stockholders own roughly 4.75 million shares of the team. A seven-member executive board oversees the team on behalf of the stockholders.
Packers fans never will have to worry about the team being sold or moving away. The Packers are the only franchise that must open its books.
Oh, yeah. They also just won their NFL-record 13th championship.
Seifert explained why the Packers are special.
"My criteria for this category was twofold," Seifert said. "Do the owners fund the team's operations well? And do they operate the team well?
"I think the Packers' arrangement is currently doing both and has none of the baggage that goes along with single-family ownership. Shareholders don't take dividends, so no one is driven by individual profit. All profits go back into the franchise. In my experience, no expenses are spared in operating the team. People might note that general manager Ted Thompson doesn't sign many free agents, but that's a football decision. He's spent plenty on retaining the Packers' own free agents.
"The executive committee has hired a competent president in Mark Murphy, and after a bumpy start on the
Brett Favre
departure, Murphy has facilitated excellent work from the GM and coach he inherited.
"Finally, the Packers' ownership arrangement requires Murphy, Ted Thompson and Mike McCarthy to be more accountable to 112,000 fans than any other NFL official is to his fan base. Shareholders can't make operating decisions, but they have the right to question decisions, to know how money is being spent and to get straight(er) answers than fans of any other NFL team."
Clayton, however, wasn't impressed. He omitted the Packers from his ballot, ensuring they didn't finish second in the Power Rankings despite their three first-place votes.
One gets the impression that if Clayton were to slot all 32 ownerships, he would jot the Packers last.
"I couldn't vote for the Packers because it is a community ownership, not a normal ownership," Clayton said. "It's not as though one owner makes the decisions and has to stand up for the praise or criticism. Assigned the chance to vote for ownership, I felt more comfortable voting for individual owners or family owners."
[+] Enlarge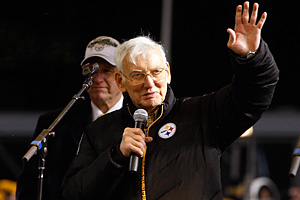 Jared Wickerham/Getty ImagesDan Rooney has been one of the most influential owners in the NFL.
As a result,
New England Patriots
owner Robert Kraft was second overall. Kraft hired Bill Belichick as head coach and has stayed out of the way of football operations. The Patriots have won three Super Bowls in the past decade and went to a fourth. Forbes estimated the Patriots are the third-most-valuable NFL franchise and the world's 10th-biggest sports brand.
AFC South blogger Paul Kuharsky listed Kraft above all. Kuharsky had the Rooneys second and the Packers third.
Kuharsky had the most efficient Power Rankings ballot. He was the lone panelist to vote for all of the owners who finished in the top 10.
"Robert Kraft versus the Rooneys is a close call," Kuharsky said. "I went Kraft because I feel he and his team have done more lately. In many ways, the Patriots -- not the Steelers -- are the standard-setters for the league. And while I prefer the way Heinz Field is in the middle of Pittsburgh, that development around Gillette Stadium has to be the envy of a lot of owners."
New York Giants
co-owners John Mara and Steve Tisch came in fourth,
Philadelphia Eagles
owner Jeffrey Lurie was fifth and
Baltimore Ravens
owner Steve Bisciotti was sixth.
From there, everybody else on the Power Rankings top 10 was omitted from at least one ballot.
Eclectic
Indianapolis Colts
owner Jim Irsay, who was able to help land a Super Bowl in a nontraditional locale, came in seventh. Irsay rated no higher than sixth on any ballot, but he didn't make Williamson's top 10.
"I know it sticks out because I was the only one not to rank him, but if he was in the top three, I'd re-evaluate my reasoning," Williamson said. "But I can live with not voting for the No. 7 finisher. To be frank, I never considered Irsay. I considered 14 ownerships in all. Other than his random tweets, Irsay doesn't stick out to me, good or bad."
When it came to voting, money didn't necessarily equal power for some panelists.
I ranked
Dallas Cowboys
owner Jerry Jones third, higher than any other voter. Sando and Yasinskas didn't rate Jones at all. Jones ended up eighth.
To me, you can't argue with his money or his presence. Forbes ranked the Cowboys the world's fourth-greatest sports brand behind only the New York Yankees, Manchester United and Real Madrid. Their estimated brand value was $128 million more than the NFL average and $15 million more than the Eagles and Giants combined.
Forbes estimated the Cowboys franchise was worth $1.8 billion, nearly $300 million more than the next-closest NFL club, the
Washington Redskins
.
Jones also serves as general manager. That puts him in control of every business and personnel decision. Sando saw that as a drawback.
"Jerry Jones is more involved in football operations than an owner ideally would be," Sando said. "He has shown questionable judgment in hiring head coaches. His involvement in football operations had made those coaches' jobs tougher. Jones dispatched with Tom Landry harshly and later failed to sustain the success Jimmy Johnson orchestrated.
"Also on Jones' watch, the Cowboys have suffered through the practice-bubble catastrophe, a Super Bowl experience that produced poor reviews and a video purporting to show Jones' drunken antics in a bar. Jones also was part of the NFL Management Council Executive Committee when the league agreed to the ill-fated 2006 collective bargaining agreement. Overall, the team hasn't enjoyed enough success recently to say the ends justify the means."
Yasinskas contended that Jones simply is overrated these days.
"If Jerry Jones had continued the success he had with Jimmy Johnson and Barry Switzer back in the 1990s, he'd be at the top of my list," Yasinskas said. "But the fact is the Cowboys really haven't been all that relevant for a long time. Part of that is due to Jones.
"He's done some good things and the new stadium is fabulous, but he's been way too hands-on with that franchise and he's run through lots of good coaches and players without any real results."
Let us know what you think.
April, 5, 2011
4/05/11
12:30
PM ET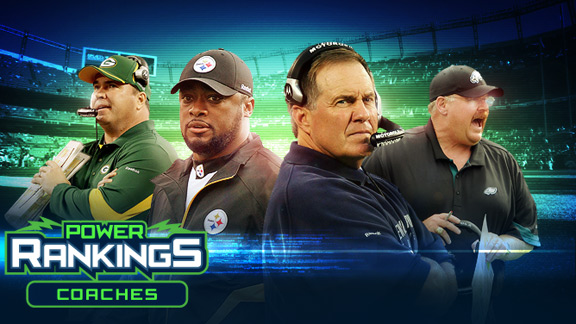 ESPN.com IllustrationNew England's Bill Belichick was the unanimous choice for the top spot when our writers ranked the best coaches in the game.
Bill Belichick is the great unifier.
For the first time in ESPN.com's individual Power Rankings series, the eight panelists reached unanimity. Each of us voted Belichick the NFL's best head coach, and there's little room for argument.
As someone who has scrolled through their comments for the past three years, I can hear the Spygate whiners already.
But Belichick hasn't won anything since the New England Patriots were caught videotaping defensive hand signals ...
That's true, I suppose, if you don't consider 51 victories, a .797 win percentage, three division titles and a trip to the Super Bowl not winning anything. I'm pretty sure fans of any team other than the
Green Bay Packers
,
New Orleans Saints
,
Pittsburgh Steelers
and
New York Giants
gladly would trade their past four years for the Patriots' so-called embarrassments.
And I'm guessing fans would find ways to justify those three Lombardi Trophies if their teams were in the Patriots' situation.
Belichick wasn't the only coach voted on with conviction. Head coaches are the fifth installment of our Power Rankings series, and the 13 combined nominees from our ballots were the lowest number of nominees so far. Our panel nominated 17 tight ends, 17 pass-rushers, 16 wide receivers and 15 running backs.
Pittsburgh Steelers coach Mike Tomlin was second in the Power Rankings, and the lowest he rated was sixth on NFC West blogger Mike Sando's ballot. The minus-4 differential from Sando -- not a substantial disparity at all -- was the largest negative margin relative to final placement in the entire process.
Sando explained his deviance from the pack.
"I favored coaches that walked into tough situations, won relatively quickly and then sustained the improvement over more than one season," Sando said in a statement issued through an NFC West blog spokesman. "Tomlin took over a healthy operation and kept it going. He deserves credit for that -- I ranked him sixth -- but not as much credit as if he had produced similar results after taking over a struggling franchise.
"We should view the success Bill Cowher enjoyed in a similar context. Both worked for an outstanding organization."
To be honest, I actually considered putting Cowher on my ballot just for the heck of it. But I opted against getting cute.
Let's take a closer look at how we voted:
We ranked
Philadelphia Eagles
coach Andy Reid third, and he was listed no lower than fifth -- on AFC West blogger Bill Williamson's and mine -- on anyone's ballot.
Tomlin led the way with four second-place votes. Reid received three. Green Bay coach Mike McCarthy got the other one and came in No. 4.
To further illustrate how closely the voting breakdown turned out, four coaches received third-place votes, four received fourth-place votes and four received fifth-place votes.
Our top seven head coaches were listed on every ballot.
The highest-rated coach not to be universally nominated was
Chicago Bears
boss Lovie Smith at No. 8. He didn't make AFC North blogger James Walker, AFC South blogger Paul Kuharsky and Williamson's ballots.
"Consistency is very important for head coaches, and Smith has more non-playoff seasons than playoff seasons," Walker said. "Smith seems to be on the hot seat every other year in Chicago, and he missed the playoffs three consecutive times from 2007 through '09. Despite a good run last year, Smith is a pedestrian 34-30 since '07."
Atlanta Falcons
coach
Mike Smith
came in ninth. He didn't appear on NFC North blogger Kevin Seifert's ballot because Smith hasn't won a playoff game yet. Seifert swore it had little to do with that Falcons school bus commercial that gets played incessantly on NFL Network. Three other panelists omitted Smith, too.
[+] Enlarge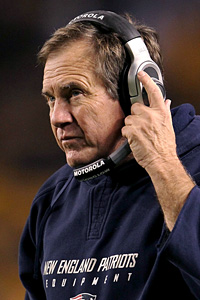 Chris McGrath/Getty ImagesBill Belichick has a 162-94 record in his 16 years as a head coach.
Baltimore Ravens
coach John Harbaugh and
Washington Redskins
coach Mike Shanahan tied for 10th.
What helped narrow the field is the constant turnover the NFL coaching profession experiences annually.
Eight teams have new coaches for 2011, ostensibly reducing the number of Power Rankings candidates to 24 from the jump. Nine more coaches have been with their current teams for two seasons or shorter.
A two-year stint didn't prevent the panel from voting for Shanahan, whose body of work includes a pair of Super Bowl titles with the
Denver Broncos
, or Rex Ryan, who has guided the
New York Jets
to the AFC Championship Game in each of his two campaigns.
Williamson and Walker had Shanahan rated seventh, his highest placement. Shanahan was absent on four other submissions, mine included.
"Shanahan may not have looked like a brilliant coach in his first year in Washington, but he deserves to be on this list," Williamson said. "He is not some old retread. With so much turnover in the coaching ranks, he is truly one of the last remaining of the old guard 'Super Coaches.' The guy has two rings and a lot of playoff appearances. I don't think he's a top-five guy at this particular time, but he belongs in the top 10."
Williamson and I each thought Ryan deserved to be rated fourth, although none of our comrades had Ryan higher than seventh.
My reasoning is that Ryan, despite not winning the Super Bowl, has a tractor-beam pull on his players -- and even other teams' players -- unlike any other coach in the league. Ryan carries serious clout with the people who matter most of all, the ones on his roster. That's powerful, and these are Power Rankings.
Another to receive votes despite two years at the helm was
Indianapolis Colts
coach Jim Caldwell. He came in 13th overall, eighth on Kuharsky's ballot and 10th on Walker's.
"I do not think he's a particularly good game-day coach," Kuharsky said of Caldwell. "The rationale he had for the late timeouts that helped the Colts lose at Jacksonville and to the Jets in the playoffs was flawed.
"But in terms of delivering a consistent message, setting expectations and holding a team together through an injury-riddled season, he did excellent work. And those are very important elements to the job."
The floor is yours. Let us know if you agree or disagree.
February, 3, 2011
2/03/11
5:59
PM ET

ESPN "First Take" resident disputant Skip Bayless and Chris Broussard discuss whether New England Patriots coach Bill Belichick deserved to win the Associated Press 2010 Coach of the Year Award -- and who might've been snubbed.
October, 13, 2010
10/13/10
4:31
PM ET
The
Miami Dolphins
badly need a victory to make sure they don't fall too far behind the AFC East title race.
The
Green Bay Packers
might oblige them by fielding an incomplete team Sunday at Lambeau Field.
The
Dolphins have had trouble defending tight ends since last season
, but Packers star
Jermichael Finley
will be out with a knee injury. Right tackle
Mark Tauscher
will be out with a shoulder injury. Linebacker
Nick Barnett
had wrist surgery Wednesday morning.
Two biggies: quarterback
Aaron Rodgers
and NFL sacks leader
Clay Matthews
are uncertain.
Rodgers suffered a concussion in Sunday's game. Packers coach Mike McCarthy said Wednesday the team wouldn't have any indication until Thursday morning if Rodgers could play against the Dolphins.
McCarthy also said Matthews likely would miss practice all week because of a hamstring injury.
The Packers have several other players who are banged up and listed on the injury report in some fashion.
The Dolphins, meanwhile, got healthier during their bye week. Inside linebacker
Channing Crowder
(groin) and defensive end
Jared Odrick
(leg) were on the practice field.
September, 16, 2010
9/16/10
5:04
PM ET
ORCHARD PARK, N.Y. -- Perhaps
C.J. Spiller
's needling teammates were keen to the symbolism when they gave him the nickname Ricky Bobby.
"I wanna go fast!" was the life's mission of Will Ferrell's lead character in the comedy "Talladega Nights: The Ballad of Ricky Bobby." But it wasn't until he learned to drive his father's 1969 Chevy Chevelle by feel -- blindfolded, fleeing from police, with a cougar in the backseat -- did Ricky Bobby regain his dominance on the track.
Spiller, the
Buffalo Bills
' speedy rookie running back, is learning the same lesson in the NFL: Fast isn't always the best approach.
"You can't just take the ball and start running," Bills coach Chan Gailey said. "You have to see where the holes are and feel the blocking schemes, and sometimes if you get in a hurry you don't allow yourself to feel or see the blocking scheme.
[+] Enlarge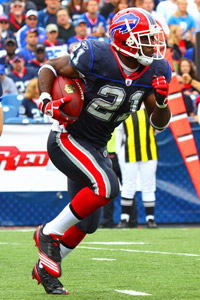 Timothy T. Ludwig/US PresswireBuffalo running back C.J. Spiller isn't worried about his disappointing first NFL game.
"And that's what I hope in the future, that he'll just slow down those initial thought processes and slow that motor down just a little bit."
Sheer speed was enough for Spiller at Clemson. He was so sizzling as a runner, receiver and return man that he was the first back off the 2010 draft board. The Bills selected him ninth overall.
In the NFL, however, it's not as simple as punching the accelerator. Defenders make tackles in the open field and are masterful at pursuit angles. Mismatches are tougher for an offensive player to find. Opposing coaches concoct intricate schemes to eliminate the best players, and Spiller isn't sneaking up on anybody.
"It's a feel that you have to develop, but every guy's capable of doing it," Spiller said. "You've just got to be very patient. It's going to take time. You can't rush it. That's something that I'll get used to."
The
Miami Dolphins
were waiting for Spiller in Sept. 12 season opener in Ralph Wilson Stadium. He had 11 touches for 14 yards. He rushed seven times for 6 yards.
His debut was one of the worst for a running back drafted in the top 10 over the past 25 years.
But that doesn't indicate what kind of experience Spiller should have on a weekly basis. The
Green Bay Packers
are wary of the damage Spiller can do Sunday at Lambeau Field
"We're concerned about him," Packers coach Mike McCarthy said. "Statistically, I know they probably didn't get the ball to him as much as they would like. That's something you need to be aware of. He has a chance to make some big plays, especially when you get him in space. He's a dynamic young player."
Spiller's a threat to go the distance every time he has the ball. He might get bottled up for 11 touches and then score a long touchdown on his 12th.
He showed game-breaking ability in the preseason. He scored three highlight-reel touchdowns against first-team defenses of two defending division champs, the
Indianapolis Colts
and
Cincinnati Bengals
.
"He's very explosive, has the ability to get on the edge, make people miss," McCarthy said.
Gailey has taken much of the blame for the Week 1 offensive struggles. He has lamented giving his players too much information to process, not running as much as he should have and not getting the tight ends involved.
Gailey bragged last week about having three starting-caliber running backs in Spiller,
Fred Jackson
and
Marshawn Lynch
. But Gailey opened the game against the Dolphins with four-receiver sets. Bills running backs finished with 14 combined attempts. Jackson led the way with 19 yards.
In the preseason, Spiller had 10 attempts versus Indianapolis and 12 times versus Cincinnati, and he was removed from each game at halftime.
"Had you known how it was going to turn out you would obviously have done something different," Gailey replied when I asked him if he regretted the way he deployed Spiller against the Dolphins.
Spiller laughed a little when I mentioned his official pro debut probably didn't go the way he dreamed as a kid running around Lake Butler, Fla. But he convincingly declared that forgettable game was behind him and that he's confident he'll find the right gear.
"At the end of the day, that don't matter," Spiller said. "I'm 0-1 right now. I'm trying to get to 1-1, trying to get us on a good note."
And always remember: If you're not first, you're last.
September, 2, 2010
9/02/10
3:17
PM ET
As part of ESPN.com's annual NFL season preview package, I was one of
16 writers and analysts asked to contribute predictions
for this year's division champs, wild-card teams, Super Bowl and individual awards.
I've broken out my picks here. Let me know what you think in the comments section below.
AFC East:
New York Jets
AFC North:
Cincinnati Bengals
AFC South:
Indianapolis Colts
AFC West:
San Diego Chargers
AFC wild cards:
New England Patriots
,
Baltimore Ravens
NFC East champ:
Dallas Cowboys
NFC North:
Green Bay Packers
NFC South:
New Orleans Saints
NFC West:
San Francisco 49ers
NFC wild cards:
Minnesota Vikings
,
New York Giants
AFC champion: Indianapolis Colts
NFC champion: Green Bay Packers
Super Bowl champ: Indianapolis Colts
Coach of the year: Mike McCarthy, Packers
MVP:
Peyton Manning
, Colts
Offensive player of the year: Peyton Manning, Colts
Defensive player of the year:
Darrelle Revis
, Jets
Offensive ROY:
Ryan Mathews
, Chargers
Defensive ROY:
Ndamukong Suh
,
Detroit Lions
December, 11, 2008
12/11/08
5:58
PM ET
Posted by ESPN.com's Tim Graham
Buffalo Bills coach Dick Jauron's once-mighty approval rating has dwindled to a single digit.
As of Thursday night, Jauron's number in the SportsNation NFL head coach approval ratings was lower than the Erie County sales tax: 8 percent.
That's the second-lowest rating of any of the 35 coaches, including three who were fired, over the 14 weeks so far. Minnesota Vikings coach Brad Childress pulled a 6 percent in Weeks 2 and 4.
Scott Linehan also sank to 8 percent before the St. Louis Rams axed him. Ex-Oakland Raiders coach Lane Kiffin bottomed out at 33 percent, while former San Francisco 49ers coach Mike Nolan dipped as low as 20 percent.
Jauron also owns the biggest discrepancy between his zenith and nadir.
Jauron rang up the poll's highest rating of the season when he hit 95 percent in Weeks 3 and 4 and didn't slip below 86 percent through Oct. 26. Washington Redskins coach Jim Zorn also soared to 95 percent in Week 5.
But Jauron's 83-point differential dwarfs everyone else, including the NFL's lighting rods: Andy Reid (79 points), Wade Phillips (73 points), Mike McCarthy (67 points) and Lovie Smith (67 points).
The worst year for fan dissatisfaction belongs to Cincinnati Bengals coach Marvin Lewis, whose highest approval rating was 23 percent in Week 9.
October, 22, 2008
10/22/08
3:03
PM ET
Posted by ESPN.com's Kevin Seifert
New York Jets quarterback Brett Favre spoke extensively Wednesday about a September conversation with former Detroit president/general manager Matt Millen. We'll have more on this story as the day progresses, but for now here is a transcript of the applicable questions from Favre's news conference:
Did you share information with the Lions?
Brett Favre: Well the only thing I'll say about that -- and of course I've heard the reports. That week, Matt Millen called me. Matt and I are friends. He invited me to come to his place to hunt. I think he lives about an hour from here in Bethlehem. I'm sure his intentions were to fish me for information. [He] just asked me how we attacked them last year. We attacked them pretty good. I didn't give him any game plans. I haven't been in that offense for over a year. I don't know what else to tell you. It was pretty simple.
Does it anger you?
BF: It wouldn't anger as much as, 'Here we go again.' I wish those guys well in Green Bay. I have a lot of friends, not only as far as teammates are concerned, but coaches and just people in general there. And it's unfortunate the way some of the things went down this offseason. But no hard feelings. It's business. I'm happy to be here. I'm trying to get ready for the Chiefs. Learning this Jets game plan has been difficult, and to be spending whatever amount of time giving away another game plan is totally not true. So once again, it's not anger as much as it's ridiculous from both sides. It's unfair for those guys up there trying to play, too.
So to clarify, did you share information with Millen or the coaches?
BF: I talked to Millen for 15-20 minutes. From the time it takes me to get from here to my house -- which in New Jersey could be 10 minutes, and it could be a little bit longer. It was not a long conversation. We did talk about hunting. He said he had a bulldozer or some tractors if I felt like I needed to go and relieve some tension. And in the process, [he] wanted to know ... more or less the question he asked was, 'Is there anything in particular that you guys did to us last year, or how you looked at us, or whatever.'
I couldn't tell you what Detroit runs this year. I haven't watched them. And I can vaguely remember what they did last year. The only thing that I know about that game last year -- the one in Green Bay didn't really matter late in the year -- the first one, I think I had 22 straight completions. That's about all I can remember. And I know we won the game.
Did you tell them some of the strategy you used in Green Bay to beat them?
BF: We went empty formation and we just kept throwing completion after completion. They study film. They know what type of plays. Once again, I don't want to make this any bigger than it is. I don't know what else to tell you. I haven't sat in their meetings to know what they're calling or how they're going to attack or how they're going to use Aaron Rodgers. I can assure you it wasn't anything. It would almost be embarrassing to say that if I gave more, it was the wrong information. Because I think they beat Detroit rather soundly. And I bet it was pretty much the same things we've run in the past.
Did you talk to Lions coaches also?
BF: If someone was in there, I couldn't tell you. And let me clarify this. I did not call the Lions. Nor did I call Tony Romo, so ... I don't know what else to tell everyone. I'm not calling people.