March, 14, 2012
3/14/12
1:15
PM ET
The
Miami Dolphins
traded Pro Bowl receiver
Brandon Marshall
Tuesday to the
Chicago Bears
.
Vincent Jackson
,
Reggie Wayne
,
Robert Meachem
and
Pierre Garcon
were all taken off the market quickly on the first day of free agency.

So who, exactly, will be the No. 1 receiver for Miami next season?
The Dolphins had two months to craft their offseason plan to build a title contender in 2012. But after one day of free agency, their plan looks confusing, particularly at wide receiver.
Miami is reportedly interested in
Dallas Cowboys
free-agent receiver
Laurent Robinson
. He had a career year replacing
Miles Austin
last season. Can Robinson be the No. 1 receiver for the Dolphins?
Or will Miami look to the draft? Oklahoma State receiver Justin Blackmon is a top-10 pick. The Dolphins hold the No. 8 pick and now have a huge need at receiver. Should this be Miami's next target.
What about Dolphins receiver
Brian Hartline
? He's been decent opposite Marshall in the starting lineup. Is Hartline ready to take his game to the next level in Miami's new West Coast offense?
Using our SportsNation poll, predict who will be Miami's No. 1 receiver next season. You can also share your thoughts in the comments section below.
September, 9, 2011
9/09/11
1:30
PM ET
»
NFC Final Word
:
East
|
West
|
North
|
South
»
AFC
:
East
|
West
|
North
|
South
Five nuggets of knowledge about Week 1:
[+] Enlarge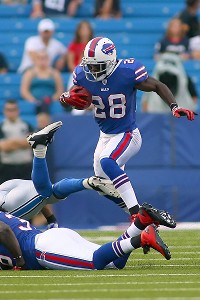 Photo by Rick Stewart/Getty ImagesRunning back C.J. Spiller could help Buffalo slow down Kansas City's pass rush.
Handling Hali:
Something to watch carefully when Buffalo visits Kansas City is how the Bills handle linebacker
Tamba Hali
. If left alone, he will torment Bills left tackle
Demetrius Bell
. If Buffalo designates a tight end next to Bell to assist with Hali or assigns a running back to chip him, that leaves the rest of Buffalo's protection scheme vulnerable against pass-rushers
Justin Houston
,
Glenn Dorsey
and
Wallace Gilberry
. Kansas City also has a strong secondary. I have a hard time believing that Buffalo will have much success through the air this week. One guy who could really help their cause if used properly is running back
C.J. Spiller
.
Inexperienced Cowboys:
Dallas visits the Jets on Sunday night. This is a terrible matchup for the Cowboys' offense. Instead of older, heavy-footed road graders up front, the Cowboys' offensive line has an influx of athletic, but very young, starters. This could pay off in time, because they should be much better equipped to pass-block and get out on the screens and draw plays that favor
Felix Jones
. But for now, I expect huge growing pains. Ultra-talented Cowboys first-round pick
Tyron Smith
will not play because of a knee injury. I expect Dallas' protection schemes to have plenty of breakdowns. That is an awful situation against a defense coached by Rex Ryan. Compounding matters for the Cowboys are the matchups on the perimeter.
Miles Austin
and
Dez Bryant
are as good a pair of starting wideouts as you will find. But Austin isn't 100 percent healthy, and
Darrelle Revis
will shut down whichever wide receiver he covers.
Antonio Cromartie
is a very good man-to-man cover man who thrives against bigger wide receivers like Austin and Bryant. However, it should be noted that New York's third-down defense last season gave up too many big plays.
Test for New England:
New England travels to Miami for the early "Monday Night Football" game. Although it struggled this preseason, particularly against the Lions, I still consider New England's offensive line one of the very best. But they will be tested in a huge way on the road. In the Miami heat, the fatigue factor will favor the home team. Miami has an extremely physical and deep 3-man defensive line. Led by
Cameron Wake
, the Dolphins' edge pass-rushers are a real handful for any protection scheme. New England might be without starting right tackle
Sebastian Vollmer
, so we might see first-round pick
Nate Solder
in his first action.
Pressure from Patriots:
When Miami has the ball, I expect Bill Belichick to dial up a lot of front-side pressure.
Chad Henne
is not very mobile, and he can struggle with pressure right in his face.
Jake Long
returns, after missing the preseason, to man his left tackle spot. I worry about the right side of the Dolphins' offensive line, particularly starting right tackle
Marc Colombo
. He should be out-manned by players such as
Shaun Ellis
and
Jermaine Cunningham
, let alone the added front-side pressure. Compounding the problem, right guard
Vernon Carey
has little experience at guard.
Anthony Fasano
is an excellent blocking tight end and will have to spend much of his time on the right side, but the Miami running backs are either small and lacking physicality (
Reggie Bush
) or lacking experience (
Daniel Thomas
) in protection.
Stopping the run:
The Bills' defense was awful against the run last season, but I am betting that it improved with the drafting of
Marcell Dareus
and some other additions. I expect the run defense to be particularly stout up the middle, where Dareus,
Kyle Williams
and
Nick Barnett
play. However, the changes might not pay off big against the Chiefs because
Jamaal Charles
is such a great runner outside the tackles. I also expect
Dexter McCluster
's role as a ball carrier to increase.
March, 8, 2011
3/08/11
1:00
PM ET
I'm pretty sure I have some explaining to do.
ESPN.com's blog network
began its series of positional power rankings
Tuesday with wide receivers. I included only one AFC East target on my ballot, omitting some big names readers will disagree with.
Although
Brandon Marshall
earned enough votes to crack the top 10, he didn't appear on my list. Neither did
Wes Welker
,
Steve Johnson
or
Braylon Edwards
.
My ballot:
Nine of my 10 nominees comprised the consensus top 10. The lone discrepancy was the last slot.
I almost didn't vote for Holmes. I originally had
Pittsburgh Steelers
burner
Mike Wallace
on the list, but I couldn't deny the direct impact Holmes had in closing out colossal victories for the Jets.
Holmes' stats weren't staggering, but he started the season with a four-game suspension that kept him out of the lineup and off the practice field. Once the NFL activated Holmes, it took him a couple weeks to get back into the offense. Then he was sensational. He had eight touchdowns in his last 11 games, including two out of three postseason games.
I couldn't bring myself to include Marshall. He had a nice reception total, but he scored only three touchdowns (one by December) and averaged the fewest yards per catch of any wide receiver with at least 850 yards. The
Miami Dolphins
had one of the NFL's weakest red-zone offenses, and a top 10 receiver should be able to help in that regard.
Welker didn't make the cut because he had a terrible season when it came to drops. ESPN Stats & Information charted a league-leading 11 drops. Welker averaged fewer yards than Marshall despite nearly half of his total (848 yards) coming after the catch (410 yards). That's a lot of long handoffs.
February, 23, 2010
2/23/10
11:57
AM ET
New York Jets
Buffalo Bills
Miami Dolphins
New England Patriots
April, 14, 2009
4/14/09
7:21
AM ET
Posted by ESPN.com's Tim Graham
New York Jets
Buffalo Bills
Miami Dolphins
New England Patriots
April, 13, 2009
4/13/09
10:47
PM ET
Posted by ESPN.com's Tim Graham
NFC East chieftain Matt Mosley caught up with Dallas Cowboys restricted free-agent receiver Miles Austin to ask him about his weekend visit with the New York Jets.
Austin would be coming home if he signed an offer sheet with the Jets and the Cowboys don't match it. He grew up in Garfield, N.J., and attended Monmouth University.
Austin told Mosley he and agent David Dunn expect an offer from the Jets by "midweek."
"I've never been in this situation so I don't really know what to expect," Austin said. "It's a weird sort of limbo area to be in, but all I can do is let my agent handle everything."
April, 12, 2009
4/12/09
4:45
PM ET
Posted by ESPN.com's Tim Graham
Newark Star-Ledger reporter Dave Hutchinson says restricted free-agent receiver Miles Austin had a positive meeting with the Jets.
Brian Costello of the New York Post sees the Jets' addressing their offensive needs in the draft.

April, 9, 2009
4/09/09
4:01
PM ET
Posted by ESPN.com's Tim Graham
New York Jets
Buffalo Bills
Miami Dolphins
New England Patriots
April, 8, 2009
4/08/09
10:57
AM ET
Posted by ESPN.com's Tim Graham
New York Jets
Buffalo Bills
Miami Dolphins
New England Patriots
March, 25, 2009
3/25/09
4:48
PM ET
Posted by ESPN.com's Tim Graham
DANA POINT, Calif. -- Oh, you better believe Dallas Cowboys coach Wade Phillips was asked about Terrell Owens.
Phillips, encircled by a gang of reporters, sat down at the NFC coaches' media breakfast Wednesday morning and was peppered with questions about a number of topics. But the club's decision to release Owens was among the most popular.
The diva receiver signed with the Buffalo Bills, who haven't been to the playoffs since 1999, when Phillips was their head coach.
Here are the highlights of what Phillips had to say about T.O.
Why did the Cowboys cut Owens?
Wade Phillips: We appreciate certainly, and I appreciate as a coach, all the great things he did. But we made the decision. We're going forward. We know we've got some young players we think can come in and play for us and help us at wide receiver, and we're going to give them that opportunity -- and younger players I'm talking about, even Patrick Crayton. We have a lot of confidence in Miles Austin. Sam Hurd unfortunately got hurt last year, but he was on the same pace with Miles and then Isaiah Stanback has come through and gotten better and better. All three of those guys ... have a lot of potential and we think they'll come through for us.
What type of player are the Bills getting?
WP: He's an outstanding player. Obviously, I think his numbers are going to be the second-best ever. He's going to be in great shape. He's a hard worker. All the things you want in a football player. I think they're getting a really good football player. One thing you've got to look at with players is production. He's been probably the most productive receiver in the last several years anyway.
Then why would you release him?
WP: Because we feel like we can forward with the guys we have. We think we have some emerging players that are going to make a difference.
Cowboys owner Jerry Jones said not having Owens around would make Tony Romo a better quarterback. Do you agree?
WP: Well, I think Tony is going to be better as he goes along, certainly. He's certainly accomplished a lot of things as far a quarterback is concerned. He's looking forward to and we're looking forward to this season. I think this is going to be even more of a breakout year for him just because of experience, not because Terrell is or isn't there. I think it's just experience and playing the game. Tony is still 21-8 as the starter the last two years. I think this is a big year for him.
Is the locker room better off without Terrell Owens?
WP: I'm not even going to discuss that because that's why I didn't want to talk about it in the first place. So you begin to talk about last year and all these things -- "This did or didn't happen. Somebody said this." All those things, I'm through with that.
This year. What's important is this year. The greatest stadium in the world, we're opening. Our team is going to have a great attitude. I think they already do now as far as looking forward to this season. That's the way you've got to go. That's the great thing about football. Pittsburgh is last year's champs. They're going to live in the glory for a little while certainly, but all of us are working for this season.
Is Owens a victim of his reputation?
WP: Terrell's situation is like the head coach of the Dallas Cowboys. Anything that's said or done is going to be reported. And I'm not saying good or bad. What he says and how he's perceived is up to the fans and somewhat the media -- mostly the media reporting it to the fans and then present it themselves as to how they feel about him.
Is Owens' divisiveness overblown?
WP: Sure. Sure. Sure. Just give me a player that works hard, tries to win and has great talent and produces. That's going to be the big thing is replacing his numbers, certainly, but we think we have some young players that can come through for us and make that an easier transition.
Did you speak to Bills coach Dick Jauron about Owens?
WP: No. I would have. I'd be glad to talk to Dick, but that was Buffalo's decision to pick him up. We knew somebody would pick him up, certainly. Again, he's a talented player.
February, 6, 2009
2/06/09
9:53
AM ET
Posted by ESPN.com's Tim Graham
New York Jets
Buffalo Bills
Miami Dolphins
New England Patriots