March, 12, 2010
3/12/10
1:50
PM ET
To mark the NFL's 75th draft next month, the league has launched a neat venture to sort out the 75 greatest draft picks and
determine the all-time most valuable selection
.
NFL.com editors narrowed each team's list of candidates down to the top 10, which seems a little unfair to the organizations steeped in history. The Dallas Cowboys' 20th most impressive pick is more deserving than the Houston Texans' sixth.
[+] Enlarge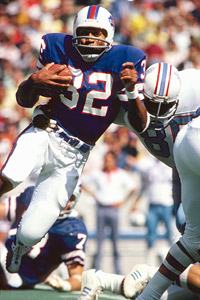 Malcolm Emmons/US PresswireO.J. Simpson is one of the best selections the Bills ever made.
I disagree with the decision to include players who didn't suit up for the teams that drafted them. For instance, tackle Leon Gray is listed for the Dolphins, kicker Gary Anderson for the Bills and punter Craig Hentrich for the Jets.
How can they be considered great draft picks if the teams that evaluated them declined to include them on their final rosters? Sounds to me like they were accidental draft picks more than savvy selections.
But if that's how they're going to do it, then I'd like to see Gary Fencik, a 10th-round pick in 1976, listed under the Dolphins.
Anyway, each team has 10 candidates fans can choose from when voting through April 18 at NFL.com. Parts of the list will be revealed on NFL.com and the NFL Network beginning April 19. The top 10 will be saved for the draft telecast.
The AFC East candidates, in alphabetical order:
Buffalo Bills:
Gary Anderson (seventh round, 1982); Ruben Brown (first round, 1995); Joe DeLamielleure (first round, 1973); Jim Kelly (first round, 1983); Reggie McKenzie (second round, 1972); Andre Reed (fourth round, 1985); O.J. Simpson (first round, 1969); Fred Smerlas (second round, 1979); Bruce Smith (first round, 1985); Thurman Thomas (second round, 1988).
Miami Dolphins:
Dick Anderson (third round, 1968); Larry Csonka (first round, 1968); Leon Gray (third round, 1973); Bob Griese (first round, 1967); Sam Madison (second round, 1997); Dan Marino (first round, 1983); Jake Scott (seventh round, 1970); Dwight Stephenson (second round, 1980); Jason Taylor (third round, 1997); Zach Thomas (fifth round, 1996).
New England Patriots:
Tom Brady (sixth round, 2000); Nick Buoniconti (13th round, 1962); John Hannah (first round, 1973); Mike Haynes (first round 1976); Lee Roy Jordan (second round, 1963); Ty Law (first round, 1995); Curtis Martin (third round, 1995); Lawyer Milloy (second round, 1996); Richard Seymour (first round, 2001); Andre Tippett (second round, 1982).
New York Jets:
Joe Fields (14th round, 1975); Mark Gastineau (1979); Craig Hentrich (eighth round, 2000); Keyshawn Johnson (first round, 1996); Joe Klecko (sixth round, 1977); Mo Lewis (third round, 1991); Joe Namath (first round, 1965); Marvin Powell (first round, 1977); John Riggins (first round, 1971); Wesley Walker (second round, 1977).
February, 16, 2009
2/16/09
9:45
AM ET
Posted by ESPN.com's Tim Graham
After two weeks of polling, the ballots have been counted to determine your picks for the Mount Rushmore of each AFC East team.
To play off ESPN's quest to determine the best sports Mount Rushmore from the 50 states, Washington, D.C., and Puerto Rico, I asked for your thoughts on the four legends who best symbolize the Buffalo Bills, Miami Dolphins, New England Patriots and New York Jets.
Readers mentioned 18 Jets, creating the most eclectic menu of the four clubs. Fireman Ed was nominated. So were former public relations director Frank Ramos and, despite one wildly erratic season, Brett Favre.
But the votes piled up for an unmistakable foursome of quarterback Joe Namath, running back Curtis Martin, receiver Wayne Chrebet and defensive lineman Joe Klecko.
There was a huge drop from Klecko to the fifth-place candidate, old-school receiver Don Maynard.
I was surprised to see Maynard not make the list. He's one of only two Hall of Fame players known primarily as Jets. I included him in the Jets Mount Rushmore I set forth in the original post.
But I do realize Chrebet's popularity and agree he's a symbolic figure in Jets history. It's tough to argue with him being etched into the Jets' Mount Rushmore.
Here is a breakdown of the top 10:
Joe Namath
Curtis Martin
Wayne Chrebet
Joe Klecko
Don Maynard
Weeb Ewbank
Dennis Byrd
Mark Gastineau
Mo Lewis
Brett Favre
Take a look at a few comments from those who voted in the AFC East mailbag and in the comments section of the original post:
The Kid in Staten Island, N.Y., writes: JETS Mount Rushmore: Broadway Joe Namath- that guarantee will live in infamy Mark Gastineau- 22 sacks in a season stood for 17 years until Strahan broke it. Had a swagger. Part of the NY Sack Exchange Wayne Chrebet- the little man that could. Hofstra kid came from nowhere, and was a fan favorite because of his heart. The "Rudy" of the NY Jets Dennis Byrd- temporarily paralyzed, still a role model for Jets fans in the way he perservered.
Mike from Parts Unknown writes: Does it have to be players only? More so than Namath himself I'd say Weeb Ewbank is the most important figure for the Jets of that era. Namath won one with him, but not without. Joe Klecko is a must. He represents an era my father dubs "the weakest golden years in all of pro sports." The NY sack exchange almost brought the Jets back to the Super Bowl twice, but ultimately failed. Curtis Martin represents the best in all of us, and as a Jets fan he is a symbol of our fandom: full of hope but ultimately just a good guy who came up short in his one real chance. Has there ever been a better RB that so many just don't care about outside of his team's fanbase? Finally I believe Chad Pennington needs to be on the Mount Rushmore of the Jets. He was the best QB in franchise history and though he never won the big game like Namath, he simply was so identifiable for us. Joe Willy is like that much older sibling you think of as a second parent. Sure they are your sibling, but you just don't think of them in that way. They are also likely you wish you could be more like. Broadway Joe is such a larger than life figure even today, but the team never lived up to his legacy and as Jets fans I don't think any of us really identify with him very well at this point, though we wish we could.
Mark in Palm Coast, Fla., writes: Hey Tim, There are more than a few names that come to mind here, but if I had to go with just four they would be as follows: 1: Joe Namath (Goes without saying) 2: Wayne Chrebet (3rd down specialist) 3: Leon Hess (Is there any owner who cared more for their team) 4: Fireman Ed (The Ultimate 12th Man) Honarable mention should also be given to Dennis Byrd for his inspiration, and perhaps Curtis Martin.
Chris in Hartsdale, N.Y., writes: Though I think Joe Namath is incredibly overrated I guess he belongs on the Jets Mt. Rushmore. The other 3: -Curtis Martin. Not the most talented RB in Jets history(that was Freeman Mcneil but he was always hurt) but the best overall. -Al Toon. Would have been a Hall of Famer had his career not been cut short. -Joe Klecko. Should be in the Hall of Fame but may never make it. If he was a Steeler and had a lesser career than he had they would have enshrined him 15 years ago.
delfiorio writes: Nothing symbolizes the Jets quite like Ken O'Brien falling on the ball as 4 pass rushers converge on him.
wOoDfOoTbAlL writes: Joe Klecko, Weeb, Curtis Martin, Don Maynard.....forget about Namath he cursed our franchise when he made a deal with the devil 40 years ago. were never going to win another super bowl