AFC East:

Morris Claiborne
June, 11, 2014
Jun 11
10:30
AM ET
IRVING, Texas -- When
Dominique Easley
walked in for his interview at the NFL scouting combine last February,
Dallas Cowboys
coach Jason Garrett offered a handshake and hello.
"Dominque, nice to meet you," Garrett said.
Easley quickly responded, "Coach, I've met you already. I came to your camp at Princeton University when I was in high school."
[+] Enlarge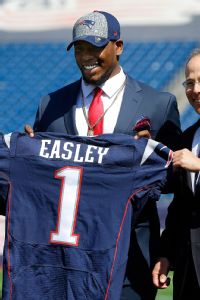 AP Photo/Steven SennePatriots No. 1 pick Dominique Easley attended Jason Garrett's football camp in New Jersey while in high school.
Every June Garrett holds a football camp for kids from the area at his alma mater in New Jersey. Easley attended Curtis High School in Staten Island, New York, and made the drive to Princeton.
Last weekend, Easley served as a counselor at Garrett's camp along with Cowboys
Dez Bryant
,
Morris Claiborne
and
DeMarco Murray
, as well as former Cowboys running back
Phillip Tanner
.
If things worked out a little differently Easley could have been a Cowboy, but the
New England Patriots
took him with the 29th pick in the first round.The Cowboys had him in for a pre-draft visit because they liked him as a player and they wanted to check out this surgically-repaired knee.
"The Easley story is a really good story," Garrett said. "He talked to the kids and when he stands up there, there is the 29th pick in the first round and he said, 'I sat in that seat five years ago, so don't tell me you can't do this.' And there's another kid there every year named Freddie Santana, who also sat in those seats. He ended up going to Holy Cross, graduated from there, was their team captain and was selected for Teach for America and did a couple of years down in Atlanta. Now he's teaching in Brooklyn. The big challenge with those kids, there's about 300 of them, and they come from really tough places. So the idea that they belong and can do something like this, you put Dominque Easley up there, you put Freddie Santana up there and say, 'I was in Row 3 five years ago,' I think it's effective."
Easley's team ended up winning the round-robin 6-on-6tournament.
"He won when he was a player and he won as a coach, so that was the big story line," Garrett said.
The football is a nice component of the camp, but Garrett hopes something bigger develops. Perhaps in the future he will meet another graduate of his camp at the combine.
"We've got them for 10 hours one day out of the year, but I challenge our coaches," Garrett said. "I tell them, 'I believe we can make a difference in these kids' lives, OK, so they're going to show up here at 8 and we're going to send them on their way tonight at 6 and we have this window to try to make a difference.' We try to say the right things, do the right things and hopefully make some kind of impact."
May, 5, 2014
May 5
6:00
PM ET
To me, one of the fascinating subplots to the draft is general manager John Idzik and how he handles 12 picks. For the history buffs out there, the Jets haven't had a 12-player draft since 1998. Idzik has eight tradeable picks and four compensatory choices, giving him plenty of ammunition to wheel and deal.
Idzik didn't trade up or down last year in his first draft with the
New York Jets
, but one year isn't a big enough sample size to define a trend or a tendency. Nevertheless, you'd like to see him be aggressive, perhaps coming away with four players instead of three over the first three rounds. Some GMs are brilliant when it comes to this sort of maneuvering; some just sit on their hands and take the top guy on their board.
A lot of fans are wondering if the Jets would make a bold move by jumping into the top 10. The logical follow-up question is, which player would prompt them to make such a move? There are seven elite players in the draft, according to the general consensus --
Jadeveon Clowney
,
Greg Robinson
,
Khalil Mack
,
Sammy Watkins
,
Jake Matthews
,
Mike Evans
and
Taylor Lewan
. The most appealing players to the Jets are Clowney, Mack, Watkins and Evans, but there's a good chance they will be gone in the first eight or nine picks.
For argument's sake, let's say Evans dropped to the
Buffalo Bills
at nine. What would it cost to trade up? According to the draft value chart, the Jets would have to trade their first-round pick (18), their second-rounder (49) and a fifth rounder (154). That's a fairly steep price, but not outrageous. Nevertheless, I'd be surprised if Idzik pulled the trigger because he knows he can get a good player with the 49th pick. He's hoping to use this draft to restock his depth, which had eroded over the years.
One team that bears watching is the
Pittsburgh Steelers
at 15. Their primary needs are similar to those of the Jets -- cornerback and wide receiver -- so it's possible Idzik could try to leap-frog the Steelers to make sure he gets the one he wants. To swap with the
Chicago Bears
at 14, the Jets would have to give up their first-round pick and their third-rounder (80), according to the value chart. That's something I could see them doing to take wide receiver
Odell Beckham Jr
. or one of the top corners,
Darqueze Dennard
or
Justin Gilbert
. From what I'm hearing, though, Beckham may not even make it to the Steelers.
What about trading for a veteran player? Two players who might be available are
Dallas Cowboys
cornerback
Morris Claiborne
and
Oakland Raiders
wide receiver
Denarius Moore
. If the Raiders get Watkins with the fifth pick, it wouldn't be a surprise if they try to deal Moore, who is heading into a contract year. The Jets' receivers coach, Sanjay Lal, coached Moore as a rookie. Claiborne, the sixth overall pick in 2012, is the Cowboys' No. 3 corner and a bad scheme fit in their zone defense. The only problem is, Dallas would take a huge cap hit by dealing him and may decide to hold on to him for another year.