November, 28, 2012
11/28/12
7:00
AM ET
Here are the most interesting stories Wednesday in the AFC East: Morning take: I can't think of any player performing at a higher level over the past month. Brady has 14 touchdowns and zero interceptions during New England's five-game winning streak. He's seeing things at a different speed.
Morning take: Rhodes will return to New York this week as a starter for the Arizona Cardinals. Ryan blasted Rhodes in a recent book, calling him "selfish" and "Hollywood."
Morning take: It's hard to tell with the Bills because they never put together any consistency. But an easy schedule provides this team a chance to make amends and finish strong.
Morning take: Miami has the cap room and the draft picks to get rookie quarterback Ryan Tannehill some weapons next year. The Dolphins are in a great spot to learn from these meaningful December games and still improve in the offseason.
August, 26, 2012
8/26/12
2:00
PM ET
Three things to watch in the New York's Jets' "dress rehearsal" game against the
Carolina Panthers
Sunday night at 8 p.m. ET.


1. Offensive touchdowns.
It's
been a rough ride
this preseason for the Jets' offense. New York holds the distinction as the only NFL team yet to score a touchdown this summer. The Jets' offense, particularly the starters, needs to get that monkey off their back and score at least one touchdown against Carolina. Much of the issue has been the offensive line. There haven't been many running lanes and quarterback
Mark Sanchez
is getting little pass protection. The Jets need to start getting their act together offensively in this preseason game.
2. Holmes' return.
New York's offense clearly needs a boost on offense, and No. 1 receiver
Santonio Holmes
can provide it. Holmes expects to make his preseason debut Sunday after missing the first two games with a rib injury. The former Super Bowl MVP is the only reliable wide receiver the Jets have. Holmes also can take a lot of pressure and coverage away from the other receivers.
3. Last glimpse of Tebow.
Jets head coach Rex Ryan already made the decision that
Tim Tebow
will
get the starter treatment
. Tebow will not start at quarterback in the preseason finale. Instead, Tebow will rest with most of the starters next week against the
Philadelphia Eagles
. Therefore, this is the final tune-up for Tebow before the regular-season opener against the
Buffalo Bills
.
February, 6, 2012
2/06/12
9:00
AM ET


INDIANAPOLIS -- It took a long time for
Peyton Manning
to topple
New England Patriots
quarterback
Tom Brady
. But Peyton Manning's younger brother,
Eli Manning
, never had that problem.
Eli Manning continued his dominance over Brady, a future Hall of Famer, with another stellar performance in Super Bowl XLVI. Brady was solid. But according to the Total Quarterback Rating, Eli Manning was better in New York's 21-17 victory.
Brady posted a 71.9 QBR, which was highlighted by a tremendous run in the second and third quarters when he set a Super Bowl record with 16 straight completions. Brady finished with 276 yards, two touchdowns and one interception. But Eli Manning was better in the first and most-important fourth quarter, leading to a 79.5 QBR. He threw for 296 yards, one touchdowns and had several clutch completions late in the fourth quarter. The performance earned Eli Manning this year's Super Bowl MVP.
Brady started slow and didn't finish strong, and that was a big reason the Patriots fell short. Here is Brady's QBR by quarters:
First: 0.3
Second: 97.7
Third: 86.7
Fourth: 24.1
Sunday's game was Eli Manning's third straight victory over Brady, which includes two Super Bowls.
January, 30, 2012
1/30/12
7:00
AM ET
Here are the most interesting stories Monday morning in the AFC East: Morning take: Although the Pro Bowl is skewed toward offense, it's hard to overlook that kind of performance. It's a glimpse of what he can do when he has Pro Bowl-level quarterbacks throwing the football.
Morning take: Brady thanked the fans for the great turnout during the send off and said "hopefully we have a lot more people at our party next weekend." I don't see that as a guarantee? But people are taking it as such.
Morning take: Add Martin to the list of people who think the Jets try to upgrade at quarterback. Manning is expected to be released and available in March.
Morning take: I remember watching the Super Bowl every year as a child, and this was one that really stood out. This was the first of four attempts by Buffalo and by far the closest the Bills would get to winning.
January, 4, 2012
1/04/12
1:00
PM ET
»
NFC Wrap-ups
:
East
|
West
|
North
|
South
»
AFC
:
East
|
West
|
North
|
South
Arrow indicates direction team is trending.

Final Power Ranking:
19
Preseason Power Ranking:
7
[+] Enlarge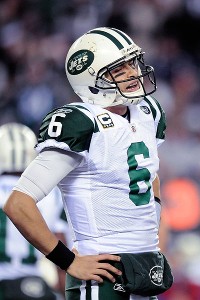 Patrick McDermott/Getty ImagesMark Sanchez was unable to make progress in his third NFL season.
Biggest surprise:
Guess who led the Jets in sacks this season?
Aaron Maybin
. Yes,
that
Aaron Maybin. The same Maybin who was a draft bust for the
Buffalo Bills
and cut before training camp. The Jets saw potential in Maybin and invited him to training camp. With a change of scenery and scheme, Maybin showed some of the things in New York that he showed in college to make him a first-round pick. Maybin briefly made New York's 53-man roster out of training camp. Then, he was released. When the Jets picked Maybin up again during the season he was ready. Maybin helped the Jets with a team-high six sacks, which should put him in consideration for the NFL's Most Improved Player.
Biggest disappointment:
This was the year New York's coaching staff thought quarterback
Mark Sanchez
would make major strides. This was the year the offense would be put in Sanchez's hands and would finally catch up to New York's talented defense. But that plan didn't pan out. Sanchez wasn't ready to take the next step in his third season and coach Rex Ryan pulled back the reigns. The Jets went back to their ground-and-pound offense and tried to protect Sanchez. The offense was bland, predictable and Sanchez struggled. New York's offense was ranked No. 25 in the NFL. Sanchez's numbers slightly improved. But the team still had to protect him in his third season, and that's not acceptable for a top-five draft pick. Sanchez needs to make a lot of improvements next season to be considered among the upper-echelon quarterbacks in the NFL.
Biggest need:
There are several reasons the Jets were inconsistent, but the biggest reason was the offensive line. The Jets need to upgrade the right tackle position immediately.
Wayne Hunter
draws too many flags and struggles in pass protection. The front office needs to find a better front-side protector for Sanchez. The offensive line as a group played a notch or two lower than it was capable of. The Jets need to add depth and competition at guard. Center
Nick Mangold
was fine, but
D'Brickashaw Ferguson
wasn't as good as previous years. Both made the Pro Bowl, although Ferguson made it more on name recognition.
Team MVP:
I know it's early. But I feel pretty safe in saying that
Darrelle Revis
will be an all-time great. Revis put together another Pro Bowl year and is easily the team's MVP. Revis is dominating a position that is nearly impossible to dominate. The rules are tilted in favor of the offense and receivers to promote scoring. But Revis has found a way to consistently shut down opponents from the cornerback position. His ability to stick to and frustrate receivers is fun to watch. His hand-eye coordination is the best in the NFL. It's considered an event when a receiver catches a couple passes on Revis. Perhaps the biggest shame is that Revis, 26, is a unique talent in his prime, and the Jets are wasting those prime years by fumbling around in other areas.
Free-agent watch:
The Jets have several interesting free agents. Offensively, New York has to decide whether to bring back starting receiver
Plaxico Burress
and/or backup tailback
LaDainian Tomlinson
. Burress was signed on a one-year rental to see if he has anything left after spending time in prison. Burress showed flashes, particularly in the red zone. But he will be 35 in August and struggles to get vertical. The Jets may need an upgrade opposite receiver
Santonio Holmes
. Tomlinson's role was reduced this year and he is considering retirement. Defensively, New York has to decide what to do with starting safety
Jim Leonhard
. He's an underrated player. It's evident as the defense fell apart this season when he was out of the lineup. Leonhard suffered a season-ending knee injury late in the year and has a long rehabilitation process ahead. That could impact and delay whether the Jets pursue him.
December, 30, 2011
12/30/11
4:17
PM ET
Shoulder-gate is coming to a close in New England.
Brady
Patriots starting quarterback and MVP candidate
Tom Brady
is listed as probable for Sunday's regular-season finale against the
Buffalo Bills
. He missed Wednesday's practice with a left shoulder injury and was limited on Thursday.
The Patriots (12-3) need this win to solidify home-field advantage throughout the playoffs. The key for New England will be to take a big lead early and sit their starters in the second half. The Patriots have two weeks to rest Brady after Sunday's game.
In other injury notes, New England will be without starting offensive tackle
Sebastian Vollmer
(back, foot) and guard
Logan Mankins
(knee). Both are ruled out. The Bills (6-9) will be without receiver
Brad Smith
(hamstring) and offensive linemen
Kraig Urbik
(knee) and
Demetrius Bell
(knee).
December, 14, 2011
12/14/11
2:00
PM ET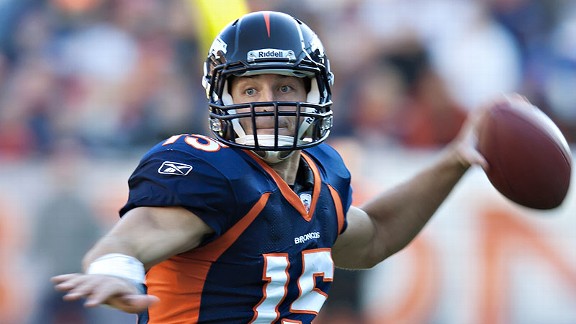 Icon SMIBill Belichick says the Patriots are well aware of Tim Tebow's late-game heroics.
The AFC East has been "Tebowed" twice already this season.
In Week 7, the
Miami Dolphins
led 15-0 in the fourth quarter before
Tim Tebow
led the
Denver Broncos
to 18 straight points in an overtime victory. It was Tebow's first start of the 2011 season.
In Week 11, the
New York Jets
allowed Tebow to drive Denver 95 yards in the final minutes for the game-winning score. It was capped by Tebow's 20-yard touchdown run with 58 seconds remaining.
Are the
New England Patriots
Tebow's next victim?
The Patriots (10-3), winners of five straight, will travel to Sports Authority Field at Mile High to face Tebow and the equally hot Broncos (8-5). Teams have been unable to solve Tebow and Denver's read-option offense for four quarters. The Broncos have won six in a row. They are 7-1 with Tebow under center and in first place in the AFC West.
This will be an intriguing challenge for Patriots head coach Bill Belichick. He's developed a reputation as a defensive mastermind and is known to come up with schemes to confuse quarterbacks. But that hasn't been the case for Belichick this season. New England has the NFL's worst-rated defense, allowing 416 yards per game.
Rex Ryan and New York's defense couldn't stop Tebow. Neither could Miami and veteran defensive coordinator Mike Nolan.
Will Belichick find the right formula to stop the Tebow train?
"They're at the top of their game," Belichick said of Tebow and Denver's offense this week. "Hopefully, it's our target to get to the top of ours by Sunday."
The good news for New England is its run defense is solid. The Patriots are ranked 13th against the run. Players like defensive tackle
Vince Wilfork
and linebacker
Jerod Mayo
should allow New England to match Denver's physically up front.
The Broncos lead the NFL in rushing with an average of 156.2 yards per game. Tebow is at his best when he's a dual threat with his legs and arm. He's thrown for 1,290 yards and rushed for an additional 517 yards.
"Tim is a strong runner, good athlete, he can hurt you out of the pocket," Belichick said. "We've faced other quarterbacks like that. The big thing is just the whole offense. They run the ball, they have different types of running plays, running attack and then they have a lot of good receivers and they throw the ball down the field. There are a lot of challenges there."
Denver likes to run the ball the first three quarters to eat up clock and limit possessions. That keeps games close for Tebow to pull it out in the end.
With New England's defense struggling, expect the "
Tom Brady
factor" to play a huge role in this game. This game will be as much about Brady versus Tebow as it is Tebow versus New England's defense.
Often, Brady is New England's best defender. The MVP candidate has been stellar. The Patriots are second in the league in total offense (424.4 yards) and third in scoring (30.5 points). Last week was a perfect example as Brady continued to put up points to barely stay ahead of the
Washington Redskins
. New England won that game, 34-27.
A shootout between Brady and Tebow definitely favors New England. Therefore, Brady scoring early and often against Denver's defense is key to pressuring Tebow to match that production. Five of Tebow's seven wins have come by scoring fewer than 20 points.
"I think that's the difference," said Matt Williamson of Scouts Inc. "That's something that the Broncos haven't faced yet -- the firepower that they're going to have to deal with Sunday. Denver's defense is quite good, but not against Brady and those guys.
"I think Denver's defense is in for a long day. Brady is going to put up 28-35 points against just about anybody, including Denver. In the end, I think that gets Tebow out of his game. Even though he's getting better as a passer, that's not the game they want to play with him."
New England's biggest fear is keeping the game close in the final minutes. That is when Tebow is unleashed and becomes a completely different player. Many in Denver call the fourth quarter "Tebow Time."
According to ESPN's Stats & Information, Tebow has the NFL's
highest Total Quarterback Rating
(96.3) in the fourth quarter. This season Tebow has performed better than everyone down the stretch, including Brady (83.0) and
Green Bay Packers
quarterback
Aaron Rodgers
(91.7).
"They've had a lot of production," Belichick said of Denver's offense late in games. "I wouldn't say it's dramatically different. It's not like they run out a new whole thing. They've done it in different ways — they've done it throwing the ball, running the ball, driving it, making big plays. We'll have to obviously study it a little bit more carefully but from what I've seen, they've made plays when they had to make them, critical plays."
The challenge for Belichick and New England is to get a big enough lead in the first three quarters, especially on the road. That way, the Patriots can avoid being the latest team to get "Tebowed."
December, 12, 2011
12/12/11
12:00
PM ET
Here are seven notes and observations from Week 14 in the AFC East:
CBSTom Brady's Patriots beat the Washington Redskins Sunday, 34-27, however, the All-Pro quarterback can't win every game on his arm alone.