March, 25, 2011
3/25/11
5:58
PM ET
The NFL assigned a grand total of two compensatory draft picks to the AFC East this year.
The
Miami Dolphins
and
Buffalo Bills
each are the recipients of a shiny seventh-round choice. The Dolphins get the 234th overall selection and the Bills get the 244th.
Compensatory picks were announced Friday. The
New England Patriots
and
New York Jets
got zippo.
Compensatory draft choices are awarded through a closely guarded formula of free agents lost and acquired the previous offseason. If a team signs more or better free agents than it loses, compensatory picks aren't given.
Miami lost cornerback
Nate Jones
and outside linebacker
Jason Taylor
, but signed inside linebacker
Karlos Dansby
.
Buffalo lost receivers Terrell Owens and Josh Reed and defensive end Ryan Denney. They signed defensive end Dwan Edwards and linebacker Andra Davis.
Since compensatory picks were first awarded in 1994, New England leads the division with 25 of them. Quarterback
Tom Brady
is the most famous -- the 199th pick in 2000.
Buffalo is next with 25 compensatory picks, followed by Miami with 15 and New York with five.
March, 26, 2010
3/26/10
1:00
PM ET
»
NFC Under-The-Radar
:
East
|
West
|
North
|
South
»
AFC
:
East
|
West
|
North
|
South
»
Draft Watch
:
Biggest needs
(2/17) |
Busts/gems
(2/24) |
Schemes, themes
(3/3) |
Recent history
(3/10) |
Needs revisited
(3/17) |
Under-the-radar needs
(3/26) |
History in that spot
(3/31) |
Draft approach
(4/7) |
Decision-makers
(4/14) |
Dream scenario/Plan B
(4/21)
Each week leading up to the NFL draft (April 22-24), the ESPN.com blog network will take a division-by-division look at key aspects of the draft. Today's topic: under-the-radar needs.

Buffalo Bills
Because the Bills have so many glaring needs such as left tackle, nose tackle and quarterback, nobody was thinking about running backs until Bills coach Chan Gailey mentioned Tuesday he was interested in adding a third-down option to his roster. Then everybody leaned back and nodded "Why, yes, the Bills do need that player." Gailey even went so far as to give a description: 5-foot-8-ish, 190 pounds-ish with quickness and receiving skills to complement the prototypical
Marshawn Lynch
and
Fred Jackson
.

Miami Dolphins
You'd think the Dolphins would be set at cornerback. They have three good ones.
Sean Smith
and
Vontae Davis
were good enough to start 16 and nine games, respectively, last year as rookies.
Will Allen
was their top cornerback when he went down with a knee injury in Week 7. But teams never can have enough good cornerbacks, and there are no guarantees Allen will be back. He recently was busted for driving under the influence of alcohol and has had off-field problems before. The Dolphins also declined to bring back free-agent nickelback
Nate Jones
.

New England Patriots
The Patriots could use another quarterback. Owner Robert Kraft will make sure
Tom Brady
, who's entering the final year of his contract, doesn't go anywhere. But the Patriots have the flimsiest backup quarterback situation in the AFC East if not the entire league. The lone reserve on the roster is
Brian Hoyer
, an undrafted rookie last year. The Patriots have cycled through several backup quarterbacks over the past three years in search of reliable help. They'll be on the lookout again next month.

New York Jets
The Jets need a kicker. They signed free agent
Nick Folk
a few weeks ago and seem comfortable with the thought of letting
Jay Feely
go. (He's a free agent exploring his options.) But the Jets can't be comfortable with Folk as his replacement. Folk is coming off a disastrous season in which he missed a kick in each of his final six games with the
Dallas Cowboys
. With a team that will win with defense first, head coach Rex Ryan needs to be able to count on his kicker. Don't expect the Jets to draft one anywhere near as early as they took
Mike Nugent
(47th overall in 2005), but they'll have kickers in mind.
March, 5, 2010
3/05/10
5:33
PM ET
If you weren't convinced the
Miami Dolphins
were going to overhaul their defense before, then you should realize it now.
The
Dolphins fired their defensive coordinator
in January and released three starters on Friday: outside linebacker
Joey Porter
, inside linebacker
Akin Ayodele
and safety
Gibril Wilson
. All three started at least 14 games last year, but they won't play for new coordinator Mike Nolan.
Porter's discharge was expected. The
Dolphins dumped Porter three weeks ago
, but the NFL reversed the move because the Dolphins would have been in violation of the salary cap. The salary cap disappeared on Friday because of the peculiar rules related to the league entering the final year of its collective bargaining agreement.
Wilson and Ayodele ranked second and third on the team in tackles, but as former Dolphins linebacker Kim Bokamper told me recently, they repeatedly gave up big plays because of breakdowns at inside linebacker and safety.
"Forced fumbles, interceptions, fumble recoveries, they just don't give you any productivity," Bokamper said, "and they got exposed from a coverage standpoint, whether it was a running back out of the backfield or a tight end running down the middle of the field. The blame has to be shared between the linebackers and the safeties."
The Dolphins also could lose free-agent outside linebacker
Jason Taylor
, a starter for 12 games last year. They reportedly aren't interested in re-signing free-agent nickel back
Nate Jones
, who started five games.
March, 4, 2010
3/04/10
8:24
AM ET

Buffalo Bills
Potential unrestricted free agents:
DE
Ryan Denney
, LB
Chris Draft
, DB
Todd Johnson
, G
Seth McKinney
, WR
Terrell Owens
, WR
Josh Reed
, S
Bryan Scott
, G
Kendall Simmons
, LB
Josh Stamer
.
Potential restricted free agents:
LB
Keith Ellison
, QB
Gibran Hamdan
, G
Richie Incognito
, TE
Joe Klopfenstein
, TE
Derek Schouman
, T
Jonathan Scott
, S
George Wilson
, CB
Ashton Youboty
.
Franchise player:
None.
What to expect:
The Bills are in a rebuilding mode and shouldn't be in too much of a hurry to sign their free agents. In fact, they took the unusual step of publicly announcing they wouldn't offer Owens, Reed or Denney contracts. The most attractive players are Incognito and Wilson. Most of the rest were bit players and injury replacements.

Miami Dolphins
Potential unrestricted free agents:
NT
Jason Ferguson
, CB
Nate Jones
, QB
Chad Pennington
, OLB
Jason Taylor
.
Potential restricted free agents:
RB
Ronnie Brown
, TE
Anthony Fasano
, OLB
Quentin Moses
.
Franchise player:
None.
What to expect:
The Dolphins have a tough decision to make on Ferguson. He'll turn 36 during the 2010 season and is coming off a serious quadriceps injury. Without him, however, the Dolphins have a massive void in their 3-4 defense at a position that's difficult to replace. Pennington, Jones and Taylor all could be gone.

New England Patriots
Potential unrestricted free agents:
OLB
Tully Banta-Cain
, CB
Leigh Bodden
, OLB
Derrick Burgess
, RB
Kevin Faulk
, DE
Jarvis Green
, P
Chris Hanson
, G
Stephen Neal
, ILB
Junior Seau
, TE
Benjamin Watson
.
Potential restricted free agents:
K
Stephen Gostkowski
, G
Logan Mankins
, OLB
Pierre Woods
.
Franchise player:
NT
Vince Wilfork
.
What to expect:
Several starters are about to go up for bids, and the Patriots can't keep them all. Expect Faulk to be re-signed without much fuss. Neal, Bodden and Banta-Cain comprise a group they'd have trouble replacing. All three could fetch offers the Patriots would rather not match. Don't count on Watson coming back.

New York Jets
Potential unrestricted free agents:
LS
James Dearth
, DE
Marques Douglas
, K
Jay Feely
, LB
Ryan Fowler
, TE
Ben Hartsock
, LB
Larry Izzo
, FB
Tony Richardson
.
Potential restricted free agents:
QB
Kellen Clemens
, CB
Drew Coleman
, WR
Braylon Edwards
, DT
Howard Green
, T
Wayne Hunter
, WR
Brad Smith
, S
Eric Smith
, RB
Leon Washington
.
Franchise player:
None.
What to expect:
As a "final eight" team, the Jets have to window shop until one of their UFAs sign elsewhere. General manager Mike Tannenbaum is creative. Don't be surprised if the Jets use trades to upgrade. The key restricted free agent to monitor will be Washington, who received a second-round tender. His agent has been tweeting alarms the Pro Bowler could sign an offer sheet and dare the Jets to match.
December, 13, 2009
12/13/09
9:13
PM ET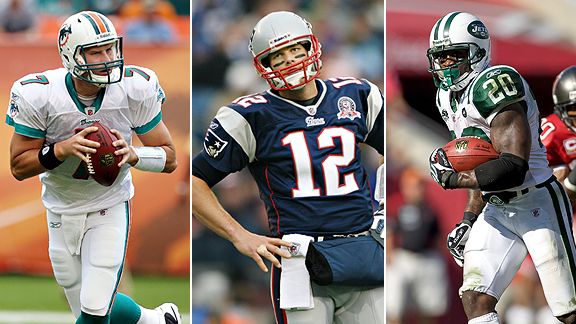 Getty Images
Miami's Chad Henne, left and Thomas Jones of the New York Jets are leading their respective teams in commanding ways right now, while Tom Brady and the New England Patriots are clearly struggling.
JACKSONVILLE, Fla. -- The
Miami Dolphins
bottomed out two weeks ago. They couldn't beat the
Buffalo Bills
. That was that. Grab the proverbial fork and ram it right in the Dolphins' sternums. They were done, out of the playoffs. Time to start planning for 2010.
Unbeknownst to the football universe at that time, the
New England Patriots
were on the verge of catastrophe -- by their standards anyway. They faltered. Rather than run away with the AFC East, the Patriots went to Land Shark Stadium last week and lost their third game in four tries.
All of a sudden, momentum turned. The Dolphins got back into the hunt. The Patriots appeared wounded, vulnerable.
Those movements continued Sunday.
The surging Dolphins won another game, while the Patriots played like Weebles. They didn't fall down, but the Patriots (8-5) sure did wobble while managing to stay one game ahead of the Dolphins and the
New York Jets
(each 7-6) with three games to go.
"Hope's a powerful emotion, and we have it," Dolphins general manager Jeff Ireland said after
his team beat the
Jacksonville Jaguars
14-10. "The other side of that is no hope and nothing to play for.
"Hope is a powerful emotion that enables you to do incredible things. And we got hope right now."
Hope isn't plentiful in New England. While the Patriots probably will make the playoffs, they don't project to last long.
The Patriots have instilled a general queasiness in their fans. They look nothing like the teams that won three Super Bowls and nearly went undefeated just two years ago.
They struggled on their own field to beat the
Carolina Panthers
, regaining their composure to finally put away an inferior opponent with a backup quarterback in a 20-10 white-knuckler. The game did little to quell anxieties surrounding the Patriots for the past few weeks.
Randy Moss
was booed by his home crowd for an uninspiring effort that had
Panthers players claiming afterward they made him quit
. Moss finished with one reception, which he fumbled away after a 16-yard gain. He also gave up on a
Tom Brady
pass that was intercepted.
But Moss isn't alone in creating concern. Bill Belichick sent Gillette Stadium into a full cringe when he went for it on fourth down again and didn't convert. And there's still that matter of disgruntled outside linebacker
Adalius Thomas
, a healthy scratch for the second time this year.
The Dolphins, meanwhile, are on the make. The defending AFC East champs finally might have discovered themselves after an 0-3 start, a 3-5 record at the midpoint and that deplorable loss in Buffalo.
Despite the absences of top players in crucial positions -- quarterback
Chad Pennington
, top running back
Ronnie Brown
, center
Jake Grove
, nose tackle
Jason Ferguson
, No. 1 cornerback
Will Allen
-- they have a winning record for the first time.
While the Patriots exhibit shaky tendencies, the Dolphins and Jets are playing with conviction.
"You give this team some light, and our antennas go up," Dolphins nickel back
Nate Jones
said. "We fight our butts off to achieve a goal. We're in December. We're over .500.
"This team is really building something. We can kind of see we have a chance here to do something big. I love the look in all the guys' eyes when we go out to practice and come out for the game."
The Jets are finding their mojo, too, but it's probably not going to be enough. They won their third straight game with a 26-3 domination of the
Tampa Bay Buccaneers
. The Jets are tied with the Dolphins, Jaguars and
Baltimore Ravens
at 7-6.
But the Jets have an arduous schedule to come:
Atlanta Falcons
, at
Indianapolis Colts
,
Cincinnati Bengals
. The Dolphins, holding several tiebreakers thanks to their season sweep of the Jets, will face three more manageable teams: at
Tennessee Titans
,
Houston Texans
,
Pittsburgh Steelers
. The Patriots have the easiest remaining schedule of the three: at Bills, Jaguars, at Texans.
What made the Dolphins' victory impressive on Sunday was their ability to persevere.
They fumbled four times and committed three turnovers, but seemed to remain in control all the while.
Chad Henne
(17 consecutive completions) and
Ricky Williams
(108 rushing yards and a touchdown) generally kept the ball moving. The defense kept the Jaguars stalling.
Whereas the Patriots have made a habit of coming up empty in clutch situations -- failing to convert a fourth down in Indianapolis and Brady's late interception in Miami come to mind -- the Dolphins talk about a swelling belief they're going to make the play when it counts.
"If nobody expected anything out of us, then it wouldn't be worth playing," Dolphins left guard
Justin Smiley
said. "I'm thankful we have a resilient team, a team that fights.
"In the past we haven't done such a good job of finishing the fourth quarter. It looks like we're finally coming into our own. We need a sack at the end of the game? The defense is going to go get it.
"That's just amazing. It's just knowing your teammates and knowing the fight. It's pretty awesome to be a part of."
November, 5, 2009
11/05/09
12:47
PM ET
Posted by ESPN.com's Tim Graham

New England Patriots
Buffalo Bills
Miami Dolphins
New York Jets

March, 18, 2009
3/18/09
10:07
AM ET
Posted by Scouts Inc.'s Matt Williamson
There has been a fair amount of movement at the cornerback position in the AFC East this offseason. With Terrell Owens now in the division, it is an opportune time to more closely examine those comings and goings and the overall state of the cornerback position with each team.
Buffalo

The Bills added Drayton Florence, who was abused repeatedly in Jacksonville last year, to their cornerback corps in free agency. While they could use a draft pick on the position, surely it will not be a prominent selection even though they did lose Jabari Greer, who signed with the Saints after playing very well for the Bills last season.
The reason for optimism at this position mostly has to do with the emergence of last year's first-round selection, Leodis McKelvin. Coming from a small school like Troy, it understandably took some time for this ultra-talented young man to acclimate himself to the league. But the best appears to be in front of McKelvin and we should expect production going forward that warrants Pro Bowl consideration.
Terrence McGee remains the starter opposite McKelvin. He is reliable, tough and a playmaker. For depth along with Florence, there is hope for youngsters Reggie Corner and Ashton Youboty. Either player could easily unseat Florence as the first corner off the bench. However, it should be noted that the Bills desperately need to add one more prominent pass-rusher up front to further give this group of corners an even better chance to succeed.
Miami

The Dolphins have a considerable need at cornerback and this could potentially be a much more potent defense overall with a true No. 1 corner on the roster. Although it went very much under the radar, Andre Goodman put together an excellent season for the Dolphins in 2008 -- but he has moved on to Denver. Will Allen is a little better than a middle-of-the-road starter, but clearly is the best player in this group. Nate Jones was serviceable last year and exceeded expectations overall. But with Owens now in the division and the ever-dangerous Patriots group of wideouts, it is a stretch to think that Jones can be counted on as an every-down starter. Former first-round selection Jason Allen has improved under this coaching staff, but he remains a cornerback/free safety tweener and just a depth player at this point -- though he is capable of surprising.
To help bolster this unit, the Dolphins did recently sign Eric Green, although his performance in Arizona made him expendable to the Cardinals. More help is needed -- but getting ahold of a true No. 1 cornerback isn't easy to accomplish.
New England

Cornerback was clearly a huge weakness for the Patriots in 2008, but it also should be noted that New England's pass rush was nowhere near its usual standards. With an extreme wealth of early draft picks and Adalius Thomas returning from injury, the pass rush will be improved. But Asante Samuel was missed last year. While they didn't add anyone in Samuel's class, New England is much better at the position now than when the season ended.
Shawn Springs played at a high level last year, though the Redskins, who released him, apparently disagree with that assessment. Of course, he isn't a long-term answer, but he could make a smooth transition to free safety at some point, much as Rod Woodson did late in his career. Springs is a tremendous signing and his presence should be especially beneficial to a pair of cornerbacks from New England's 2008 draft class, Terrence Wheatley and Jonathan Wilhite, who should learn from his professionalism. Wheatley and Wilhite are undersized, but both have the feistiness and short-area burst that Bill Belichick covets. Both should be better in their sophomore seasons.
While Springs played at a high level in 2008, the same cannot be said of fellow cornerback signee Leigh Bodden. His play began to slide during his final season in Cleveland and it didn't get any better with the lowly Lions. However, Bodden has all the physical abilities that you look for in the position and had stints of excellent play with the Browns. To his credit, Bodden has never had a consistently strong pass rush at his disposal either. This foursome shows promise and when you mix in Ellis Hobbs, who has been up and down throughout his Patriots career, it is clear that what was possibly New England's greatest need when last season ended has now become more than adequate, especially considering the pass rush is due to improve dramatically.
It once looked as though the Patriots would be forced to draft a cornerback high, but now they have positioned themselves to grab one if they feel that specific player presents excellent value or to pass on the position altogether if no one suits their fancy.
New York

Rex Ryan is an aggressive defensive playcaller who will challenge his cornerbacks in man-to-man coverage. He also stresses pressure on the quarterback, and few defensive minds are his equal in creating consistent heat on the quarterback, which obviously makes cornerbacks' coverage responsibility easier. Ryan does have a great one in the making in Darrelle Revis. While recently acquired Lito Sheppard is a big-name corner and he certainly performed well at times during his career with the Eagles, it would be a mistake to etch him in as a clear-cut starter opposite Revis. There was no shame in being relegated to the bench behind Sheldon Brown and Samuel in Philadelphia, but Sheppard gives up plenty of big plays and will be tested. The No. 2 cornerback in this defense is sure to see an awful lot of attention, as opposing offensive coordinators have wised up in trying to thro
w in Revis' direction. The Jets do have Dwight Lowery, who showed some playmaking ability as a rookie, but he isn't ideally suited to what Ryan asks from this position and would be better off in a predominantly Cover 2 scheme.
With the Patriots as the team to beat in the AFC East, the Jets need to find one more cornerback to push and compete with Sheppard. Don't be surprised if the Jets pull the trigger on a cover man with one of their first two draft picks. Vontae Davis' potential as a man-to-man corner could be too enticing to pass up in the first round.
Scouts Inc. watches games, breaks down film and studies football from all angles for ESPN.com.
November, 20, 2008
11/20/08
8:00
AM ET
Posted by ESPN.com's Tim Graham
DAVIE, Fla. -- If the oddsmakers are correct and the New York Jets aren't quite good enough to be the first to beat the Tennessee Titans, then the Jets will have company atop the AFC East on Sunday afternoon.
The teams that are one game behind the Jets will play each other when the Miami Dolphins host the New England Patriots.
That means the Dolphins, who went 1-15 last year and started the season 0-2, could be tied for first place in the division.
"From where this team has come from?" marveled Dolphins cornerback Nate Jones, who spent his previous three NFL season with the Dallas Cowboys. "To be 6-4 right now and looking at possible first place, we all envisioned it. I don't know how many people bought into it outside of this room, but we all envisioned it.
"We're walking the walk right now."
It will be the most significant game for the Dolphins this late in a season since they played the Philadelphia Eagles on "Monday Night Football" in December 2003.
"It's a game that actually means something, one of the only ones I've been in," Dolphins linebacker Channing Crowder said. "We were always just a game for somebody, and we were trying to be the spoiler. Now, we're not trying to be the spoiler. We're trying to be a contender."
Dolphins coach Tony Sparano on Monday said if "your heart's not racing a million miles an hour then you don't have a pulse. This is why we do what we do. We put ourselves in a position to have a big game at home here at the end of November."
But since Sparano made those heady remarks it sounded like somebody gave a locker-room speech to throw on the brakes.
Some players on Wednesday tried to downplay the game's connotation with a similar phrase.
"We definitely want to come out and get a win, but by no means is it going to make or break our season," outside linebacker Matt Roth said. "We still got a lot more games to play."
Said Jones: "We want to keep everything in perspective. We all know this is a big game. Aw, man, the outcome of this could mean a lot down the line as far as playoff runs and all that. But we feel this won't make or break our season."