December, 12, 2010
12/12/10
3:02
PM ET
November, 10, 2010
11/10/10
11:09
AM ET
The
Miami Dolphins
have
signed some veteran help to shore up a position
of weakness, adding free-agent cornerback
Al Harris
on Wednesday.

Harris
The
Green Bay Packers
waived Harris on Monday. The 13-year veteran went unclaimed, allowing him to sign with any team. Harris was a Pro Bowler in 2007 and 2008, but he'll turn 36 in December and had a season-ending knee injury 12 months ago.
The Dolphins have been set at left cornerback with
Vontae Davis
, but they've been unsatisfied at right cornerback and nickelback -- not to mention with their ability to force turnovers.
Last year's right-side starter,
Sean Smith
, lost his job to
Jason Allen
just before the start of the regular season. Smith regained the job last week and dropped what would have been an interception for a touchdown in a loss to the
Baltimore Ravens
.
The Dolphins added cornerback
Nate Ness
off waivers last week.
Harris has started every one of the 102 games he played for Green Bay. He spent his first five seasons with the
Philadelphia Eagles
and has 21 career interceptions.
November, 7, 2010
11/07/10
11:52
AM ET
August, 15, 2010
8/15/10
1:07
AM ET
Some observations from the
Miami Dolphins
'
10-7
victory in their preseason opener against the
Tampa Bay Buccaneers
in Sun Life Stadium ...
Rough night for Miami's first-team offense to make a strong impression. Conditions were sloppy the entire game, but especially at the start. A downpour on a field that features the Florida Marlins' infield made handling the ball tricky.
Here are some sloptastic stats: The Bucs fumbled seven times, losing three of them. The Dolphins didn't fumble once, but shotgun snaps were dicey. The teams combined on 13 penalties for 103 yards.
Chad Henne played four possessions. He completed 5 of his 11 passes for 19 yards with no sacks or interceptions.
In his Dolphins debut, Brandon Marshall dropped the only two passes thrown to him. The ball was wet, but you'd still like to see a star receiver make those catches. The second one was a perfect pass, albeit a fastball, that sailed right through his hands.
Miami's first-team offense: 15 plays, 39 yards, two first downs.
You saw some signs of new defensive coordinator Mike Nolan's aggressive defense. When cornerback Sean Smith made an easy interception (he could have signaled for a fair catch), he tried to pitch it to safety Chris Clemons. Nolan encourages these types of plays. But Smith thought twice as Bucs receiver Reggie Brown spun him to the ground. Expect to see some defensive laterals on interception and fumble returns this year.
The defense was a mixed bag in general. Miami missed way too many tackles, helping Tampa Bay break off 10 plays of 15 yards or longer. That's bad news for Tony Sparano, who stresses the importance of chunk yardage.
Tampa Bay converted 47 percent of its third downs. Eep.
But the Dolphins' defense also made some great plays. They showed a nose for the ball with 10 tackles for losses, five forced fumbles and four turnovers. Look out.
Nice night for defensive tackle Paul Soliai. On back-to-back defensive snaps at the end of the second quarter -- with a Miami possession in between -- Soliai recovered a fumble and stuffed Bucs running back Derrick Ward for a loss.
Tyler Thigpen relieved Henne and played all but the final two minutes, when Pat White mopped up. Thigpen did OK against Tampa Bay's second- and third-stringers. He was 10-of-19 for 145 yards.
On Miami's lone touchdown drive, Thigpen completed four of five attempts for 63 yards.
I don't understand the point of sending White into the game to hand off once and then kneel twice to run out the clock.
Chad Pennington dressed but didn't play. He doesn't need to make a preseason appearance. He's coming back from reconstructive shoulder surgery and has been around long enough that the Dolphins don't need to see what he can do. They already know.
Rookie cornerback Nolan Carroll continues to be a delight. Nate Ness, a free agent cornerback who went undrafted in 2009, also saw considerable action and showed quite well.
There was a Patrick Turner sighting. Turner, a third-round draft choice last year, had zero catches as a rookie. He made two big catches Saturday night, including a 34-yard gain.
Competition for the final receiver slot will be tough. Is there room for Marlon Moore? His stat line was identical to Turner's: two receptions for 44 yards with a long of 34 yards. Moore's big play was to the Tampa Bay 11-yard line and set up Lex Hilliard's eventual 2-yard touchdown run.
Dolphins punter Brandon Fields had a punt blocked for the first time in his NFL career. His inexperience in dealing with the moment showed when he jumped on the ball and, not hearing a whistle, got up and tried to run.
Fields otherwise had a monster day. He successfully punted seven times for a 53.1-yard average. He boomed a long of 63 yards, but also had a 62-yarder (to the Tampa Bay 5-yard line), a 61-yarder and a 50-yarder (to the Tampa Bay 10).
November, 18, 2009
11/18/09
7:09
PM ET
The
Miami Dolphins
' outside chances of making the playoffs have gotten significantly more remote.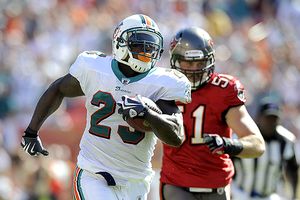 Steve Mitchell/US PresswireDolphins running back Ronnie Brown's season is over.
A foot injury landed Pro Bowl running back
Ronnie Brown
on season-ending injured reserve Wednesday.
The Dolphins previously announced Brown would miss Thursday night's game against the
Carolina Panthers
, but Dolfans held out hope he would be back for part of the homestretch.
Miami ranks fourth on the ground at 156 yards a game. Brown had a team-high 648 rushing yards and eight touchdowns, tied for fourth in the league.
Brown's absence leaves the rushing duties almost exclusively to
Ricky Williams
and probably snuffs the Wildcat offense.
Dolphins coach Tony Sparano expressed confidence Williams could handle the Wildcat's direct snaps, but didn't say who would handle Williams' motion-man role that makes the play so tricky to defend.
"Ricky has been back handling the snaps," Sparano told reporters Monday. "There is going to be some other people if Ronnie isn't able to be out there that would come into play."
Miami chose to fill Brown's roster spot with safety Nate Ness and not another running back.
The only other available running back with a carry this year is fullback
Lousaka Polite
, a fine third-and-short runner, but probably not a legitimate complement for Williams. Polite is averaging 2.9 yards on 18 attempts.
Second-year pro
Lex Hilliard
wowed Dolfans in exhibitions, but hasn't touched the ball in the regular season. A knee injury ended utility back
Patrick Cobbs
' season in Week 5.