AFC East:

Nathaniel Hackett
October, 4, 2013
10/04/13
3:09
AM ET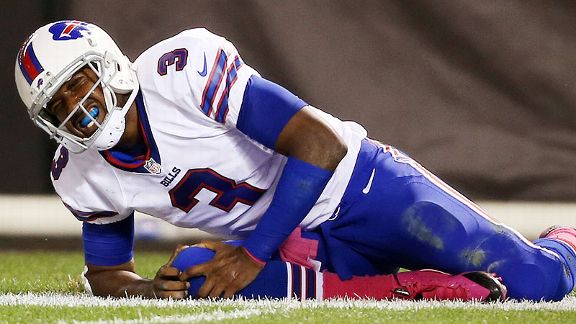 Ron Schwane/USA TODAY SportsEJ Manuel's sprained knee suffered Thursday night is just the latest bit of bad luck for the Bills.
CLEVELAND -- There's a game that the
Buffalo Bills
' brass must feel like they're playing right about now, and it's not just football.
It's Whac-A-Mole.
The Bills have tried to navigate an early-season obstacle course of injuries, one that has taken key players out of the lineup on both sides of the ball.
The latest blow came Thursday night and struck
EJ Manuel
, whom Buffalo drafted in the first round this year to be their franchise quarterback. After scrambling for a first down in the third quarter, Manuel was hit in his right knee by
Cleveland Browns
safety
Tashaun Gipson
.
Manuel has a sprained knee, and with 10 days before the Bills' next game, his prognosis is not immediately clear. But this much is obvious: The version of the Bills that finished Thursday's game resembled something more like the squad that closed out preseason games.
Rookie
Jeff Tuel
-- the undrafted free agent from
Washington State
whom the Bills were ready to start in Week 1, if you need a reminder -- took over for Manuel and looked like, well, an undrafted rookie. He went 8-for-20 passing for 80 yards and threw a pick-six with less than two minutes remaining that ended any hopes of a Buffalo comeback.
The story would be much different, of course, if Tuel had been able to somehow pull out a victory on the road. But in an improbable scenario where both starting quarterbacks were knocked out with injuries Thursday night, nobody will blame Tuel for the Bills'
37-24 loss
.
In fact, it's tough to place blame on anyone for the Bills' 2-3 record thus far. This isn't the team that general manager Doug Whaley and coach Doug Marrone, both in their first seasons, drew up.
Arriving from
Syracuse
, Marrone brought energetic 33-year-old offensive coordinator Nathaniel Hackett along to Buffalo and convinced defensive coordinator Mike Pettine to bring his aggressive scheme with him from the
New York Jets
. And at times, we've seen glimpses of the young, talented team that Whaley and his staff envisioned all spring and summer. This is far from the bottom-feeding roster that other so-called rebuilding teams must contend with.
It's just not a healthy one.
The first signs of trouble came on the first day of training camp, when defensive end
Mario Williams
, one of the best at his position, showed up with a sore foot. Luckily for the Bills, he was able to shake that off.
That wasn't the case with another Pro Bowl defender,
Jairus Byrd
, who signed his franchise-tag tender in late August and also arrived to camp with sore feet.
Byrd has yet to play
-- he was held out Thursday night on a coach's decision -- and his presence as a back-end ball hawk has been missed.
As has cornerback
Stephon Gilmore
, who has been out with a fractured wrist since the preseason. Though only in his second season, the team believes Gilmore can become a top-tier NFL corner.
[+] Enlarge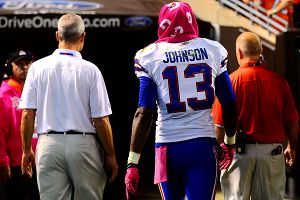 Andrew Weber/USA TODAY SportsBills receiver Stevie Johnson went to the locker room during the second quarter with a back injury.
And on offense, the Bills have dealt with three significant injuries in recent weeks, even before Manuel went down. Their two-headed rushing attack of
C.J. Spiller
and
Fred Jackson
has been slowed by multiple ailments, while top receiver
Stevie Johnson
could not finish Thursday's game after hurting his back.
It's been one injury after another, after another.
For a while Thursday night, it looked like the Bills were finally starting to overcome their problem. Cornerback
Leodis McKelvin
returned to the lineup after missing almost two full games with a hamstring injury, a step toward the secondary getting back to health.
And then came what the Bills probably weren't expecting: Spiller, on short rest and a bum ankle, broke open a 54-yard touchdown run on the third play of the second half.
Spiller trotted back to the bench with a limp, and after the game was seen in the locker room walking even more gingerly. But for one play, the Bills got what they needed out of him, as they did with Jackson, who has a sprained MCL. Jackson carried 17 times for 53 yards and two touchdowns.
"Two gutsy players," Bills center
Eric Wood
said. "Having them out there was vital tonight. Credit them. It wasn't easy for either of them, but they both fought back."
For Buffalo, though, it just wasn't enough. They were too banged up to pull this one out.
The Bills may get Manuel back for their next game, Byrd looks close to returning and the extra days of rest may do wonders for Spiller and Johnson.
But the way this young season has gone for the Bills, it seems like the next injury is lurking around the corner, ready to pop up its head.
September, 27, 2013
9/27/13
3:00
PM ET
ORCHARD PARK, N.Y. -- Is this a must-win game for the
Buffalo Bills
?
It could be. Hosting the
Baltimore Ravens
in their third home game in four contests, the Bills are trying to avoid a 1-3 record, entering what could be a tough October. After Sunday's game, the Bills travel to Cleveland next Thursday before hosting the 2-1 Bengals, and then traveling to face the 3-0 Dolphins and 3-0 Saints.
[+] Enlarge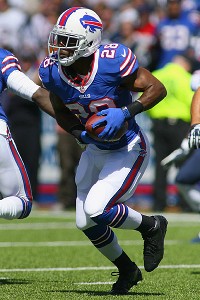 Rick Stewart/Getty ImagesThe Bills need for C.J. Spiller to keep the running game churning in order to help relieve some of the pressure on QB EJ Manuel.
But Buffalo can't afford to look past the Ravens. The defending Super Bowl champions lost several key players this offseason, but have bounced back, winning their past two games. This will be one of the Bills' toughest tests of the season.
Here's what to watch for:
1. Can Spiller get going?
Bills CEO Russ Brandon told WGR 550 this week that the Bills "need" to get their running game cranking. That begins with
C.J. Spiller
, who gained just nine yards on 10 carries against the Jets. He is probable for Sunday's game and should play. If he can get into a rhythm, it will take pressure off rookie quarterback
EJ Manuel
. But it won't be easy: the Ravens allow just 74.7 rushing yards per game, fourth in the NFL, and have some big bodies in
Haloti Ngata
(340 pounds) and
Arthur Jones
(315 pounds) for the Bills' offensive line to move.
2. Do Bills help their tackles?
The Ravens have a pair of the NFL's best pass-rushers in
Terrell Suggs
and
Elvis Dumervil
, who have combined for five sacks already this season. The Bills may opt to use their '12' package -- one running back and two tight ends -- more than usual on Sunday, allowing tight end
Lee Smith
to help out the offensive tackles with Suggs and Dumervil. So far this season, left tackle
Cordy Glenn
and right tackle
Erik Pears
have held up well, but an eight-sack performance by the Jets may be enough to give offensive coordinator Nathaniel Hackett pause about leaving his tackles without help on the edge.
3. Will Rice play?
Ravens running back
Ray Rice
has been dealing with a hip injury that kept him out of last week's win against the
Houston Texans
. Rice said Friday he hopes to play, and if he does, Rice presents another challenge for the Bills. Their run defense ranks 31st in the NFL, allowing 155 yards per game. The positive for Buffalo is that their trio of defensive linemen who were dealing with injuries this week --
Marcell Dareus
,
Kyle Williams
, and
Mario Williams
-- are all probable for Sunday. Their presence will help, but the Bills will need a complete defensive effort against the Ravens.
4. Will Hackett slow things down?
One hot topic this week was the Bills' offensive pace, which is the fastest in the NFL, even ahead of Chip Kelly's attack in Philadelphia. The results haven't been there for Buffalo just yet, though. They are struggling to convert third downs, leaving their defense on the field for over 35 minutes a game, second-most in the NFL. It will be worth watching Sunday if Hackett dials things back, especially if the running game, led by Spiller and
Fred Jackson
, starts to gain some momentum. The better bet, though, is that Hackett will stick to his up-tempo philosophy.
August, 13, 2013
8/13/13
1:25
PM ET
Buffalo Bills
coach Doug Marrone said Tuesday that he spoke to offensive coordinator Nathaniel Hackett about comments Hackett made about running back
C.J. Spiller
's workload during a radio interview last week.

"I think as coaches we need to be careful of what we say," Marrone said. "I said that to Nathaniel, and I said that to the team."
Hackett told WGR 550 in Buffalo that the Bills planned to give Spiller carries "until he throws up."
"It's real simple: We're going to give him the ball until he throws up," Hackett said last Wednesday. "So he's either got to tap out or throw up on the field. Let's just put it that way."
Marrone said the Bills recognize Spiller's talent, but that Hackett's comments might have gone too far.
"I think we all knew what he meant but, again, in this day and age, not everybody that's involved in the game of football truly understands that," he said. "We want to be true professionals in how we represent our sport."
Spiller had four carries for 36 yards in the Bills' preseason win against the
Indianapolis Colts
on Sunday.
August, 11, 2013
8/11/13
6:00
AM ET

The
Buffalo Bills
open their preseason on Sunday at the
Indianapolis Colts
. In a rare afternoon preseason game, kickoff is at 1:30 p.m ET.
Here's what to watch for:
Manuel's first chance to shine. With veteran Kevin Kolb dressing but serving only as the emergency quarterback, rookie EJ Manuel has a prime opportunity to get a leg up on the quarterback battle through the rest of the preseason. The biggest question is how much he'll play. Coach Doug Marrone refused to tip his hand on Friday night, but it wouldn't be surprising to see Manuel take the first half and another rookie, Jeff Tuel, take over for the second half.
Who steps up among rookie wideouts? With Stevie Johnson (hamstring) out for at least this game, second-round pick Robert Woods and third-round pick Marquise Goodwin will get live game reps with Manuel. The Bills began their first practice of training camp with a long-ball drill; expect them to take some deep shots early on Sunday. With Brad Smith and Kevin Elliott also not expected to play due to injury, look for Chris Hogan, who has stood out thus far in camp, to see extensive action. Finally, it's worth monitoring when undrafted receiver Da'Rick Rogers enters the game; if it isn't until late, it won't help his chances of making the final cut, which is less than three weeks away.
Does Hackett put his stamp on offense early? At 33, Nathaniel Hackett is one of the younger offensive coordinators in the NFL. His up-tempo, energetic personality has left its mark on the Bills' offense, which aims to wear down defenses with a speed-oriented, no-huddle approach. But if Hackett reveals too much of his strategy in preseason contests, it will give opponents an opportunity to dissect the scheme on film, so expect something more toned-down on Sunday. With Manuel seeing his first game action in the NFL, it may be best to slow the offense down until he gets comfortable.
Where does the pass rush come from? Marrone said Friday that defensive end Mario Williams (foot) will be a game-time decision. At this point in the preseason, it seems unlikely the Bills would risk putting Williams on the field. After Williams, there is a significant drop-off among proven pass-rushers, something that has arguably flown under the radar in training camp. The Bills seem to be expecting big things out of Jerry Hughes, who will be returning to Indianapolis, where he was a former first-round pick. The team also appears high on Jamie Blatnick, who should see significant playing time Sunday. The first time the Colts are in a third-and-long situation, it will be worth noting who is on the field and what pressure they generate against an improved Colts offensive line.
Left guard another battle to monitor: Beyond the obvious competition at quarterback, the Bills have an open left guard spot that is far from being decided. The focus will be less on who starts -- it could be Colin Brown, Doug Legursky, or someone else -- and more on how they perform when in the game. Marrone hasn't seemed satisfied with the battle so far and has been working closely with the offensive line in practice. You can bet that he will be taking a close look at the film for that position on Monday morning.
July, 16, 2013
7/16/13
10:55
AM ET
By
ESPN.com staff
| ESPN.com
Buffalo Bills
Pro Bowl safety Jairus Byrd is the only franchise tagged player to have not signed his tender. Sources close to the situation told The Buffalo News
the parties did not speak Monday
and didn't have any talks last week. David Canter, the agent for Chargers safety Eric Weddle,
tweeted some harsh words
for Warren Sapp,
who tells Byrd to go back to work
and earn a deal. Seahawks safety Earl Thomas
reacted to Byrd's demands by tweeting
, "Pay that man...lol."
Just how fast will the Bills' offense run under coordinator Nathaniel Hackett? "We've averaged from four seconds to 18 seconds (per play),"
Hackett tells Chris Brown of the team's official website
.
In
an ESPN Insider piece

, Gary Horton ranks Bills running back C.J. Spiller as one of the AFC's most versatile players.
Miami Dolphins
The Miami Herald's
David J. Neal opines on the impact of free speech
in this age of social media, and how it reflected on Mike and Maurkice Pouncey: "The Pounceys turn 24 on July 24. They don't remember when 'Free [jailed person here]' once carried a social element."
"We haven't yet heard from Mike (Pouncey), but you can be assured Dolphins coach Joe Philbin will talk to him. Most likely he'll ask him where the hats came from, why they wore them, and tell Mike not to put the team is such a position again. End of story,"
writes Chris Perkins of the Sun-Sentinel
.
"I wouldn't trade Cam Wake for anybody in our league," Miami defensive coordinator Kevin Coyle recently told
the Dolphins' official website
.
Rookie defensive end
Dion Jordan answers five offseason questions
, including how he'll accept feedback from veteran players.
New England Patriots
Former Patriot
Willie McGinest predicts New England will finish 11-5
in 2013 because of his belief in both quarterback Tom Brady and coach Bill Belichick.
Patriots defensive lineman
Vince Wilfork will be honored
at this year's "The Tradition" event in Boston.
Continuing a month-long series analyzing players who are on the roster bubble and where they may potentially fit in 2013, ESPNBoston.com
takes a closer look at cornerback Ras-I Dowling
.
The
Boston Globe takes a closer look at what life
is like for former Patriot Aaron Hernandez in jail.
In
an ESPN Insider piece

, Gary Horton ranks Patriots wide receiver Julian Edelman as one of the AFC's most versatile players.
New York Jets
Wide receiver Stephen Hill says the Jets "
will be in the playoffs, and deep in the playoffs.
"
Rich Cimini of ESPNNewYork.com
says Mike Goodson is the Jets' wild card
among the running backs heading into the 2013 season.
A one-time short-term replacement for Darrelle Revis,
defensive back Aaron Berry looks to find his place
on a roster that now includes Dee Milliner.
"It won't matter to fantasy owners whether the Jets' quarterback is past pariah Mark Sanchez or potential messiah Geno Smith; worrying about it will be as worthless as agonizing over a last-round kicker,"
writes Sports Illustrated's Eric Mack
.
June, 13, 2013
6/13/13
4:30
PM ET
The 2013 mandatory minicamps are in the books in the AFC East. The
Buffalo Bills
,
Miami Dolphins
,
New England Patriots
and
New York Jets
all wrapped up their three-day sessions on Thursday. The Patriots, in fact, cancelled their third and final practice as a reward for the team's hard work.
But there were several interesting developments throughout the division this week. Here are four things we learned during AFC East minicamps:

No. 1: Jets QB Mark Sanchez has a slight edge
Analysis:
The Jets' quarterback job is there for the taking. Incumbent veteran Mark Sanchez led the NFL in turnovers the past two years, but he is doing enough for now to hold off rookie second-round pick
Geno Smith
, who still has a lot to learn. Smith's inexperience in the NFL and running a West Coast offense continued to show this week in minicamp. He's going to have to do extra to supplant Sanchez, who now enters training camp as the favorite to win the quarterback job and start in Week 1.

No. 2: Tim Tebow's role still up in the air
Analysis:
Tebow-mania made its New England debut this week with plenty of media in Foxborough. However, Patriots coach Bill Belichick
remained tight-lipped
on how the team plans to use Tebow this season. Is Tebow simply a third-string quarterback? Will New England insert
a Wildcat package
for Tebow and take Hall of Fame quarterback
Tom Brady
off the field? Can Tebow play another position for New England, such as tight end, running back or special teams? The Patriots did not answer any of these questions this week. Expect plenty of speculation and debate on Tebow until training camp.

No. 3: Dolphins' defense has improved
Analysis:
The Dolphins spent a lot of money and resources to upgrade the defense. Miami signed free agents
Dannell Ellerbe
and
Philip Wheeler
to upgrade the linebacking corps and cornerback
Brent Grimes
to fix the pass defense. The Dolphins also drafted defensive end
Dion Jordan
No. 3 overall to fix the pass rush. It was evident in minicamp this week that this is an improved defense with much more speed and the ability to force turnovers. For example, Miami's defense had
four interceptions on Wednesday
, including two against Dolphins starting quarterback
Ryan Tannehill
. The Dolphins are already good at stopping the run. If they can rush the passer and force turnovers, this will be a tough defense to handle in 2013.

No. 4: Bills' offense still work in progress
Analysis:
Buffalo's offense struggled this week, and particularly the passing game. Quarterbacks
Kevin Kolb
and
EJ Manuel
did not perform well against the various and complex blitz packages of new defensive coordinator Mike Pettine. The pass protection also was shaky. Pettine is bringing the same formula that's worked for the Jets the past several years, and Buffalo's defense certainly had the advantage this week. New Bills offensive coordinator Nathaniel Hackett has about a month to fix some of their issues from minicamp.
May, 22, 2013
5/22/13
8:00
AM ET
Here are the most interesting stories Wednesday in the AFC East: Morning take: Taylor was curiously missing from practice Tuesday and this explains why. This puts the rookie second-round pick behind in the cornerback competition in Miami.
Morning take: Buffalo knew Manuel had a lot to learn at the NFL level but fell in love with all his tools. Manuel has a tough job beating out two veterans and must make big strides between now and September.
Morning take: This is the best way for Goodson to keep his job in New York. Any guilty plea could lead to a release or an NFL suspension. The Jets may wait for the legal process to run its course before making a decision.
Morning take: The Patriots are extremely business-like and not afraid to cut ties quickly. Fans like their winning culture, but a lot of players don't agree with the way the Patriots sometimes do business.
January, 4, 2010
1/04/10
12:24
PM ET
Buffalo Bills general manager Buddy Nix said at his introductory news conference Thursday he wanted a coach who could build a staff, and the new hire apparently will have to do it from scratch.
The Bills resumed heavy internal renovations Monday by firing their entire coaching staff a day after completing a 6-10 season, their 10th straight without the playoffs.
The story was broken by Jay Glazer of Fox Sports and confirmed by Buffalo News reporter Mark Gaughan, who noted
all of the coaches had one year remaining
on their contracts.
The Bills fired offensive coordinator Turk Schonert 10 days before the season opener and head coach Dick Jauron after a Week 10 loss. They named defensive coordinator Perry Fewell interim head coach.
Nix on Thursday said Fewell would be interviewed for the head-coaching vacancy. Other assistants could be re-hired.
Here is a rundown of the coaches who finished the year with the Bills:
Bobby April, assistant head coach/special teams coordinator
Alex Van Pelt, offensive coordinator
Eric Studesville, running game coordinator/running backs
Ray Brown, assistant offensive line
George Catavolos, defensive backs
Charlie Coiner, tight ends
DeMontie Cross assistant linebackers/special teams
Nathaniel Hackett, offensive quality control
Sean Kugler, offensive line
Chuck Lester, assistant to the head coach/special projects
Bob Sanders, defensive line
Matt Sheldon, linebackers
Tyke Tolbert, wide receivers
Adrian White, defensive quality control
John Allaire, strength and conditioning