June, 25, 2012
6/25/12
11:00
AM ET
A championship parade will take
place in downtown Miami
on Monday, courtesy of the Heat. LeBron James, Dwyane Wade, Chris Bosh and Co. will show off the NBA's Larry O'Brien Trophy for thousands of adoring Miami sports fans.

Is this a good or bad thing for the
Miami Dolphins
?
I think a case can be made for both sides. Let's examine.
Less pressure
A pro sports championship buys time for the rebuilding Dolphins. Miami fans cannot be spoiled to the point of expecting two championships in a calendar year. That rarely happens.
The Heat's championship should carry over to football season. Even if the Dolphins struggle, it probably won't overtake the buzz of Miami fans still riding high from a basketball championship. The Dolphins do not have to make a title run, because Miami has already crowned its champion for 2012.
More pressure
The Dolphins are competing for sports and entertainment dollars with the Heat, who have dominated the market since the arrival of James in 2010. Tickets to pro games aren't cheap, and it's clear South Florida residents prefer to spend their hard-earned dollars to see the Heat, which is a better and more entertaining product.
Also, Miami is very much an event town. It's a glitzy place where people want to see and be seen. American Airlines Arena, home of the Heat, currently is that place.
Sun Life Stadium has lacked
that kind of environment for a while. It doesn't help that the Dolphins are struggling.
Football has a longer history in South Florida, but at some point history starts to fade. It's premature to say Miami is now a basketball town thanks to the Heat. But each Heat championship certainly closes the football-basketball gap in Miami, especially when the Dolphins and Hurricanes aren't nearly as competitive.
The Heat have raised the bar for sports teams in Miami. The Dolphins, in particular, must get their act together. It's increasingly clear many Miami fans now are only willing to pay for a good product, regardless of history.
April, 17, 2012
4/17/12
1:34
PM ET

After spending some time with
Tim Tebow
, NBA star Dwyane Wade is convinced the
New York Jets
' quarterback will thrive in the Big Apple.
Tebow and Wade attended Sunday's baseball game together between the Yankees and Angels in New York. Both players received jeers when shown on the big screen, despite wearing a pair of Yankees hats.
The two high-profile athletes talked throughout and shared some laughs. Wade later
told the New York Post
he can tell Tebow has what it takes to thrive in the high-pressure situation in New York.
"He's a winner," Wade told The Post. "You can sense it when you speak to him and you're around him. The confidence that he portrays as a person probably wears off on the guys in the locker room. That's why they were successful in Denver and that's why he'll be successful in his role with the Jets."
Tebow was acquired in an offseason trade with the
Denver Broncos
. He is the No. 2 quarterback behind embattled starter
Mark Sanchez
. Tebow will primarily run a Wildcat package. But Tebow also could push for the starting job if Sanchez struggles.
March, 22, 2012
3/22/12
3:00
PM ET
New York is such a huge media market that it always needs royalty in place.
So who is the current sports king of New York? Can new Jets quarterback
Tim Tebow
fill that void?
[+] Enlarge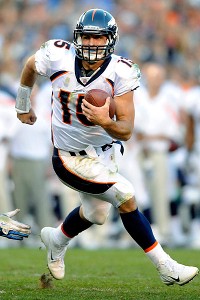 Christopher Hanewinckel/US PresswireWill New Yorkers embrace Tim Tebow like fans did in Denver?
The crown right now is on the head of
New York Giants
quarterback
Eli Manning
. He's won two Super Bowls in the past five seasons and went through the ringer with New York fans and media. Manning persevered and came out on the other side a stronger person and better quarterback. He showed the toughness it takes to be a professional athlete in New York, and he's earned Gotham's respect. That crown will be hard to take.
But every sports king needs a sports prince. That is where Tebow-mania has the potential to take over.
Tebow already comes to the media capital of the world with an immense fan base. The Gang Green No. 15 jersey sales will go through the roof. Tebow just needs to do his part on the field, which he did in Denver last year by leading the Broncos to the playoffs. Based on his character and work ethic, we already know no one is going to work harder. Those are admirable traits that the New York metropolitan area will respect.
The competition for New York's No. 2 athlete has some contenders. I consider Derek Jeter, 37, in his own category. He's run New York for so long that he's in the "King of New York" Hall of Fame. He's more of the governor or mayor at this point. Leave the rotating crowns to the younger guys. Let's look at five who are in the running for the prince role behind Manning:
Jeremy Lin, PG, Knicks: For about a three-week period, there was nothing bigger in sports than Lin. His story of going undrafted out of Harvard to starring for the New York Knicks at Madison Square Garden captured the imagination of the sports world. But the Knicks have since fizzled out and so has Lin's momentum. He's still averaging a solid 14.9 points and 6.3 assists per game. But the Knicks are a game below .500 and in danger of missing the playoffs.

Carmelo Anthony, F, Knicks: He came to New York with a ton of fanfare, but there are already signs that Anthony is starting to wear out his welcome. The Knicks seemed to play better without him this year, which isn't a good sign. Maybe that's just a coincidence, but that hasn't stopped New Yorkers from pointing that out as the Knicks currently stand with a losing record (23-24). Anthony is averaging 20.3 points per game and his star has fallen significantly in the King of New York race.

Henrik Lundqvist, G, Rangers: Now, here is a dark-horse competitor. He already has the nickname "King Henrik," and the New York Rangers are in first place and one of the favorites to win the Stanley Cup. Winning matters more than numbers, but Lundqvist is putting up both. He has a 1.87 goals against average and a stellar 34-15 record as of Wednesday. If the Rangers win the cup, look out.

Mark Sanchez, QB, Jets: Similar to Anthony, Sanchez had "King of New York" potential upon his arrival, but production and results have dipped of late. That basically kills his chances, especially now that Manning has that spot for the rival Giants. Sanchez helped lead the Jets to back-to-back AFC title games his first two years and was on his way to being New York royalty. But failing to get over that hump and crashing and burning last year has put him back in the pack. Having Tebow-mania waiting behind him also doesn't help.

Darrelle Revis, CB, Jets: Revis Island gained a good following, but it's hard for a cornerback to get that kind of recognition -- especially a quiet cornerback like Revis. Knowing Revis, he probably doesn't want this kind of spotlight and publicity. He leads by working hard and being the best cornerback on the field. The Jets need to win, though, and go far for everyone in New York to truly appreciate what Revis can do.
Unless Tebow can win two Super Bowls in New York -- which isn't likely, the crown isn't leaving Manning's head any time soon. But Tebow has such a huge fan base that there is potential to capture the imagination of New Yorkers and challenge for the No. 2 spot.
AFC EAST SCOREBOARD
Thursday, 10/16
Sunday, 10/19