AFC East:

NFL coaches 010211
January, 7, 2011
1/07/11
6:34
PM ET
The
Miami Dolphins
prolonged their public relations disaster Friday.
Miami Herald beat writer Jeff Darlington reported the Dolphins had
set up a meeting with Eric Mangini, but canceled it
. Darlington wrote unidentified team sources informed him the Dolphins weren't going to speak with Mangini about being their coach, but just wanted to seek his advice.
Allrighty then.
Also reported Friday was
a looming contract adjustment for Sparano
, supposedly to smooth over any hard feelings. The Dolphins' front office embarrassed itself with a futile courtship of Stanford head coach Jim Harbaugh and and reported contact with retired
Pittsburgh Steelers
coach Bill Cowher.
Chicago Tribune and National Football Post writer Brad Biggs reported the
Dolphins never made an actual contract offer to Harbaugh
. Biggs, quoting an unnamed source, wrote Dolphins owner Stephen Ross was "intoxicated" with the idea of hiring Harbaugh after spending time with him in the days leading up to the Orange Bowl, but that Dolphins general manager Jeff Ireland remained behind Sparano.
The Dolphins called a news conference for 4:45 p.m. Friday presumably to declare their allegiance to Sparano and then postponed it until noon Saturday with no word about whether Sparano's contract has been amended or if he's coming back for next season at all.
Strange days indeed.
All this happened while I was traveling for Saturday night's playoff game between the
New York Jets
and
Indianapolis Colts
in Lucas Oil Stadium. I had been playing phone tag with ESPN analyst Herm Edwards all day, and once we finally connected, I had to ask for his take on the Miami madness.
"Feelings are hurt, obviously, because of the way things went about," said Edwards, the former Jets and
Kansas City Chiefs
coach. "But, hey, they didn't have a good record. They could have fired him.
"But that's the sad part. They had a coach under contract. They wouldn't fire him, but they went and interviewed people. If you're going to do that, man, you need to do that on the QT. This didn't have to be public. You don't need to bring that attention to your organization."
Edwards, though, stressed this saga won't necessarily drag down the team and noted the more critical concern should be what the Dolphins do at quarterback than the current mess.
"If you win, all this goes away," Edwards said. "If you win, this is no big deal. The good part is the season's over with. The players aren't even in the building right now.
"By the time training camp starts, if anything the players look at it and say 'The coach is in the same boat we're in.' The players get it. But if the quarterback doesn't get better they'll be in that same boat again in a year."
For additional perspective on what it's like to hang by thread, I rang up former
New York Giants
coach Jim Fassel for his thoughts.
"If you have the right guys on the team, they'll battle for the head coach," Fassel said. "Players know regardless, they're still going to be judged on their own performance. It won't affect their performance unless they're not very smart.
"The way it might play a role is in the discipline phase of it might say 'I don't care what he says to be anymore.' But that would a small minority of the players."
Edwards felt more sympathy for the coaching staff than for Sparano.
"The assistants are the ones who are suffering," Edwards said. "They're tied to the head coach. You want to let these 15 or so guys know because when the merry-go-round stops and all the jobs have been filled, you're stuck."
January, 4, 2011
1/04/11
11:58
AM ET
The
Miami Dolphins
might be agreeable to retaining head coach Tony Sparano, but it sounds like they're interested in trading up if they can land the right replacement.
NFL Network reporter Jason La Canfora, citing unnamed league sources, says the
Dolphins have had multiple conversations
with Stanford head coach Jim Harbaugh about a job that's not vacant.
Another source told NFL.com senior writer Steve Wyche it will be "hard for Sparano to survive."
Dolphins owner Stephen Ross attended Stanford's victory over Virginia Tech in the Orange Bowl on Monday night. Ross also owns Sun Life Stadium, where the game took place.
Harbaugh is a hot coaching candidate and likely has spoken to a few teams already. He has developed a reputation as a dynamic playcaller and helped groom quarterback Andrew Luck into the consensus favorite as the No. 1 overall draft choice in April.
Much to the dismay of Ross and Dolfans, the Dolphins' offense struggled mightily despite the owner's belief
Chad Henne
would be a franchise quarterback with an array of established offensive stars. The Dolphins traded for receiver
Brandon Marshall
, adding him to a team that already had running backs
Ronnie Brown
, top slot receiver
Davone Bess
and elite left tackle
Jake Long
.
The Dolphins ranked 30th in points, 21st in total offense, 21st in rushing offense and 16th in passing offense.
Ross is a colossal University of Michigan patron. He has donated millions of dollars to Michigan. His name is on the business school. Harbaugh was a star quarterback for the Wolverines in the 1980s.
January, 3, 2011
1/03/11
9:25
PM ET
Unless we learn something in the next few hours, another evening will pass in South Florida with no word on the fate of
Miami Dolphins
coach Tony Sparano or GM Jeff Ireland.

Sparano
Sparano met with reporters Monday for his news conference to wrap up their disheartening 7-9 season, but he hadn't yet sat down with owner Stephen Ross and wasn't forthcoming on any details of what they would discuss.
Miami Herald scribes Jeff Darlington and Armando Salguero report
Ross arrived at the Dolphins' facility at 1 p.m. Monday
and met with Ireland first and then Sparano, with chief executive officer Mike Dee participating.
White smoke was not seen billowing into the skies above Davie, Fla. No decisions have been made public.
Ross later attended the Orange Bowl at his Sun Life Stadium
and told Darlington the meetings were productive. Darlington tweeted "no decisions have been formalized yet. A clear sense of peace with Ross and CEO Mike Dee. I don't sense change."
Sparano spoke hypothetically about his job status before meeting with Ross.
"Listen, I don't take my job for granted one day, not one second," Sparano said. "I don't take my job for granted. I've been fortunate here.
"I've said this before. This is not the first time you people have heard me say it. I think I have the greatest job in the world, and I enjoy this organization and the people here, and I love coaching this football team. I don't take it for granted at all. In fact, it's kind of the other way around for me. I put it before a lot of personal things in my life."
January, 3, 2011
1/03/11
7:37
PM ET
The
Buffalo Bills
fielded perhaps the NFL's worst defense.
They'll certainly undergo notable changes, but head coach Chan Gailey suggested the coaching staff won't be among them.
Gailey expressed support of defensive coordinator George Edwards and his assistants at Monday's season-ending news conference.
"I feel good about our coaching staff," Gailey said. "We're always evaluating. We'll evaluate the rest of this week about what we need to do at every position. They had a tough go of it this year, but I feel good about the people that are on that side of the ball."
The Bills transitioned from a 4-3 defense to a 3-4 scheme and then settled into multiple fronts. They ranked 24th in total defense, 32nd in run defense and (mainly because opponents didn't need to throw) third in pass defense. Quarterbacks still had a 92.6 rating against the Bills. Only four other teams allowed higher ratings.
Gailey was skeptical about the futures of safety
Donte Whitner
and outside linebacker
Aaron Maybin
, the 11th overall draft choice in 2009.
Whitner, an unrestricted free agent, has
publicly bemoaned his unsuccessful contract negotiations
. When reporters showed up Monday, his locker already had been cleared out.
"I didn't realize that until I was told that a few minutes ago that that had happened," Gailey said of Whitner's empty stall. "He's a really good player. You'd love to have him on your football team, but we're in a business where that doesn't happen every time. So we'll wait and see what happens."
Gailey didn't sound bullish on Maybin's future.
Maybin had trouble getting on the field in his second pro season
. He played 10 games, started just one and still hasn't recorded an NFL sack.
"Right now, he's on the outside looking in," Gailey said. "That's where he is. If he improves, he'll improve his status. But if he doesn't improve his status, he won't find playing time on this football team."
January, 2, 2011
1/02/11
5:12
PM ET
With head coach Tony Sparano's job in the balance, the
Miami Dolphins
came up small Sunday in Gillette Stadium.
[+] Enlarge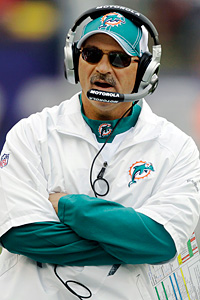 AP Photo/Stephan SavoiaThe Miami Dolphins won one home game this season under embattled head coach Tony Sparano.
The hodgepodge
New England Patriots
rested their top two wide receivers and best pass-rushers and shuffled backups in and out of the game throughout. Yet they still dominated the Dolphins
38-7
.
The Patriots were up 38-0 with almost seven minutes left in the third quarter. The Dolphins avoided getting skunked when
Davone Bess
scored with 2:17 to play.
Dolphins owner Stephen Ross, who publicly declared before the season that his team was Super Bowl bound, must be embarrassed.
Ross didn't attend the game and reportedly was out of the country. Sparano, his staff and his players should pray that wherever Ross was they don't show NFL games on television.
The Dolphins were 6-5 and still had hope after Thanksgiving. They lost four of their last five games. The
Buffalo Bills
,
Cleveland Browns
and
Detroit Lions
beat them in Sun Life Stadium before the preseason-mode Patriots gave the Dolphins a clear idea how far behind they are in the AFC East.
The Dolphins went 1-7 at home this season, tying their worst record in club history. The only other time they were so bad at home was when they went 1-15 the year before Sparano and general manager Jeff Ireland arrived.
Ross didn't hire them. Former football operations boss Bill Parcells did with former owner Wayne Huizenga's consent. Huizenga sold the team shortly thereafter. Parcells supposedly still is with the Dolphins as a consultant, but he cleaned out his office months ago.
Ross put an emphasis on making Sun Life Stadium an entertainment destination from the moment he took over the Dolphins. One measly victory in an arena that was half-full toward the end of the season is unacceptable. And if Sparano can't motivate his players to play with any kind of edge, then how can Ross expect fans to respond at the box office?
The Patriots had nothing to play for Sunday other than tuning up for the postseason. It was like an exhibition for them.
But with jobs on the line, the Dolphins didn't show up.
Miami's offense, defense and special teams were equally disgusting. They gave up big plays all over the field. Their breakdowns were both strategic and mental. Tackling was poor. They committed bad penalties.
Chad Henne
threw an interception on the opening drive and had a 29.2 passer rating in the first half.
Dan Carpenter
missed another field goal, this one from 40 yards.
Ricky Williams
fumbled, and
Ronnie Brown
ran six times for 14 yards in what might be the last games as Dolphins for the backfield mates.
Miami went into Week 17 with the third-ranked defense. Even with
Wes Welker
and
Deion Branch
not on the field,
Tom Brady
completed 10 of 16 passes for 199 yards and two touchdowns with no interceptions.
The Dolphins' secondary also got torched by the immortal combo of
Brian Hoyer
to
Brandon Tate
for a 42-yard touchdown in the third quarter. One play before the bomb, the Dolphins' defensive line encroached on fourth-and-1.
The Patriots gained 502 yards -- that doesn't include
Julian Edelman
's 94-yard punt return for a touchdown -- and had the ball for over 36 minutes.
A call from the governor might not even save Sparano after a performance like that, and he has a direct line to Tallahassee. Dolphins cornerback
Nolan Carroll
's mother is Florida's new lieutenant governor.
When Ross gets around to examining what transpired Sunday in Gillette Stadium, it very well could be a lethal inspection.