February, 28, 2013
2/28/13
11:00
AM ET
The
New England Patriots
are the final team to draft in the AFC East. New England holds the No. 29 overall pick in April's NFL draft.
Who should the Patriots take this year near the end of the first round? New England will be looking for value picks and talented players who fell down the draft board.

Is West Virginia receiver
Tavon Austin
a possibility? Austin is an explosive slot receiver in the mold of Percy Harvin. The Patriots are trying to re-sign free agent receiver Wes Welker. But Austin could add depth or be a potential replacement if Welker's negotiations don't go well.
California receiver
Keenan Allen
also could be available. Both Austin and Allen are rated behind Tennessee's
Cordarrelle Patterson
and expected to go late in the first round.
New England also needs help in the secondary. The Patriots were 29th in pass defense last season. That could make players such as Florida safety
Matt Elam
and Mississippi State corner
Johnthan Banks
options at the end of the first round.
Using our SportsNation poll, vote on New England's first-round pick. You can also share your thoughts in the comment section below.
February, 27, 2013
2/27/13
12:30
PM ET
The
Buffalo Bills
will be the first team in the AFC East to select a player in April's NFL draft. Buffalo holds the No. 8 overall pick after going 6-10.

Who will the Bills draft in the first round? This is the first pick of the Doug Marrone era, which makes it even more important.
Will Buffalo take a quarterback with its first pick? The Bills have been scouting quarterbacks heavily, and
Geno Smith
of West Virginia and
Matt Barkley
of USC could be first-round options. Taking a quarterback in the top 10 this year is risky, but the Bills need someone to be their long-term solution to replace
Ryan Fitzpatrick
.
What about another hot prospect: Tennessee receiver
Cordarrelle Patterson
? He has all the physical tools and was great at the NFL combine. Patterson's stock is on the rise and could be the threat Buffalo is looking for opposite
Steve Johnson
.
Finally, should the Bills consider Georgia inside linebacker
Alec Ogletree
? Buffalo needs linebackers in Mike Pettine's new 3-4 defense. The Bills were 31st against the run last year and Ogletree can help. He has some character concerns, but Ogletree could add toughness to the middle of Buffalo's defense.
Using our SportsNation poll, vote on Buffalo's first-round pick. You can also share your thoughts in the comment section below.
February, 26, 2013
2/26/13
3:10
PM ET
The
New York Jets
are near the top of the draft after an awful, 6-10 season that had a little bit of everything. Therefore, here is our latest poll question: Who will the Jets take with the No. 9 overall pick?

Will it be Oregon defensive end
Dion Jordan
? He showed well at the combine by running a 4.6. But a lingering shoulder injury is a question mark. Despite that, can Jordan be the outside pass-rusher the Jets need?
What about Tennessee wide receiver
Cordarrelle Patterson
? New York desperately needs dynamic players on offense. Patterson
has the physical tools,
but the downside is Patterson has limited Division I experience. Can Patterson successfully make the jump against NFL competition?
Finally, could the Jets draft a quarterback in the first round? West Virginia's
Geno Smith
is the top-rated quarterback in the draft and
New York personally
interviewed
Matt Barkley
of USC at the NFL combine. The Jets need competition for incumbent quarterback
Mark Sanchez
, and they have their eye on both rookie quarterbacks.
Using our SportsNation poll, vote on New York's best option in the first round. You can also share your thoughts in the comment section below.
February, 26, 2013
2/26/13
11:00
AM ET
Let's take a look at whose stock is up and whose stock is down in the AFC East.
Rising
1. New England Patriots' salary cap:
Future Hall of Fame quarterback
Tom Brady
showed why he
is a franchise player
. Just weeks before free agency, Brady agreed to a below market, three-year contract extension that added millions to New England's salary cap. The Patriots are now expected to be players in free agency. They have in-house players like receiver
Wes Welker
and right tackle
Sebastian Vollmer
the Patriots want to retain. The Patriots also have the ability to go after
free agents
like future Hall of Fame safety
Ed Reed
. Brady reduced his cap number to make sure the Patriots have the best chance to compete.
[+] Enlarge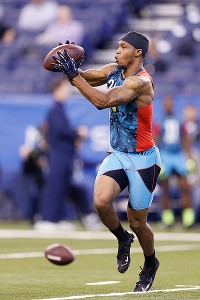 AP Photo/Ben LiebenbergTavon Austin impressed at the NFL combine, running a 4.34 40-yard dash.
2. Tavon Austin, West Virginia receiver:
Few players helped their
stock more at the combine
than Austin. The diminutive receiver erased a lot of questions by posting a lightning-fast 4.34 in the 40-yard dash and catching the football well. Austin often gets compared as a hybrid between Wes Welker and
Percy Harvin
. That's a makeup of a pretty good football player, and Austin's stock continues to rise in the first round.
3. Miami Dolphins' draft capital:
Miami is in
a very good spot
with nine draft picks. It's becoming more and more evident that this is a deep -- but not top-heavy -- draft. The Dolphins should be able to get a good player with the No. 12 pick in the first round without the pressure of a top-10 pick. Miami also will be busy with five quality picks in the first three rounds. The Dolphins have a chance to have one of the strongest drafts this year. There's also a chance that Miami could pick up additional compensatory picks to take its total to double digits.
Falling
1. Quarterback market for Bills, Jets:
The already-thin quarterback market appears to be getting thinner each week. Reports now indicate that the San Francisco 49ers'
Alex Smith
, the top quarterback available this offseason, may have a trade in place with a mystery team. Most believe that team is Kansas City. If the reports are accurate, who is left for the Bills and Jets? Will they stick with
Ryan Fitzpatrick
or
Mark Sanchez
? Or would Buffalo and New York go the rookie route with
Geno Smith
,
Mike Glennon
or
Ryan Nassib
? Perhaps
Matt Flynn
is a possibility for the Jets. However, none of these options appears to get Buffalo or New York any closer to the Patriots in the AFC East.
2. Rob Gronkowski, Patriots tight end:
The early start to the "Summer of Gronk" was recently derailed. ESPN's Adam Schefter reports that Gronkowski had a third surgery on his arm to clean out an infection. It was discovered early, which means his timeline to return remains the same. But Gronkowski's offseason is already off to a poor start. It began when Gronkowski's idea of a good time involved wrestling with a friend in Vegas and dangerously landing on his twice-broken arm. In addition, Gronkowski's had his third arm surgery in several months. Gronkowski's focus the rest of the offseason should
be on getting healthy.
3. Manti Te'o to AFC East:
It's looking more and more like former Notre Dame linebacker Manti Te'o is not coming to the AFC East. The Bills and Jets both need linebacker help, but Te'o didn't help his stock at the NFL combine. Te'o ran a slow 40 time of 4.82, which likely drops him out of the top 15. Scouts were already leery after a poor performance in the National Championship Game and his off-the-field "catfish" controversy. Don't expect the Bills, Jets or Dolphins to take a flier on Te'o in the top 12.
February, 26, 2013
2/26/13
8:00
AM ET
Here are the most interesting stories Tuesday in the AFC East: Morning take: This is a good compromise for Brady to take an extension that's below market value. Brady will be a Patriot until he's 40, which is a career goal for him, and the added cap space will keep New England competitive.
Morning take: It means, health permitting, Brady isn't going anywhere for another five years. Teams like the Jets must figure out a way to beat Brady, because he's not retiring in the next year or two.
Morning take: Buffalo was 31st against the run last season and was too small at linebacker. Buffalo needs to add toughness in the middle of Mike Pettine's 3-4 defense, as well as linebackers who can cover ground.
Morning take: Teams like the Miami Dolphins have interest in Ansah. He's a raw prospect without much experience. But Ansah has good physical tools if he can be coached up by the right team.
February, 25, 2013
2/25/13
10:00
AM ET

With both slot receivers
Wes Welker
and
Julian Edelman
pending free agents, West Virginia's
Tavon Austin
was a natural fit for the
New England Patriots
at No. 29 overall.
The miniature Austin is the type of slot receiver New England likes in its offense. He could either learn under Welker for a couple years, or join the less-expensive Edelman to make a dynamic pair in the slot if Welker doesn't re-sign.
But Austin's performance this weekend at the NFL combine may have raised his stock and made Austin too rich for New England's liking. Austin ran a lightning-fast 4.34 in the 40-yard dash. He also caught the football well in group workouts.
The combine isn't everything, but there is now more potential for teams ahead of New England to get enamored with Austin. He has strong game tape and was one of the top workout players at this year's combine. That's a strong combination.
Austin often gets comparisons as a hybrid between Welker and
Percy Harvin
of the
Minnesota Vikings
. Austin has the precision and quick first step of Welker and the deep speed and explosiveness of Harvin.
New England likes value players and Austin would certainly count as value at No. 29. But Austin's stock most likely is on the rise after a dynamic combine, and he could be off the board by the time the Patriots pick.
February, 23, 2013
2/23/13
8:00
AM ET
Here are the most interesting stories Saturday in the AFC East: Morning take: This is music to New England's ears. The Patriots are keeping their eye on Austin with the No. 29 overall pick, especially if they can't re-sign Welker in free agency.
Morning take: I will believe it when I see it. New York probably can't pay Revis what he's worth in 2014. So it's best to get something for him now.
Morning take: The Bills are one of the teams with their eye on Barkley, but I'm not sure it's a good fit. Barkley has an average arm and that won't cut it in the inclement weather in Buffalo. The Bills do not need a repeat of Ryan Fitzpatrick.
Morning take: Miami needs an immediate contributor who can develop into an impact player with this pick. No. 12 is not a bad spot in this draft to get a very good player.
February, 22, 2013
2/22/13
1:30
PM ET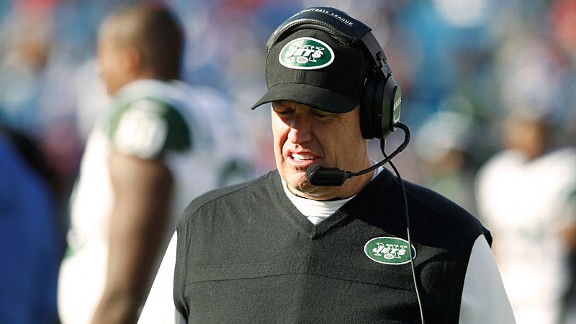 AP Photo/Bill WippertThe Jets are 14-18 the past two seasons under coach Rex Ryan.
Rex Ryan addressed the media at the NFL combine Thursday as only a shell of the brash, supremely confident coach he once was.
Just two years ago, Ryan stepped to the podium and guaranteed the combine media in Indianapolis that the
New York Jets
would win the Super Bowl.
This year's prediction for the Jets?
"I did figure this out: I'm not in the prediction world," Ryan said sheepishly. "I'm usually not real good on my predictions."
This is a different version of Ryan. He has been humbled, beaten down and worn out the past two years in New York. Ryan has had to deal with Tebowmania, Mike Tannenbaum's awful decision-making,
Mark Sanchez
's regression, constant infighting and in-house controversies. The Jets went 14-18 the past two seasons under Ryan, but it felt more like 0-32 under the bright lights of New York.
Just barely, Ryan has survived. But long gone is the coach who thought he would win multiple Super Bowls with Gang Green. Ryan is merely a coach trying to survive the circus he helped create the past four seasons. He has only 2013 to make everything right for a Jets team with a lot of holes and a lot of issues.
In many ways, Ryan appears destined to fail. The Jets are tearing down their roster in what amounts to a must-win year for Ryan. New York lacks a franchise quarterback, has limited players on offense and possesses a tight salary cap. In addition, Ryan works for a new general manager, John Idzik, who won't hesitate to hire his head coach if things go poorly.
This upcoming season is make or break for Ryan, but it doesn't appear he's ready to go out quietly.
"We're stepping up to plate with a bat in our hand, and we're not going to let any strikes go by without swinging," Ryan said. "We are going to take our cuts. We may take a cut at a ball in the ground as well, but we are definitely going to take our cuts. When we talk about being aggressive, I don't know if we really know what that looks like."
There still are a few moments, like this, when Ryan shows some of his old spunk. But much of that swagger is lost, and it mostly comes off as hot air following back-to-back nonwinning seasons.
The Jets were an awful, 6-10 team last season. It's going to take at least two or three years to rebuild New York into a contender again.
Unfortunately for Ryan, he doesn't have another two or three years. Here are the many issues Ryan must overcome to save his job in 2013:
Fix quarterback quandary: Sanchez is not the long-term solution in New York. The problem is the Jets were the last to realize it. New York inexplicably gave Sanchez a $58.25 million contract extension last March and is stuck with Sanchez's $8.25 million guaranteed salary this season. The Jets want competition at quarterback but have limited options. New York does not have the cap room to trade for Alex Smith of the San Francisco 49ers. But a trade for Seattle Seahawks backup quarterback Matt Flynn is more realistic. Flynn is familiar with the West Coast offense, which the Jets are implementing under new offensive coordinator Marty Mornhinweg. Drafting a quarterback is another option for the Jets, although there are a lot of questions about this year's class.

Find resolution with Revis: The Jets have found a way to upset their best player. New York didn't deny reports of putting Revis on the trade block last month, and now that Revis is angry, the team has gone into full spin mode. The Jets say they haven't had conversations with teams about Revis, but it's only February. That doesn't mean there won't be trade discussions closer to the draft or before the season. Revis will be an unrestricted free agent in 2014 and should become one of the NFL's highest-paid defensive players. The Jets probably can't afford Revis' price tag and would be smart to test the market to see what they can get in return. But trading Revis helps the Jets in the long run and hurts Ryan's chances to succeed next season.
Further manage the cap: The Jets had to cut five veterans this week, including starting linebackers Bart Scott and Calvin Pace, to get under the salary cap. New York slashed about $30 million in salary. But with free agency and an incoming draft class, New York still has more cuts on the way. Idzik was hired, in part, because of his ability to manage the cap. But making wholesale changes makes it increasingly tough to field a competitive team. Again, it's best for the Jets in the long run but doesn't help Ryan this year.
Still, Idzik sounds confident that he can field a competitive team in New York next season.
"We're going to be attacking. We're going to be aggressive. We're going to be physical. We're going to play smart," Idzik said this week.
Unless Idzik can fix all of New York's problems in one offseason, it's hard to see Ryan thriving next season and leading the Jets to the playoffs. Three consecutive seasons without a winning record and missing the playoffs doesn't bode well for Ryan's future.
Ryan started fast in New York with back-to-back AFC title games in the 2009 and 2010 seasons. But at this point, his tenure with the Jets appears to be running on fumes.
February, 21, 2013
2/21/13
2:21
PM ET


The Wonderlic is a timed test (12 minutes) that asks 50 questions aimed at measuring a players smarts or cognitive ability. With NFL prospects coming from so many different backgrounds, the merits of the test have been hotly debated.

Based on these results (at right), the only conclusion to be reached is that the Wonderlic doesn't mean much on the football field. The irony of Harvard graduate Ryan Fitzpatrick, who is struggling in Buffalo, having the highest documented score for a quarterback and Jim Kelly, the best quarterback in Bills history, having one of the lowest is telling. Other low Wonderlic scores for non-quarterbacks includes Ray Lewis and Randy Moss, who are first-ballot Hall of Famers. A.J. Green, Frank Gore, Chris Johnson, Sebastian Janikowski and Patrick Peterson also have been to Pro Bowls.

Physical ability trumps the aptitude to take a 50-question test in the NFL. The Wonderlic also does not account for "football intelligence," which is an innate knowledge of the game that comes from playing experience and film study.

Expect there to be discussions from the combine this week of who scored high and who scored low on the Wonderlic test. But take most of it with a grain of salt.
The NFL combine is upon us. That means this is the one time of year people focus on the scores and merits of the Wonderlic test.
February, 21, 2013
2/21/13
1:10
PM ET
We have our first big injury news from the NFL combine. University of Alabama's
Dee Milliner
, the draft's top-rated cornerback, has a torn labrum in his shoulder that will require surgery,
ESPN's Adam Schefter reports.
Milliner
We haven't discussed Milliner's chances for the AFC East before, because he seemed to be a sure-fire top-five pick before the injury. But Milliner's torn labrum has a chance to drop his stock a few places, which now puts AFC East teams in play.
Milliner would be tremendous value for the
Buffalo Bills
at No. 8, the
New York Jets
at No. 9, and especially the
Miami Dolphins
at No. 12.
Miami is thin at cornerback.
Sean Smith
is an unrestricted free agent who is questionable to return,
Dimitri Patterson
could be cap casualty, and
Richard Marshall
is coming off a season-ending back injury. Milliner would plug into the starting lineup right away for the Dolphins. But chances aren't great that Milliner would drop out of the top 10.
The Bills and Jets have a more realistic chance. Buffalo drafted
Stephon Gilmore
in the first round last year, so it wouldn't be a huge need. But if Milliner is there at No. 8, it could simply be a case of Buffalo taking the best available player.
The Jets have plenty of cornerbacks.
Darrelle Revis
and
Antonio Cromartie
are two of the NFL's best, and No. 3 corner
Kyle Wilson
looks ready to step in if the Jets trade Revis. If Milliner is available at No. 9, maybe the Jets could trade back and acquire more picks. New York has plenty of holes to fill in other areas.
February, 21, 2013
2/21/13
7:00
AM ET
Here are the most interesting stories Thursday in the AFC East: Morning take: I don't see Glennon going to Buffalo at No. 8 overall. However, Glennon would be a strong contender for the Bills at the top of the second round. Glennon probably won't make it that far if he has a strong combine this week.
Morning take: That would give Revis a chance to play opposite Seattle Seahawks corner and new adversary Richard Sherman twice a year. Revis probably wouldn't mind that.
Morning take: New England, as usual, picks at the bottom of the first round. That means this combine is all about finding value for the Patriots.
Morning take: Tennessee's Cordarrelle Patterson appears to be the only receiver worthy of a top-12 pick. However, there could be some decent finds in the second and third rounds for Miami.
February, 20, 2013
2/20/13
12:00
PM ET
»
NFC combine preview
:
East
|
West
|
North
|
South
»
AFC
:
East
|
West
|
North
|
South
NFL Nation previews the 2013 scouting combine by identifying the most important thing for each team to learn about its greatest area of need.
Buffalo Bills:
Is there a top-10 quarterback? The Bills hold the No. 8 overall pick and are looking for a long-term solution at the position. But is there one in this year's draft worth taking that high? Buffalo needs to continue its evaluation this week to find out. Currently, the Bills have
Ryan Fitzpatrick
and
Tarvaris Jackson
on the roster in what will
be an open competition
. A rookie most likely will be thrown in the mix. But whether it's a first-round pick such as
Geno Smith
, or a second-rounder or later like
Ryan Nassib
, remains to be seen. Expect the Bills to poke and prod all of the top quarterback prospects this week.
Miami Dolphins:
Who is the top wide receiver? The Dolphins need offensive playmakers in the worst way. They were 27th in the NFL in passing last year, and leading receiver
Brian Hartline
is an unrestricted free agent who may not return. Young quarterback
Ryan Tannehill
needs legitimate weapons around him entering his second season. The Dolphins will hit free agency hard with options like
Greg Jennings
and
Mike Wallace
. But Miami also could look to the draft, perhaps as early as the No. 12 pick. There is no slam-dunk receiver in this group. But prospects such as
Cordarrelle Patterson
and
Keenan Allen
could be of interest in the first round, especially if Hartline doesn't re-sign.
New England Patriots:
Who are the top corners and safeties? The Patriots won the division last season and were within a game of the Super Bowl. This isn't a team with a lot of glaring needs, but the secondary is definitely one of them. The Patriots need upgrades and depth at cornerback and safety. It won't be easy for New England to find elite talent in the first round. The Patriots have the 29th pick, which means many of the top players will be off the board. But they must do their homework at the combine to zero in on quality prospects who could be overlooked, particularly for the secondary.
New York Jets:
Where are the offensive playmakers? The conventional train of thought is New York will draft a defensive player in the first round. It has been that way three of the past four years Rex Ryan has coached the Jets. The exception was the first year, when Ryan and the Jets needed a quarterback and picked
Mark Sanchez
No. 5 overall. That hasn't worked too well. But most of the Jets' major demands this year are on offense -- they need help scoring points. To do that, the Jets need to identify the top offensive playmakers at tight end, running back, right tackle, wide receiver and, yes, quarterback. Will New York finally draft a player for the offense in the first round under new general manager John Idzik? The Jets first must determine if there are offensive skill players worth taking in the top 10.
February, 22, 2012
2/22/12
11:00
AM ET

The
Buffalo Bills
are approaching the final weeks to exclusively negotiate with leading receiver
Steve Johnson
. The team is expected to continue talks with Johnson's representation at the NFL combine but
reportedly remain far apart.
I've said all along that keeping Johnson in Buffalo is 50-50. The Bills have a firm idea of his worth to the team, and Johnson wants to be paid like a franchise receiver. Neither side has been able to close that gap since last year.
But in the event Johnson hits the open market next month and finds a more lucrative offer, the Bills must have a Plan B. Could that include
Kansas City Chiefs
receiver
Dwayne Bowe
? There are reasons Bowe, an unrestricted free agent, and the Bills could be a match.
Bills coach Chan Gailey was Kansas City's offensive coordinator in 2008, when Bowe set a career-high with 86 receptions. Gailey knows what Bowe can do, and Bowe proved he can fit in Gailey's offense.
Bowe and Johnson have put up comparable numbers the past two seasons. But Bowe is a more physical specimen and bigger game-breaker than Johnson. The Bills' front office may not want to pay Johnson approximately $8 million per season, but they may be willing to do that for Bowe. The AFC East blog ran a poll on how much Buffalo should pay Johnson, and a majority of readers
picked $5-$7 million.
This is a strong year for free-agent receivers. Players like Johnson, Bowe, Vincent Jackson, DeSean Jackson, Reggie Wayne and Marques Colston all have a chance to hit the open market.
The Bills need to find a No. 1 receiver if they strike out with Johnson, and Bowe has the strongest connection to the coaching staff.