December, 13, 2012
12/13/12
1:17
PM ET
By
ESPN.com staff
| ESPN.com
Commissioner Roger Goodell said Wednesday that the league would spend the next few months
considering playoff expansion
. But is the idea even worth exploring? Would further expansion of the playoff field be good for the game or the fans? Our NFL experts weigh in.
January, 21, 2012
1/21/12
1:42
PM ET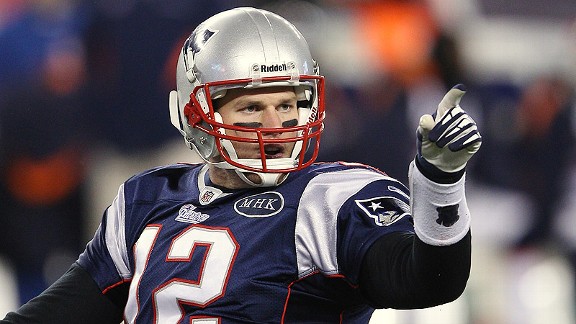 Elsa/Getty ImagesDoes Tom Brady have what it takes to be an NFL starting quarterback until he's 40?
Here is scary news for the rest of the NFL:
Tom Brady
wants to play quarterback for the
New England Patriots
until he's 40 years old.
That means, theoretically, Brady and coach Bill Belichick plan to
dominate the AFC East
and keep New England in title contention until 2017. Brady will turn 35 in August.
But five more years? That is an eternity in the NFL in which the average career span is approximately 3-4 seasons. Does Brady have enough in the tank to play 17 years at such a demanding position?
According to the Elias Sports Bureau, only four quarterbacks in NFL history have started on opening day at 40 or older.
Warren Moon
(41) was the oldest, followed by
Brett Favre
(40),
Vinny Testaverde
(40) and Johnny Unitas (40). Brady wants to become the fifth player to accomplish that feat.
Former quarterback and ESPN analyst
Trent Dilfer
played 14 seasons in the NFL and believes Brady will reach that goal. According to Dilfer, the key to quarterback durability is the lower body, not the upper body.
"What goes first with quarterbacks is their legs. Once you lose your legs, you kind of lose everything else," Dilfer explained. "I remember
Kurt Warner
talking about that late in his career, and obviously I experienced it. Every quarterback experiences it. I think Tom works hard enough to maintain the leg strength he needs to be as precise as he is, and I think he's a competitor that if he puts something in his mind that he's going to do something, he's a guy that goes out and does it.
"There's very few people in sports like that, talk about the Kobe Bryants and the greats in all sports. I think Tom is right up there. When he puts his mind to something, he's going to do it. So I fully expect him to be playing at 40 if he says he's going to."
It's hard to say when that window will close for Brady, who will lead the Patriots (14-3) in Sunday's AFC Championship Game against the
Baltimore Ravens
(13-4). He's proved over the past dozen years that as long as he's healthy, he's an elite player. Brady is an MVP candidate this season and by far the best remaining quarterback in the playoffs.
A case can made that Brady's three best statistical seasons occurred after 30 -- in 2007, 2010 and 2011. He also is coming off a record-tying, six-touchdown performance in a 45-10 playoff victory over the
Denver Broncos
. It was one of his top single-game performances.
Brady projects to be an elite player for at least the next two or three seasons. Injuries are probably the only thing that can derail him at this stage of his career.
Brady had reconstructive knee surgery and missed 15 games in 2008. Otherwise, he has had a clean bill of health. Outside of 2008, he has missed just one start since taking over the job in 2001.
"If anybody can pull it off, it's Brady, but like we saw with
Peyton Manning
, he could break down easier [with age] too," Matt Williamson of Scouts Inc. said. "Manning may never be the same. He may never play at that same high level. Who knows? If Brady hits one stumbling block like Peyton did, all of a sudden 40 is a long way away for him. But nobody is playing better than Brady right now."
Brady has been fortunate with pass protection throughout his career. He has been sacked 26 times or fewer in six of the past seven seasons.
Former Patriots linebacker Tedy Bruschi was a longtime teammate of Brady's and knows firsthand the importance of protecting the veteran quarterback. Brady is a classic pocket passer who moves well in the pocket. But he doesn't have the ability to run away from defenders.
"As players progress up into the years, the more shots you take, the shorter the second half of your career will be," Bruschi said. "And I think Tom Brady will play as well as his offensive line, his protection, allows him. I think he's shown over the course of the last few years that there are the usual [ailments], they're becoming normal now. Late in the season, where he had a rib or a shoulder or various injuries like that over the course of a season.
"You end up accumulating some damage, especially as a quarterback, because you're the most sought-after hit in terms of the defensive perspective. So if he can be protected, I think that goal is possible. He can play as long as he wants to."
Brady currently is playing with a left shoulder (non-throwing) injury that has to be managed during the playoffs. This week Brady
sat out of Wednesday's practice
to rehab and watched extra film of Baltimore's defense.
An under-the-radar aspect of Brady's longevity could be the development of tight ends
Rob Gronkowski
and
Aaron Hernandez
. Both have been tremendous weapons and security blankets for Brady in their second season together.
Throwing in the middle of the field is the quickest and easiest completion for quarterbacks. It also keeps the pass rush at bay.
"They're obviously a huge part of what we do," Brady said of his tight ends this week. "They are on the field quite a bit and they've been healthy so it's been good to have them both out there. ... They're pretty good with the ball in their hands and break a lot of tackles so that's definitely a plus for us also. We have a lot of yards after catch this year, and those two guys certainly do a great job with the ball in their hands."
Patriots owner Robert Kraft still remembers when the late-round draft pick came to Foxborough as a long shot in 2000. Kraft shared a great story about his first encounter with Brady this week.
"I still have the image of Tom Brady coming down the old Foxboro Stadium steps with that pizza box under his arm, the skinny beanpole," Kraft said. "When he introduced himself to me and he said, 'Hi, Mr. Kraft,' and he was about to say who he was and [I said], 'I know who you are, you're Tom Brady, you're our sixth-round draft choice.' He looked me in the eye and said, 'I'm the best decision this organization has ever made.' It looks like he could be right, although hiring Bill Belichick, I think, also has been a pretty good decision."
Brady's Hall of Fame legacy is secure. If he retired today, Brady already would be among the top quarterbacks ever to play the position. He has three Super Bowl rings and could tie his childhood hero --
Joe Montana
-- for the most playoff victories (16) with a win over Baltimore Sunday.
But the difference between being a top-five quarterback and the greatest ever could come down to these next five years. Brady can tie Montana (four) and Terry Bradshaw (four) for the most titles in these playoffs. But if Brady plays through age 40, he has a legitimate shot at being the winningest quarterback in NFL history.
"I'm really happy that we have him as our quarterback," Kraft said. "I hope we have the best quarterback and coach in the history of the game. I guess to prove that, we have a little more execution that we have to do over the next few years. I certainly hope we do it."
January, 9, 2012
1/09/12
1:30
PM ET
Tom Brady
...
Tim Tebow
...
Joe Flacco
...
T.J. Yates
.
Which quarterback would you prefer leading your team in the postseason?
Pittsburgh Steelers
quarterback
Ben Roethlisberger
's one-and-done exit from the playoffs leaves a huge gap between the remaining playoff quarterbacks in the AFC. The field is pretty much Brady, who has three rings, and everyone else.
Tebow, Flacco and Yates have all been inconsistent this season. Brady is the only Pro Bowler of the group and proven commodity who has played well deep into the playoffs.
Here is our ranking of the four remaining AFC playoff quarterbacks:
Brady
1. Tom Brady, Patriots
2011 stats:
5,235 yards, 39 TDs, 12 INTs
QBR:
74.2
Analysis:
Brady is elite, and he's far and away the best quarterback remaining in the AFC playoffs. New England relies on Brady more than ever, and he produced the second most passing yards in NFL history this season. The only two quarterbacks in Brady's class are in the NFC:
Aaron Rodgers
and
Drew Brees
. The chances of Tebow, Yates or Flacco outperforming Brady in the playoffs are slim -- and that is a huge advantage for New England. Last month we predicted the Patriots would
win the AFC and advance to Super Bowl
in Indianapolis. The Brady factor is the biggest reason. As long as Brady performs well, New England will be tough to beat, especially at Gillette Stadium.

Flacco
2. Joe Flacco, Baltimore Ravens
2011 stats:
3,610, 20 TDs, 12 INTs
QBR:
57.9
Analysis:
Flacco is notorious for not playing well in the playoffs. He has a chance to buck that trend with second-seeded Baltimore this season. Flacco's natural ability puts him at No. 2 on our list of remaining starting quarterbacks in the AFC. He can make all the throws. Flacco just hasn't done it in the playoffs. This has been somewhat of a strange season for Flacco. In some ways he's taken a step back. His passer rating, completion percentage, yards and touchdowns all dropped from the previous year. But Baltimore is winning and needs Flacco to step up his game in the playoffs.
Tebow
3. Tim Tebow, Denver Broncos
2011 stats:
1,729 yards, 12 TDs, six INTs
QBR:
27.2
Analysis:
Was Tebow's passing performance against Pittsburgh a fluke, or has he turned the corner? Tebow made some big throws in the playoffs and finished with a career-high 316 yards and two touchdowns. Pittsburgh showed no respect for Tebow's arm and paid for it. Statistically it was a sound strategy, considering Tebow's 46.5 completion percentage this season. But Tebow has proven he can win games, despite his QBR being ranked 32nd out of 34 quarterbacks. But Tebow is still playing when a lot of quarterbacks with better numbers are sitting at home.
Yates
4. T.J. Yates, Houston Texans
2011 stats:
949 yards, three TDs, three INTs
QBR:
N/A
Analysis:
Yates, a rookie fifth-round pick, is ranked last of the remaining AFC playoff quarterbacks. He only has six starts under his belt and is 3-3 in those games. Fortunately for the Texans, they have a great running game that can protect Yates. That is paramount against Baltimore, because Yates most likely will not win with his arm. The best strategy for Houston is to try to run the ball well and hope Yates can make a few big plays through the air. Houston Pro Bowl receiver
Andre Johnson
is a tough matchup for Baltimore if Yates can get him the football. The Yates-to-Johnson combo worked great last week in eliminating the
Cincinnati Bengals
.
January, 9, 2012
1/09/12
10:00
AM ET
The
New England Patriots
(13-3) got
the easiest matchup possible
in the divisional round by drawing
Tim Tebow
and the
Denver Broncos
(9-8). But as the
Pittsburgh Steelers
found out Sunday, nothing is guaranteed in the postseason.
So who wins Saturday's playoff game between New England and Denver? Take your pick.
Will it be
Tom Brady
and the Patriots advancing to the AFC Championship Game? New England is a huge favorite. The Patriots romped the Broncos in Denver, 41-23, in Week 15. Should we expect more of the same at Gillette Stadium?
Or will Tebow's magical run continue? Denver looked good against a tough Pittsburgh team. The Broncos now have momentum and will try to take advantage of New England perhaps gaining rust after two weeks off.
Using our SportsNation poll, vote for who wins Saturday's divisional round game between the Patriots and Broncos. You can also share your thoughts in the comments section below.