May, 20, 2013
5/20/13
4:28
PM ET

The
Buffalo Bills
officially signed rookie wide receiver
Robert Woods
, the
team announced
Monday afternoon.
ESPN.com's AFC East blog first reported
on Sunday that both sides agreed to terms of a four-year contract. However, Woods was in Los Angeles this past weekend for the NFLPA's Rookie Premiere event and couldn't sign until he returned to Buffalo. Woods signed the contract on Monday following the team's organized team activities.
Woods is considered one of the most NFL-ready receivers from this year's draft. The USC product is the favorite to win a starting job opposite veteran receiver
Steve Johnson
.
Buffalo now has seven of their eight draft picks signed.
May, 19, 2013
5/19/13
5:09
PM ET

The
Buffalo Bills
nearly have their entire 2013 rookie NFL draft class under contract.
Buffalo reached a four-year agreement with second-round pick and rookie receiver
Robert Woods
, a source tells ESPN.com's AFC East blog. Woods was in Los Angeles for the NFLPA's Rookie Premiere this weekend, and is expected to sign the contract with Buffalo in the next few days.
Woods, a USC product, is considered one of the most NFL-ready receivers in this year's draft. He is the favorite to win the No. 2 receiver job in Buffalo opposite veteran
Steve Johnson
.
The Bills now have contract agreements with seven of their eight draft picks. First-round pick
EJ Manuel
, who was taken No. 16 overall, remains the only unsigned player from the 2013 class.
May, 18, 2013
5/18/13
8:00
AM ET
The
New England Patriots
need help at wide receiver after the departures of 2012 starters
Wes Welker
and
Brandon Lloyd
.
[+] Enlarge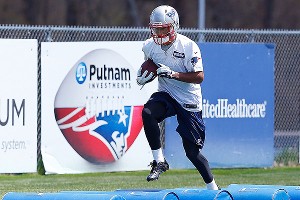 Jim Rogash/Getty ImagesAaron Dobson was not highly-recruited out of high school but ended up a second-round pick in the NFL draft.
Patriots second-round pick
Aaron Dobson
will be one of those key players competing for a starting role with the reigning AFC East champions. Dobson comes to New England with a spectacular highlight reel at the University of Marshall.
The AFC East blog caught up with Dobson during a community event in this week's NFLPA's Rookie Premiere in Los Angeles to discuss a variety of topics.
Aaron, how good is it to spend time with NFL rookies this week who are going through the same adjustment?
Aaron Dobson:
It's definitely fun, just out here in LA. We've all known each other just going through this [draft] process, and now we're getting to know each other even more and giving back to the kids.
Marshall was the only college to offer you a scholarship and now you're a second-round pick for the Patriots. Were you a late bloomer?
Dobson:
I really just think it was where I was playing high school football. West Virginia is not a highly-recruited state. I think it was more me being from there. But I got the opportunity at Marshall and I made the best of it. Now I'm in a position I wanted to be in my whole life. So I wouldn't take it back for anything.
What's your thoughts on catching passes from future Hall of Famer Tom Brady and learning New England's offense?
Dobson:
It's just great to be in the league and catching passes from any quarterback. But it being Tom just makes it icing on the cake. It's great and I'm exciting to be a New England Patriot. The offense is definitely something I have to learn. I have to put my mind to it and be focused. I'm taking it day-by-day to learn it and get comfortable with it.
How did you make so many one-handed catches at Marshall?
Dobson:
It's all instinct. I'm just going for the ball and I attack the ball very well. That's how it happens. I can bring them in with one hand and I can catch with two hands. It's just being focused, really.
Congrats on the graduation. How important was getting a degree before leaving school?
Dobson:
Thank you. It was real important. I got out in three and a half years. I graduated in December, so it was great. My mom is real happy. She's glad I got my degree and an NFL contract. So it's just a blessing.
April, 4, 2013
4/04/13
2:28
PM ET
We are nearly a month into free agency, which means most of the major signings are complete.
So let's take a look at updated salary-cap space for the AFC East. The latest numbers were provided this week
by the NFLPA
:
Unlike 2012, the Bills have been very cautious in free agency this year. Buffalo didn't do much in the beginning but signed some players in the second wave, like quarterback
Kevin Kolb
and defensive tackle
Alan Branch
. Buffalo still has decent room left to make quality signings. But it appears the Bills are more focused on building through the draft under first-year head coach Doug Marrone.
New York entered the offseason tied to a lot of bad contracts. But first-year general manager John Idzik did a solid job of gutting the team to get under the cap. The problem now in New York is fielding a competitive team. The Jets signed a few bargain-basement players but haven't done much in free agency. Expect a few more cuts or trades for cap relief. Star cornerback
Darrelle Revis
and popular backup quarterback
Tim Tebow
are the most likely targets.
The Patriots have been an interesting team in free agency. A contract extension with quarterback
Tom Brady
provided some room to make quality free-agent signings such as
Adrian Wilson
,
Danny Amendola
,
Sebastian Vollmer
and
Aqib Talib
. With just $10.3 million left, the Patriots most likely are done with major signings.
The Dolphins entered the offseason with more than $40 million in cap room and spent it freely on big-name free agents such as
Mike Wallace
,
Dannell Ellerbe
,
Brent Grimes
,
Dustin Keller
and
Philip Wheeler
. Miami now has the lowest amount of cap room remaining in the AFC East at $8.26 million. I expect the Dolphins to make a couple more trades or roster cuts this offseason to provide some cap relief. Candidates include wide receiver
Davone Bess
and cornerbacks
Dimitri Patterson
and
Richard Marshall
.
January, 29, 2009
1/29/09
6:04
PM ET
Posted by ESPN.com's Tim Graham
The NFL Players Association released the results of its annual poll of field surfaces.
Players were asked to vote for the best and worst fields around the league, meaning a stadium can appear on both lists based on volume of opinion.
Of the 18 grass fields, Dolphin Stadium was voted the third-worst, but also the ninth-best grass field.
The reason for that discrepancy is for the first half of the season Dolphin Stadium has the Florida Marlins' baseball diamond on it. Players who played there early in the season certainly weren't thrilled with infield dirt.
Reviews had to have improved as the season wore on. This year, because the BCS Championship Game took place in Dolphin Stadium, extra care was given to the turf. Conditions actually got better late in the season.
The other AFC East fields are among the league's 13 artificial surfaces. The players voted Giants Stadium third-worst and ninth-best.
Ralph Wilson Stadium rated fifth-worst and 12th-best.
Gillette Stadium received the division's best feedback. It ranked seventh-best and eighth-worst.
August, 22, 2008
8/22/08
12:12
AM ET
Posted by ESPN.com's Tim Graham
Whenever someone dies it's customary, regardless of whether they were loved or loathed, to speak reverentially out of respect to their memory and their loved ones.
The sudden passing of controversial NFL Players Association executive director Gene Upshaw late Wednesday elicited a somber reaction. Players and alumni who despised Upshaw's tactics so much they publicly ridiculed him quickly turned contrite.
At least one adversary, however, declined to observe the traditional bereavement moratorium.
"Gene was not totally a guy whose interest with the players was always there," former Miami Dolphins running back Mercury Morris told the Palm Beach Post for Friday's edition.
"I'd like to put some sugar all over it and do like people do when someone passes away, but the legacy he is leaving is not one people would want to pick up and run with. ... When I heard about his passing, I thought to myself that it is unfortunate he had to pass away now because we as former players were looking forward to the fight with the guy."
Upshaw became a lightning rod for criticism in recent years. Retired players railed against the NFLPA for not taking care of its destitute brothers. Many current players wanted to overthrow Upshaw because they felt misled on various issues.
In his column, Dave George also spoke with former Dolphins safety Dick Anderson, who served as NFLPA president in 1976 and '77 when Upshaw was vice president, and with former Dolphins defensive end Manny Fernandez, who replied "No comment" when asked about Upshaw's legacy.
August, 21, 2008
8/21/08
2:41
PM ET
Posted by ESPN.com's Tim Graham
New York Jets fullback Tony Richardson is a member of the NFL Players Association's executive committee and serves on the league's player advisory committee.
The 14-year veteran shared his thoughts on the passing of NFLPA executive director Gene Upshaw.
On his initital reaction to learning Upshaw had died:
Richardson: We didn't know anything [about Upshaw's pancreatic cancer]. I guess he just found out a few days ago. People are still in shock. We haven't had a chance to speak to anyone from the league yet or our union office. We're definitely going to miss Gene because he was a tremendous leader for our organization.
On Upshaw's legacy:
Richardson: Hopefully, everyone in this locker room recognizes that they're a lot better for having Gene as their leader. He did so much. Every guy in this locker room can say they benefited from his leadership. The league has benefited from his leadership. The salaries are ... it is what it is. Our game is better from his leadership. He is definitely going to be missed.
On if he thinks players sometimes were unfair in their criticism of Upshaw:
Richardson: That's part of it. Whenever you're in a leadership position sometimes there are going to be things that are said or written about you that are sometimes true and sometimes are not. That's just the nature of it. Gene was a man's man. He spoke what was on his heart and he wore it on his shoulder. From a leadership standpoint he did a tremendous job for us.
On what it was like to be around Upshaw:
Richardson: We had a lot of great meetings. There were a lot of times when we obviously had to take care of work. It was a serious approach, but behind close doors we would sit and laugh and talk. Really he is a player, and I think sometimes people forget that Gene Upshaw was a Hall of Fame offensive lineman. He was one of the guys. We had a good time and he is definitely going to be missed.
On the stories Upshaw used to tell of his playing days with the Oakland Raider:
Richardson: You really couldn't get him to talk much about his Raider days. He would shed a little bit of light on it. Most Hall of Fame players let you know they're in the Hall of Fame. If you're around Gene long enough -- obviously I remember because I remember watching him play -- but he wasn't the type of guy that would always talk about his accomplishments. His main focus was the union, and that's what he lived for.