July, 29, 2010
7/29/10
8:00
PM ET
PITTSFORD, N.Y. -- A few notes from Thursday's opening session at
Buffalo Bills
training camp:
Outside linebacker Chris Kelsay left the field with a shoulder injury. Head coach Chan Gailey wasn't sure how much time Kelsay would miss, but did say "it looks like he'll be out a little while."
The Bills placed indecisive outside linebacker Aaron Schobel on the reserve/did-not-report list. They placed linebackers Nic Harris and Jon Corto on the physically unable-to-perform list.
Inside linebacker Paul Posluszny watched in a ballcap. He revealed Wednesday he underwent minor groin surgery this month and will be eased back into action. Kawika Mitchell replaced Posluszny on the field.
Steve Johnson was the No. 2 receiver opposite Lee Evans. Bills coach Chan Gailey said Johnson earned the opportunity through his strong offseason performance.
Ryan Fitzpatrick threw the first interception of camp in a seven-on-seven drill. He tossed a floater intended for Evans in the right flat, but cornerback Leodis McKelvin jumped in and stole it. Given the quarterback battle, I'd like to have chronicled other interceptions but couldn't because ...
If the first day is any indication, then it will be difficult for reporters to be the eyes and ears of the fans at Bills camp. New media policies place us at field level and at the back of one end zone. When the team conducted 11-on-11 drills Thursday, players not in the action formed a blockade that prevented us from viewing who's on the field, what plays they're running or how they looked executing them.
We could plainly see Demetrius Bell during 11-on-11 drills because he was part of the cordon. He lined up at starting left tackle during a casual drill early in practice, but watched when action got heavy. Gailey said Bell's surgically repaired knee isn't quite ready yet.
The crowd at St. John Fisher was as sparse as I've seen it. Veteran reporters who've covered this team since they moved training camp here in 2000 said it was among the thinnest and most disengaged gatherings they could remember. Granted, the first practice started at 3 p.m. on a Thursday, but schools aren't in session either. While trying to catch a glimpse of 11-on-11 drills, a few reporters discussed how autographs are such a big part of the training-camp experience, but who on the Bills' roster would compel fans to make the effort? Terrell Owens certainly helped in that regard last year.
May, 7, 2010
5/07/10
9:08
PM ET
ORCHARD PARK, N.Y. -- There was discussion in the
Buffalo Bills
' media workroom Friday about whether the Pro Football Hall of Fame should remove
Lawrence Taylor
if the
distressing charges
against him prove true.
Buffalo News reporter Mark Gaughan, a member of the Hall of Fame's board of selectors, explained that can't happen. Once a player has been inducted -- even if it's O.J. Simpson -- he's in for good.
The NFL doesn't have a history of stripping players of their honors. But in this age of performance-enhancing substances, what if a player earned an award while on steroids?
Last year's defensive rookie of the year,
Houston Texans
linebacker
Brian Cushing
, has been suspended the first four games of the upcoming season for
violating the league's policy on performance-enhancing drugs
.
Cushing was voted the top defensive rookie ahead of Bills safety
Jairus Byrd
, who was named to the Pro Bowl and
tied for the league lead with nine interceptions
despite playing most of the season with a sports hernia before bowing out the last two games to have surgery.
While we don't know if Cushing violated the policy during the 2009 season or after, it's hard to imagine anybody voting him rookie of the year if they were aware of the transgression.
He entered the league amid suspicions he was juicing, but without a positive test, everybody had to assume his performances were legitimate.
I didn't have a vote, but I agreed Cushing deserved the award ahead of Byrd.
It's possible Cushing broke the rules after he won the award. The NFL tests playoff teams as long as they keep playing, but the Texans didn't qualify. It also conducts offseason drug tests, but Cushing's suspension was handed down in February (the appeal was denied Friday), creating a small window for the violation to have taken place after the 2009 regular season.
As for Byrd, I spoke with him momentarily in the Bills' field house Friday. He looked like he was in good shape. Byrd watched the morning rookie camp session -- head coach Chan Gailey's first practice -- from the sidelines with cornerback
Terrence McGee
and linebacker
Nic Harris
. Byrd then went through a running workout inside the field house.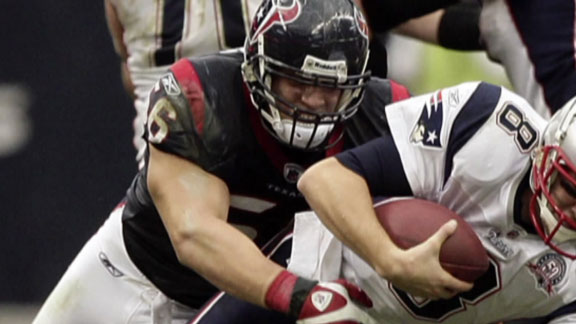 January, 2, 2010
1/02/10
12:51
AM ET
Make it a full score for the
Buffalo Bills
.
They have sent 20 players to injured reserve, adding linebacker
Nic Harris
to the list Friday.
To illustrate how badly the Bills have been ravaged by injuries, I've put together a complete catalog. The rundown includes one player, receiver C.J. Hawthorne, who's on the practice squad IR.
The rest, however, are on the standard list.
Thirteen of them have started at least one game, as designated by an asterisk.
What you'll see here are players from the opening night starting lineup: both tackles, the right guard, a tight end, two linebackers and both cornerbacks. You'll also see am NFL defensive rookie of the year candidate.
You won't see quarterback
Trent Edwards
, who probably should be on the list. When he suffered a high ankle sprain two weeks ago, interim coach Perry Fewell said Edwards wouldn't play again. But the Bills have chosen to keep Edwards on the active roster rather than add an extra body.
July, 28, 2009
7/28/09
11:10
AM ET
June, 9, 2009
6/09/09
9:58
AM ET
Posted by ESPN.com's Tim Graham
New York Jets
Buffalo Bills
Miami Dolphins
New England Patriots
April, 27, 2009
4/27/09
9:10
AM ET
ORCHARD PARK, N.Y. -- For the record, the
Buffalo Bills
drafted
four defensive backs and zero tackles
.
I'm not passing judgment here. I merely want to lay out the numbers.
The Bills went into the draft in apparent need of a tackle. After all, they'd traded two-time Pro Bowl left tackle
Jason Peters
eight days prior to the draft.
But heading into the weekend they seemed relatively set in their secondary.
Terrence McGee
was back as the starting left cornerback. Last year's 11th overall pick,
Leodis McKelvin
, should be ready to handle the right cornerback spot. The Bills signed free-agent veteran
Drayton Florence
in case. Cornerbacks
Reggie Corner
and
Ashton Youboty
also are on the roster.
Strong safety
Donte Whitner
, the eighth overall selection in 2006, returns. Free safeties
Ko Simpson
and
Bryan Scott
are back. Scott wants to know what's up because he started four games at free safety and three games at strong safety.
Buffalo ranked 13th in pass defense last year.
So what should we make of Buffalo dedicating half of its eight draft picks to defensive backs? Granted, they plan on moving Oklahoma safety
Nic Harris
to linebacker, but that still doesn't help protect
Trent Edwards
' blind side.
Bills coach Dick Jauron claimed the reason the Bills spent so many picks on their secondary was the belief you can never have enough pass coverage in today's NFL.
"It's been that way for a while," said Jauron, a Pro Bowl safety for the
Detroit Lions
in the 1970s. "The three-receiver sets have been going for a while now.
"As a matter a fact, I can't remember a time where it wasn't said at some point 'You can never have enough corners.' I guess you'd say it about the whole secondary now, but you've certainly seen a lot of three-wideout sets. You've seen four-wideout sets, and you see a lot of empty sets in the National Football League.
"We had traditionally gone to camp with anywhere from 14 to 15 defensive backs on the rosters, usually six inside, eight outside in terms of your corners to safeties. But it can vary. It varies somewhat, depending on the talent of the group."
That's all fine and dandy, but while the Bills indulged their defensive backfield fetish, they ignored one of the more critical positions on their roster.
They did add Oregon State guard
Andy Levitre
in the second round, their fourth pick of the draft. But several other teams had tackles rated in that immediate vicinity.
Within the next nine picks the
Minnesota Vikings
took Oklahoma tackle
Phil Loadholt
, the
New England Patriots
drafted Houston tackle
Sebastian Vollmer
and the
New York Giants
chose Connecticut tackle
Will Beatty
.
I asked Jauron what he intends to do at tackle.
"We went into the draft having discussed that after the trade of Jason, saying 'Do we feel like we have to have a tackle?' And I think we all agreed ... we're not going to stray far from our grades just to take a tackle.
"We felt like we have guys that can play there. So there's no sense in passing up a guy we think is significantly better at another position just to feel like we've plugged a number in. We weren't going to do that."
Right tackle
Langston Walker
is coming back, as is reserve
Kirk Chambers
. Sophomore
Demetrius Bell
is a project, but it's hard to envision a player going from a 16-game healthy scratch to everyday starter.
Maybe the Bills will strike up conversations with the
Cincinnati Bengals
for left tackle
Levi Jones
, who became expendable when they selected Alabama tackle
Andre Smith
sixth overall. Then again, the Bills might wait to see if the Bengals cut Jones.
Even if that's what the Bills were counting on, it's a risky way to address one of the most crucial positions on the field.
April, 26, 2009
4/26/09
6:14
PM ET
Posted by ESPN.com's Tim Graham
As competitive as the AFC East was last year, what happened this weekend at the draft could make the difference in deciding the playoffs.
The
Miami Dolphins
won the division on a tiebreaker, and you better believe they sense the rest of the division closing in on them.
Eleven victories last year weren't enough to get the New England Patriots into the postseason. With quarterback Tom Brady coming back from his knee injury and with some new blood on board, the Patriots are the favorites to win the AFC East.
The New York Jets, desperate to get over the hump, made two splashy trades to acquire two potential offensive stars.
The Buffalo Bills -- stuck on 7-9 for three straight seasons -- made some head-scratching picks, ignoring tackle and loading up on defensive backs, a position that was relatively healthy.
Best move
| | |
| --- | --- |
| | |
| | James Lang/US Presswire |
| | Trading up to draft Mark Sanchez was a bold move for the Jets. |
The Jets have been skeptical about their quarterback situation for three years and decided to do something dramatic about it.
They parted with two substantial draft picks and three players who might not have started in 2009 to get the franchise-caliber quarterback they believe in.
For that alone, regardless of how Mark Sanchez pans out, the Jets deserve credit for pulling off the deal.
Sanchez gives the Jets the best leading-man candidate in decades. He's their earliest-drafted quarterback since they selected Joe Namath first overall in the 1965 AFL draft.
The Jets began the process of drifting away from Chad Pennington in 2007, when they drafted Kellen Clemens in the second round.
They obviously haven't been satisfied with Clemens as an option. They wanted him to seize the job last summer, but Pennington outplayed him. The Jets, eager for a solution, boldly traded for Brett Favre and cut Pennington. Favre lasted one season before arm problems forced him to retire again, putting Clemens back atop the depth chart.
In eight months, we'll have a better idea of what Sanchez can do for the Jets, but we probably won't know how great the pick was for three years.
But the Jets gave themselves their best opportunity in generations to find a star quarterback. For that alone, they've made the best move of the draft.
Riskiest move
The Buffalo Bills traded Pro Bowl left tackle Jason Peters a week before the draft and didn't select a tackle.
You can look at this three ways: 1) the Bills are confident veteran Langston Walker and second-year project Demetrius Bell can handle the tackle positions; 2) they might be working on a trade for someone like Levi Jones after the Cincinnati Bengals drafted Andre Smith; or 3) Buffalo's front office doesn't know what it's doing.
Buffalo went with Penn State defensive end Aaron Maybin, Louisville center Eric Wood, Oregon defensive back Jairus Byrd, Oregon State guard Andy Levitre, Southern Miss tight end Shawn Nelson, Oklahoma linebacker/safety Nic Harris, Southern California cornerback Cary Harris and West Virginia cornerback Ellis Lankster.
Maybin and Wood can easily be justified as first-round choices. But the Bills are adding a variable to Wood's future by moving him to guard after he started 49 straight games as Louisville's center.
What's with all the defensive backs?
The Bills seemed to have their secondary penciled out heading into the draft: Terrence McGee and Leodis McKelvin or Drayton Florence at cornerback and Donte Whitner, Bryan Scott and George Wilson at safety.
McKelvin was the 11th player chosen overall last year. He is expe
cted to step in for Jabari Greer, a free agent who went to the New Orleans Saints. The Bills brought in Florence for help. Ashton Youboty and Reggie Corner also are on the roster.
Whitner was the eighth overall pick in 2006.
Within the next nine picks after the Bills selected Levitre, three tackles went off the board. The Minnesota Vikings took Oklahoma's Phil Loadholt. The New England Patriots drafted Houston's Sebastian Vollmer. The New York Giants chose Connecticut's Will Beatty.
Most surprising move
Patriots overlord Bill Belichick passed on a variety of striking defensive prospects when he moved totally out of the first round to gather more draft picks.
Southern California linebackers Clay Matthews and Rey Maualuga, Ohio State linebacker James Laurinaitis and Illinois cornerback Vontae Davis were around, but the Patriots weren't interested.
None of these decisions seemed like a surprise when it happened, but if someone were to tell you before the draft that the Patriots would have at least one crack at those prospects -- in some cases, two or three cracks -- you would've bet your last penny they'd draft one. Each would look natural in Patriots' gear.
It's not like we misread the Patriots' needs either. The Patriots were going after those positions. They drafted defensive backs Patrick Chung and Darius Butler in the second round and linebacker Tyrone McKenzie in the third round.
You can't argue with Belichick's judgment when it comes to player evaluations, especially on the defensive side.
Still, to think none of those players landed in Foxborough, Mass. seems strange.
File it away
In what could go down as a classic example that Bill Parcells and his acolytes know more than everybody else, the Dolphins drafted Patrick Turner from Southern California in the third round. He was the 13th receiver off the board, and that might have been a reach.
Scouts Inc. rated him the 38th best receiver in the draft. Pro Football Weekly's draft guide ranked Turner 30th, saying he "has no upside" and that he benefited from facing single coverage because the Trojans' offense was so loaded. Lindy's Pro Football ranked him 18th.
But Turner is 6 feet, 5 inches tall and weighs 223 pounds, and the Dolphins don't have much size at receiver. They made a boo-boo when they signed free agent Ernest Wilford to provide a big target, but he played so small he usually wore street clothes on game day.
Turner caught 49 passes for 741 yards and 10 touchdowns last season.
"I feel I bring a red-zone threat," Turner said. "I feel I bring a lot of mismatches. I feel like I'm a possession receiver.
"I feel that in the fringe area, to be a bigger guy, I feel I run pretty good routes, and I feel sure-handed, like I can contribute."
If Turner works out, he'll make Parcells look like an even bigger genius.
April, 26, 2009
4/26/09
2:57
PM ET
Posted by ESPN.com's Tim Graham
ORCHARD PARK, N.Y. -- The Buffalo Bills keep drafting tweeners who don't have a set position.
Among thir six picks so far, they have a center they're going to move to guard (Louisville's Eric Wood), a cornerback they're probably going to move to safety (Oregon's Jairus Byrd), a guard who might play some tackle (Oregon State's Andy Levitre) and a hybrid safety they've slotted at linebacker (Oklahoma's Nic Harris).
We're in the fifth round, and the Bills still haven't selected a tackle. They traded two-time Pro Bowler Jason Peters to the Philadelphia Eagles nine days ago.