January, 10, 2012
1/10/12
1:25
PM ET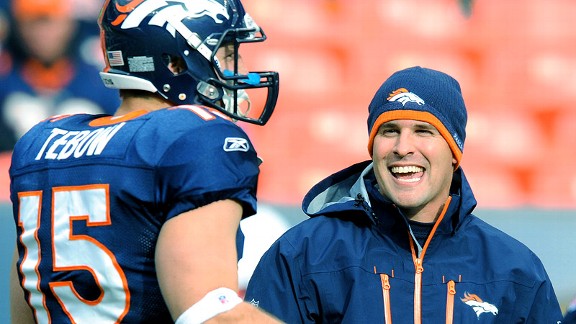 Ron Chenoy/US PresswireFormer Denver coach Josh McDaniels, right, is back with the Patriots. He'll help New England prepare for a Broncos team led by quarterback Tim Tebow, whom he drafted.
Someone has to lose Saturday's divisional-round playoff game between the
New England Patriots
and
Denver Broncos
. But one person will smell like roses this weekend no matter the outcome: Josh McDaniels.
The formers Broncos head coach and current Patriots assistant has cleverly positioned himself in a win-win situation.
On one hand, McDaniels rejoins New England at the perfect time to help the team make a deep playoff run. McDaniels has plenty of inside knowledge on the Broncos' roster and would get a lot of credit if he helped New England win its first playoff game since the end of the 2007 season.
On the other hand, if New England (13-3) were upset by the Broncos (9-8), it would be in large part due to McDaniels' most controversial draft pick in Denver:
Tim Tebow
. McDaniels was heavily ridiculed for "reaching" to take the former Florida quarterback in the first round. One more win by Tebow would advance Denver to the AFC Championship Game and within one game of the Super Bowl. That would be the ultimate vindication for McDaniels, who believed in Tebow from the start when no one else did.
Obviously McDaniels would prefer the former outcome, not the latter. But both options have McDaniels sitting pretty in this AFC playoff game filled with interesting storylines.
After an ugly two-year stint in Denver, after which he was fired, and one year with the
St. Louis Rams
, McDaniels was welcomed back in New England.
"I have a lot of respect for Josh, not only as a coach, but as a friend," Patriots director of player personnel Nick Casario said this week. "I've known Josh a long time, it's no secret. I think it's great to have him back. It's great to have him a part of our program and our system again. His goal and our goal is for everyone to work as hard as they can in preparation for this game, and that's what we'll try to do."
What is McDaniels' role during the playoffs with New England? Patriots head coach Bill Belichick has been vague.
McDaniels' title is "offensive assistant." But this week, because of the opponent, McDaniels could serve as more a scout on both sides of the football.
McDaniels, who was head coach of the Broncos from 2009 to 2010, has great intel on many of their key players. He drafted Denver's building blocks on offense -- Tebow and receivers
Demaryius Thomas
and
Eric Decker
. McDaniels also coached defensive stars
Champ Bailey
and
Elvis Dumervil
. This is priceless inside info that the Patriots could not get from simply studying tape.
McDaniels also should fit in seamlessly with New England's coaching staff. He spent eight seasons with the Patriots as an assistant and position coach, and three additional seasons as offensive coordinator. The system and terminology is virtually the same. This is a great way to ease McDaniels back into the fold to eventually take over for offensive coordinator Bill O'Brien when O'Brien leaves for Penn State after the playoffs.
"[McDaniels] is a person that I spent a lot of time with in a lot of different situations," Patriots head coach Bill Belichick said. "I have a lot of confidence in him, he's smart, he's got great experience and background, and he knows our system. I've enjoyed our conversations the past couple days as we've gotten caught up on some things and moved forward into the playoffs here. I think that he'll be a good asset to our team for the remainder of the season."
McDaniels is reviled by Broncos fans. He was expected to be the next prodigy at head coach. Instead, he went 11-17 and didn't complete his second season. Joining New England's staff this week in an effort to end the Broncos' season certainly doesn't help his reputation in Denver.
Still, no one can deny first-year head coach John Fox is advancing through the playoffs with a roster McDaniels helped build. Starters Tebow, Thomas, Decker and offensive linemen
Zane Beadles
and
J.D. Walton
were all from McDaniels' final draft class in 2010. McDaniels' 2009 draft picks
Robert Ayers
, who had two sacks in last week's playoff win against the
Pittsburgh Steelers
, and safety
David Bruton,
also are contributors on defense.
But Tebow and Thomas are McDaniels' greatest parting gifts to the Broncos. The quarterback-receiver tandem connected for one of the greatest plays in Broncos' history last week.
Denver's playoff run probably will end this weekend in New England. The Broncos are nearly two-touchdown underdogs. The matchup is perfect for the Patriots, who won the regular-season meeting in Denver by 18 points.
But if the Broncos pull a monumental upset, players like Tebow, Thomas, Decker (if healthy) and Ayers will have a huge role. For that, McDaniels would still deserve a lot of credit.
Sometimes the stars align.
McDaniels simply can't lose this week.
January, 9, 2012
1/09/12
4:48
PM ET


Say what you want about
Denver Broncos
quarterback
Tim Tebow
. But one thing he does pretty well is throw the deep ball over top of coverage that's trying to stop the run.
Tebow had a career day Sunday throwing deep in a wild-card win over the
Pittsburgh Steelers
. Tebow was had three completions over 50 yards and, according to ESPN Stats & Information, the most yards per completion (31.6) in NFL playoff history.
The Steelers made the mistake by stacking the line of scrimmage too much and showing little respect for Tebow's deep ball. New England's pass defense, which is notorious for giving up big plays, has to be more balanced in its approach in order to avoid getting "Tebowed."
"Really one of the best things that he did or better things he did among a number of things at Florida was he threw the ball down field really well," Patriots director of player personnel Nick Casario said Monday. "He has good arm strength, real accurate with the football, and I think there have been a lot of examples this year in Denver, not only in yesterday's game against Pittsburgh, but where they've thrown the ball down the field and been able to get the ball behind the defense. They have players on the perimeter that they're able to get vertical into the defense and down the field."
The opportunities will be there for Tebow to make plays with his arm. The Patriots were 31st in the NFL defending the pass. New England also led the league in giving up an astounding 79 pass plays of 20 yards or more this season.
Tebow's accuracy isn't great -- he was 10 for 21 last week -- but he proved against Pittsburgh that he's not afraid to "pull the trigger." His 80-yard touchdown pass in overtime to Broncos receiver
Demaryius Thomas
was the biggest play in Denver's season.