June, 7, 2011
6/07/11
4:22
PM ET
General consensus says
Pittsburgh Steelers
safety
Troy Polamalu
is the NFL's best defensive player.
He was voted The Associated Press Defensive Player of the Year. ESPN.com's Power Rankings panel made him the unanimous choice when voting on the best defenders last month.
But in a segment for the NFL Network, a pair of opinionated and decorated veterans
didn't rate Polamalu even the best defensive back in the game
.
New Orleans Saints
safety
Darren Sharper
and
Tampa Bay Buccaneers
cornerback
Ronde Barber
assembled their top-10 list of the greatest defensive backs. With one safety and one corner compiling the order, there was no positional bias.
This is what Sharper and Barber came up with:
Darrelle Revis, Jets cornerback
Troy Polamalu, Steelers safety
Ed Reed, Ravens safety
Nnamdi Asomugha, Raiders cornerback
Charles Woodson, Packers cornerback
Champ Bailey, Broncos cornerback
Nick Collins, Packers safety
Adrian Wilson, Rams safety
Devin McCourty, Patriots cornerback
Aqib Talib, Buccaneers cornerback
I believe Revis is the best cornerback in the NFL, but it's a little strange to see him rated higher than Polamalu, who's coming off such a great season.
That's also an impressive showing for McCourty after one NFL season. Sharper and Barber ranked him the fifth-best cornerback ahead of guys like
Asante Samuel
,
Antoine Winfield
and
Tramon Williams
.
February, 6, 2011
2/06/11
11:53
PM ET
Some AFC East-oriented thoughts after the
Green Bay Packers
defeated the
Pittsburgh Steelers
31-25 in the Super Bowl:
[+] Enlarge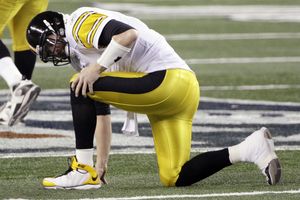 AP Photo/Patrick SemanskySteelers quarterback Ben Roethlisberger had a mediocre game in Super Bowl XLV.
Ben Roethlisberger is not in Tom Brady's league yet.
There had been some talk over the past two weeks that
if Roethlisberger won the Super Bowl he would stand next to Brady
and
Peyton Manning
in the pantheon of uber-elite NFL quarterbacks.
Roethlisberger has been sensational in the postseason, but not
this
postseason. Aside from a couple clutch throws, he was below average in beating the
New York Jets
in the AFC Championship Game. He had another pedestrian outing Sunday.
He threw two interceptions, one that
Nick Collins
returned for a touchdown. Roethlisberger overthrew
Mike Wallace
twice in key situations in the third quarter: a would-be touchdown after Wallace got behind the Packers secondary and a third-and-2 play right before the fourth quarter. Roethlisberger also failed to take advantage of a defensive backfield missing its best player,
Charles Woodson
, the entire second half.
Roethlisberger is 10-3 in the postseason and has been to three Super Bowls in his seven NFL seasons. Brady won his first three Super Bowls and his first 10 postseason games before a defeat. Plus, Brady has appeared in a fourth Super Bowl.
I understand Brady has lost three straight postseason games, but he still has more championship rings and conference titles.
The New England Patriots were the Packers' springboard.
The Packers have won every game since losing 31-27 at Gillette Stadium in Week 15. Super Bowl MVP
Aaron Rodgers
was hurt and couldn't play, but the Packers still gave the scalding-hot Patriots a scare with backup quarterback
Matt Flynn
.
"The New England game was a big game for us," Rodgers said on ESPN's Super Bowl set Sunday night. "We lost that game, a game we were double-digit underdogs. I was out. Matt played great, and our defense played pretty well also.
"That was the game where, I think, [we said] 'We got a good team. Let's not lose this opportunity.'"
Howard Green quietly made one of the game's biggest plays.
The former Jets defensive lineman didn't register a tackle. But he bull rushed Steelers guard
Chris Kemoeatu
and, in a great individual effort, harassed Roethlisberger into a bad throw that turned into Collins' pick six. Green started only six games in the regular season and playoffs.
It wasn't quite Thurman Thomas losing his helmet at the start of Super Bowl XXVI
, but Steelers left tackle
Jonathan Scott
-- not good enough to remain with the
Buffalo Bills
despite starting eight games in 2009 -- had to come off the field with the game on the line because his shoe came off.
Scott missed the Steelers' third-and-5 play with 62 seconds remaining and their fateful fourth-and-5 with 56 seconds left.
Trai Essex
replaced him as Roethlisberger's blindside protector and did OK while on his heels, but the switch was one more thing for Roethlisberger to worry about.
Roethlisberger threw incompletions on both plays.
A Lombardi Trophy would've completed a tremendous turnaround tale for Steelers offensive line coach Sean Kugler.
He was dismissed from Buffalo's staff at the end of last season. The native of nearby Lockport, N.Y., was living a dream by coaching his hometown team. He was on Dick Jauron's staff and served under interim coach Perry Fewell through an ugly campaign. But new Bills general manager
Buddy Nix cleared out the coaches' offices when he took over
, and Kugler was snatched up by the Steelers.

AFC EAST SCOREBOARD
Friday, 8/22
Saturday, 8/23