August, 20, 2014
Aug 20
3:04
PM ET
PITTSFORD, N.Y. -- The
Buffalo Bills
placed linebacker
Stevenson Sylvester
on injured reserve Wednesday, the team announced.

Sylvester
Sylvester has a torn patella tendon in his left knee, per a source. He had been out of practice since Tuesday.
The fifth-year pro, who spent his first four seasons with the
Pittsburgh Steelers
, was competing for a spot on the 53-man roster. He was among the candidates to replace linebacker
Nigel Bradham
in the starting lineup for Week 1, when Bradham will sit a one-game suspension.
The Bills may now turn to rookie
Preston Brown
alongside
Brandon Spikes
and
Keith Rivers
for that game.
Sylvester's injury also thins out the depth at linebacker, where the Bills have already lost
Kiko Alonso
(torn ACL) for the season.
August, 12, 2014
Aug 12
4:30
PM ET
The
Buffalo Bills
received a slight reprieve from practice Tuesday, as their morning session was shortened to a walk-through because of rain in the area.
With three remaining preseason games following joint practices this week with the
Pittsburgh Steelers
, let's take a look at some of the unanswered questions about the Bills' roster:
Woods
What will be Robert Woods' role?
The Bills' second-round pick has been in the headlines ever since he played into the third quarter of the Hall of Fame game earlier this month. Coach Doug Marrone telling Woods to play more with a "chip on his shoulder" certainly didn't quell the speculation about Woods' role, and the questions continued Friday night when
Mike Williams
and
Sammy Watkins
were the top pairing on the outside. The remaining three preseason games could determine how Woods fits into the offense this season after starting 14 games and catching 40 passes from three sub-par quarterbacks last season. We've seen the Bills use various combinations of Woods,
Chris Hogan
, Watkins, and Williams dating back to early in organized team activities. While game-specific pairings at receiver could continue into the regular season, most teams settle on a top group. At this point, there is little assurance Woods is among the top trio.
What's next for Henderson?
Following
Cordy Glenn
's return to practice over the weekend, Marrone pumped the brakes on any possible position switch for seventh-round pick
Seantrel Henderson
, who has been starting in Glenn's place at left tackle. Marrone stressed Glenn is being eased back into the lineup and until that happens, Henderson is holding down the fort -- and doing it well. Still, unless Glenn suffers a setback, Marrone will need to make a decision about Henderson. Does he join the competition at right tackle? Does he get a run at right guard? If the Bills want to have their five best offensive linemen on the field, then what we've seen from Henderson thus far suggests he should be part of that group.
Who starts at right guard?
The competition at this position continues to churn. Incumbent
Kraig Urbik
has rotated with rookie
Cyril Richardson
through two preseason games, with others (
Chris Hairston
,
Antoine McClain
, and
J.J. Unga
) waiting on deck. An injury to left guard
Chris Williams
postponed the battle this weekend, as both Urbik and Richardson ran with the first team in practice. If Williams remains out as the preseason continues, then the Bills may not have an answer about a starter until later this month. Even then, there are no guarantees. Last season, left guard
Colin Brown
started five games before he was released and replaced in the starting lineup by
Doug Legursky
. This question could linger into the fall.
Who starts for Bradham?
Through the first few practices of training camp, there wasn't much of a competition at weak side linebacker.
Nigel Bradham
seemed to have won over the coaching staff after a rocky 2013 season and was the favorite to replace
Kiko Alonso
. That changed when Bradham lost his appeal of a one-game suspension. As a result, the Bills will be without Bradham for the season opener in Chicago. Who starts in his place? From a depth chart standpoint, it would be
Stevenson Sylvester
, a four-year veteran who has been the second-team Will linebacker in the preseason. Yet rookie
Preston Brown
has drawn praise for his work at middle linebacker, where he's played almost exclusively in training camp. Between now and Sept. 7, the Bills will need to decide who starts in Bradham's place. It's not a major question, but one that could factor into the defense's performance on that first Sunday of the season.
July, 21, 2014
Jul 21
8:30
PM ET
PITTSFORD, N.Y. -- A daily review of the hot topics coming out of
Buffalo Bills
training camp:
There has been a throng of national media watching Bills camp through two days and they've seen Sammy Watkins put on a show. After catching every pass thrown his way in Sunday night's practice, Watkins continued to impress on Monday. He strode past Leodis McKelvin for a would-be touchdown grab early in practice and made a catch over three defenders look effortless later on. It's not just the deep game, either: he used his long arms to snag a pass on a crossing pattern, through traffic at one point as well. Watkins has that rare size and speed combination that can make him a dangerous weapon against opposing defenses. His height, long arms, and make-it-look-easy strides remind me of Randy Moss.
Speaking of height and speed, I've been impressed with Bryce Brown thus far in camp. The 6-foot running back has long legs and shows some burst getting into the second level. The Bills coveted Brown for more than a year before acquiring him in May. It remains to be seen how many carries the Bills can siphon from C.J. Spiller and Fred Jackson to Brown, but he adds depth to a backfield that didn't have much of it last season.
Nigel Bradham continues to see first-team reps at linebacker, a surprise given how his role virtually evaporated under defensive coordinator Mike Pettine last season. Even coach Doug Marrone has noticed a change in Bradham's work ethic. "Honestly, I think last year Nigel struggled at times with us," Marrone said Monday. "I saw a change, more of a commitment from him when we came back, which I give him a lot of credit for." The Bills are giving Bradham the first crack at replacing Kiko Alonso and he seems to have impressed the coaching staff. The issue with Bradham may be his abilities in stopping the run: The Bills turned to Arthur Moats last season against heavier offenses and rookie Preston Brown is knocking on the door for playing time on defense. It's a battle we'll continue to monitor closely.
After missing all of organized team activities and minicamp, T.J. Graham is back practicing this week. The results have been up-and-down. He made the play of Sunday's practice when he caught a deep bomb from Jeff Tuel, but in one of his first routes Monday he had a pass fall right through his hands after beating a defender on a similar deep route. Graham is the top "bubble" player for the Bills and can't afford those sort of plays.
Cordy Glenn remained out of practice Monday and the Bills are still mum on what landed him on the non-football illness list. "It's a medical condition. I'm preparing to go on as if he's not playing, which he's not," Marrone said. "I'm just waiting for the doctors and I can't speak about the condition because it's something that happened outside of football. I'm planning on playing and right now he's not there, so I have to play with him not being there. When they tell me he's there then obviously we'll plug him back in."
July, 18, 2014
Jul 18
5:35
PM ET
PITTSFORD, N.Y. -- The
Buffalo Bills
will begin life without linebacker
Kiko Alonso
when they start training camp Sunday night.
As players reported to St. John Fisher College on Friday, general manager Doug Whaley put the absence of Alonso, who underwent surgery this week, in perspective.
Alonso
"It's a tremendous loss, but no one's crying for us," Whaley said. "Next man up. We think we've built a roster that can sustain a loss like this. But our expectations aren't going to drop."
As expected, Whaley mentioned rookie
Preston Brown
and third-year 'backer
Nigel Bradham
as possible replacements for Whaley. The second-year general manager added that each of those players have already practiced with the first team, as Alonso was out for most of OTAs recovering from hip surgery.
Other tidbits from Whaley:
Philosophy on EJ Manuel:
There will be pressure on quarterback EJ Manuel to perform this season, but Whaley said the team has tried to give Manuel as much help on the field as they can. "He doesn't have the weight of the world on his shoulders, that he has to go out and win it," Whaley said. "We've surrounded him with some people where if he does his job, he should be OK." As far as how Manuel will need to improve, Whaley said: "I want to see him have more control of the huddle, of the offense. A command and a presence out there that we saw in college."
No word on Marcell Dareus:
Pro Bowl defensive tackle Marcell Dareus has two pending legal situations from incidents this offseason, something that could make him subject to an NFL suspension. Whaley said Friday that he hasn't heard from the league on that front. Dareus wasn't among the players who moved into the dorm while reporters were present Friday.
Cordy Glenn status bears watching:
Starting left tackle Cordy Glenn, considered the Bills' best offensive lineman last season, missed minicamp with what was called an illness. Glenn was placed on the active/non-football illness list this week and can be removed from the list at any time. Whaley was cautious Friday when talking about Glenn's status. "We're still waiting on some reports on him, but it looks like it's going to be one of those day-to-day things and we'll see how it progresses." Asked a follow-up question if Glenn's illness could threaten his season, Whaley said: "We don't think so, at this time. But again, we'll just have to see how it progresses. We hope not." Glenn is present at camp. "He'll be doing some light exercises and stuff like that," Whaley said.
Other injury updates:
Whaley said the team is still easing cornerback
Leodis McKelvin
back into action after offseason surgery. He is on the active/physically unable to perform list. Defensive tackle
Alan Branch
, meanwhile, is on the non-football illness list. Whaley said there were tests that came back during his check-in physical that require further scrutiny before he can practice.
Roster moves:
The Bills released two players -- cornerback
Darius Robinson
and wide receiver
Cordell Roberson
-- on Friday. Whaley said the team is "upgrading" the roster and is in the process of signing two players to replace them. They are expected to be younger players, not veterans.
July, 1, 2014
Jul 1
10:49
PM ET
The blows for
Buffalo Bills
fans came in quick succession Tuesday night.
First was a shocking 33-word statement from general manager Doug Whaley that sent a clear message: brace for the worst with linebacker
Kiko Alonso
, who quickly had become a fan favorite and rising defensive star last season.
[+] Enlarge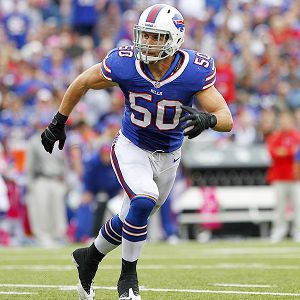 AP Photo/Bill WippertKiko Alonso's torn ACL puts the Buffalo Bills in quite a pickle at linebacker.
"We have learned tonight that Kiko Alonso injured his knee while working out in Oregon," Whaley said. "We do not have the details at this point, but early indications are that it may be significant."
Less than an hour later came confirmation, from ESPN NFL Insider Adam Schefter, of Bills' fans fears:
Alonso had torn his ACL
and is expected to miss the upcoming season.
At a time when those around the NFL are relaxing on beaches and boats, the stunning developments with Alonso have taken the wind out of the Bills' sails.
This is a crushing blow just more than two weeks before training camp begins.
Alonso was part of a defensive resurgence last season under former coordinator Mike Pettine, playing every defensive snap. The team moved him to weak-side linebacker this offseason, and its hope was that Alonso would take another step forward, helping to improve the Bills' run defense as a run-and-hit outside 'backer.
At this point, you can rip up those plans and toss them in the trash, at least for this season. The Bills are back to the drawing board at linebacker.
Luckily for them, the team made two low-cost, high-upside signings this offseason, bringing in
Keith Rivers
and
Brandon Spikes
. That shored up what was, aside from Alonso, a weaker point in their defense last season.
Before Alonso's injury, the Bills planned to start Rivers on the strong side and Spikes in the middle. With a hole potentially opening up on the weak side, they have several options.
First, they could move Rivers to the weak side. That would open a hole on the strong side, but Rivers has adequate range to play any of the three linebacker spots. He has an injury history that should make the Bills leery of relying too much on him, but at this point they might not have a choice.
Moving Rivers across the formation would require someone else moving into his old spot. One choice would be
Preston Brown
, a third-round pick who impressed at middle linebacker this spring. Having a rookie learning one position in organized team activities and another in training camp isn't ideal, but Brown has impressed coaches so far. The Bills could hold their breath and hope that Brown makes like Alonso and steps in without a hitch on the strong side.
Rivers
If the Bills wanted to go with more experience in their second level,
Manny Lawson
is their best bet. Lawson, who turns 30 later this month, started 15 games last season at strong-side linebacker. That's a different position in Pettine's defense than it is for Schwartz, and Lawson would need to play off the line more than he did last season. Moving Lawson back to linebacker would also weaken the Bills' depth at defensive end, but it's an option they need to consider at this point.
Another possibility is to replace Alonso with
Nigel Bradham
, keeping Rivers on the strong side. Bradham, a former fourth-round pick, started 11 games in 2012 as part of a Bills defense that ranked 31st against the run. His playing time was cut considerably under Pettine last season, but he offers more athleticism than the alternatives at the position.
There are few, if any, remaining options on the free-agent market who could step in and start for Alonso. Any new player coming in would have to play catch-up to learn the defense. The Bills could add a veteran for depth during training camp, but they would likely keep the expectations low with any new addition.
Instead, the strongest bet is that Alonso's replacement is either Bradham, Brown or Lawson.
None is Alonso. After snagging four interceptions in his first four games, Alonso's on-field play and his nonchalant personality earned him "legend" status among Bills fans, who flocked to buy his jersey.
In a cruel offseason twist that came down like a bolt of lightning on a summer night, Alonso won't be wearing his jersey on the field this season.
August, 29, 2013
8/29/13
10:26
PM ET
Observations from the
Buffalo Bills
'
35-13 loss
to the
Detroit Lions
in their preseason finale Thursday:

Tuel sits, now waits:
The Bills chose to rest virtually all of their starters for this game. Among them? Rookie quarterback
Jeff Tuel
, who has been named the starter in Week 1 if
EJ Manuel
is unable to play. The Bills chose to pass up the opportunity to get Tuel more reps and more experience, and instead went the safe route, protecting him from injury. It's now a waiting game for Tuel and the Bills, who will need Manuel to return by next Wednesday if he is to play in the Sept. 8 opener.
Lewis tops Leinart in QB battle:
When
Kevin Kolb
's future in the NFL became murky following a concussion in last Saturday's loss, the Bills immediately moved to sign veteran
Matt Leinart
and acquire another quarterback,
Thad Lewis
, in a trade. Leinart started tonight and, as one might imagine, looked rusty. He went 3-for-10 passing for 11 yards, throwing two interceptions. Leinart's struggles may have caused coach Doug Marrone to make the switch to Lewis earlier than anticipated. Lewis came in early in the second quarter and, in relative terms, had a better outing. Lewis finished 7-for-16 for 132 yards, but was not intercepted and added a 79-yard touchdown pass to
Marcus Easley
in the fourth quarter. The Bills might wind up keeping just one of this pair, and after Thursday night, it looks like Lewis has the edge.
Curious case of Nigel Bradham:
Among the defensive starters, one name stood out: second-year linebacker Bradham. He started alongside rookie
Kiko Alonso
at linebacker in the first three preseason games, and it would be a surprise if he wasn't in that spot in Week 1. So, with the Bills resting all of their other presumptive starters (outside of cornerback
Crezdon Butler
, who should start in place of an injured
Stephon Gilmore
), it was worth noting Bradham's presence, which continued through the first half. Unclear if it's related to his Aug. 19 traffic stop, when he was ticketed for marijuana possession.
Legursky carted off:
The past two weeks have been a rough stretch for Buffalo on the injury front, and the Bills took another hit Thursday. Veteran offensive lineman
Doug Legursky
was carted off in the third quarter with an apparent left-leg injury. Legursky was set to become the Bills' top interior reserve, and if healthy, likely would have been part of the 46-man game-day roster. Now, his status is uncertain, which could force the Bills to turn to
Antoine Caldwell
(fifth season) or
David Snow
(second season) at the inside swing position.
What's next:
The Bills will have to trim their roster to 53 players by Saturday at 6 p.m. ET. After that, it's time for the real thing. They'll be back on the practice field Sunday and Monday as they prepare for their opener against the
New England Patriots
on Sept. 8.
August, 29, 2013
8/29/13
9:09
PM ET
The
Buffalo Bills
trail the
Detroit Lions
35-3
at halftime of tonight's preseason finale.

Scatter-shooting some notes and thoughts on the first half:
Ouch. After getting trounced in Washington on Saturday, the Bills have put up another clunker tonight at home. Keep in perspective that the Bills are resting their starters and playing with two quarterbacks who have only been with the team since Sunday, but still, not an encouraging performance by any means.
Head coach Doug Marrone to the team's broadcast at halftime: "We should be playing much better than this, and that's a concern."
The Bills chose to rest Jeff Tuel, protecting what will likely be their opening-day quarterback from injury.
Matt Leinart's stat line: 3-for-10, 11 yards, no touchdowns, 2 interceptions. QB rating of 0.0.
Thad Lewis' stat line: 2-for-5, 11 yards, no touchdowns, no interceptions.
Bills' offense: 44 net yards on 30 plays (1.5-yard per play average), 8 net passing yards, two first downs, 1-for-9 on third down. Yikes.
Lions' offense: 221 net yards on 40 plays (5.5-yard per play average), 17 first downs, 4-for-4 in red zone.
The biggest non-quarterback story of the game? Nigel Bradham starting on defense and playing the entire first half. The second-year linebacker is the only presumptive defensive starter to see playing time tonight. It's unclear why Bradham is in the game, and if it's at related to him being cited for marijuana possession on Aug. 19. Don't think his roster spot is in danger, but it's something to watch.
Also notable: Da'Norris Searcy playing the entire first half. He started the first three preseason games at safety in place of Jairus Byrd, who could return for Week 1. The Bills started their pair of rookies -- Duke Williams and Jonathan Meeks -- at safety tonight, with Searcy playing extensively in sub packages. Unlike Bradham, his roster spot could be in danger, but it also could be a case of the Bills wanting to get him comfortable playing close to the line of scrimmage in sub packages, something he may do when Byrd returns.
Draft picks not playing tonight: EJ Manuel (injured), Kiko Alonso, Robert Woods.
One draft pick playing tonight: Marquise Goodwin, who was poked in the eye late in the first quarter and won't return.
Another injury: Brad Smith, who took a hit to the ribs on the final kickoff of the first half. He's questionable to return.
July, 31, 2013
7/31/13
12:22
PM ET
PITTSFORD, N.Y. -- The
Buffalo Bills
were back on the practice field Wednesday morning, holding their second full-padded session of training camp.
Passing along some observations:
Williams back, but does not participate
: Defensive end
Mario Williams
was back in uniform after leaving training camp to have his sore foot evaluated. Williams worked with the strength and conditioning staff on the sidelines, and did not participate in practice. Meanwhile, tight end
Scott Chandler
(ACL) and defensive lineman
Kyle Williams
(Achilles) continued to be held out of team drills. Head coach Doug Marrone said the team has built in rest days for Chandler, who had knee surgery in January.
[+] Enlarge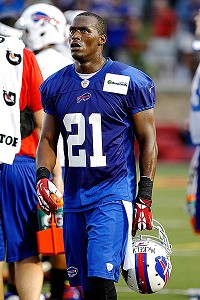 Kevin Hoffman/USA TODAY SportsBills coach Doug Marrone came away impressed with the play of defensive back Leodis McKelvin on Wednesday.
Rogers sits out; McKelvin gets bumped up
: Cornerback
Justin Rogers
was not in uniform on Wednesday after suffering a right hamstring injury in Tuesday's session. Marrone said after practice that Rogers will be out "for a short period of time." Rogers began training camp with the first team and was replaced by
T.J. Heath
on Tuesday. However, veteran
Leodis McKelvin
ran with the first team on Wednesday, with Heath and
Crezdon Butler
playing cornerback for the second group.
"He made a heck of a play on a comeback [pattern]," Marrone said of McKelvin after practice. "When you're out for that long, it takes some time. He's really coming along nicely. We're excited about that."
Elliott carted off
: Second-year receiver
Kevin Elliott
was carted off the practice field with a right shoulder injury. Elliott made an impressive diving catch during 11-on-11s against top cornerback
Stephon Gilmore
, but came down hard on his shoulder and looked to be in pain on the sideline. Elliott is the mix for a back-end roster spot.
Other injuries
: Marrone said a pair of running backs were hobbled with ankle injuries on Wednesday. Veteran
Tashard Choice
came up slow during a punt drill and talked to trainers, but later came back onto the field for 11-on-11 work. Meanwhile,
Zach Brown
suffered an ankle injury that Marrone said doctors will examine.
Manuel gets first-team action
: Rookie quarterback
EJ Manuel
ran the first-team offense during the initial 11-on-11 period of practice after spending most of his time with the second team to begin training camp. Veteran
Kevin Kolb
led the top group for the final two 11-on-11 periods. For the second consecutive practice, Manuel avoided making any critical mistakes while in the pocket, but looked to face more blitz pressures than he has in previous sessions.
Kolb was intercepted during an early 7-on-7 drill by Gilmore, who undercut rookie running back
Kendall Gaskins
on a short pattern. Kolb was later intercepted by safety
Da'Norris Searcy
on a pass intended for rookie receiver
Marquise Goodwin
, and also had some throws that sailed behind receivers
T.J. Graham
and
Robert Woods
. On the plus side, it was Kolb who lofted a well-thrown ball to Elliott on the play where he was injured.
Dime package gets work
: The Bills had six defensive backs on the field for a stretch of their final 11-on-11 period. Safety
Duke Williams
was one of the players coming on, with
Bryan Scott
replacing
Nigel Bradham
at linebacker. Along the defensive line,
Manny Lawson
and
Alex Carrington
provided the pass rush. On the second unit, rookie
Nickell Robey
manned the slot, intercepting quarterback
Jeff Tuel
late in the period.
Punters look even
: The punt unit returned to action Wednesday, with
Shawn Powell
and
Brian Stahovich
both impressive during both special-teams periods. However, returners had issues during the first period, with Woods and Graham both muffing catches, drawing the ire of special-teams coordinator Danny Crossman.
Good day at the office for
: McKelvin. The changes at cornerback continue for the Bills, and McKelvin was the latest to take reps with the first team. He didn't disappoint, showing tight coverage and breaking up a throw from Kolb to Woods during 11-on-11s.
Bad day at the office for
: Kolb. It's tough to compare him side-by-side to Manuel since Kolb is usually seeing the best unit from the defense, but Kolb continues to struggle at times with his accuracy and decision making. He's in the spotlight given the quarterback situation, so his mistakes are more magnified than those of other players.
What's next
: Players are off Thursday before returning to practice Friday morning from 8 to 11:10.
May, 17, 2012
5/17/12
9:10
AM ET
By
ESPN.com staff
| ESPN.com
Buffalo Bills
Bills general manager Buddy Nix assured Ryan Fitzpatrick that he would be the team's starter ahead of the signing of Vince Young, the quarterback
told SiriusXM NFL Radio
on Wednesday.
Fourth-round draft selection Nigel Bradham relishes his
role on special teams
.
Miami Dolphins
Ovie Mughelli, a two-time Pro Bowl fullback who was a salary-cap casualty in Atlanta this offseason, is in South Florida for a Thursday workout with the Dolphins. It might be a signal,
Brian Biggane writes
, that the team is worried about Jerome Messam, who underwent his second knee surgery in five months this week.
Former Dolphins running back Ricky Williams
shared his views on concussions
with ESPN's Dan Le Batard.
New England Patriots
The Patriots
signed receiver Jeremy Ebert
, their seventh-round draft pick from Northwestern.
According to a Forbes report, Bill Belichick is the
highest-paid coach in sports
.
New York Jets
Darrelle Revis
led a chorus of Jets
praising new addition Tim Tebow, the New York Daily News reports. "He's a born leader," Revis said. "... It's the passion within ... of him wanting to be a leader, wanting to win. You see it in him all the time... eating lunch. Walking down the hallway you see it. He's just one of those guys."
Offensive tackle Wayne Hunter, coming off a tough 2011, received praise from new offensive line coach Dave DeGuglielmo. "This guy is the starting right tackle," DeGuglielmo
told ESPNNewYork.com
. "Until they tell me otherwise, until they ship him out of this building or until they shoot me dead in my office, that sonofagun is going to be the starting right tackle."