May, 29, 2013
5/29/13
7:00
AM ET
Here are the most interesting stories Wednesday in the AFC East: Morning take: According to the Football Outsiders, Belichick ranked 23rd among 32 head coaches in its "Aggressiveness Index" last season. New England led the league in total offense and scoring. So my guess is there weren't a ton of opportunities to be overly aggressive.
Morning take: No one questions Alonso's talent. He fell to the second round due to various off-the-field concerns at Oregon. But if Alonso stays focused, he could be a steal for Buffalo.
Morning take: There is a lot of talent on all levels of the defense. The biggest concern is at cornerback, where rookies have to step up or veterans like Brent Grimes and Richard Marshall must stay healthy.
Morning take: The Jets have a talent issue, not an identity issue. New York wants to lead with stout defense and execute well enough on offense. That's the identity, but it's going to be tough for New York to consistently execute with its lack of talent.
December, 19, 2012
12/19/12
7:33
AM ET
Here are the most interesting stories Wednesday in the AFC East: Morning take: Johnson has 891 yards and needs just 109 in the final two games to post his third straight 1,000-yard season. He is the only reliable receiver in Buffalo's offense and that needs to change next year.
Morning take: It's a little late for that. The personnel needs to improve and it will take an entire offseason to fix the offense.
Morning take: Miami definitely needs cornerback depth and Patterson should be able to contribute. He was a former starter for the Browns who underperformed after getting a sizable contract.
Morning take: It makes sense. This game could get ugly fast. It's a chance for Jaguars fans to see one of the best teams in the NFL.
November, 21, 2012
11/21/12
9:40
AM ET
We have some good news for the
New England Patriots
(7-3) and not-so-good news for the
New York Jets
(4-6).
Hernandez
Albert Breer of the NFL Network reports
Patriots tight end
Aaron Hernandez
will make his return from an ankle injury on Thanksgiving night against the Jets. This will be a big boost for New England, which lost starting tight end
Rob Gronkowski
(broken arm) last weekend. Hernandez is another dangerous option in New England's offense and an even better vertical threat than Gronkowski.
Hernandez missed the past three games, but his timing couldn't be better. This is a big AFC East matchup where the Patriots could virtually lock up the division with a win and put an end to New York's chances of making the playoffs.
New England took the first meeting at Gillette Stadium with a 29-26 overtime victory.
October, 18, 2012
10/18/12
9:00
AM ET


When the
New York Jets
play the
New England Patriots
, there is always potential for something over-the-top coming from the Jets' locker room.
The latest is from Jets linebacker
Calvin Pace
. He gave a backhanded compliment to the Patriots' No. 1-ranked offense, calling it "borderline illegal."
"It's borderline illegal, because sometimes the guys aren't always set when they snap the ball," Pace told
ESPNNewYork.com
. "But it's smart. Why not hurry a team up? I wish we would do it. For a defense, it just puts pressure on you."
I've watched the Patriots all season, and there is nothing illegal about their offense. The Patriots line up fast and get the play in by using one-word terminology.
New England's offense is lethal, not illegal. The Patriots got the idea from the Oregon Ducks, and have implemented a college scheme that's working in the NFL. New England is ahead of the curve and perhaps providing a glimpse into the future of a scheme and tempo that more teams eventually will use.
For now, the Patriots are the only team that can play at this tempo for four quarters. It takes a smart quarterback (
Tom Brady
) and all 11 players on the same page. New England has mastered it.
Just because it's unusual doesn't mean it's illegal.
August, 27, 2012
8/27/12
2:41
PM ET
Dress rehearsal week is officially over in the AFC East. All four teams have completed their third and most important preseason game.
Here is a look at whose stock is rising and falling in the division:
Falling
1. Jets offense:
The touchdown drought has now reached three full games and 12 quarters for the
New York Jets
. New York's first- and second-team offense put on another shoddy display in Sunday night's 17-12 loss to the
Carolina Panthers
. Jets starting quarterback
Mark Sanchez
(123 yards, one interception) played decent football but couldn't get it done in the red zone. The Jets got inside the 20 three times and settled for field goals. One time in the second quarter, New York's defense forced a big fumble at Carolina's 12 yard-line and the Jets went three-and-out and settled for the field goal. Backup quarterback
Tim Tebow
didn't do much better in his final preseason game. He went 4-of-14 for 55 yards and an interception. This was New York's final tune-up for its starters before its big Week 1 showdown with the
Buffalo Bills
. It appears the Jets' best chance to win this game is with good defense.
[+] Enlarge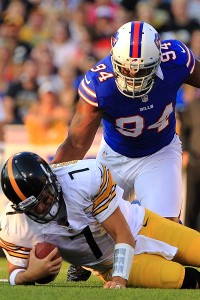 Kevin Hoffman/US PresswireBuffalo's Mario Williams produced 10.5 sacks last season despite battling a wrist injury.
2. Dolphins receivers:
Miami's pass catchers have had the dropsies since spring workouts. So it's no surprise that trend is continuing up until two weeks before the regular season. The Dolphins are making rookie quarterback
Ryan Tannehill
's job much more difficult by not catching the football. Starting tight end
Anthony Fasano
had three drops in the first half alone. The fact is Miami simply does not have the receivers and tight ends to run a successful West Coast offense. It's going to be a rough year trying to score points in Miami.
3. Patriots offensive line:
Brady has played in limited snaps, but he is taking a pounding this preseason when he's under center. Brady took several more shots in New England's 30-28 loss to the
Tampa Bay Buccaneers
on Friday. He was sacked twice and fumbled for the second time this preseason (it was recovered). Injuries have hurt New England's offensive line, but the players in the lineup need to improve. For example,
Marcus Cannon
is not the answer at right tackle and New England needs
Sebastian Vollmer
back ASAP. Brady only has so many big hits left in his 35-year-old body. It is imperative he stays upright and productive this year.
Rising
1. Stevan Ridley, Patriots tailback:
The starting running back job appears to be locked up for Ridley, who has been the most consistent Patriots tailback in training camp and the preseason. Ridley is running well and put together another solid effort Friday night against Tampa Bay. Ridley rushed for 87 yards and a touchdown on 16 carries. These kind of performances is exactly what the Patriots want out of Ridley, who took advantage of his limited opportunities.
2. Mario Williams, Bills defensive end:
Williams showed flashes of why the Bills invested $100 million into him this offseason. He is a defensive game-changer who dominated the first half against the
Pittsburgh Steelers
with two sacks. Buffalo's defense was energized by Williams and played its best half of football in the preseason. The Bills will need more multi-sack performances from Williams in the regular season.
3. Dolphins' defense:
Miami's defense was underachieving this preseason, allowing 24 first-quarter points in the first two games. But the Dolphins played closer to the level we saw the past two years against Atlanta. Miami held a good Falcons offense to just three field goals in the first half. The pass rush looked much better with the return of defensive end
Cameron Wake
(1.5 sacks). The pass defense needs some improvement, but overall it was a solid effort for the strength of Miami's team.
August, 21, 2012
8/21/12
12:30
PM ET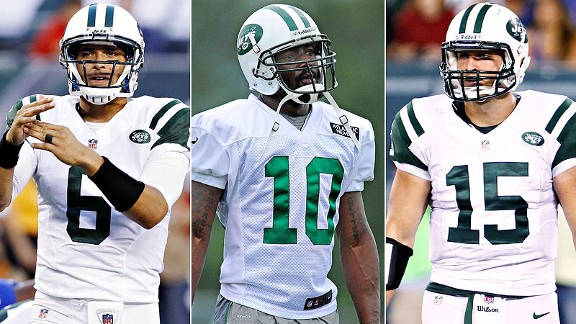 US PresswireMark Sanchez, left, Santonio Holmes, middle, Tim Tebow and the Jets have no TDs this preseason.
The
New York Jets
' offense can't run, can't pass, can't protect the quarterback and cannot get into the end zone.
Other than that, things are going pretty well.
The Jets are putting on a "Bad News Bears" type of performance offensively this preseason. Granted, these games don't count in the standings. But we haven't seen anything from the Jets to inspire confidence that they will improve on last season's No. 25 ranking in total offense during the regular season.
A full slate of organized team activities, minicamp and training camp have produced only three field goals in eight quarters. The Jets currently hold the embarrassing distinction as the only NFL team yet to score a preseason touchdown.
The much-hyped and much-anticipated quarterback battle between
Mark Sanchez
and
Tim Tebow
has fizzled. Sanchez is 13-of-17 for 80 yards, with one pick-six and five sacks. Tebow is 9-of-22 for 96 yards, one interception and four sacks. The Jets' offense this preseason is best measured in inches, not yards.
At some point, confidence might become an issue. This is a group that struggled all last season under former offensive coordinator Brian Schottenheimer. But with "Schotty" gone, there is no scapegoat left to point the finger at besides the players failing to execute.
"Obviously like anything else, you want touchdowns because you want to see kids smile," Jets first-year offensive coordinator Tony Sparano told reporters this week. "You want to see the smile on their face. You want to see some validation on what it is that we've been doing and how hard they've been working."
There weren't many smiles from the Jets' offense in last weekend's 26-3 loss to the
New York Giants
. The Jets looked very frustrated for only a second preseason game.
Jets starting tailback
Shonn Greene
voiced his frustration after a failed fourth-down conversion in the first half. Tebow also was vocal and upset with his teammates for missed assignments. Tebow was sacked four times by the Giants' backups.
There are so many issues with personnel and execution that you wonder if the Jets can fix their offense in time for their Week 1 showdown in the AFC East against the
Buffalo Bills
.
Starting with the offensive line, the Jets must figure out what to do with starting right tackle
Wayne Hunter
. In his first preseason game last weekend, Hunter allowed three sacks and had a fourth called back because of a Giants penalty. Hunter was a major problem last season and has shown no signs of improvement.
"That stuff happens to everybody," Sanchez said of Hunter's bad game. "I don't care who you are."
Sanchez also spoke of building up Hunter's confidence and continuing to have faith in the struggling right tackle. New York's coaches say Hunter's problems are correctable. But the truth is he's just not a good player. If the Jets had a viable replacement, they would have benched Hunter by now. The problem is New York's
options are very thin.
The Jets might have to turn to third-year tackle
Austin Howard
. I don't know if he's any good, but he can't play much worse than Hunter did in the last preseason game. New York should start Howard on Sunday against the
Carolina Panthers
. If Howard doesn't give up four sacks in the first half, consider it progress. Another option would be to move draft bust
Vladimir Ducasse
from guard back to right tackle.
Whether it's Hunter, Howard or Ducasse, it's clear the Jets must give their right tackle help this season by consistently leaving in an extra tight end or running back. That takes away options in the passing game, but it is better than having Sanchez or Tebow laying on his back.
It's also time for the Jets to use their Wildcat offense. New York has been holding this formation close to the vest, but this wrinkle might be the best thing the Jets' offense has going for it. Tebow has proven he can move the chains with his legs, both with the
Denver Broncos
and the Jets in the preseason. I understand the Jets not wanting to show too much before they play the Bills on Sept. 9. But they should at least do a few basic, Wildcat plays to jumpstart the offense, get some work in and build the group's confidence.
My final preseason suggestion is for New York to play rookie receiver
Stephen Hill
as much as possible with the starters. The second-round pick has four receptions in two games. He is a raw talent in need of playing time. Hill has the size and speed to be an asset for the Jets, and this is the perfect time to develop him.
If Hill is more seasoned by the regular season when No. 1 receiver
Santonio Holmes
returns from his rib injury, the Jets' receivers will be in much better shape than they are now. Hill also is a solid run blocker who will contribute to New York's ground-and-pound offense.
The Jets have a lot of problems offensively. But benching Hunter, using the Wildcat and developing Hill as much as possible this preseason should patch a few holes.
With a strong defense, the Jets don't need their offense to be world-beaters to win games. New York just needs its leaky ship on offense to stay afloat and keep its head above water.
August, 20, 2012
8/20/12
11:29
PM ET
The
New England Patriots
rested many of their key players against the
Philadelphia Eagles
on "Monday Night Football." The Eagles won the game,
27-17
.


Here are some notes and observations:
Healthy scratches:
Monday marked the second of three games the Patriots play in a 10-day span. That is why New England coach Bill Belichick chose to rest many of his veteran players, including quarterback
Tom Brady
, receiver
Wes Welker
, defensive tackle
Vince Wilfork
and tight end
Rob Gronkowski
. The Patriots are the reigning AFC champions and do not need much preseason work.
What I liked:
It was a decent showcase for Patriots backup quarterback
Ryan Mallett
. He received a surprise start ahead of
Brian Hoyer
Monday and took advantage of the opportunity. Mallett showed off his big arm and completed 10 of 20 passes for 105 yards and a touchdown against Philadelphia. Mallett held his own against Philadelphia's first-team defense in the first half. He also played some in the second half. Hoyer struggled, going 5-for-17 for just 55 yards and a lost fumble.
What I didn't like:
The running game wasn't nearly as impressive as it was last week.
Shane Vereen
got the start after a stellar preseason opener. But Vereen didn't do much, recording just 20 yards on 10 carries.
Stevan Ridley
also had mediocre numbers, rushing for 25 yards on 10 carries. The running lanes clearly were not as big without the threat of Brady, Gronkowski and Welker in the passing game.
Spikes produces:
Linebacker
Brandon Spikes
showed why New England projects him to start this season. Spikes was productive and had four tackles, including a big hit in the first quarter on Eagles Pro Bowl running back
LeSean McCoy
. Spikes can be a factor for New England if he can stay healthy. He has been in and out of training camp this summer.
What's next:
The Patriots have a short turnaround. They will play the
Tampa Bay Buccaneers
on Friday for their annual "dress rehearsal" in preparation for Week 1 of the regular season.
August, 19, 2012
8/19/12
1:18
AM ET
EAST RUTHERFORD, N.J. -- We already know the
New York Jets
like to hold clandestine practices. Maybe, if they petition the NFL, they can do the same for games.
That way, there wouldn't be anybody in the stadium to see their dreadful offense, and the media wouldn't be allowed to report the grisly details.
It would save the Jets a lot of embarrassment.
Let's face it, they're unwatchable. They dropped to 0-2 with a 26-3 loss to the
New York Giants
on Saturday night at MetLife Stadium, but forget about the record. The most important number of the preseason is this:
Two games, no touchdowns.
[+] Enlarge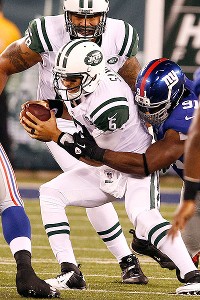 William Perlman/THE STAR-LEDGER/US PresswireMark Sanchez
Rex Ryan and
Mark Sanchez
tried to remain positive after yet another sloppy performance under new offensive coordinator Tony Sparano, but the frustration was visible on the Jets' sideline.
An animated
Shonn Greene
slammed his helmet and barked at nearby teammates -- it appeared to be the offensive line -- after they were stoned on back-to-back, short-yardage running plays in the second quarter.
Afterward, Greene said he was just blowing off steam, that his ire wasn't directed at anyone in particular.
"It wasn't at the O-line or anything like that," he said. "I was just frustrated ... If you can't get (one yard) in this league, something is wrong."
A lot went wrong for the Jets. In six possessions, the Sanchez-led offense produced only four first downs. They gave away points (an interception returned for a touchdown), allowed three sacks (two by right tackle
Wayne Hunter
), committed two penalties and went 0-for-6 on third down.
And they actually had great field position for most of the first half. The low point came after an interception by safety
LaRon Landry
. Starting at the Giants' 45, they gave it up on downs when Greene was stuffed on third-and-1 and
John Conner
was smothered on fourth-and-1.
"That was brutal, absolutely bad," Ryan said of the humbling sequence, adding, "I might have been more disappointed in those things than anything else."
It's important to keep some perspective here. The Jets are installing a new offense, so there will be growing pains. Sanchez didn't have his best receiver,
Santonio Holmes
(ribs). They also faced a terrific defense that routinely wrecks pass-protection schemes.
You'd be nuts to scream for
Tim Tebow
to replace Sanchez, and you'd be off base to start hounding Sparano. A little patience, please.
But -- and you knew there would be a "but" -- the troubling part is that instead of improving from Week 1 to Week 2, the Jets actually went backward. Oh, sure, the running game showed a pulse (except when they needed a yard), but that won't overshadow the bigger issues.
The line, Hunter in particular, has some serious pass-protection issues. In two games, the first-team line has allowed five sacks in three quarters.
"I really do have faith in those guys up front," Sanchez said. "I know we can play better than that. I know we can block these four-man rush looks."
Sanchez doesn't escape here unscathed. He threw the kind of interception that conjured up bad memories from last season, an ill-advised throw to a well-covered receiver. He went for
Patrick Turner
on an out, but the pass was behind him and rookie cornerback
Jayron Hosley
undercut the route and took it 77 yards for a pick six.
It was the kind of play that can wreck a game. The Jets' margin of error is small -- and will be all season -- and they can't win games with those kind of mistakes.
"That just goes to show how fragile the ball is," said Sanchez, who completed 9 of 11 passes for only 59 yards. "If you miss by a little bit in this league, (they'll) take the ball back. That's one you'd like to have back and I know I can complete that pass."
Tebow was no better, completing 5 of 14 passes for 69 yards. He was sacked four times, bringing the game total to seven -- 12 in two games, if you're scoring at home. Just imagine if Tebow had played well; the call-in yahoos on the radio shows would be screaming for him to start.
There's no quarterback controversy, but this is an offense that desperately needs a positive jolt. Greene said the no-touchdown start is "a big concern."
Afterward, Ryan took longer than usual in his locker-room address to the team, but he wasn't spitting mad, according to players. He listed the corrections that need to be made and tried to be encouraging.
"Rex said it best after the game," Sanchez said. "He said, "Look, it's the second preseason game. We have to score points, but there's no reason to hit the panic button right now.'"
In the meantime, they should spend more time behind the curtain, saving their fans some angst.
August, 18, 2012
8/18/12
12:00
PM ET

It's baaaaaack!
The 2012 regular season is just a few weeks away. Therefore, homer comments are starting to be more prevalent.
We found this classic
Buffalo Bills
homer comment and decided this was worthy of being our latest "Homer of the Week."
Enjoy.
KenPro11 writes:
"I told everybody this but
[Scott] Chandler
is better than Gronk. Chandler this year will have more yards and less TD's than Gronk."
James Walker:
Well, at least you acknowledged that
Rob Gronkowski
will have more touchdowns. He set the single-season mark with 17 in 2011, and could have another great year in the red zone. But saying Chandler is better than Gronkowski and will have more yards is just an outlandish homer statement, KenPro11. Chandler is underrated, but he's no "Gronk." Chandler's career high for receptions and yards are nowhere close to Gronkowski-type numbers. Congrats, KenPro11, on being our latest AFC East Homer of the Week.
August, 13, 2012
8/13/12
12:11
PM ET
DAVIE, Fla. – The
Miami Dolphins
took the practice field Monday for the first time
since cutting
six-time Pro Bowl receiver
Chad Johnson
over the weekend. There were various reactions from the Dolphins, including linebacker
Karlos Dansby
, who felt the
team reacted too quickly.

Miami head coach Joe Philbin provided his explanation for cutting Johnson following charges of misdemeanor domestic abuse. According to Philbin, the decision was not "reactive" or based on one incident.
"It was more of a body of evidence from June 11 forward," Philbin explained. "When he came in on June 11, we sat down and we talked. I was very clear the expectations of the program, and it just didn't work out. It's more about the fit. In my gut, I didn't feel the fit was going to be benificial for either party in the short-term or long-term."
The feeling around the Dolphins is Philbin played a huge role in cutting Johnson so swiftly. Philbin is a first-year head coach trying to establish his program in Miami. His personality is very different from Johnson, and the two already butted heads (no pun intended) over Johnson's offensive language during a news conference. The Dolphins and Philbin sent a stern message that the new head coach won't tolerate off-the-field distractions.
Besides, Dolphins general manager Jeff Ireland has put up with off-the-field issues in the past, particularly with Pro Bowl receiver
Brandon Marshall
. Ireland never acted so swift with Marshall, leading many to believe Philbin's fingerprints are all over cutting Johnson. It is also not a coincidence Miami traded Marshall after hiring Philbin, who is putting a ton of focus on character, regardless of what teammates think.
"I hate that we didn't stand behind him," Dansby said on WMEN-AM in Florida Monday morning. "I know the guys in the locker room would. But the organization felt a totally different way about the situation, and they probably had more information than we know. And they had to do what they had to do.
"It's going to be an even bigger distraction right now, I think, because of the simple fact we let him go. I think if we were going to be with the guy, if he was going to be our guy, we have to stand behind him -- even though the situation came about. He didn't get that third strike."
Dansby stood behind his comments after practice, but didn't want to elaborate. Philbin shrugged off Dansby's comments.
"Let's be honest: You have a boss, I have a boss and I don't always agree with what the boss says every single time," Philbin said. "I'm of the opinion that you should keep things in-house in that regard."
An interesting development was Johnson's agent -- Drew Rosenhaus -- attending Monday's practice. Rosenhaus even had a chat brief chat with Ireland after practice, although it's not known if they were discussing Johnson. Rosenhaus also represents other Dolphins such as defensive lineman
Jared Odrick
, receiver
Brian Hartline
and rookies
Lamar Miller
and
Olivier Vernon
.
It's also worth pointing out Rosenhaus represents free-agent receiver
Plaxico Burress
. Philbin didn't rule out the Dolphins looking outside the organization to bolster the receiving corps. Burress worked out for the
New England Patriots
on Sunday.
But whether the Dolphins sign another player or stick with the group they have, it's clear the Philbin regime wants a clean locker room void of distractions.
"I think we have a strong locker room," Philbin said. "I believe in the character of these individuals, and the men we have on this football team. We're going to move forward."
June, 13, 2012
6/13/12
7:00
AM ET
Here are the most interesting stories Wednesday morning in the AFC East:
Morning take: "Scared" is a pretty strong word. I don't know about that. But rest assured teams have taken notice of the Bills' offseason moves. Buffalo must now earn their respect on the field.
Morning take: Stallworth last played for New England in 2007. But he's been in various systems since then and has to re-learn some things. Stallworth is one of several receivers who has to earn a roster spot.
Morning take: The stadium could definitely use improvements. But it's the atmosphere that needs an upgrade the most. The only way to fix that is by winning consistently.
Morning take: Schilens made some nice plays, including a touchdown catch over Pro Bowl cornerback Darrelle Revis that you rarely see. Injuries have been Schilens' biggest issue in the past. So he must stay healthy.
March, 21, 2012
3/21/12
9:25
PM ET
Well, that was interesting.
The
Tim Tebow
era in New York lasted approximately three hours. Then it was taken away, only to return in what was a rollercoaster Wednesday for the Jets,
Denver Broncos
and Tebow himself.
That's how long it took for the Jets to agree to a trade, then back out after not realizing they would owe Denver an additional $5 million. Eventually, both sides met halfway and the Jets will
pay half that amount
($2.5 million) to Denver, ESPN's Adam Schefter reports.
Blame this one on the Jets. New York's front office failed to read the fine print and missed the huge clause. But I don't blame the Jets for backtracking and doing everything they could to void the move.
I liked the trade for Tebow and a seventh rounder in exchange for a fourth and sixth rounder. I like it moderately less now that the Jets also had to cough up an additional $2.5 million to make the trade go through. But if Tebow plays his role well next season as the Jets' Wildcat option and backup quarterback behind
Mark Sanchez
, people will probably forget about the extra cash.
Reportedly, Tebow had a say in where he could go. He chose the Jets over the
Jacksonville Jaguars
. That is interesting because Jacksonville is Tebow country and he would've had a better chance at winning the starting job for the Jaguars.
For more on Tebow's fit with the Jets, check out the AFC East blog's previous coverage of the initial trade to New York
here
,
here
and
here
.