July, 15, 2010
7/15/10
1:00
PM ET
»
NFC On the Radar
:
East
|
West
|
North
|
South
»
AFC
:
East
|
West
|
North
|
South
A player, coach or issue that should be on your radar as training camp approaches.
The New England Patriots' backfield needs to be on the radar for numerous reasons.
[+] Enlarge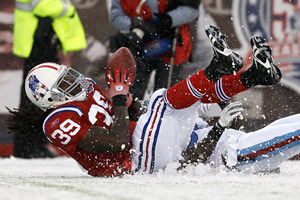 AP Photo/Winslow TownsonIn his four seasons with the Patriots Laurence Maroney has averaged 4.2 yards per carry.
The most important one is that not a single back on the roster has a contract past this season. Even though quarterback
Tom Brady
has worked successfully out of a spread formation, coach Bill Belichick knows the importance of the running game. When Brady blew out a knee in 2008, the Patriots gained an average of 142.4 rushing yards a game. That ground game made the job easier for Brady replacement
Matt Cassel
to get to the team to 11-5.
But the Patriots need to see in camp where the running game is to determine whether they want to use more two-tight end sets or just spread the field with wide receivers and use a one-back set. Complicating things is the uncertain status of wide receiver
Wes Welker
, who is coming off a serious knee injury. Brady could count on Welker taking some short receptions and using them like running plays if the backs were ineffective.
Kevin Faulk
remains the team's most reliable back even though he's 34 years old.
Laurence Maroney
is under the most pressure even though he should be the main back on first and second downs. Maroney has never been able to rush for more than 835 yards in a season. He's averaged 3.9 and 3.3 yards a carry in 2009 and 2008, respectively.
This is the final year of Maroney's contract and if he doesn't start to live up to his first-round selection –- the 21st player selected overall in 2006 -- the Patriots will be looking to draft a back in 2011.
Fred Taylor
is also 34 years old, but he needs a solid camp to make the team. His job could be in jeopardy if 33-year-old
Sammy Morris
ends up ahead of him on the depth chart. Taylor can't be expected to play special teams. If the former
Jacksonville Jaguars
star is the Patriots' third or fourth running option, he might not make the roster.
July, 8, 2010
7/08/10
1:00
PM ET
»
NFC On the Radar
:
East
|
West
|
North
|
South
»
AFC
:
East
|
West
|
North
|
South
A player, coach or issue that should be on your radar as training camp approaches.
As fans, the natural desire is to want to hear more about your favorite team and its players as we move toward training camp.
[+] Enlarge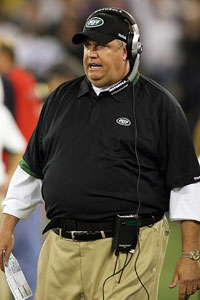 Luc Leclerc/US PresswireRex Ryan has told his players to keep "that trophy in mind" during this quiet time before training camp.
Believe me, you don't want that.
This is quiet time in the NFL. The players have been sent home for the summer. Even the coaches and the front office are away on the only natural vacation period on the NFL calendar unless they don't make the playoffs.
The next few weeks are supposed to be peaceful. Many of the news bulletins that might be generated between now and the first air horn will be negative.
Miami Dolphins
coach Tony Sparano's son scheduled his wedding for the break, and then Sparano and his wife traveled.
New York Jets
coach Rex Ryan took a cruise. Bills general manager Buddy Nix went golfing.
When they return home, the last thing they want to learn is that their players have been in the headlines.
Each coach sent their players home with a message to be safe and smart while staying in shape.
"They will be on their own for a while, and we need to continue to work to get ourselves into good condition both physically and mentally," Patriots coach Bill Belichick said. "There are a lot of techniques and individual things that guys can work on between now and the start of camp in addition to the conditioning. That's what we emphasize to each different player."
Ryan gave the Jets a specific directive.
"Keeping that trophy in mind," Jets receiver
Jerricho Cotchery
said. "That's the main thing, making sure we're doing the things necessary to help get us to that point. We have time. Guys will get a little rest, but we have to keep that trophy in mind when you're training. We're going to still be focused."
July, 1, 2010
7/01/10
1:00
PM ET
»
NFC On the Radar
:
East
|
West
|
North
|
South
»
AFC
:
East
|
West
|
North
|
South
A player, coach or issue that should be on your radar as training camp approaches.
All four AFC East clubs have uncertainties at backup quarterback. Three of them might head into training camp not knowing who theirs will be.
[+] Enlarge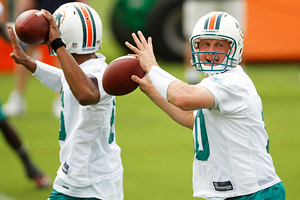 AP Photo/J Pat CarterChad Pennington gives the Dolphins a veteran backup should Chad Henne struggle.
Let's take a look at each team's situation.
Buffalo Bills:
Head coach
Chan Gailey said he knows how his depth chart will look
when camp opens at the end of the month, but the competition will remain wide open among
Trent Edwards
,
Ryan Fitzpatrick
and
Brian Brohm
. That makes the second- and third-string quarterbacks mysteries, too. The backup probably won't be too far removed from his shot to get on the field. If the Bills don't want to expose fourth quarterback
Levi Brown
to waivers so they can put him on their practice squad, one of the others could get cut.
Miami Dolphins:
The Dolphins have two issues at backup QB. They will have a difficult decision to make unless they keep four quarterbacks or switch
Pat White
to another position. White, the 44th overall pick last year, hasn't developed. The presence of
Tyler Thigpen
, a former
Kansas City Chiefs
starter, probably will force a move. Respected veteran
Chad Pennington
is considered the third-stringer while he continues his recovery from shoulder surgery. But if something goes wrong with starter
Chad Henne
, it's hard to imagine coach Tony Sparano opting for Thigpen or White ahead of Pennington.
New England Patriots:
Undrafted sophomore
Brian Hoyer
is back as
Tom Brady
's primary backup, but coach
Bill Belichick has been restless with his QB reserves
in recent years. Belichick dumped third-round pick
Kevin O'Connell
last summer, a year after drafting him. Even if Hoyer's role is safe, Patriots fans can't be too confident with the idea of him taking over in the event Brady gets hurt.
New York Jets:
What a muddled mess this is. Few expect
Kellen Clemens
to remain with the club. The Jets have been interested in signing veteran free agent
Mark Brunell
and
recently kicked the tires
on the Michelin Man,
JaMarcus Russell
. The Jets kept four quarterbacks last year because
they snagged O'Connell off waivers from the Patriots
and weren't ready to part with
Erik Ainge
. I doubt they waste the roster spot again this year.
June, 24, 2010
6/24/10
1:00
PM ET
»
NFC On the Radar
:
East
|
West
|
North
|
South
»
AFC
:
East
|
West
|
North
|
South
A player, coach or issue that should be on your radar as training camp approaches.
ORCHARD PARK, N.Y. --
Buffalo Bills
receiver
James Hardy
is opposed to me writing this story.
[+] Enlarge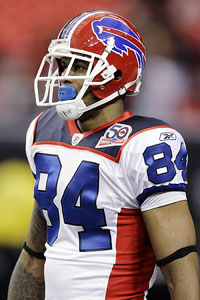 Brett Davis/US PresswireBuffalo Bills wide receiver James Hardy needs to make an impression in his third season.
"My whole thing is, I like to fly below the radar," Hardy told me after Wednesday's double minicamp session. "I know people have their doubts about me. That's OK."
When considering the Bills' offense, Hardy often gets overlooked as the potential No. 2 option opposite
Lee Evans
.
The reason Hardy has been disregarded is that he enters his third NFL season with a scrawny body of work. Injuries have limited him to 16 games, three starts and 10 receptions for 96 yards.
The Bills had high hopes when they drafted him 41st overall out of Indiana University. He was the fourth receiver off the board, taken one slot ahead of
Eddie Royal
and seven ahead of
DeSean Jackson
. Hardy scored 36 touchdowns in 36 games for Indiana, where he also played basketball as a freshman.
He's a good-looking target who would appear to be a dream on third downs and in the red zone. He's 6-foot-5 and 225 pounds.
He got off to a promising NFL start. In Week 2 of his rookie season, he scored a 7-yard touchdown with 4:10 left to beat the
Jacksonville Jaguars
. By Week 5, he was starting. But he lacked the consistency to remain in the lineup and tore a knee ligament in the penultimate game.
Hardy started last season on the physically unable to perform list. He was activated in time for the Bills to fire head coach Dick Jauron. They also had
Terrell Owens
and weren't too interested in rushing Hardy back.
Due to Hardy's work during rehab and extensive community service work around Buffalo and in his hometown of Fort Wayne, Ind., his teammates voted him the Bills' representative for the Ed Block Courage Award.
"Yeah, I have a chip on my shoulder," Hardy said, "and I still feel like a rookie who still has to prove himself in many ways. But my expectations are just as high as when I came out of Indiana. I still plan on big things."
June, 17, 2010
6/17/10
1:00
PM ET
»
NFC On the Radar
:
East
|
West
|
North
|
South
»
AFC
:
East
|
West
|
North
|
South
A player, coach or issue that should be on your radar as training camp approaches.
New England Patriots
rookie receiver
Taylor Price
has made a big impression on minicamp observers this week at Gillette Stadium.
[+] Enlarge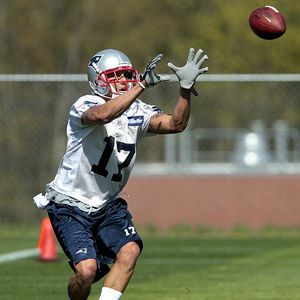 AP Photo/Elise AmendolaRookie Taylor Price is making a name for himself during workouts with the Patriots.
Price, the 90th overall draft selection from Ohio University, was unable to participate in team practices because of an NFL rule that prevents a rookie from reporting as long as his college remains in session. That generally affects schools that use the quarters system, and Ohio happens to be one.
Price was allowed to participate in rookie camp, but had to stay away for organized team activities. Patriots coach Bill Belichick said Price had some ground to make up on the rest of the rookies.
But by all accounts Price has looked sharp
. ESPNBoston.com's Mike Reiss noted quarterback
Tom Brady
seems to have taken a shine to Price.
"It's a good start, but I have a long way to go," Price said. "There is nothing easy to learn out here. I don't know as much as I should know yet, but I'm getting to that point. I'm just learning gradually every day."
Price had 56 receptions for 784 yards and five touchdowns last year for Ohio head coach Frank Solich, the former Nebraska head coach known for his run-dominant offenses.
"He has good hands," Belichick said when the Patriots drafted Price. "He can catch the ball. He's big. He's fast. He can run a variety of routes. ... I think if he had been in a different offense and a more productive offense, he would have had more production."
Maybe it's too soon to think of Price making an impact this year. We know where
Randy Moss
and
Wes Welker
(when healthy) will line up. Beyond that, the Patriots have a few receivers to sort through, including veterans
Torry Holt
and
David Patten
and sophomore
Brandon Tate
.
Then again, backup slot receiver
Julian Edelman
contributed right away despite being drafted in the seventh round out of Kent State, where he played quarterback -- proof that a rookie with a steep learning curve can come out of the Mid-American Conference and impress Belichick enough to get on the field.
June, 10, 2010
6/10/10
1:00
PM ET
»
NFC On the Radar
:
East
|
West
|
North
|
South
»
AFC
:
East
|
West
|
North
|
South
A player, coach or issue that should be on your radar as training camp approaches.
DAVIE, Fla. -- One of the
Miami Dolphins
' biggest weaknesses heading into the offseason was free safety.
[+] Enlarge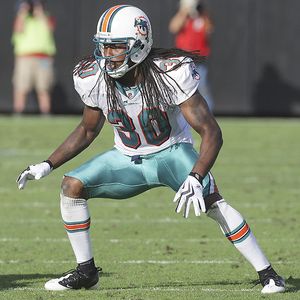 AP Photo/Phil CoaleThe Dolphins are hoping Chris Clemons is the answer at safety.
They released last year's starter,
Gibril Wilson
, despite signing him to a lucrative contract last year. They courted free agent
Ryan Clark
, but he opted to re-sign with the
Pittsburgh Steelers
.
That left the Dolphins with seemingly very little to work with. Last year's backup,
Tyrone Culver
, has two career starts in three NFL seasons.
Chris Clemons
started two games at free safety as a rookie last year. The Dolphins also drafted
Reshad Jones
out of Georgia in the fifth round.
Free safety is such a question mark that many observers believed the Dolphins would pursue
St. Louis Rams
free agent
O.J. Atogwe
, but we haven't seen any signs of serious interest yet.
Maybe that's because of Clemons, who has been making a strong impression throughout minicamp and voluntary workouts.
"Speed, range, and he knows. He understands," Dolphins coach Tony Sparano said of Clemons, last year's fifth-round pick from Clemson. "He's been pretty vocal, and those are all qualities that your free safety has to have."
Sparano expressed curiosity in Clemons' tackling ability. They don't have reels of tape on Clemons against NFL competition. He was scratched from the first five games and played in nine as a reserve in addition to his two starts.
He finished the season with seven tackles and zero passes defensed.
"That guy has to be a good tackler back there," Sparano said. "So that's the next step.
"The range, the speed, the mental awareness right now and where he is with our defense is what leads me to believe that the guy can be a good player for us."
June, 3, 2010
6/03/10
1:00
PM ET
By
Scouts Inc.'s Matt Williamson
| ESPN.com
»
NFC On the Radar
:
East
|
West
|
North
|
South
»
AFC
:
East
|
West
|
North
|
South
A player, coach or issue that should be on your radar as training camp approaches.
The Patriots' patience with
Brandon Tate
really might pay off as early as 2010, Tate's second in the league.
[+] Enlarge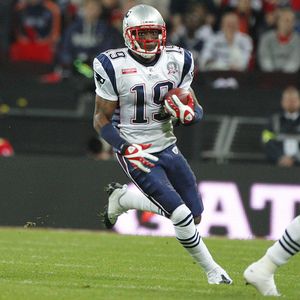 AP Photo/Stephan SavoiaAfter missing much of his rookie year due to injury, could Brandon Tate could be poised for a breakout?
After sustaining a significant knee injury at the University of North Carolina, Tate more or less redshirted during his rookie season. While in college, Tate was mostly a returner and didn't make a name for himself until later in his career, as the Tar Heels had a ton of talent at the position, and then he sustained the knee injury. But when Tate strutted his stuff as a wideout, he was extremely productive and impressive.
Now he might be ready to explode onto the scene, and it would not shock me one bit if he was the opening day starting wide receiver opposite
Randy Moss
. Tate is someone you need to know.
So what is to like so much about this young wideout? Quite a bit, assuming he is recovered from his injury and has studied up on the position.
Tate isn't the biggest guy, but he has good height and a frame that could hold more weight and muscle. He has a lot of potential to be a very crisp route runner with excellent stop/start ability and lateral agility. He really can come out of his breaks well and is quick to accelerate, but also shows very good body control and overall balance in his game. He also catches the ball cleanly away from his body and is a pretty reliable hand-catcher.
Tate can make the highlight-reel grab as well. He is an explosive player who also can be very dangerous as a returner. Tate is excellent with the ball in his hands and provides quite a bit after the catch.
If/when Tate does get the chance to start, he obviously will not be the focal point of opposing defenses. But considering his supporting cast -- especially
Tom Brady
, who I think is poised for a huge year -- it will not be long before defensive coordinators around the league know all about this young man's abilities.
May, 27, 2010
5/27/10
1:00
PM ET
»
NFC On the Radar
:
East
|
West
|
North
|
South
»
AFC
:
East
|
West
|
North
|
South
A player, coach or issue that should be on your radar as training camp approaches.
ORCHARD PARK, N.Y. -- Rookie running back
Joique Bell
has been off the radar his whole life.
[+] Enlarge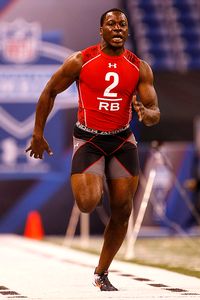 Scott Boehm/Getty ImagesJoique Bell chose to sign with Buffalo after receiving offers from six teams.
"It's always motivating me," Bell told me after
Buffalo Bills
practice Wednesday. "I was overlooked from high school, coming out of college. I just want to get a series in and show my talent."
Your eye might skip over Bell when scanning the Bills' roster for running backs, unless you're trying to figure out how to pronounce his first name (it's Joyk). He's on a team with two 1,000-yard rushers (
Fred Jackson
and
Marshawn Lynch
) and the ninth overall 2010 draft pick (
C.J. Spiller
).
But when the final roster is selected in early September, Bell has a decent chance to be on it. He's probably fourth on the depth chart now. Uncertainty surrounding Lynch's status could elevate Bell quickly.
"As long as I get a shot, that's all I wanted," Bell said. "Now it's up to me.
"I'm not getting caught up in the numbers or thinking 'They're about to cut this or that.' Regardless of whether you [speculate] or not, they're going to cut you if they want to. So I'm going to come out here and play my butt off every day and see where that takes me."
Circumstances kept him from being recruited like he wanted out of Benton Harbor, Mich. An injury to his high school quarterback forced Bell to fill in his senior year. Colleges didn't see him as a running back. Michigan and Michigan State projected him at safety. So he went to Detroit's Division II Wayne State where he could get the touches he craved.
Bell kept Division II record book editors busy. He rushed for 6,728 yards (eighth in NCAA history) and 88 touchdowns. As a senior, he won the Harlon Hill Trophy as Division II's best player. He ran for 2,084 yards and 29 touchdowns, while adding 293 receiving yards.
All of that -- against such schools as Ferris State, Hillsdale and Tiffin -- wasn't enough to get him drafted. The NFL invited him to its scouting combine. Despite a 40-yard dash time in the 4.6 range, he thought he might get drafted as high as the fourth round, but no team selected him.
Teams buzzed after the draft, trying to sign him as a free agent. He said he received six offers and nearly signed with the
New England Patriots
, but he and agent Manvel Trice thought the Bills provided the best opportunity.
"Obviously, I'm not too far under the radar because an NFL team has picked me up," Bell said. "That's a blessing."
May, 20, 2010
5/20/10
1:00
PM ET
»
NFC On the Radar
:
East
|
West
|
North
|
South
»
AFC
:
East
|
West
|
North
|
South
A player, coach or issue that should be on your radar as training camp approaches.
Yoohoo. Over here. Don't forget this guy.
[+] Enlarge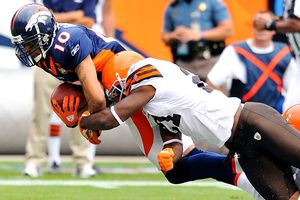 Ron Chenoy/US PresswireThe Jets acquired safety Brodney Pool during the offseason.
His name's
Brodney Pool
, and he plays safety for the
New York Jets
.
So many of the Jets' offseason acquisitions roll off the tongue.
LaDainian Tomlinson
,
Santonio Holmes
,
Antonio Cromartie
,
Jason Taylor
. With the focus on those decorated newcomers, Pool largely has been forgotten.
He shouldn't be an afterthought.
The Jets are expecting a big year from Pool, a sixth-year pro the
Cleveland Browns
parted with over concussion concerns. The Jets signed him to a one-year contract worth about $1.3 million and view him as an upgrade to
Kerry Rhodes
, whom they traded to the
Arizona Cardinals
for a fourth-round draft pick this year and a seventh-rounder next year.
"
Brodney will play the run better
," Jets defensive coordinator Mike Pettine told ESPNNewYork.com. "I think he's a better tackler. I think he'll stick his face in there more than Kerry."
Pool, the 34th overall draft choice in 2005, was plagued with concussion problems in Cleveland. He was diagnosed with at least four of them and, after intercepting four passes in 11 games, spent the final five games last year on injured reserve.
But the Jets' medical staff determined Pool also gets migraine headaches that might have made the situation seem worse than it really is.
Now we know why the Jets didn't identify safety as a need position entering the draft.
If Pool can stay healthy, he could have more of an impact on the Jets season than any of those other big-ticket arrivals.