AFC East:

organized team activities
August, 7, 2013
Aug 7
8:00
AM ET
The
Miami Dolphins
continued their trend of handing out big contract extensions this week. Miami signed starting safety
Reshad Jones
to a
four-year, $30 million extension
. Jones now is under contract through the 2017 season.
Miami spent more than $200 million in total contracts this offseason. However, Jones initially was not one of those players the team rewarded. After some early tension, which included Jones considering a holdout, general manager Jeff Ireland stayed true to his word and eventually took care of Jones.
"We've been working on this since OTAs [organized team activities]," Jones explained Tuesday. "They said they would get it done, and like I said they went out and got it done. So that's a thanks to [owner] Stephen Ross, Jeff Ireland, Coach [Joe] Philbin and this whole organization for making this possible."
Now that Jones is financially secure, he can fully turn his attention to football. Jones had a career year in 2012 when he recorded 94 tackles, 4 interceptions, 2 forced fumbles and a sack. He was one of Miami's few playmakers on defense last season.
This year Jones, 25, is thinking big. He's already one of the top young safeties in the NFL. But Jones' goal this year is to be mentioned among the very best at his position.
"The sky is the limit," Jones said Tuesday. "I think I went out last year and demonstrated that I'm one of the elite safeties in this game. I just want to be consistent, continue to keep doing what I'm doing and be a leader on this team."
The Dolphins could certainly use another big year from Jones. For the first time in years, Miami enters the season with a lot of preseason hype and playoff expectations.
Jones came to Miami as a fifth-round pick in 2010. But he quickly established himself with the Dolphins and became a full-time starter one year later. Once Jones was put in the starting lineup, it was clear that he was a keeper.
It's rare that a fifth-round pick becomes one of the highest-paid players at his position after just three seasons. But Jones proved himself on the field and the Dolphins are showing confidence that his stellar play will continue.
"It feels even better, knowing that I had to work for it," Jones said of his road to the big extension. "When you have to work for whatever it is, I think it's more rewarding. So it feels good knowing that I went out, proved myself and I earned it, it wasn't just given to me."
June, 17, 2013
Jun 17
11:00
AM ET
The
Miami Dolphins
put in a lot of work to improve this offseason. I attended most of Miami's sessions open to the media and saw progress made in several areas.
However, the one player the Dolphins couldn't get their hands on this offseason was No. 3 overall pick
Dion Jordan
. The rookie defensive end was the only Dolphins player who was absent from both organized team activities and mandatory minicamp.
Jordan could not attend Miami's practices because of the University of Oregon's quarter system. School was still in session as recently as last week for finals. Therefore, by rule, Jordan could not be in Miami working with the team.
"Hopefully it's for guys to graduate college," Dolphins head coach Joe Philbin said about the rule last week. "Again, I wasn't part of any of them, and nobody has asked my opinion on them, but I hope it's because we want young men to get their education. That would be great. And everybody abides by the rule, so I am fine with it. At the end of the day, we plan on having that player [Jordan] for a long time, and we'll get through that."
Jordan also is recovering from shoulder surgery in February. So he most likely would have been limited in practice. But the Dolphins could have at least got a peek of gifted player they drafted this spring.
How Miami plans to use Jordan remains mostly a mystery. It appears the Dolphins want Jordan to compete with 2012 third-round pick
Olivier Vernon
for the starting defensive end spot. Last year's starter,
Jared Odrick
, has played mostly at defensive tackle and may be moving there full-time in 2013. Philbin also hinted this spring that it's possible Jordan can see some time at outside linebacker, particularly on passing downs.
Jordan is expected to be close to 100 percent by training camp, and Miami has to hope he is a quick learner. Jordan missed a lot of valuable reps in organized team activities and minicamp and must make up ground to earn an immediate role in Miami's defense.
June, 15, 2013
Jun 15
1:00
PM ET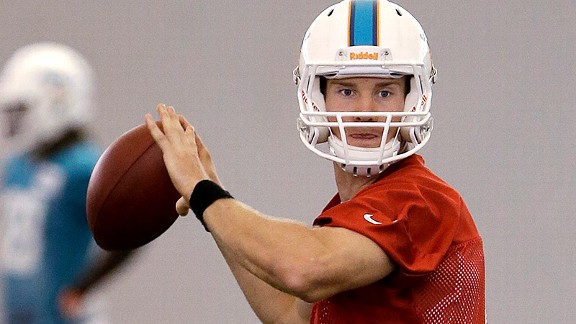 AP Photo/Wilfredo LeeRyan Tannehill hopes to be the next quarterback from the 2012 class to lead his team to the playoffs.
DAVIE, Fla. -- NFL Hall of Fame quarterback
Dan Marino
showed up to
Miami Dolphins
' minicamp on Wednesday. There was no major announcement or holding court with the media. Marino simply arrived, kept close tabs on second-year quarterback
Ryan Tannehill
and the offense, then quietly left about two hours into practice.
Marino's mere presence was symbolic of the pressure Tannehill faces in Miami. No Dolphins quarterback has come close to filling the large shoes of Marino after he retired after the 1999 season. Miami's quarterbacks in this millennium have either been awful (
Cleo Lemon
,
Joey Harrington
), former draft busts (
Chad Henne
,
John Beck
) or caretakers who couldn't consistently take over games (
Chad Pennington
,
Jay Fiedler
).
But something appears different about Tannehill. He is more Marino than Harrington in arm strength and physical ability. The 2012 first-round pick was also taken higher than Henne, but you don't get that same feeling of bust potential. Unlike Fiedler, Tannehill has already demonstrated that he can take over a game and explode for 400 yards, as he did in September in an overtime loss to the
Arizona Cardinals
.
But what are realistic expectations for Tannehill in Year 2? Fellow rookies
Andrew Luck
,
Robert Griffin III
and
Russell Wilson
each led their teams to the playoffs last season. Tannehill showed promise but was a couple of notches behind his peers. He threw for 3,294 yards but had more interceptions (13) than touchdowns (12). Tannehill also had a losing record (7-9) and was left on the outside looking in during the postseason.
However, the Dolphins are showing the same confidence in Tannehill that the
Indianapolis Colts
are showing with Luck or the
Washington Redskins
are with RG III. More than anything, Miami's coaching staff said, they love Tannehill's work ethic and mental approach. Combine that with Tannehill's athleticism and ability to make all the throws, and the Dolphins believe the sky is the limit for their young quarterback.
"One thing about Ryan is he never gets too high and he never gets too low," Miami quarterbacks coach Zac Taylor told the AFC East blog this week. "Last year things never got too big for him. It's not that he never made mistakes -- there were drives and stretches here and there. But I don't think it ever got too big where he totally broke down, and that's encouraging for a rookie quarterback. With all the looks that he saw, I thought he handled it pretty well."
Taylor was a former assistant coach at Texas A&M and has been around Tannehill since he was 19. Taylor watched Tannehill, 24, grow from a redshirt freshman who played receiver his first two years in college to an NFL quarterback with high expectations. According to Taylor, Tannehill is much more comfortable in his position as a building block in Miami.
It was noticeable in organized team activities and minicamp that Tannehill is in control of the offense. He's more vocal with teammates and has a quiet confidence that this is his team.
Miami is in search of leaders after several veterans like
Reggie Bush
,
Karlos Dansby
and
Kevin Burnett
were released or didn't return in free agency. Tannehill is one of the young, inexperienced players who must fill that void.
"It's night and day compared to last year," Tannehill said of his standing on the team. "Just the confidence and the knowledge of the game and what is going on. I still have a lot of work to do, but I am comfortable with where I am at and where this team is at. Anything we can do to get better, myself included, it's easier to build this year compared to last year."
[+] Enlarge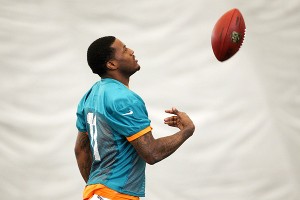 AP Photo/J Pat CarterThe Dolphins opened up their wallet to bolster their offense, including giving Mike Wallace a five-year, $60 million deal.
Tannehill has all the tools to succeed this year. The Dolphins have put together as nurturing an environment as possible to ensure Tannehill takes the next step in his development. Miami spent $60 million to land free-agent receiver
Mike Wallace
and an additional $15 million total to land starting tight end
Dustin Keller
and slot receiver
Brandon Gibson
. Tannehill now has deep speed at receiver and a safety valve at tight end that he lacked last season. The Dolphins were 26th in passing in 2012 and scored only 18 points per game.
If minicamp is any indication, the Dolphins will not be afraid to air it out this year. Tannehill is taking his shots deep and throwing the football all over the field in practices. Tannehill is also routinely making more checks and changes at the line of scrimmage to get out of bad plays, an area where he struggled in 2012.
"He can see a safety start to creep up or lean a certain way, or a linebacker's depth from the line of scrimmage from the heels of his defensive lineman," Dolphins offensive coordinator Mike Sherman said. "Determining whether we turn and protect there or do we go the other way because that guy is in coverage, which I think [is] more recognition of defenses. ... We threw the book at him last year in the hopes that he would get to a point where we are at right now, where now he is just focused and not so much on the offense but on the defense."
It also doesn't hurt that Sherman and Dolphins head coach Joe Philbin know what a talented quarterback looks like. They have coached future Hall of Famers
Brett Favre
(Sherman) and
Aaron Rodgers
(Philbin) during their stints with the
Green Bay Packers
and know how to make it easy for quarterbacks. The fact that they both view Tannehill as a franchise starter carries a lot of weight.
"They're able to relate those experiences with Ryan and the struggles [Favre and Rodgers] had and the success they were eventually able to achieve," Taylor said. "So they've kind of seen the step-by-step process those guys took and [are] able to use that to relate it to Ryan."
The Dolphins are going all-in with Tannehill, and much is expected this season. On paper, Miami looks like a team ready to make a playoff push in 2013, and much of that will come down to Tannehill's development and improvement.
Tannehill may not get the same press and national attention as other quarterbacks in his draft class, but his goals are the same.
"Ryan wants to win Super Bowls at the end of the day," Taylor said. "I do think he has a long ways to go right now. He knows that. So every day he's just trying to become a better player, and be better than the day before and don't make the same mistake twice.
"What that ceiling is, it's hard to predict. Time will tell."
June, 4, 2013
Jun 4
1:00
PM ET

DAVIE, Fla. -- The highest one-season total of any tailback on the Miami Dolphins' roster is 581 rushing yards by
Daniel Thomas
in 2011.
It's safe to say Miami's running backs have something to prove this year.
The Dolphins spent a lot of money and resources in the draft and free agency on various areas of the team. But one position that went mostly ignored was running back. Miami lost former leading rusher
Reggie Bush
, who amassed more than 2,000 rushing yards the past two seasons, and will look to fill that production with
Lamar Miller
, Thomas and rookie fifth-round pick
Mike Gillislee
.
Miami's running backs are young, inexperienced and don't have much proven production at the NFL level. It's easy to see why critics have doubts about this group.
"It just pushes you more," Miller said after Monday's
organized team activities
. "It's a motivation just to show the guys who doubt you. You just try to take your game to the next level to show them what you're capable of doing."
The Dolphins enter this season with playoff aspirations, but that won't happen unless they can successfully run the football.
Miami was 17th in rushing last season when Bush led the team with 986 yards and six touchdowns. The Dolphins are expected to pass more this season with improvements made at wide receiver (
Mike Wallace
,
Brandon Gibson
) and tight end (
Dustin Keller
). But it's still up to Miami's young running backs to take advantage of their opportunities and keep defenses honest.
"It's a good group," Dolphins coach Joe Philbin said of his running backs. "We were just talking about that when we were watching film as an offensive staff, they have different skill traits and dimensions physically and those type of things. I like the way they are working number one. That is the most important thing."
June, 3, 2013
Jun 3
4:30
PM ET
DAVIE, Fla. -- The
Miami Dolphins
held another practice Monday to kick off the final week of organized team activities. The
AFC East blog was live
at Miami's training facility to take in all the action.

Here are some notes and observations from Dolphins' practice:
Last week the defense clearly won. This week it was an even battle. The offense made some plays in team drills and the defense usually responded. Dolphins quarterback Ryan Tannehill looked much sharper this week and had several good connections to Brian Hartline and tight end Michael Egnew for touchdowns that stood out. Tannehill also looks patient out there and isn't afraid to throw the ball away during bad plays. It's clear he's making a strong effort to cut down on his interceptions and turnovers this season.
As far as attendance, Miami No. 1 receiver Mike Wallace is back in practice. He missed the last OTA session open to the media for personal reasons. Dolphins linebacker Dannell Ellerbe did miss practice Monday. Ellerbe said on his Twitter account that he had two flight cancellations. As expected, defensive tackle Randy Starks, who received the franchise tag, wasn't present but is expected to show up for next week's mandatory minicamp.
Dolphins backup offensive lineman Nate Garner is getting reps everywhere on the offensive line. He has taken snaps at guard, center and tackle thus far during OTAs. One of Garner's biggest assets is his versatility. He could become a top sub off the bench at a couple of positions this season.
Finally, the Dolphins offered their support for the Miami Heat. Several players, including defensive end Jared Odrick, said they are rooting for the Heat to win Game 7 tonight in the Eastern Conference Finals against the Indiana Pacers. The winner will advance to the NBA Finals.
May, 29, 2013
May 29
2:05
PM ET
DAVIE, Fla. -- The new-look
Miami Dolphins
held another practice this week that was open to the media. The AFC East blog was live in attendance to catch all of the action.

Here are some notes and observations from Wednesday's practice:
May, 23, 2013
May 23
3:00
PM ET

Cue the circus music and get out the clown suits. The zany
New York Jets
are at it again.
This time, the annual backbiting is occurring earlier than usual.
One anonymous Jets player
told Mike Freeman of CBSSports.com that "80 to 90 percent" of the locker room does not want quarterback
Mark Sanchez
under center. That's a strong statement, especially considering Sanchez is in a four-way quarterback competition.
"Everyone on the team likes Mark personally," the Jets player said. "But there's a general feeling among some of the players that maybe it's time to give someone else a chance."
Anonymous backbiting in the media has been prevalent the past two seasons in New York, despite attempts by head coach Rex Ryan to control the locker room. This cannot make Sanchez feel too good. It also probably didn't help that Sanchez
had an awful practice
on Wednesday.
Sanchez threw three interceptions in team drills when players were in shorts and there was no contact. That's not a good sign for a quarterback trying to inspire confidence in his teammates
and the coaching staff.
The other options are rookie quarterback
Geno Smith
,
Greg McElroy
or
Matt Simms
.
However, just as big as the quarterback issue is New York's locker-room issue. Jets first-year general manager John Idzik came to New York to try to clean up the mess left behind by former general manager Mike Tannenbaum. It remains a work in progress.
May, 21, 2013
May 21
10:30
AM ET
DAVIE, Fla. -- The AFC East blog is live Tuesday at the Miami Dolphins' organized team activities. The Dolphins are my sleeper pick for 2013, and we will be keeping our eye on a lot of things during Miami's practice.
For example, how does quarterback
Ryan Tannehill
look in his second season? How does
Jonathan Martin
look in his new role at left tackle? Where will new additions like
Mike Wallace
,
Dannell Ellerbe
and
Dustin Keller
fit in? This is the time for the Dolphins to begin answering these questions.
For those who can't wait, you can follow my live observations from Dolphins practice and player reaction
on my Twitter feed
. We also will have a full report on the AFC East blog later this afternoon.
May, 20, 2013
May 20
4:28
PM ET

The
Buffalo Bills
officially signed rookie wide receiver
Robert Woods
, the
team announced
Monday afternoon.
ESPN.com's AFC East blog first reported
on Sunday that both sides agreed to terms of a four-year contract. However, Woods was in Los Angeles this past weekend for the NFLPA's Rookie Premiere event and couldn't sign until he returned to Buffalo. Woods signed the contract on Monday following the team's organized team activities.
Woods is considered one of the most NFL-ready receivers from this year's draft. The USC product is the favorite to win a starting job opposite veteran receiver
Steve Johnson
.
Buffalo now has seven of their eight draft picks signed.
June, 2, 2012
6/02/12
8:00
AM ET
Here are the most interesting stories Saturday morning in the AFC East: Morning take: Brady hasn't lost the passion and says he appreciates it more now that he's older. Brady is still elite, but how much longer can his body take the pounding?
Morning take: Sanchez said reducing turnovers was a big focus. Sanchez had 26 total in 2011, which makes it hard for the Jets to win.
Morning take: I know Coyle from his days with the Cincinnati Bengals, and he is a solid coach. But learning the strengths of all his new players is going to be a big challenge.
Morning take: This is the time for Fitzpatrick to show his improvement. He's healthy again and must better take care of the football and show his consistency.