December, 12, 2010
12/12/10
10:34
AM ET
Might the
Miami Dolphins
be looking for their third defensive coordinator in three seasons?
Something to keep an eye on is Mike Nolan's possible candidacy to be the next
Denver Broncos
head coach.
Nolan left the Broncos after last season because he didn't get along with head coach Josh McDaniels. Nolan looks even better these days -- and probably is even more admired by Broncos' upper management -- for parting with McDaniels, who committed a series of gaffes and got fired less than two years into the gig.
AFC West blogger Bill Williamson
sketched out a case for Nolan to return to Denver
.
Broncos owner Pat Bowlen has valued the coaches who worked under Dan Reeves in Denver, which Nolan did as a linebackers coach. Denver's next two coaches after Reeves were Reeves coordinators Wade Phillips and Mike Shanahan. McDaniels was Denver's first head coach without ties to Reeves.
Williamson wrote:
While [Nolan] and Josh McDaniels parted ways after one season because they decided they couldn't work well together, Nolan got along with other key factions of the team. Most importantly, the Broncos' defense was successful under Nolan. It has crashed badly ever since Nolan left to become Miami's defensive coordinator.
Nolan likely would command immediate respect in the Broncos' locker room because the players know him and played well under him. Nolan also has been a head coach, running the
San Francisco 49ers
for three years. He went 18-37 there, but head coaches often make a greater impact in their second chance.
The Dolphins' defense has performed well under Nolan -- although their 6-6 record doesn't reflect it. The Dolphins have a top-10 defense in many important categories: fourth in total defense, ninth in run defense, fifth in pass defense, ninth in sacks per pass play, fourth in first downs and 10th in third-down efficiency.
The Dolphins, who fired Paul Pasqualoni last year and hired Nolan, would have a tough time finding an adequate replacement.
November, 29, 2010
11/29/10
9:08
AM ET
The NFL's latest videotaping scandal has drawn out the
New England Patriots
, much to their annoyance.
As I wrote Saturday when the NFL announced it was punishing the
Denver Broncos
for filming a
San Francisco 49ers
walk-through prior to their game in London last month,
Spygate has re-emerged as a hot topic
.
Broncos head coach Josh McDaniels was the Patriots' quarterbacks coach and offensive coordinator under Bill Belichick when the Spygate story unfolded in 2007 and 2008.
Steve Scarnecchia, the Broncos videographer who was fired for shooting the 49ers walk-through, was on the Patriots' video staff from 2001 through 2004, when some of those infamous violations were committed. He's also the son of Patriots offensive line coach Dante Scarnecchia.
"Fox NFL Sunday" insider Jay Glazer reported McDaniels told his coaching staff in a Friday meeting that what the
Broncos did in London wasn't as bad as what the Patriots did
for years.
Glazer on McDaniels' description of what happened in New England: "That was practiced. That was coached. That was worked on."
The Broncos' transgression was a popular subject on Sunday's various NFL shows.
NBC Sports analyst Tony Dungy on McDaniels reportedly making the Patriots admission: "That is really a violation of honor code of coaches. You talk to your staff, 'Here's what we do at our place. We don't talk about what anybody else does. What happened in the past.' I don't think he should have talked about that."
Dungy on severity of Denver's violation compared to New England's: "If he's referring to videotaping, that's a completely different story than stealing signals. If you're videotaping walk-throughs, opponents' practices, that is really, really a serious allegation."
NBC Sports analyst and former Patriots safety Rodney Harrison on whether this scandal will dog the Patriots: "First of all, it won't be a distraction. This team is 9-2 and Belichick is a mastermind, absolutely a mastermind of keeping guys focused on the task at hand. In 2007 this similar situation happened to us, and as players we said 'Someone's attacking our coach. We're going to protect him.' We went out there, went 16-0, 18-1 overall, and we blew everybody out by 20, 25 points."
Harrison on McDaniels talking about Patriots practices: "Josh is a good guy, and I felt like he was a loyal guy. He was a guy that Bill Belichick gave an opportunity to, and it really surprised me that he would come out and say something like this."
CBS Sports analyst Bill Cowher: "As far as the punishment, no, it's not enough. The precedent was set when the New England Patriots were fined, Bill Belichick himself over $100,000, and draft picks should be taken away. I know they say [Steve Scarnecchia] acted independently. I don't agree with that because I think in every room, in every building, the dynamics, you always have to answer to a superior. I have a hard time believing this was done independently. It was not heavily fined enough. Draft picks should have been taken away."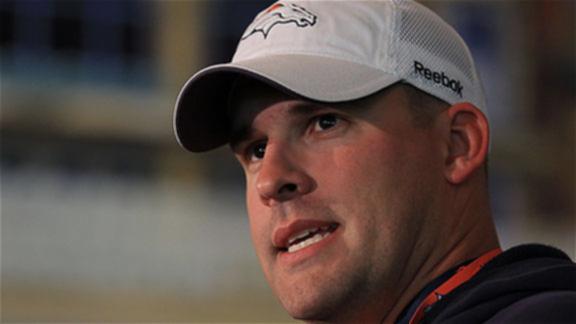 March, 31, 2009
3/31/09
10:58
PM ET
Posted by ESPN.com's Tim Graham
The New York Jets can have Jay Cutler if they want him badly enough.
The disgruntled Pro Bowl quarterback officially is on the market.
| | |
| --- | --- |
| | |
| | NFL.com Video |
| | The best moments from Jay Cutler in 2008. |
Denver Broncos owner Pat Bowlen on Tuesday released a statement to announce they're ready to trade Cutler and end the ongoing saga. The Jets were one of 10 teams that reportedly had contacted the Broncos prior to last week's NFL owners' meeting in Dana Point, Calif.
The Jets certainly could use Cutler. New head coach Rex Ryan has overseen an overhaul of the defense with several major moves. Their offensive line remains intact. They have two Pro Bowl running backs.
But quarterback is a significant question for the Jets.
Brett Favre retired, leaving Kellen Clemens, Brett Ratliff and Erik Ainge -- eight combined NFL starts among them -- to battle for the job.
Ryan has insisted he would be fine with those three quarterbacks competing in training camp.
Cutler, however, would provide an undeniable upgrade and might be the missing piece to get the Jets into the playoffs.
Jets general manager Mike Tannenbaum certainly wouldn't be afraid to pull the trigger. He has shown no fear in swinging a big deal.
But what do the Jets have to offer? They hold only six draft picks, with their top three slotted at No. 17, No. 52 and No. 76.
The Jets don't have a veteran quarterback to trade if the Broncos aren't comfortable with Chris Simms taking over for Cutler.
It's difficult to imagine the Broncos would be too infatuated with Clemens (erratic when given the chance to start in 2007), Ratliff (undrafted in 2007) or Ainge (last year's fifth-round draft choice, who already has served a suspension for performance-enhancing drugs).
Perhaps the Jets would need help from a third team to get Cutler in a green uniform. Old friend Eric Mangini, now head coach of the Cleveland Browns, has an extra quarterback. (See AFC North blogger James Walker's post.)
If the Jets are hungry for Cutler, they might need to get creative.