January, 4, 2011
1/04/11
3:00
PM ET
A look at a player who gave his team a significant boost in Week 17.
ESPN.com left it up to each blogger to interpret how he wanted to handle the weekly High Energy award.
Some simply treated it like a player of the week award. I chose to honor someone from the supporting cast who raised his game and made a distinct difference.
Maybe he was coming off an injury, breaking out of a slump, recently promoted from the practice squad, a rookie still learning his way or previously waived by another team. He could a star, but not playing like one at the time.
Winning also was emphasized. Some weeks, only one AFC East team won, narrowing the field. Just once all season was a player from a losing team selected, and that was when the winless
Buffalo Bills
nearly pulled off a stunning victory. They deserved to be thrown a bone.
For fun, I turned over the selection process to my readers before Thanksgiving. While I didn't always agree with the vote, the readers upheld the spirit of the award and avoided voting for
Tom Brady
every week.
With those criteria in mind, there was one fitting choice to close out the High Energy performer award for the 2010 season.
[+] Enlarge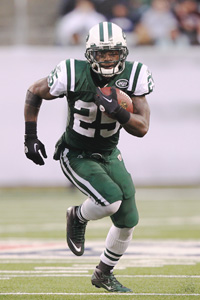 Al Bello/Getty ImagesNew York Jets running back Joe McKnight had 32 carries for 158 yards against the Buffalo Bills in Week 17.
The lone reasonable option for Week 17 was Juggernaut
Joe McKnight
.
McKnight's rookie campaign with the
New York Jets
began with him throwing up at his first NFL workout. It actually got worse from there. He went into Sunday's game against the Buffalo Bills with 31 rushing yards, a deplorable total when you consider his presence was a major reason the Jets cut
Danny Woodhead
.
The Jets rested top two backs
LaDainian Tomlinson
and
Shonn Greene
, giving McKnight his first start. Behind some backup offensive linemen and against a first-string Bills defense that knew the Jets were going to run, McKnight had 32 carries for 158 yards.
For the record, here's your complete set of AFC East High Energy performers. If you see a name that looks peculiar, click on the week to read the story about why he was selected. Readers began making the selections in Week 11.
Week 1
:
Pat Chung
, Patriots safety
Week 2
:
Jason Allen
, Dolphins cornerback
Week 3
:
BenJarvus Green-Ellis
, Patriots running back
Week 4
:
Rob Ninkovich
, Patriots linebacker
Week 5
:
Nick Folk
, Jets kicker
Week 6
:
Deion Branch
, Patriots receiver
Week 7
:
Steve Johnson
, Bills receiver
Week 8
: BenJarvus Green-Ellis, Patriots running back
Week 9
:
Santonio Holmes
, Jets receiver
Week 10
:
Fred Jackson
, Bills running back
Week 11
: Steve Johnson, Bills receiver
Week 12
:
Brad Smith
, Jets receiver and kick returner
Week 13
: Danny Woodhead, Patriots running back
Week 14
:
Brandon Fields
, Dolphins punter
Week 15
:
Dan Connolly
, Patriots guard
Week 16
:
Rob Gronkowski
, Patriots tight end
Week 17: Joe McKnight, Jets running back
July, 22, 2010
7/22/10
1:41
PM ET
"SportsCenter" doubled up in its preview of AFC East camps and brought a second expert into the studio for his take.
Earlier, we looked at former receiver
Cris Carter's top question for each club
. Next up is Eric Allen, a six-time Pro Bowl cornerback.
New England Patriots: How effectively will their defensive backs perform?
"When you look at this football team, they've always had outstanding playmakers in the back end. Not so of late. They drafted
Pat Chung
last year, a safety out of Oregon. This year, [cornerback]
Devin McCourty
. These guys need to step into the shoes of
Asante Samuel
and
Ty Law
to make plays and solidify this defense. Then, on a side note, the coaches. Where are all the Romeo Crennels and Charlie Weises, those great coordinators of the past?"
New York Jets: Will their running backs be good enough?
"You have so many talented running backs,
Shonn Greene
, LT [
LaDainian Tomlinson
] and the youngster out of USC,
Joe McKnight
, a speedster. How will all those guys fit into this puzzle to help this football team stand up to all those great expectations?"
Miami Dolphins: Will their defense stand up to the challenge?
"You lose
Joey Porter
. You lose
Jason Taylor
. Who's going to step up and provide that great pass rush to help that secondary that's young and up-and-coming? But they need to find a way to make it happen. They need it to get done this season."
Buffalo Bills: Who will be their quarterback?
"Where's
Jim Kelly
? Who are the quarterbacks? That's the one question the Bills have to answer coming out of training camp. ... You need to find a guy that will be a signal caller. Hopefully, it's
Trent Edwards
. If that guy can make it happen, then this team can move on from the basement in the AFC East."
December, 23, 2009
12/23/09
3:00
PM ET
»
NFC Draft Rewind
:
East
|
West
|
North
|
South
»
AFC
:
East
|
West
|
North
|
South
»
Draft class lists
:
Buffalo
|
Miami
|
N.Y. Jets
|
New England
Examining the draft classes of each division team:
Buffalo Bills

Byrd
Curses:
The Bills declined to replace two-time Pro Bowl left tackle
Jason Peters
through the draft and tabbed Penn State pass-rusher
Aaron Maybin
instead with the No. 11 selection. Sure, it was an area of need, but not for a project. The undersized Maybin hasn't started a game and has made eight solo tackles with zero sacks. Meanwhile, the Bills could've had
Michael Oher
.
Hallelujah:
Because of the dire offensive line situation, most Bills fans were focused on their two first-round picks (Maybin and guard
Eric Wood
) and second second-round pick (guard
Andy Levitre
). Overlooked was their first second-round choice. Safety
Jairus Byrd
turned out to have the greatest impact of all. He has started 11 games and leads the NFL with nine interceptions. Byrd's season ended Wednesday when the Bills placed him on IR.
Tough break:
Wood showed why the Bills grabbed him with the 28th pick, starting at right guard from opening night. But he suffered a grotesque broken leg in Week 11 and will be lucky if he's ready for the 2010 opener.
Miami Dolphins

White
Corners covered:
At the end of the season, barring injury, the Dolphins will have a pair of cornerbacks who started 25 NFL games between them as rookies.
Sean Smith
, the 61st overall pick, won the right-side job in training camp.
Vontae Davis
, the 25th pick, assumed the left side when top veteran
Will Allen
went down for the year. Davis and Smith have been beaten plenty of times, but they've also shown they're skilled enough to handle those jobs for a while.
What was the point?
The decision to draft scrambling quarterback
Pat White
with the 44th selection hasn't panned out. White was identified as a player who could thrive in the Wildcat offense. White has played in 11 games, but doesn't have a completion. He has rushed 16 times for 54 yards and no touchdowns.
On the milk carton:
Miami drafted tall receiver
Patrick Turner
in the third round with hopes he would be an attractive third-down and red zone target. He was
Mark Sanchez
's go-to guy at Southern California, but has dressed for only two NFL games. Turner doesn't have a reception yet.
New England Patriots

Vollmer
Not much to show:
The Patriots traded out of the first round. Their first three picks -- all second-rounders -- haven't done much. Safety
Pat Chung
, nose tackle
Ron Brace
and cornerback
Darius Butler
have six starts among them, with Butler making four.
Pleasant surprise:
Their last second-round pick, offensive lineman
Sebastian Vollmer
, has been the best player of New England's draft class. The native of Germany generally was viewed as a reach, but he has started six games, filling in capably for Pro Bowl left tackle
Matt Light
. Vollmer was given the most credit for holding last year's AFC sack king,
Joey Porter
, without a tackle in Week 9.
Rolling the dice:
The Patriots made a surprising pick in the third round, tabbing receiver and return specialist
Brandon Tate
, who still was recovering from a blown-out knee at the time. Tate was electrifying at North Carolina, but he wasn't healthy enough to play for New England until Week 7. He hurt his knee again and was placed on injured reserve after two games.
New York Jets

Sanchez
The first guy:
The success of the 2009 draft will hinge on whether Sanchez develops into a franchise quarterback. Not only was Sanchez the fifth overall choice, but the Jets' entire class was three players. Sanchez's erratic performances -- four games with at least three interceptions -- will keep the Jets out of the playoffs. But the experience Sanchez gained as the starter could be worth it down the road.
The second guy:
The Jets traded up to snag
Shonn Greene
, too. They called the Doak Walker Award winner the first pick of the draft's second day. Greene is a power runner expected to take over when
Thomas Jones
' tread wears thin. Greene has had fumble trouble, but he is averaging 4.8 yards a carry.
The third (and last) guy:
Guard
Matt Slauson
was a sixth-round project who wasn't expected to contribute much this year. The Jets have one of the NFL's better offensive lines, a veteran unit that doesn't seem to get hurt. Slauson has played in three games.
August, 28, 2009
8/28/09
9:06
PM ET

Posted by ESPN.com's Tim Graham
The
New England Patriots
announced during Friday night's
27-24 victory
over the
Washington Redskins
that
Tom Brady
had a sore shoulder.
That's all they're saying.
Head coach Bill Belichick declined to elaborate on the injury Brady sustained just before halftime, when Redskins defensive tackle
Albert Haynesworth
plopped on him. Brady fell on his right shoulder awkwardly as he hit the Fed Ex Field turf and didn't return to the game.
"Bumps and bruises like everybody else that played in the game," Belichick replied when asked about Brady's status.
Belichick refused to answer whether Brady was scheduled to play in the third quarter, stating only he wanted to see Kevin O'Connell and
Andrew Walter
in the second half.
Asked again if his intention was for Brady to start the second half, Belichick curtly repeated his statement: "We wanted to look at Andrew and Kevin in the second half."
Brady came out for the second half and warmed up, but he returned to the locker room after a few tosses.
O'Connell replaced Brady to open the second half and played all but the final series. O'Connell was shaky, completing only three of his 10 passes for 18 yards and two interceptions.
Walter entered the game with 1:39 left to play for what essentially was a red-zone drill.
Pat Chung
returned a punt 33 yards to the Redskins' 23-yard line with the score tied. Walter handed off twice to
BenJarvus Green-Ellis
, and
Stephen Gostkowski
kicked a 30-yard field goal for the victory.
July, 28, 2009
7/28/09
11:10
AM ET
July, 27, 2009
7/27/09
10:09
AM ET
Posted by ESPN.com's Tim Graham
New England Patriots
Buffalo Bills
Miami Dolphins
New York Jets
July, 3, 2009
7/03/09
2:28
PM ET
Posted by ESPN.com's Tim Graham
PALM BEACH GARDENS, Fla. -- Pat Chung isn't the type of person to announce his presence with authority.
At least not verbally, anyway.
| | |
| --- | --- |
| | |
| | Jim Rogash/Getty Images |
| | Patriots rookie safety Pat Chung is hoping to fill the void left by the retired Rodney Harrison. |
He's not making any proclamations about what he intends to do as the
New England Patriots
' top draft pick this year. He says all the properly humble things, that he's ready to get to work, do whatever coach Bill Belichick asks and try his best.
The most notable pronouncement he made when we spoke at the NFL Rookie Symposium this week was that henceforth he wants to be known as Pat Chung. He went by Patrick throughout his four remarkable years at Oregon, the draft process and Patriots minicamp.
But now he prefers Pat. He thinks it has a better ring.
Say "Pat Chung" quickly and the sound has a thumping quality to it: PatChung!
That might be the sound a ball carrier would hear if he crossed paths with Chung, a safety who levies reverberating hits.
"I like being aggressive," Chung said. "That's my game, being aggressive."
I asked him to describe how it feels like to lock onto an unwitting opponent.
"You see him coming. You hit him," Chung said before smiling and pausing a moment to relish the thought. "It's just like a shock. Boom!
"You might blink a little bit right when you hit him, but then you come back and see him on the ground, you're like 'Oh, yeah. He felt that one.' "
Chung's in-the-box nastiness reminds some of the man whose position he hoped to fill. Rodney Harrison retired after six seasons as New England's strong safety. Harrison, known for wicked hits that often bordered on illegal, tore his quadriceps in Week 7 and didn't play again.
Harrison, 36, wanted to play another year, but the Patriots wanted to move on. Their ability to draft Chung 34th overall factored into the decision.
"I wanted to learn from him, actually," Chung said. "He's feisty, man. I love Rodney. Hopefully, I can get in contact with him and he helps me out. I could learn a whole lot from him. He's done everything."
Harrison's absence doesn't guarantee much for Chung, who will head into camp second on the depth chart. Brandon Meriweather, the 24th overall draft choice in 2007, started the final 10 games in Harrison's place and played admirably.
Chung will have to earn his role. Unless he dazzles in training camp, he'll likely be a role player this year.
Chung sounded deferential, but he's excited about the opportunity to compete for Harrison's gig.
"A great one's gone," Chung said of the opportunity. "Someone has to replace him, but we're all there and competing. Whoever's the better player is going to play.
"It doesn't matter to Coach Belichick. It doesn't matter if you're a veteran or a rookie. You have to work hard, and the best player's going to play regardless. I'm ready to work hard."
Even without Harrison, Chung is reveling in what the Patriots' organization has to offer.
"It's amazing," Chung said. "There's a lot of old-school guys on the Patriots. That's experience. That's learning from the best that's been in the NFL the past 10, 15 years. I'm honestly blessed to be on that team. There's a lot of people I can learn from."
Chung's rise, like some of his tackles, has been meteoric.
He is the son of reggae singer Sophia George-Chung and music producer Ronald Chung, who is half Jamaican and half Chinese. Pat was born in Kingston, Jamaica. The family moved to Rancho Cucamonga, Calif., when he was 10. He didn't play football until his freshman year of high school.
Chung was only 16 years old when he went to play at Oregon. He turned 17 the August of his redshirt freshman season. But he started every game of his college career, 51 of them in all.
He left Oregon with 384 tackles (fourth in school history), nine interceptions, 26 pass deflections, 19 tackles for losses and four sacks.
Chung's getting itchy for NFL action. He hasn't been involved in full contact since the Senior Bowl.
"I'm ready to go," Chung said. "No one's had pads on for months. Everybody's ready to go. It's going to be fun."
Except the receiver coming across the middle.
PatChung!