AFC East:

Patriots-Broncos 101109
October, 12, 2009
10/12/09
9:46
PM ET

Posted by ESPN.com's Tim Graham
ESPNBoston.com's Mike Reiss attended the
New England Patriots
' overtime loss to the
Denver Broncos
and was in the Gillette Stadium locker room Monday to
rehash what happened at Invesco Field
.
Probably most noteworthy was All-Pro left tackle
Matt Light
on crutches, but Reiss shares several other thoughts, observations and comments from Foxborough, Mass.
Kicker
Stephen Gostkowski
was one of the more colorful interviews. He discussed the 40-yard attempt he missed in the third quarter that could have kept the game from reaching sudden death.
"I knew what I was getting into when I signed up to play and to kick," Gostkowski said. "It's part of what you have to go through. I won't think twice about it after today. I looked at it, now I'm not going to let it affect how I practice next week or how I kick next week. Each week is different, each kick is different. It's just something that happens."
October, 11, 2009
10/11/09
9:26
PM ET

Posted by ESPN.com's Tim Graham
There has been a common thread in both of the
New England Patriots
' two losses:
Tom Brady
has had a rough second half.
ESPN Stats & Information broke down the data and found that, compared to the Patriots' three victories, Brady's completion percentage drops more than 34 percent and his passer rating plummets almost 63 points in the second halves of their two defeats.
Brady was 5 of 14 for 63 yards in the second half of Sunday's overtime loss to the
Denver Broncos
. He didn't throw an interception, but he lost a fumble that killed what could have been the game winning drive inside the final two minutes of regulation time.
Brady has completed 72.6 percent of his passes for 183.3 yards, has averaged 7.5 yards-per-attempt and has four touchdowns with no interceptions in the second halves when they've won.
When the Patriots have lost, he has completed 38.2 percent of his passes for 64.5 yards, has averaged 3.8 yards per attempt and has zero touchdowns or interceptions.
October, 11, 2009
10/11/09
8:10
PM ET

Posted by ESPN.com's Tim Graham


The mood must be dreary in New England.
One the same day the Boston Red Sox were swept from the playoffs, the
New England Patriots
failed to close out a quality opponent and were caught from behind.
The
Denver Broncos
scored a touchdown late in the fourth quarter to force overtime and beat the Patriots 20-17 at Invesco Field.
Broncos head coach and former Patriots offensive coordinator Josh McDaniels exhibited rookie enthusiasm after the game, apparently snubbing old boss Bill Belichick to run toward and end zone and pump his first for the fans. Belichick searched for McDaniels to congratulate him, but wandered off the field with a perplexed look on his face.
The Patriots are 3-2, muddling the AFC East standings.
The
Miami Dolphins
(1-3) actually can pull within a game of first place if they defeat the
New York Jets
(3-1) at home Monday night.
The Patriots scored the first 10 points and led 17-7 at halftime, but their lead could have been greater if not for a
Logan Mankins
personal foul that pushed them out of field-goal range.
McDaniels was comfortable throwing throughout the afternoon.
Kyle Orton
completed 35 of his 48 attempts for 330 yards and two touchdowns with one interception.
The Broncos tied the game with 5:27 left in regulation on an 11-yard pass to
Brandon Marshall
.
Tom Brady
had a chance to stick it to his old play-caller with a late drive. New England had the ball at the Denver 49-yard line right after the two-minute warning, but Mike Nolan's defense maintained the second-half shutout when
Vonnie Holliday
forced a Brady fumble.
The Broncos won the coin flip to start sudden death, and the Patriots offense never took the field.
Matt Prater
kicked a 41-yard field goal for victory.
Brady was 19 of 33 for 215 yards and two touchdowns with no interceptions, but the Broncos removed
Randy Moss
from the game.
Moss finished with as many catches on defense as he had on offense. Put on the field at the end of the first half to prevent a Hail Mary pass, Moss came down with an interception. He had one catch for 36 yards on offense.
October, 10, 2009
10/10/09
10:49
AM ET
Most everybody was on their best behavior in the AFC East last week.
Discipline, however, wasn't enough for two teams.
The AFC East's two losers -- the
Buffalo Bills
and
New York Jets
-- committed six penalties for 40 yards.
After four weeks, the AFC East penalty tracker shows the Bills remain the division's most careless club despite a courteous afternoon against the
Miami Dolphins
in Land Shark Stadium.
The Dolphins are the AFC East's most disciplined team, but they took Week 4 rogue honors with five penalties for a respectable 41 yards. That's not a lot of yards, but officials zapped the Dolphins for two 15-yarders, their first of the season. They went into the game with only three 10-yard penalties.
But the guy to look out for so far has been New York Jets rookie
Mark Sanchez
. No AFC East player has been responsible for so much negative yardage.
How often does a quarterback get whistled for two 15-yard penalties inside four weeks? Sanchez has been flagged for two bush-league maneuvers on turnovers, his most recent occurring when he tried to take out
New Orleans Saints
linebacker
Jonathan Vilma
's knees on an interception return.
Bills left tackle
Demetrius Bell
, who missed last week's game with a groin injury, still leads the division in number of infractions with six penalties (two were declined) for 20 yards.
October, 9, 2009
10/09/09
4:00
PM ET
»
AFC
:
East
|
West
|
North
|
South
»
NFC Final Word
:
East
|
West
|
North
|
South

Posted by ESPN.com's Tim Graham
Five nuggets of knowledge about Sunday's games:
Braylon Edwards can keep dropping passes and still help the New York Jets win.
Folks in Cleveland are guffawing that the Jets actually believe they got a great deal in Edwards. Browns fans have witnessed his act for too long. They were fed up with the drops and erratic performances.
| | |
| --- | --- |
| | |
| | Al Pereira/Getty Images |
| | The New York Jets don't need Braylon Edwards to carry their offense. |
What they fail to understand is Edwards meant far more to the Browns' offense than he will in New York. On the Jets, he's a piece of the puzzle to a team that has one of the NFL's best offensive lines, two Pro Bowlers in their backfield, a dangerous tight end and a quarterback who has been pretty good. An Edwards drop might stall a drive or force the Jets to settle for a field goal, but the way he'll make defenses respect him as a downfield threat will benefit everybody around him on every down.
The loser of Sunday's game in Ralph Wilson Stadium should rank among the bottom three in ESPN.com's next power rankings.
I have no clue how the
Buffalo Bills
, after spending every previous edition of the poll at No. 21,
slipped only two spots after getting waylaid
by the
Miami Dolphins
, who were ranked three spots below them.
Whoever loses between the Bills and No. 29
Cleveland Browns
might be the NFL's worst team. The Bills defeated the No. 31
Tampa Bay Buccaneers
in Week 2, but the Bills have gotten considerably tattered since then.
I agree with Joey Porter: The Dolphins aren't out of it -- yet.
I was among those ready to write them off after Week 3. They hadn't won a game, lost their leader and starting quarterback (
Chad Pennington
), and their best defensive player (Porter) was sidelined with a bum hamstring.
But Porter reasserted the
road to the AFC East title still travels through Miami
. The Dolphins are the defending champs and they did win their first game last week, making them 1-0 in the division. If they can beat the Jets at home on Monday night, they would bunch up the standings and be one measly game out of first place if the
New England Patriots
don't beat the
Denver Broncos
.
But this doesn't mean I believe the Dolphins are on solid ground. Their season is hanging by a thread.
The Patriots won't miss Fred Taylor terribly much.
Taylor underwent right ankle surgery on Thursday. Reports differ on whether he'll be able to return this year. Perhaps he'll be back for the postseason, but if the Patriots make the playoffs without him, then they will have coped just fine.
The Patriots masterfully managed their interchangeable backfield parts to 11 wins last year. Injuries forced them to activate
BenJarvus Green-Ellis
from their practice squad, and he eventually had a 100-yard game. They have been rotating
Laurence Maroney
,
Sammy Morris
and
Kevin Faulk
. The Patriots were prepared for an injury at running back.
Good luck against the Jets, Chad Henne.
The second-year Dolphins quarterback will need to withstand a whirlwind Monday night. The last time the Dolphins faced a Rex Ryan defense, the
Baltimore Ravens
tamed the Wildcat and made the day hellacious for Pennington, considered one of the smartest and most composed quarterbacks in recent years.
Henne will be making his second NFL start
. He wouldn't be overly comfortable against practically any defense he might see on Sunday afternoon, but you can safely assume that whatever the Jets unleash will make his head spin. The Jets also get playmaking outside linebacker
Calvin Pace
back from his four-game suspension this week.
October, 9, 2009
10/09/09
2:10
PM ET
| | |
| --- | --- |
| | |
| | Getty Images |
| | Bill Belichick made a number of unpopular moves as Cleveland's head coach while compiling a 37-45 record there. |
Cleveland Browns
fans loathed Bill Belichick.
Nick Caserio grew up a Browns fan in suburban Cleveland. And while I'm not calling Caserio a liar, let me just say I completely understand why he would choose to be diplomatic when asked what his impressions were of Belichick back then.
Caserio now works for Belichick as the
New England Patriots
director of player personnel.
"I was a Browns fan growing up," Caserio said this week on a conference call. "I wouldn't really say that I had formed an impression of Bill. I know that they went -- I can't think of whenever that year was -- they went 11-5 and ended up making the playoffs. Obviously some things happened, whether it was the following year when the organization kind of ...
"I mean, I wouldn't be able to comment on anything directly as far as my impression of Bill. I just knew that the team was successful and they won games and they went to the playoffs. So that's probably about the extent of it from my perspective."
Actually, Belichick went 37-45 with the Browns and won a single playoff game.
| | |
| --- | --- |
| | |
| | Jed Jacobsohn/Getty Images |
| | Josh McDaniels credits Belichick as having the biggest influence on his success. |
But I put Caserio on the spot. It was a dastardly move from a Baldwin-Wallace College grad. Caserio went to Cleveland crosstown rival John Carroll University, where he was a teammate of Josh McDaniels, the former Patriots offensive coordinator.
McDaniels and Caserio were at John Carroll during Belichick's tenure in Cleveland. When the Browns hired Belichick in 1991, he was 38 years old, the youngest coach in the NFL.
McDaniels is the 34-year-old rookie head coach of the surprising
Denver Broncos
. He will match wits with his mentor on Sunday afternoon, when the Patriots visit Invesco Field at Mile High for a noteworthy AFC game.
The Broncos overcame substantial offseason turbulence to start the season 4-0. Their offense has choked out only 79 points, but their defense has allowed a league-low 26.
In McDaniels' eight years as a Patriots assistant, perhaps Belichick imparted a lesson or two about how to establish credibility quickly in a locker room occupied with players from your generation and, in some cases, older.
In finding anecdotes to drive home a point, Belichick could find plenty of material to draw from. There were some wonderful examples to follow, but there were plenty of mistakes to avoid repeating.
"Anytime you go into a new situation," Belichick said on a conference call this week, "everybody has to establish [and] gain the respect of the other people that are on the new team."
Belichick declined to give specifics about what sort of philosophical guidance he imparted to McDaniels. But Belichick said once it became apparent to him McDaniels was destined to be an NFL head coach -- after calling the plays for a team that darn near ran the table in 2007 -- they often discussed the responsibilities that go with being a head coach.
"We both asked questions, exchanged information and talked very freely about it," Belichick said. "There were a lot of things that came up when we talked for hours and hours about that stuff, going both ways, so it was good."
McDaniels, preferring to speak in generalities, is similarly guarded when asked how Belichick has mentored him.
"Bill's helped me out in many different ways in terms of my knowledge about the game, in terms of my understanding of some of the things you need to do as an organization to be successful," McDaniels said. "He's helped me out in personal areas of my life.
"I've had a lot of conversations with him, some of which I'll definitely keep to myself in private. But, he's been the biggest influence on my success and I will always be indebted to him."
One would have to assume McDaniels asked Belichick about Cleveland and the pressure of accepting that first head-coaching gig at an age when many men still are trying to figure out what to do with their lives.
McDaniels and Caserio, both considered among the league's brightest football minds, certainly were mature and savvy enough to develop an outsider's opinion of Belichick's methods in Cleveland.
Is it unfathomable to picture Caserio and McDaniels shooting each other quizzical glances while watching the Browns on a TV in the college dining hall?
In his 2007 book "The GM,'' former Browns executive Ernie Accorsi recounted a conversation he had with Belichick right after he took the Patriots job. Belichick told him "I really screwed up that thing up in Cleveland, Ernie.''
Belichick's moves were a public relations catastrophe. He made unpopular personnel moves such as benching beloved quarterback Bernie Kosar and felt he owed no one outside the organization an explanation. Belichick honked off his players. Receiver Reggie Langhorne demanded to be traded.
It was almost as though "How to Make Enemies and Alienate People" was Belichick's operations manual.
Somebody might want to check with the Denver public library to see if McDaniels borrowed that book after he was hired.
When word got out McDaniels had pursued a trade for Patriots backup quarterback
Matt Cassel
, the city practically revolted. Pro Bowl quarterback
Jay Cutler
was so insulted he forced his way off the team. Star receiver
Brandon Marshall
tried to do the same.
But McDaniels, with four players on his roster his age or older, managed to gain his team's trust despite the turmoil.
"Age is never a big thing for me, whether it was the head coach of Cleveland or any of those assistant jobs," said Belichick, who was only 23 his first season on Ted Marchibroda's 1975 Baltimore Colts staff. "It was more about doing the job.
"The players feel like, as a coach, you can help them, and you know what you're talking about, and you can tell them things that'll make them better and help prepare them because they want to prepare. They want do well, and they want to improve.
"If you can show them you can do that, then they respect you. If you don't -- I'm not saying they're disrespectful -- but they don't listen carefully. They're not as attentive because I don't think they feel like they are getting information or the assistance that they're looking for and what they've been used to getting in the past."
October, 9, 2009
10/09/09
8:27
AM ET

Posted by ESPN.com's Tim Graham
I drew some heat in the
comments section of a previous post
for referring to
New England Patriots
running back
Fred Taylor
as "Fragile Fred" in the headline.
To all the readers out there whom I offended, I apologize. If I offended Taylor, then I apologize to him, too.
As I pointed out under the surprisingly controversial headline, Taylor generally has been reliable over the past seven years, missing just 12 games.
But the harsh reality is the latest injury is only going to solidify Taylor's career legacy as an injury-prone player. I wasn't the one who invented "Fragile Fred." He was saddled with that nickname about eight years ago in Jacksonville.
"When I would go behind closed doors, I would work out a little bit harder thinking that they called me Fragile Fred," Taylor told USA Today over the summer. "I knew I was never fragile."
But when most NFL fans think about Taylor, the first thing that pops into their heads is his injury history. The reputation was established early, when he missed 23 games from 1999 through 2001.
Yes, he has rushed for over 11,000 yards, but he never has been embraced as a true NFL star. He has been selected to one Pro Bowl, although he probably deserved a couple more trips to Honolulu. Taylor has appeared in only three playoff games since 1999.
Taylor is 33 years old. Reports have differed on the likelihood he will play again in 2009. Over the summer he signed a two-year contract worth $5 million.
ESPNBoston.com's Mike Reiss cited a source that said the
injury wasn't expected to be a season-ender
. The Boston Herald, with a lot of
interesting details on the injury and the surgery
, reported a friend of Taylor's says Taylor believes he'll play again this year.
The Boston Globe, however, painted a gloomier picture. An unnamed league source said
Taylor probably was done for the year
.
October, 8, 2009
10/08/09
3:59
PM ET

Posted by ESPN.com's Tim Graham
ESPNBoston.com's Mike Reiss reports
New England Patriots
running back
Fred Taylor
will need
surgery on his right ankle
.
Reiss story, which cited an unnamed source, didn't specify how long Taylor would be sidelined, but added the surgery wouldn't end his season "assuming there are no complications."
Not exactly stunning news, given Taylor's injury history.
Taylor, 33, gained the nickname "Fragile Fred" for repeatedly being hurt during his 11 years with the
Jacksonville Jaguars
.
After the Jaguars released Taylor, he visited the
Buffalo Bills
but opted to sign with the Patriots. A wrist injury forced him to miss offseason workouts, but over the past seven seasons, Taylor generally was reliable, missing only a dozen games.
Although Taylor leads the Patriots with 45 carries for 201 yards and has the team's only 100-yard game this year, his absence shouldn't hurt the Patriots much. They have depth in the backfield and have been rotating
Laurence Maroney
,
Sammy Morris
,
Kevin Faulk
and
BenJarvus Green-Ellis
.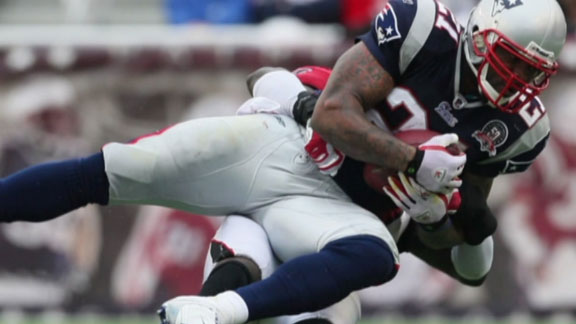 October, 8, 2009
10/08/09
3:13
PM ET

Posted by ESPN.com's Tim Graham
CBS Sports color commentator
Phil Simms
will call Sunday's game at Invesco Field between the
New England Patriots
and undefeated
Denver Broncos
.
The former
New York Giants
quarterback shared his thoughts on a contest that will help sort out the AFC hierarchy.
Simms on how the teams match up:
"The big thing in the game when you watch the Patriots play is that New England gets on the field, and they stay on the field a long time with their offense. That really hurt all their opponents and even the Jets, who beat them. They tire your defense out, and now your offense is always on the sideline as you're watching Tom Brady complete another third-and-4 or third-and-5.
"I think New England sees the type of defense Denver's running. They've seen it over the years with Baltimore, and some with the Jets with Eric Mangini. So they'll be a little more prepared to play it than some of the other teams have to this point. I'm really interested to see how the New England Patriots react to Denver's defense."
More on Denver's defense:
"Everybody's asking all the time how has Denver's defense changed so much? Well, it's changed so much because they've changed. They got a lot of new personnel. You know, they brought in Brian Dawkins. They brought in people like Darrell Reid, who other guys don't know about. They got draft picks, and the scheme has changed. So there's nothing they're doing that resembles anything they tried to do last year, and, of course, the results have been fantastic.
"So when it doesn't work you do two things: Get a different coach and get new personnel. Denver did both"
October, 5, 2009
10/05/09
3:17
PM ET

Posted by ESPN.com's Tim Graham
Here's an interesting fact:
For the fifth straight week, the
New England Patriots
will try to hand an opponent its first loss.
Sure, everybody started the season 0-0, but there's a certain degree of difficulty strategizing for an opponent with no blueprints for victory. The Patriots will have to be the first ones to figure it out again.
The Patriots will visit the 4-0
Denver Broncos
on Sunday.
The Patriots have defeated the 0-0
Buffalo Bills
on opening night, lost to the 1-0
New York Jets
in Week 2, beat the 2-0 Atlanta Falcons in Week 3 and held off the 3-0
Baltimore Ravens
on Sunday.
"You know, we haven't really watched a tape of a team that's lost a game yet," Patriots coach Bill Belichick told reporters at his Monday news conference. "You can say 'Well, this is how so-and-so beat them in the regular season.' We haven't been able to say that yet."
Belichick will try to be the first to knock off a team that in the preseason looked easily knockoffable but is atop the AFC West. Belichick's former offensive coordinator, Josh McDaniels, seemingly has survived the initial turmoil of the
Jay Cutler
ordeal and
Brandon Marshall
mess.
"I know they'll be well-prepared," Belichick said of McDaniels and Broncos defensive coordinator Mike Nolan. "I know they're going to work hard. They'll look at everything and try to get every tendency, tip and advantage on us, and we'll have to try to do the same thing.
"In the end, it will be how the players play next Sunday. Hopefully, we'll be ready to go next Sunday. We'll need to be."