April, 26, 2011
4/26/11
11:02
PM ET
Jim Mandich, a member of the undefeated 1972
Miami Dolphins
and a beloved broadcaster for the club, has died after a long battle with bile-duct cancer. He was 62.
"When you think about Jim Mandich," said teammate Kim Bokamper, "you think Miami Dolphins."
The Dolphins confirmed Mandich's death Tuesday night but didn't have immediate details. He was diagnosed with cancer in early 2010. Chemotherapy had left him gaunt, but he continued to be the unwavering voice of the Dolphins.
[+] Enlarge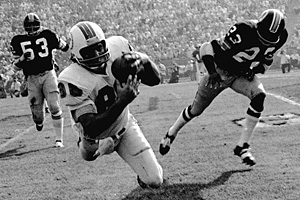 AP PhotoJim Mandich was a Dolphins tight end for eight seasons and accumulated 1,406 yards on 121 receptions. Mandich is shown here during Super Bowl VII in 1973.
He was a homer and unapologetic about it.
Former Dolphins running back Jim Kiick called the news "devastating."
"For the Dolphins organization, this will be very difficult," Kiick said. "Everyone -- former Dolphins all the way to the current players -- knew him as a teammate and a man."
Added Bokamper: "The scope of what he meant to the Dolphins can be measured by the people that respect him. You talk to Don Shula, you talk to Nick Buoniconti, you talk to Jake Scott, you talk to Larry Csonka and each one of those people respected Jim maybe like none other."
Hall of Fame receiver Paul Warfield said Mandich was "a man of character, committed, a loyal friend, a tremendous family man. You could depend on him. This is a loss for Miami."
Mandich was a Dolphins tight end for eight years, winning two Super Bowls. He earned the nickname "Mad Dog" for his recklessness on special teams and aggression going after the ball.
He finished with 121 catches for 1,406 yards and 23 touchdowns at a time when tight ends weren't prolific receiving threats. In 1974, he finished with more receptions and three times as many touchdowns as Warfield, who went to the Pro Bowl that year.
"He was a money player," former Dolphins safety Dick Anderson said. "When you go back to the 1972 season and some of the tight games we had, he made great, leaping catches. Whenever the ball got near him, he caught it."
Mandich set tight end records at the University of Michigan for catches and yardage. He was a Wolverines captain, the team's MVP and an All-American in 1969. He was inducted into Michigan's Athletic Hall of Honor in 1994 and the College Football Hall of Fame in 2004.
Warfield chuckled at the recollection of sharing an adjoining locker stall with Mandich. They had some things in common as fellow Northeast Ohioans who each joined the Dolphins in 1970. But there was a big difference: Warfield was an Ohio State man.
"His blood certainly was maize and blue," Warfield said. "He was one of the building blocks of that program, very instrumental in helping Michigan regain its status as a powerhouse. We often had many discussions and a few wagers."
Mandich also was an influential South Florida businessman in the trucking and construction industries and often mentored those around him.
Bokamper gleaned as much as he could from Mandich over the years, starting in 1976. That was Bokamper's rookie season and Mandich's penultimate with the Dolphins.
Not by complete coincidence, Bokamper also is a successful South Florida broadcaster. His business portfolio has included an Interstate Battery distributorship, a production company, a booking agency and a restaurant chain.
"Jim usually was the first and only guy that I called when I needed business advice," Bokamper said. "I just learned so much from him. There were times in my life he inspired me to figure it out and get it done.
"Jim was always a guy who looked at where he was, what resources were available and how he could maximize those resources. Unlike a lot of people who thought about doing things, he did them."
Even with all that, generations of Dolphins fans knew him as the charismatic voice of their team.
His signature "Awwww right, Miami!" call marked the team's big plays over the years. He also hosted a successful afternoon drive radio show on WQAM in Miami.
"You always knew where he stood," Anderson said. "He never pulled any punches.
"But he always had that winning attitude. He absolutely was a great teammate, a great friend."
Anderson's voice began to crack.
"I'm going to miss him," he said. "A lot of us are."
March, 15, 2011
3/15/11
1:00
PM ET
ESPN.com debuted its
positional power rankings series last week
with wide receivers. The two articles I wrote about my ballot (and
my breakdown of the AFC East
) sparked lively discussions about my process.
Readers demanded to know my criteria. My explanation seemed to chafe a few. I stated that my ballot simply reflected my personal taste about how they performed last season.
Stats are a part of equation. They must be to an extent. But if I wanted to go purely on stats, then I would post a link to ESPN.com's fantasy leaders.
I steer clear of metrics. You can pick and choose a specific mathematical equation and make it support any case -- even though you might be comparing a slot receiver catching passes from an elite quarterback to a No. 1 receiver who's constantly double covered on a run-oriented offense. Can't do it.
In the end, it comes down to subjective judgment. Feel free to disagree. An exchange of ideas is the whole point. I don't need to agree with you, and you don't need to accept my list as gospel. Agents won't use the AFC East blog in contract negotiations. The Pro Football Hall of Fame won't use my power rankings to determine induction.
In response to a question about underrated
Buffalo Bills
running back Cookie Gilchrist for the documentary "Full Color Football: The History of the American Football League," legendary runner Jim Brown summed up my sentiments.
"Who gets compared to me and all of that, I couldn't care less about," Brown said. "I don't compare a rose to a petunia. They both have their own kind of beauty. It all depends on what you prefer."
And for those who require statistical reasoning, I share with you a quote another
Cleveland Browns
Hall of Famer told me a couple months ago for a story about
Andre Reed
's induction hopes.
"Our game is beginning to resemble baseball in which everyone is looking at numbers," said Paul Warfield, a member of the undefeated 1972
Miami Dolphins
team. "Numbers tell the story to a degree, but I like to look at one's full body of work. You're supposed to be able to do a lot of things.
"As a receiver, catching the ball is primary and important. But I don't think it takes very much skill or maneuverability to step a couple yards off the line of scrimmage and someone pops you with a pass several times."
So, as you peruse my ballots the next several Tuesdays, that's where I'm coming from.
This week's power rankings position is running back
.
My ballot:
The most obvious omission was
St. Louis Rams
running back
Steven Jackson
. I thought long and hard about including him, but I couldn't talk myself into it. Jackson scored only six touchdowns and had little impact in the passing game. Of the 17 backs who rushed for 1,000 yards, his 3.8 yards per carry were better than only
Cedric Benson
's average.
Some might point out that defenses girded up to remove Jackson from the game, but there are other runners on that list who had worse quarterback situations than the Rams did. I think people still see Jackson as the all-around superstar from 2006.
Hillis was another tough call because of his fumbles. But he was Cleveland's entire offense. Opponents still couldn't stop him. He also added 61 receptions for another 477 yards and a couple touchdowns, numbers that get overlooked.
I'll come back later Tuesday with a ranking of AFC East backs.
February, 7, 2011
2/07/11
4:11
PM ET
Lem Barney called Sunday afternoon to talk about
Andre Reed
's inability to break into the Pro Football Hall of Fame.
Barney has been one of Reed's biggest supporters for enshrinement in Canton.
Reed was the only wide receiver to make the cut from 15 to 10 finalists Saturday, but the
Buffalo Bills
star
wasn't among the five players put to a final vote
.
"I try to keep him encouraged," Barney told me. "I'm going to call Dre as soon as I get off the phone with you to tell him not to give up hope."
Barney was a member of the 1992 induction class after a brilliant career as a cornerback and kick returner for the
Detroit Lions
. He served a similar pick-me-up role for teammate Charlie Sanders, who finally made it in 2007 as a senior nominee.
There are multiple reasons for Reed to remain optimistic. He has been a finalist five times. Pro Football Hall of Fame researcher Saleem Choudhry calculated
83 percent of all finalists have eventually been inducted
. But subtract the 10 candidates from this year's ballot (many of whom will get in) and the success rate improves to 94 percent.
"When you get on that finals list, it's like going to church," Barney said. "You have no idea who might shout."
Also in Reed's favor is that for the second year in a row he went farther in the process than receivers
Tim Brown
and
Cris Carter
. That suggests Reed will be the next receiver to get inducted.
Barney compared Reed to Paul Warfield, Charley Taylor and Bobby Mitchell as a complete receiver.
"These guys were not only speed guys, but they ran precise routes and they were disciplined in their training," Barney said. "I thought Dre was a wonderful receiver, not only with the ball, but he was a tremendous blocker.
"Dre certainly has the numbers, the years, the service."
February, 2, 2011
2/02/11
4:30
PM ET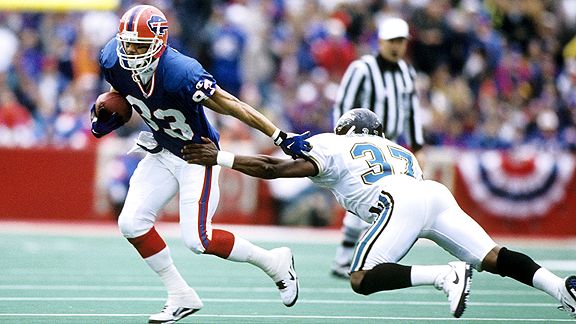 US PRESSWIREFormer Bills receiver Andre Reed finished his career with 951 catches for 13,198 yards and 87 TDs.
Receptions come a lot cheaper these days.
The game has changed, and all you need for proof is a glance at Paul Warfield's career stats. He caught more than 50 passes once. He gained more than 1,000 yards once. In some of his Pro Bowl seasons, his numbers wouldn't have justified a roster spot in your 10-team fantasy league.
Yet Warfield is considered one the most dangerous receivers NFL history, a first-ballot Pro Football Hall of Famer.
"Our game is beginning to resemble baseball in which everyone is looking at numbers," Warfield said this week from his home in Rancho Mirage, Calif. "Numbers tell the story to a degree, but I like to look at one's full body of work.
"I'm from the old-school generation. You might be termed a wide receiver, but you should be a football player first."
Steve Largent is another example of how stats don't quantify a receiver's worth like they used to. Largent retired after the 1989 season as the NFL's all-time leading receiver with 819 catches. He, too, was a first-ballot Hall of Famer.
Twenty-one years later, Largent ranks 20th in receptions behind such names as
Derrick Mason
,
Torry Holt
,
Keenan McCardell
,
Muhsin Muhammad
and fullback
Larry Centers
.
In 1985, only four players had caught 600 passes. The list is 55 players long now.
"It doesn't necessarily undermine a player's ability to get into the Hall of Fame because he had great stats or doesn't have great stats," Largent said Monday from his office in Washington D.C. "You're looking for a guy who was the total package."
With that in mind, you might consider
Andre Reed
's stats if you choose when deciding if he belongs in the Hall of Fame. They're sterling -- if a little outdated and discounted by time.
To both Largent and Warfield and other legendary receivers, Reed qualifies for Canton without even looking at the numbers.
"I saw the value Reed had to that team not only as a receiver, but also as a leader," Largent said. "There are some attributes you don't keep statistics of, but you become aware of as one player watching another play the game."
Reed is Largent's "total package" and Warfield's unequivocal embodiment of "football player."
"It's long overdue for Andre," Warfield said.
Reed is among the 15 Pro Football Hall of Fame finalists who will learn Saturday whether they will be included in this year's induction class.
The star
Buffalo Bills
receiver has been a finalist five times. There's a belief this year offers his best chance yet. In previous years, he has shared the ballot with at least one receiver who took precedence because they were icons (
Jerry Rice
,
Michael Irvin
) or had been waiting longer (
Art Monk
).
Reed could become the sixth Hall of Famer from a team that went to four straight Super Bowls but failed to win one.
Already enshrined are Bills quarterback
Jim Kelly
, running back
Thurman Thomas
, defensive end
Bruce Smith
and head coach Marv Levy. Wide receiver
James Lofton
also is in Canton, but he didn't play on all four Super Bowl teams, and is more closely associated with the
Green Bay Packers
.
"I was a part of something special, and I'll take that to my grave," said Reed, 47. "We were a family. But the Hall of Fame, I don't know how I would react. It would be a validation of your work and what you did.
"Hopefully on Saturday I can be in that fraternity with them, but every year it's a tough ballot."
The other finalists include running backs
Marshall Faulk
,
Curtis Martin
and
Jerome Bettis
, receivers
Tim Brown
and
Cris Carter
, tight end
Shannon Sharpe
, center
Dermontti Dawson
, tackle
Willie Roaf
, defensive ends
Richard Dent
,
Charles Haley
and
Chris Doleman
, defensive tackle
Cortez Kennedy
, cornerback
Deion Sanders
and NFL Films patriarch Ed Sabol.
The Hall of Fame's 44-member selection committee will decide Saturday. The group includes NFL writers, one representative per franchise, 11 at-large voters and one from the Pro Football Writers Association. The committee will pare the group of 15 finalists down to 10 and then to five. At that point, a vote will be held, with 80 percent agreement needed for induction.
Up to five modern-era candidates may be elected each year. First-time nominees Faulk and Sanders are virtual locks to get inducted. That leaves three spots available for Reed and the other finalists to get in.
Buffalo News reporter Mark Gaughan will make the case for Reed's induction. It's a compelling one.
"He certainly had a great career, one of the great clutch receivers," Warfield said. "He was consistent, one Jim Kelly could always go to and always find open in a situation where they're trying to make a big play. He's an all-encompassing receiver."
Reed was third on the NFL's all-time receptions list when he retired after the 2000 season with 951 catches, behind only Rice and Carter. Reed was a seven-time Pro Bowler and a superstar on a team that won four conference championships in a row.
"He was as dangerous a receiver as there is," former Bills quarterback
Frank Reich
said. "Versus press coverage, he was almost impossible to stop, coming off the ball. We always felt if they tried to play tight man on Andre it didn't matter who was guarding him. Any shutdown corner in the league in press coverage, Andre was going to beat him."
Reed was a force on the big stage. In 19 postseason games he had 85 receptions for 1,229 yards and nine touchdowns. He didn't score any Super Bowl touchdowns, but he did have 27 receptions for 323 yards.
In the Bills' epic comeback against the Houston Oilers in the 1992 postseason, he made eight catches for 136 yards and three touchdowns.
Reed is known as tremendously durable. He played 253 games, counting playoffs. He often darted into traffic to make plays in a crowd of defenders.
"No fear," Reich said.
Reed was one the greatest ever when it came to yards after the catch, second perhaps only to Rice.
[+] Enlarge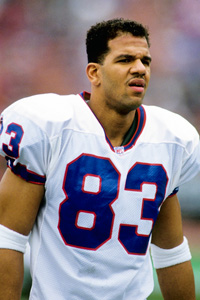 US PresswireAndre Reed, on playing for the Bills: "I was a part of something special, and I'll take that to my grave,"
"Most people that were on that team or played against us will remember how explosive he was in run-after-the-catch," said Reich, now
Peyton Manning
's position coach with the
Indianapolis Colts
. "He rivaled Jerry Rice in that category. Like Jerry Rice, his 40 time was good and probably not great. But there was nobody faster with the ball in his hands."
What put Reed's production in even greater context is a closer look at Buffalo's offense in the 1990s.
Many fans, even those who closely followed the Bills then, recall a prolific aerial attack. They remember Kelly running the no-huddle, K-Gun offense and slinging the ball all over the field to Reed and Lofton.
As Gaughan will point out again Saturday, the Bills ranked 17th in passing offense throughout Reed's career. In Reed's six prime seasons from 1988 through 1993, the Bills passed 51 percent of the time. By comparison, the
Washington Redskins
' famed "Hogs" offense passed 50 percent of the time when Monk was there.
Reed didn't have much receiving help either. He played with Lofton for four seasons, but Lofton was 33 years old when he joined Buffalo. In 1988, for instance, Reed's second and third receivers were Trumaine Johnson and
Chris Burkett
.
So far, the chief impediment for Reed's induction hasn't been his resume, but the other names on the ballot.
A wide receiver has been inducted each of the past four years, and in seven classes out of the past decade.
Gaughan noted there is room in Canton for at least two more receivers from the 1990s. A breakdown of membership shows seven receivers who predominantly played in the 1960s, four from 1970s, four from the 1980s and two from the 1990s.
Reed, Carter and Brown are the worthiest receiver candidates to join Rice and Irvin from that decade.
There's a velvet rope. This is Reed's fifth year as a finalist. Carter has been a finalist four times, Brown twice.
Reed apparently jockeyed to the head of the receiver line last year. In the selection process, Carter and Brown didn't make the top-10 stage, but Reed did.
That development has raised Reed's hopes for 2011.
"I'll be more nervous because of the way the voting went last year," Reed said. "I feel I'm more deserving of it. It was pretty close. The anticipation is enhanced this year."
But there are no guarantees. Several legendary receivers have waited longer than five years to get the Canton call. Don Maynard, John Stallworth and Monk got in on their eighth time as finalists. Lynn Swann was a finalist 14 times. The Seniors Committee was necessary to induct Bob Hayes 34 years after his last NFL game.
Reed admitted he has fantasized about the phone call too many times to count. He's even tried to research the moment.
"I've talked to a bunch of Hall of Famers who say when they get the call they're at a loss for words," said Reed, who plays a lot of golf and sells his own line of barbeque sauce in the San Diego area. "They don't know how to react.
"I'll just have to wait and see."
And hopefully not have to wait some more.
November, 5, 2010
11/05/10
10:23
AM ET
The NFL Network on Thursday night concluded its
persuasive series "The Top 100: NFL's Greatest Players"
by revealing the best 10 in league history.
As expected, no AFC East players made the top 10 because all of the big names already had been revealed. Some
New England Patriots
fans probably would argue about their three-time champion quarterback being listed 21st compared to a certain
Indianapolis Colts
quarterback being eighth.
Here's the rundown of players from the AFC East (with the fan ranking):
11 (17). Ronnie Lott, Jets safety
20 (6). Brett Favre, Jets quarterback
21 (20). Tom Brady, Patriots quarterback
24 (--). John Hannah, Patriots guard
25 (7). Dan Marino, Dolphins quarterback
31 (33). Bruce Smith, Bills defensive end
40 (44). O.J. Simpson, Bills running back
49 (--). Mike Haynes, Patriots cornerback
61 (31). LaDainian Tomlinson, Jets running back
65 (24). Randy Moss, Patriots receiver
71 (--). Paul Warfield, Dolphins receiver
100 (42). Joe Namath, Jets quarterback
What do you think of the list?
Who is missing? Who is overrated? Who isn't high enough?
Reviewing the list made me think back to a phone call I had with Moss two springs ago. In addition to forecasting better offensive numbers in 2009 than the Patriots posted in their record-breaking 2007 season,
Moss proclaimed himself the greatest receiver -- and maybe player -- in NFL history
.
"I'm the best wide receiver of all-time, hands down," Moss told me.
"I don't really like to judge people or other athletes. I know what I'm able to do on the field, but the things I'm able to do to dictate how a defense plays the game, I don't think there's no other receiver but myself and
Jerry Rice
to be able to do that."
Moss later added: "To hell with wide receiver. I think I go down as one of the greatest players to ever play this game."
The NFL Network rated Rice as the greatest player of all-time and Don Hutson ninth. Moss was ranked the third-best receiver on the list.
October, 14, 2010
10/14/10
6:19
PM ET
When it comes to running pass routes,
Brandon Marshall
claims
Miami Dolphins
teammate
Davone Bess
is elite.
[+] Enlarge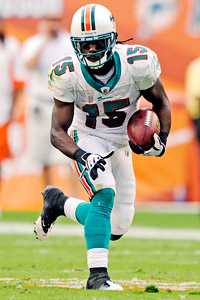 Richard C. Lewis/Icon SMIMiami receiver Davone Bess is tied for second in the NFL in third-down receptions with 10 for 109 yards.
Marshall doesn't merely mean on the Dolphins' roster or in the game today.
Marshall means of all-time, as in alongside
Jerry Rice
and
Torry Holt
and
Marvin Harrison
and
Wes Welker
and Steve Largent and Paul Warfield and Raymond Berry and ...
"In all of football," Marshall said of Bess, "he's one of the best route runners in all of football ever, not just in today's receivers. Ever."
While Marshall's assertion sounds quite hyperbolic, there's no denying Bess is one of the NFL's most underrated receivers. He wasn't drafted out of Hawaii in 2008 because he wasn't considered fast enough (40-yard dash in 4.7 seconds) or big enough (5-foot-10, 190 pounds).
"He plays big, man," Marshall said. "He's an all-around wide receiver."
Bess had to become a masterful route runner to make it in the pros. His meticulousness -- like
Greg Camarillo
for Miami before him -- is why Bess has been heavily involved in the Dolphins' offense since they signed him and why they traded Camarillo last month.
Bess' compact size actually helps him as a route runner more than the gazelles who lope up the sideline and rarely need to worry about gaining separation through craftiness or precision.
Bess has been one of the league's top third-down targets since last season. He's tied for second in the NFL in third-down receptions with 10 for 109 yards, one touchdown and eight first downs.
Marshall leads the league with 11 third-down receptions.
Anquan Boldin
is the only receiver with more third-down conversions than Bess.
In Week 4, Bess had one of his bigger games before heading into the bye. He made eight catches for 96 yards and a touchdown against the
New England Patriots
on Monday night.
"When you put in the tape, this guy's amazing, what he's able to make his body do," Marshall said of Bess. "He gets open almost every single play."
"The guy doesn't catch [76] balls last year just because. There's a reason for that, and he's on pace to probably catch almost 100 balls this year [84]. I'm excited for him, and I'm excited to be able to be on the other side and on the same side as him."
September, 8, 2010
9/08/10
10:45
PM ET
It was
Tom Brady
's turn to throw bouquets at
Randy Moss
.
On Monday,
Moss said he felt unwanted and underappreciated
by the
New England Patriots
. In the past 48 hours,
coaches and teammates have been heaping praise
on him.
The man who will benefit most directly from a happy Moss had his say Wednesday.
"There's only one Randy Moss that would ever play this game," Brady said. "He's probably the greatest downfield receiver in the history of the NFL.
"I mean, those catches that he makes when he runs 65 yards down the field and you throw it and he just runs and catches it. That's impossible to do. I've asked him 'How do you do that?' And he says 'I don't know, man. I've been doing it for a long time.' He has some special skills that nobody is really gifted with."
Greatest downfield threat in NFL history? That's quite a statement.
With that in mind, I wanted to open the floor for a discussion on the subject in the comments section below.
Here are some alternatives who popped into my head.
Jerry Rice: automatically comes to mind in any receiver debate.
Warren Wells: John Madden calls him one of the greatest players he coached. In 1969, Wells averaged 26.8 yards per catch with 14 touchdowns on only 42 catches.
James Lofton: averaged over 20 yards a catch five times in his Hall of Fame career.
Bob Hayes: Olympic gold-medal sprinter revolutionized the game. He averaged 26.1 yards a catch in 1970 and is said to have been the reason bump-and-run coverage came to be.
Willie Gault: Olympic-caliber sprinter averaged 20.0 yards a catch for his career.
Harold Carmichael: at 6-foot-8, the four-time Pro Bowler was a basketball player in cleats.
Best of the AFC East teams ...
Paul Warfield, Dolphins: averaged a franchise-record 21.5 yards a reception in five seasons.
Wesley Walker, Jets: averaged more than 20 yards a catch eight times, twice as many seasons as Don Maynard did with Joe Namath slinging it.
Stanley Morgan, Patriots: first six NFL seasons had averages of 21.1, 24.1, 22.8, 22.0 and 23.4 yards.
Lee Evans, Bills: aside from Lofton, biggest deep threat in Buffalo of the past 20 years even if the numbers don't show it.
Again, this isn't a definitive list. I've done this off the top of my head to get us going. Maybe Moss is the greatest deep threat of all-time. Maybe not. Let's talk about it.
June, 30, 2010
6/30/10
1:00
PM ET
Notable players:
QB Bob Griese, QB Earl Morrall, RB Larry Csonka, RB Mercury Morris, WR Paul Warfield, C Jim Langer, G Bob Kuechenberg, G Larry Little, DE Bill Stanfill, MLB Nick Buoniconti, SS Jake Scott, FS Dick Anderson.
[+] Enlarge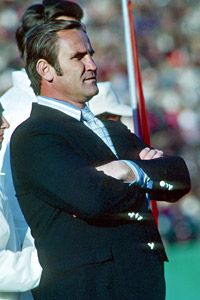 Malcolm Emmons/US PresswireDon Shula guided the 1972 Dolphins to a 17-0 record.
Analysis:
As it turns out, you can argue with perfection.
The obvious choice for the greatest team in
Miami Dolphins
history is 1972, the historic season in which they went undefeated and claimed their first championship.
But some important members of that team have claimed the 1973 edition was even better, although it lost two games against better competition before closing out the season with its second straight Super Bowl victory.
"The question is, do I think my team is better than it was a year ago?" coach Don Shula said after the follow-up title. "There's no question about it. I think we're a better football team than we were a year ago at this time. I think we've gone one step beyond last year's football team. Even though we were 17-0, a perfect season, going back-to-back on Super Bowls is more meaningful."
With all due respect to Coach Shula, perfection won't take a backseat here.
The '72 Dolphins played a pretty feeble schedule, but they ranked first in total offense, scoring offense, total defense and scoring defense. They beat their opponents by an average margin of 15.3 points in the regular season despite losing Griese to a broken ankle in October.
In the playoffs, they dispatched a pair of teams with double-digit victories, the
Cleveland Browns
and
Pittsburgh Steelers
.
The Dolphins easily beat the NFC's top-seeded
Washington Redskins
in the Super Bowl and would have shut them out if not for Garo Yepremian's flubbed field goal that turned into the Redskins' only points.
Most impressive win:
Down 10-7 in the third quarter and on the road against the Steelers in the AFC Championship Game, Griese replaced Morrall and directed a pair of touchdown drives in a 21-17 victory.
Forgiving schedule:
The Dolphins feasted on a schedule that was one of the weakest in NFL history. In the regular season, they played no playoff clubs and just two that finished with winning records. Six opponents won four or fewer games. The combined record of their regular-season foes was 70-122-4.
Honorable mention
1973:
Some assert Miami's back-to-back championship team was better than the one that went undefeated. It held opponents to single-digit points eight times, including the
Minnesota Vikings
in the Super Bowl.
1984:
Dan Marino
threw for 5,084 yards in propelling the Dolphins to a 14-2 record and the AFC championship. Marino's lone Super Bowl appearance ended in a miserable loss to the
San Francisco 49ers
.
1971:
Miami's motivation for its historic 1972 season was losing the Super Bowl to the
Dallas Cowboys
after going 10-3-1 and shutting out the Baltimore Colts in the AFC Championship Game.
1983:
Marino's rookie season was electric. He took over for David Woodley, who had guided the Dolphins to the Super Bowl in a strike-shortened season. Even more impressive was the No. 1-rated Killer B's defense.
October, 6, 2008
10/06/08
4:52
PM ET
| | |
| --- | --- |
| | |
| | Darryl Norenberg/Getty Images |
| | In 1968, Marlin Briscoe became the first black quarterback in the modern era to start a game. |
Forty years have passed -- a long time, but not a lifetime.
What a big moment it was then. Now it's a weekly occurrence in multiple NFL stadiums.
A black quarterback starting in the NFL is no big deal these days. A couple generations have grown up with Doug Williams and Warren Moon and Donovan McNabb and Daunte Culpepper and Michael Vick running offenses.
But when
Marlin Briscoe
broke the Denver Broncos huddle and surveyed the Cincinnati Bengals defense as he walked to the line of scrimmage Oct. 6, 1968, he became the first black quarterback in the modern era to start a game.
"It's come a long way," Briscoe said from his home in Long Beach, Calif. "They thought a black man could not think, throw and lead at that level."
Now the United States could be on the verge of electing its first black president.
Willie Thrower was the first black quarterback to get into an NFL game in 1953, but stereotypes and small-mindedness prevented coaches from providing a real opportunity until Lou Saban, partially out of desperation, handed the job to Briscoe.

AFC EAST SCOREBOARD
Friday, 8/22
Saturday, 8/23