July, 28, 2011
7/28/11
10:30
AM ET
The
Reggie Bush
era in New Orleans is over.
Bush
Adam Schefter reports Bush has
agreed to a two-year contract
with the
Miami Dolphins
, a deal that clears the way for the Saints to trade the player they drafted with the No. 2 overall pick in 2006. We don't know all the details of what the Saints will receive as compensation yet (Miami defensive back Jonathon Amaya reportedly is
part of the deal
), but anything they get is better than nothing, which is what they would have received if they simply cut Bush.
Also of significant importance, the Saints don't have to pay Bush the $11.8 million he was scheduled to make in base salary this season. Throughout the offseason, the Saints implied they would like to keep Bush with a restructured contract. But Bush began throwing out mixed signals about his desires from the moment the team drafted running back
Mark Ingram
in the first round.
Although some people have called Bush a flat-out bust, I don't think that's an accurate portrayal of his time in New Orleans. He never put up the kind of huge numbers that you would expect from a running back drafted so early.
Part of that was due to injuries. Part of that was because Bush just wasn't big enough to handle 25 carries a game between the tackles.
But it's unfair to say Bush's time with the Saints was a waste. He had his moments. He made some game-changing plays and his presence on the field always drew the attention of defenses. He had an impact, but it just wasn't as big as you'd expect from someone with his draft position.
Now, the Saints will move on. Bush's departure clears room in what was a very crowded backfield. The Saints have Ingram,
Pierre Thomas
and
Chris Ivory
.
February, 8, 2010
2/08/10
12:28
AM ET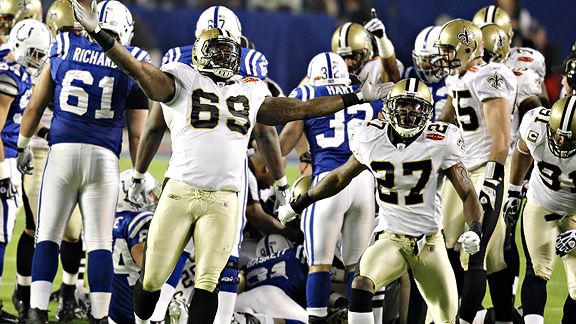 AP Photo/Chuck BurtonDefensive end Anthony Hargrove (left) and Malcolm Jenkins celebrate after the Saints recover an onside kick at the start of the third quarter.
MIAMI --
Reggie Wayne
couldn't bring himself to admit he admired Sean Payton's intrepid call for an onside kick to open the second half of Super Bowl XLIV.
"I'm the one that's over here with my lip puffed out," Wayne said Sunday night in a tent outside Sun Life Stadium. "So apparently it was a good call."
Wayne and the rest of the
Indianapolis Colts
' offense were left standing on the sideline when the
New Orleans Saints
pulled off the big gamble.
Experience was supposed to be the difference-maker for the Colts. They'd been on this grand stage before. The Saints had not.
Yet, the Colts were caught unprepared.
The Saints recovered the kick and, six plays later, established themselves as an underdog on paper only. The
Saints went on to win 31-17
, and leave the Colts wondering about all the plays that got away.
"I didn't see it coming," Colts right tackle
Ryan Diem
said. "At that point in the game, I didn't expect them to do anything like that. The element of surprise got us."
Indianapolis was eager to get the ball first after halftime.
Peyton Manning
directed the Colts' offense with his usual meticulousness in the first quarter. First possession: 11 plays, 53 yards, field goal. Second possession: 11 plays, 96 yards, touchdown.
Then came the second quarter. The Colts short-circuited, experiencing their first lamentable play. On third-and-4 from their 28-yard line, Manning zipped a short pass to
Pierre Garcon
. The play should have gone for a big gain, but Garcon dropped the ball.
"I seen it late, but I should've made the catch," Garcon said. "It was a great throw by Peyton. It should've been caught.
"It could've made the difference in the game."
Instead, the Colts were forced to punt for the first time. In the second quarter, they ran only six plays -- the second three-and-out series simply running out the clock. They gained 15 yards. They maintained possession for 2:34.
Still, the Colts seemed to be in control. They snuffed Saints running back
Pierre Thomas
on a fourth-and-goal run play that looked like it would doom Payton to a lifetime of second-guessing in New Orleans.
The double-team tackle by Colts linebackers
Gary Brackett
and
Clint Session
was the type of stop that championship teams make.
"The goal-line stand was big," Colts defensive end
Raheem Brock
said, "but you've got to play the rest of the game."
They led the Saints by four points at the extended Super Bowl intermission, and as Pete Townshend churned windmills on his guitar, the Colts strategized to bust the game open.
"In the locker room, we just talked about getting the ball back and going down and scoring some points and putting them in a hole," Wayne said.
The Saints concocted a plan to chop the Colts off at the knees.
Thomas Morstead
, who handles their kickoffs, was given the onside green light.
"Thomas came up and told me that we were running 'Ambush,' " field-goal kicker
Garrett Hartley
said. "To start off the second half of the Super Bowl, nothing like it. It's a gut shot, and it worked out in our favor."
Six plays later, Saints quarterback
Drew Brees
connected with Thomas on a 16-yard pass to give them a 13-10 lead.
"Every possession felt precious out there," Manning said.
The Colts did recover, mounting a typical 10-play, 76-yard drive to retake the lead on their next series.
But the tone had been set. The Saints were willing to trade shots all night, to get aggressive.
The Colts buckled.
"The Saints got some momentum there at the end of the first half and beginning of the third quarter and kind of kept the momentum from there," Manning said. "I thought we just didn't play well enough at certain times."
Indianapolis was outfoxed and outplayed by a team that hadn't been there, done that.
October, 22, 2009
10/22/09
3:18
PM ET
Jenny Dell of "Countdown Daily" provides the AccuScore report for Sunday's game between the New Orleans Saints and Miami Dolphins in Land Shark Stadium. If the Dolphins can run for 175 yards and hold the Saints to less than 100 yards rushing, then the Dolphins win 69 percent of simulations. If the Saints run for more than 100 yards, then they win 90 percent of simulations.
October, 2, 2009
10/02/09
4:00
PM ET

Posted by ESPN.com's Tim Graham
»
NFC Final Word
:
East
|
West
|
North
|
South
»
AFC
:
East
|
West
|
North
|
South
Five nuggets of knowledge about this weekend's games:
| | |
| --- | --- |
| | |
| | Stew Milne-US PRESSWIRE |
| | Tom Brady and the Patriots will make a statement with a win over the Ravens this Sunday. |
The best game of the week is not the New York Jets at New Orleans Saints.
As interesting as a battle between two 3-0 teams will be, we'll learn a lot more about the state of the AFC when the
Baltimore Ravens
visit the
New England Patriots
in Gillette Stadium on Sunday.
Ravens offensive coordinator Cam Cameron, the former
Miami Dolphins
coaching pariah, is calling the league's second-ranked offense. The Ravens' defense is ranked first against the run and seventh overall. But the Ravens have been relatively vulnerable against the pass. If
Tom Brady
can manage to work around Ravens safety
Ed Reed
, then the Patriots could score another big win after that setback to the Jets in Week 2.
The Jets' offensive line still is playing below expectations.
Many observers, myself, included considered the Jets among the elite O-line units. They're solid on paper from tackle to tackle, featuring four first-round draft picks. But the Jets have been average in protecting
Mark Sanchez
and have struggled to generate a run game.
The Jets are tied for 20th in run offense. Take away two long fourth-quarter runs in the season opener, and reigning AFC rushing leader
Thomas Jones
is averaging 2.3 yards a carry. The starting front five have committed nine penalties for 62 yards.
While everybody's talking about the need to stop Drew Brees, running back Pierre Thomas will be a devil for the Jets' defense.
The Saints' offense obviously changed when they started handing the ball to Thomas in the second half of Sunday's game against the
Buffalo Bills
. Thomas didn't touch the ball in the first half, but finished the game with 126 yards and two touchdowns. He averaged 9 yards a carry.
Maybe few people noticed because it was against the Bills, and a scan of the box score doesn't show that Thomas did all of that damage in 30 minutes. Brees, meanwhile, threw for only 172 yards to win comfortably.
Bills receiver Terrell Owens should have a nice bounce-back game against the Miami Dolphins.
For the first time in 185 games, Owens is coming off a no-catch performance. Bills offensive coordinator Alex Van Pelt and quarterback
Trent Edwards
are under fire for not getting Owens and
Lee Evans
the ball. They've had all week to address those concerns and likely will enter Land Shark Stadium with a plan to get Owens involved early and often.
The Dolphins rank No. 3 against the run, but their pass defense has been the sixth-most lenient. Opposing quarterbacks have a 103.3 passer rating against them and are averaging 9.1 yards per attempt, second-to-worst in the league.
Dolphins reserve Charlie Anderson could be a difference-maker against the Bills.
Unless you're a diehard Dolphins,
Houston Texans
or Ole Miss fan, you probably don't know who the heck Anderson is. He has started just six games in his six-year career. But he will be relied upon Sunday.
Anderson is
Joey Porter
's backup, and the reigning AFC sack king has been slowed down by a hamstring problem. Porter has insisted he will play, but even if he does, Anderson will see increased snaps. Anderson does have ability. In back-to-back games last year against the Bills and
San Francisco 49ers
, he recorded two sacks and two forced fumbles.
September, 30, 2009
9/30/09
5:31
PM ET

Posted by ESPN.com's Tim Graham
Drew Brees
hasn't encountered a defense he hasn't been able to shred.
Buffalo Bills
fans might want to point to Sunday's game in Ralph Wilson Stadium, where Brees and the
New Orleans Saints
were limited to a respectable 172 passing yards. But with
Pierre Thomas
maintaining a 9.0-yard rushing average and two touchdowns in the second half, Brees didn't need to cock his arm.
But Brees will meet his defensive match Sunday in the Superdome.
The
New York Jets
have give all three quarterbacks they've faced fits.
Both trends cannot continue Sunday
Brees (rank)
Jets D (rank)

Comp. pct

69.1 (2)

47.9 (1)

Yards per att

8.7 (2)

4.7 (1)

Passer rating

118.1 (1)

50.2 (2)
As the accompanying chart shows, Brees and the Jets' passing defense rank either No. 1 or No. 2 in completion percentage, yards per attempt and passer rating.
"The thing about this kid -- and we've played him before -- if you run a traditional coverage against this guy, he'll carve you up," Jets head coach Rex Ryan said.
Traditional never has described Ryan's defense.
The Jets are the NFL's only team to keep opponents from completing less than half of their attempts. They've held
Matt Schaub
,
Tom Brady
and
Kerry Collins
to 47.9 percent, more than 21 points below Brees' completion percentage.
The last defense to have allowed fewer than 50 percent of passes completed through three games is last year's
Baltimore Ravens
, who were at 43.5 percent. Ryan was the Ravens' defensive coordinator.
The Jets have kept opposing quarterbacks to 4.7 yards per attempt, nearly half of what Brees gains every time he throws.
"They have the best offense," Jets linebacker
David Harris
said. "They've got a lot of weapons. They spread the ball out and they're lead by Drew Brees who is kind of lights out right now. They put up points on everybody, so we've got a handful this week."