December, 14, 2012
12/14/12
11:30
AM ET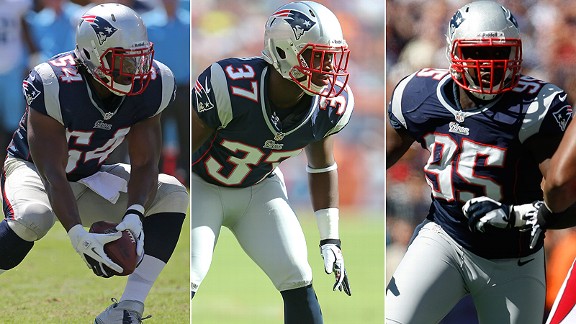 Getty Images/AP PhotoDont'a Hightower, left, Alfonzo Dennard, center, and Chandler Jones are leading a youth movement.
The mob of media surrounded the usual veteran suspects in the locker room after the
New England Patriots
' 42-14 victory against the
Houston Texans
on Monday night.
First, Pro Bowl receiver
Wes Welker
held court in front of the cameras and tape recorders. Then, the large group went over to
Vince Wilfork
's locker, as well as outside to the media room for quarterback
Tom Brady
's postgame news conference.
But I went a slightly different route after New England's biggest win of the season. I was particularly intrigued by the number of young players making huge contributions for the Patriots.
I stopped to chat with rookie cornerback
Alfonzo Dennard
, who was alone at his locker. The 22-year-old was a seventh-round pick who nearly became "Mr. Irrelevant" in the April draft. Several months later, Dennard is a starting cornerback for a Super Bowl contender.
"I'm really blessed to be here," said a wide-eyed Dennard, who seemed a little surprised someone from the national media wanted to talk to him.
I also heard from third-year player
Devin McCourty
, 25, who selflessly changed from a Pro Bowl cornerback his rookie year to a starting safety for the betterment of the team. McCourty had an interception against Houston quarterback
Matt Schaub
in the end zone that set the tone for the eventual blowout.
"If we do what Coach [Bill] Belichick tells us during the week, we have a chance to play any team tough and to really take advantage of what he says," McCourty said.
Stories from young players such as Dennard and McCourty are just two of many that have defined the 2012 Patriots. New England has long been known as a veteran team. But outside of stars like Brady, Welker and Wilfork, these are not your usual Patriots.
New England (10-3), contrary to popular belief, is winning mostly with youth.
The Patriots are getting better during the course of the season because their young players are improving rapidly. The Patriots have 16 starters or significant contributors who are 26 or younger. Fourteen of those have four or fewer years of experience.
In fact, Brady and Wilfork are the only remaining players from New England's previous Super Bowl-winning team, in 2004. Wilfork was a rookie that season, and caught the end of New England's dynasty.
After losing in the Super Bowl last season, the Patriots had big decisions to make. They wisely let go of veterans such as running back
BenJarvus Green-Ellis
and defensive ends
Andre Carter
and
Mark Anderson
. Two starting offensive linemen -- left tackle
Matt Light
and Pro Bowl guard
Brian Waters
-- retired. The Patriots replaced veteran free agents with much younger players like tailback
Stevan Ridley
(23), left tackle
Nate Solder
(23) and first-round picks
Chandler Jones
(22) and
Dont'a Hightower
(22).

Thanks to that infusion, New England is playing faster and is more dynamic on both sides of the ball. The Patriots lead the NFL in total offense and scoring. Rookies like Jones (six sacks), Hightower (43 tackles) and Dennard (three interceptions) helped the defense improved in several areas.
Will their youth catch up to them? So far, it doesn't appear that way.
New England's young players are getting better with experience, and the Patriots still have the necessary veteran leadership from players like Brady, Wilfork, Welker and Pro Bowl guard
Logan Mankins
. That combination led to a convincing win against Houston. The Patriots also have another tough test Sunday night against the rugged
San Francisco 49ers
.
But anything can happen in a one-game scenario in January. You never quite know how young players will react in the playoffs on the NFL's biggest stage.
For example, Ridley had fumble issues late last season and in the divisional round of the playoffs. The Patriots didn't trust Ridley enough and benched him for the AFC Championship Game and Super Bowl. That luxury no longer exists without Green-Ellis. The Patriots need Ridley to produce. Ridley, by the way, fumbled against Houston, but it was recovered by teammate
Aaron Hernandez
.
Rookies like Jones, Hightower and Dennard have never played this many games in one season. Including exhibitions and a deep postseason run, the Patriots could end up playing 23 or 24 games. They are counting on their rookie contributors to stay sharp.
Many of these young Patriots are learning on the job -- but it's been a job well done thus far.
October, 9, 2011
10/09/11
8:10
PM ET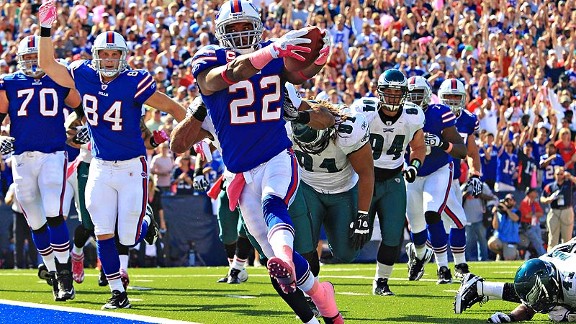 Kevin Hoffman/US PresswireFred Jackson had a productive day against the Eagles with 111 yards and a score.
ORCHARD PARK, N.Y. -- Bon Jovi's "Livin' on a Prayer" blasted throughout Ralph Wilson Stadium in the final minutes of the Bills'
31-24 victory
over the
Philadelphia Eagles
on Sunday. The song was a fitting tribute to Buffalo's surprising start to the 2011 season.
The no-name Bills are 4-1 and first in the AFC East. The uber-talented and high-powered "Dream Team" Eagles are 1-4 and have a slim chance to make the postseason.
Who would have thought?
"We were a home [under]dog today at 3-1 against a 1-3 team," Bills center
Eric Wood
said. "You don't put a lot of stock into it. But you know it, you talk about it, and it ticks you off. But keep picking us to lose. We like it. It helps keep the chip on our shoulder. We don't need to be the media darling that we were two weeks ago before we lost."
Memo to NFL media and fans: It's time to take these Bills seriously.
Stop punishing Buffalo for past mistakes. Forget about last year's 0-8 start and 4-12 season. This season's Bills are young, scrappy, fearless and fun to watch. Most importantly, this season's Bills have staying power and are a legitimate threat for the playoffs in the AFC.
Buffalo still has a long way to go to become elite. For starters, it must improve a porous defense that has allowed 450-plus yards in each of the past four games. But you can lump the Bills in with the "very good" of the NFL. And in this topsy-turvy league, that's a position a lot of teams wish they were in after five games -- including the desperate Eagles.
"We got talent, too," Bills safety
George Wilson
(11 tackles, one interception) said defiantly. "We don't back down from any challenge."
Buffalo didn't go
Frank Gore
on the Eagles. But the Bills' offensive players were not shy to admit that they believed they would have their way with Philadelphia's struggling defense. The Eagles were ranked No. 30 against the run entering Week 5.
The Bills were correct. Buffalo running back
Fred Jackson
shredded Philadelphia's soft front seven for 111 yards and a touchdown on 26 carries. The Eagles were blown off the ball and their tackling was horrendous. According to ESPN's Stats and Information, 59 of Jackson's 111 yards came after contact. Buffalo ran the ball 35 times and passed 27 times, the second time Buffalo's offense has run more than it has passed this season.
"We knew that with the running game we'd be able to move the ball," said Jackson, who also had 85 receiving yards. "We felt like we were bigger and more physical at the line. So we felt like we'd be able to move them off the ball."
Buffalo's early success on offense put a lot of pressure on the Eagles, and Philadelphia cracked by making poor decisions. The Eagles tried (and failed) at an onside kick to start the second half. Vick forced the ball into tight spots and threw a career-worst four interceptions. The mistakes added up and, by the start of the fourth quarter, Buffalo held a 31-14 lead.
Philadelphia went into full desperation mode and tried to orchestrate a comeback. But Buffalo, which blew a 14-point second-half lead in Week 4 against the Bengals, learned from last week's mistakes and held on. After that loss, Buffalo heard all week about how it was a fluke team and couldn't bounce back against the talented Eagles.
"If we had Tom Brady or a big-name guy, we wouldn't be so easy to write off," Wood said. "But we got some talented players and we got a great quarterback to go behind now. We like our chances."
How far can these no-name Bills go this season? If they play like they did Sunday, Buffalo will make the playoffs.
"This is a different season, a different era and a different team," Nelson said. "We know how to win games and we're continuing to come out and surprising people. But we're not surprising ourselves."