October, 3, 2014
10/03/14
8:00
AM ET
ORCHARD PARK, N.Y. -- A year ago this week, the NFL named
Buffalo Bills
linebacker Kiko Alonso as its defensive rookie of month.
This season, Alonso is on the shelf with a torn ACL but another rookie linebacker has stepped up for the Bills. Third-round selection
Preston Brown
has posted some similar stats as Alonso but has generally flown under the radar.
Brown
It might surprise some that Brown is fourth on the NFL's tackle leader board entering Week 5.
Brown played every defensive snap in the first three weeks of the season, filling in for a suspended
Nigel Bradham
in Week 1 and for an injured
Keith Rivers
in Weeks 2 and 3. He saw less playing time in Sunday's loss to the
Houston Texans
but still led the team with nine tackles.
The Louisville product is set to receive another start Sunday if Bradham, who injured his knee last week, can't play.
Brown hasn't posted the same playmaking stats as Alonso -- who had four interceptions through the first month of last season -- but he has still drawn comparisons to the 2013 second-round pick from the coaching staff.
"I said it early on in camp. I really thought that Preston was progressing in a way that we saw Kiko progress as a backer that's able to be on the field for three downs," Bills coach Doug Marrone said Thursday. "I knew Preston was a heck of a player before, having played against him and our evaluation for the draft process. I didn't know his quickness or speed. I really didn't know about that until he came here.
"That would be the thing that I think really surprised me the most and that's just because of me watching the tape. When he went out there I was surprised at how well he runs. I knew he could run, but I was surprised at how well he's been able to run."
Brown (6-foot-1, 251 pounds) has a thicker build than Alonso (6-foot-3, 238 pounds) and ran the 40-yard dash in 4.86 seconds at the NFL combine, leading to some questions about his athleticism.
Here is a side-by-side look at Alonso and Brown through the first four games of their careers:
Kiko Alonso, 2013:
Snaps:
298 (100 percent)
Tackles:
32 (NFL rank: tied-20th)
Interceptions:
4 (NFL rank: tied-1st)
Forced fumbles:
1
Sacks:
1.0
Preston Brown, 2014:
Snaps:
253 (94 percent)
Tackles:
40 (NFL rank: tied-4th)
Interceptions:
none
Forced fumbles:
none
Sacks:
none
September, 21, 2014
9/21/14
12:00
PM ET
August, 20, 2014
8/20/14
3:04
PM ET
PITTSFORD, N.Y. -- The
Buffalo Bills
placed linebacker
Stevenson Sylvester
on injured reserve Wednesday, the team announced.

Sylvester
Sylvester has a torn patella tendon in his left knee, per a source. He had been out of practice since Tuesday.
The fifth-year pro, who spent his first four seasons with the
Pittsburgh Steelers
, was competing for a spot on the 53-man roster. He was among the candidates to replace linebacker
Nigel Bradham
in the starting lineup for Week 1, when Bradham will sit a one-game suspension.
The Bills may now turn to rookie
Preston Brown
alongside
Brandon Spikes
and
Keith Rivers
for that game.
Sylvester's injury also thins out the depth at linebacker, where the Bills have already lost
Kiko Alonso
(torn ACL) for the season.
July, 18, 2014
7/18/14
5:35
PM ET
PITTSFORD, N.Y. -- The
Buffalo Bills
will begin life without linebacker
Kiko Alonso
when they start training camp Sunday night.
As players reported to St. John Fisher College on Friday, general manager Doug Whaley put the absence of Alonso, who underwent surgery this week, in perspective.
Alonso
"It's a tremendous loss, but no one's crying for us," Whaley said. "Next man up. We think we've built a roster that can sustain a loss like this. But our expectations aren't going to drop."
As expected, Whaley mentioned rookie
Preston Brown
and third-year 'backer
Nigel Bradham
as possible replacements for Whaley. The second-year general manager added that each of those players have already practiced with the first team, as Alonso was out for most of OTAs recovering from hip surgery.
Other tidbits from Whaley:
Philosophy on EJ Manuel:
There will be pressure on quarterback EJ Manuel to perform this season, but Whaley said the team has tried to give Manuel as much help on the field as they can. "He doesn't have the weight of the world on his shoulders, that he has to go out and win it," Whaley said. "We've surrounded him with some people where if he does his job, he should be OK." As far as how Manuel will need to improve, Whaley said: "I want to see him have more control of the huddle, of the offense. A command and a presence out there that we saw in college."
No word on Marcell Dareus:
Pro Bowl defensive tackle Marcell Dareus has two pending legal situations from incidents this offseason, something that could make him subject to an NFL suspension. Whaley said Friday that he hasn't heard from the league on that front. Dareus wasn't among the players who moved into the dorm while reporters were present Friday.
Cordy Glenn status bears watching:
Starting left tackle Cordy Glenn, considered the Bills' best offensive lineman last season, missed minicamp with what was called an illness. Glenn was placed on the active/non-football illness list this week and can be removed from the list at any time. Whaley was cautious Friday when talking about Glenn's status. "We're still waiting on some reports on him, but it looks like it's going to be one of those day-to-day things and we'll see how it progresses." Asked a follow-up question if Glenn's illness could threaten his season, Whaley said: "We don't think so, at this time. But again, we'll just have to see how it progresses. We hope not." Glenn is present at camp. "He'll be doing some light exercises and stuff like that," Whaley said.
Other injury updates:
Whaley said the team is still easing cornerback
Leodis McKelvin
back into action after offseason surgery. He is on the active/physically unable to perform list. Defensive tackle
Alan Branch
, meanwhile, is on the non-football illness list. Whaley said there were tests that came back during his check-in physical that require further scrutiny before he can practice.
Roster moves:
The Bills released two players -- cornerback
Darius Robinson
and wide receiver
Cordell Roberson
-- on Friday. Whaley said the team is "upgrading" the roster and is in the process of signing two players to replace them. They are expected to be younger players, not veterans.
July, 1, 2014
7/01/14
10:49
PM ET
The blows for
Buffalo Bills
fans came in quick succession Tuesday night.
First was a shocking 33-word statement from general manager Doug Whaley that sent a clear message: brace for the worst with linebacker
Kiko Alonso
, who quickly had become a fan favorite and rising defensive star last season.
[+] Enlarge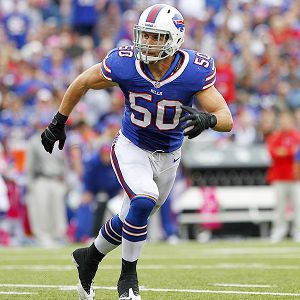 AP Photo/Bill WippertKiko Alonso's torn ACL puts the Buffalo Bills in quite a pickle at linebacker.
"We have learned tonight that Kiko Alonso injured his knee while working out in Oregon," Whaley said. "We do not have the details at this point, but early indications are that it may be significant."
Less than an hour later came confirmation, from ESPN NFL Insider Adam Schefter, of Bills' fans fears:
Alonso had torn his ACL
and is expected to miss the upcoming season.
At a time when those around the NFL are relaxing on beaches and boats, the stunning developments with Alonso have taken the wind out of the Bills' sails.
This is a crushing blow just more than two weeks before training camp begins.
Alonso was part of a defensive resurgence last season under former coordinator Mike Pettine, playing every defensive snap. The team moved him to weak-side linebacker this offseason, and its hope was that Alonso would take another step forward, helping to improve the Bills' run defense as a run-and-hit outside 'backer.
At this point, you can rip up those plans and toss them in the trash, at least for this season. The Bills are back to the drawing board at linebacker.
Luckily for them, the team made two low-cost, high-upside signings this offseason, bringing in
Keith Rivers
and
Brandon Spikes
. That shored up what was, aside from Alonso, a weaker point in their defense last season.
Before Alonso's injury, the Bills planned to start Rivers on the strong side and Spikes in the middle. With a hole potentially opening up on the weak side, they have several options.
First, they could move Rivers to the weak side. That would open a hole on the strong side, but Rivers has adequate range to play any of the three linebacker spots. He has an injury history that should make the Bills leery of relying too much on him, but at this point they might not have a choice.
Moving Rivers across the formation would require someone else moving into his old spot. One choice would be
Preston Brown
, a third-round pick who impressed at middle linebacker this spring. Having a rookie learning one position in organized team activities and another in training camp isn't ideal, but Brown has impressed coaches so far. The Bills could hold their breath and hope that Brown makes like Alonso and steps in without a hitch on the strong side.
Rivers
If the Bills wanted to go with more experience in their second level,
Manny Lawson
is their best bet. Lawson, who turns 30 later this month, started 15 games last season at strong-side linebacker. That's a different position in Pettine's defense than it is for Schwartz, and Lawson would need to play off the line more than he did last season. Moving Lawson back to linebacker would also weaken the Bills' depth at defensive end, but it's an option they need to consider at this point.
Another possibility is to replace Alonso with
Nigel Bradham
, keeping Rivers on the strong side. Bradham, a former fourth-round pick, started 11 games in 2012 as part of a Bills defense that ranked 31st against the run. His playing time was cut considerably under Pettine last season, but he offers more athleticism than the alternatives at the position.
There are few, if any, remaining options on the free-agent market who could step in and start for Alonso. Any new player coming in would have to play catch-up to learn the defense. The Bills could add a veteran for depth during training camp, but they would likely keep the expectations low with any new addition.
Instead, the strongest bet is that Alonso's replacement is either Bradham, Brown or Lawson.
None is Alonso. After snagging four interceptions in his first four games, Alonso's on-field play and his nonchalant personality earned him "legend" status among Bills fans, who flocked to buy his jersey.
In a cruel offseason twist that came down like a bolt of lightning on a summer night, Alonso won't be wearing his jersey on the field this season.
May, 10, 2014
5/10/14
8:15
PM ET
»
NFC wrap-ups
:
East
|
West
|
North
|
South
»
AFC
:
East
|
West
|
North
|
South
ORCHARD PARK, N.Y. -- A wrap-up of the
Buffalo Bills
' draft.
Click here
for a full list of Bills' draftees.
[+] Enlarge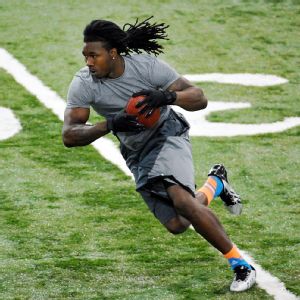 AP Photo/Rainier EhrhardtThe Buffalo Bills landed a potential star wide receiver in Sammy Watkins in the draft's first round.
Best move:
The cost of the trade notwithstanding, the Bills moving up to acquire
Sammy Watkins
will far and away have the greatest impact. It's hardly news at this point, but Watkins is a difference-maker. He immediately becomes the Bills' top receiver and will draw the attention of opposing defensive coordinators each week. The Bills' passing game was dismal at points last season -- it ranked near the bottom of the league in nearly every statistical category -- and having Watkins should change that. He will make
EJ Manuel
better. With that said, the Bills still have a potential bottleneck at quarterback. Despite having
Larry Fitzgerald
, one of the game's most explosive receivers, the
Arizona Cardinals
haven't been able to get over the hump because they haven't had the right quarterback. The Bills will look to avoid a similar fate.
Riskiest move:
Giving up a first-round pick for Watkins was the greatest "risk" the Bills took in this draft. However, in terms of players, selecting
Cyrus Kouandjio
in the second round deserves some consideration. Kouandjio was red-flagged medically by some teams because, according to an NFL Network report, he had an arthritic condition in his knee. The Bills doctors apparently didn't share those same concerns. The Bills view Kouandjio as a potential long-term starter at right tackle, and if he can't stay healthy, then, naturally, those plans might not come to fruition. Is that reason enough not to draft him in the second round? Probably not. But from a medical standpoint, Kouandjio is a riskier pick than another top tackle who remained on the board at the time, Virginia's
Morgan Moses
.
Most surprising move:
The Bills' first four picks were all pre-draft visitors and players already on the radar, so not too much was surprising about the team's draft. However, selecting Louisville linebacker
Preston Brown
with the ninth choice in the third round was curious. Ourlads, a reputable NFL scouting service that has produced a draft guide for 33 years, projected Brown as a sixth- or seventh-round choice. That doesn't mean NFL teams agreed with the ranking; perhaps some teams had him much higher on their board. He makes sense as a potential replacement at "Mike" linebacker if
Brandon Spikes
departs via free agency next season. Still, you have to wonder if the Bills could have waited until the fourth or fifth round to take him off the board. Brown doesn't have the athleticism that would make him a good fit in the Bills' sub packages, so his main contributions as a rookie might come on special teams.
File it away:
With their final pick -- No. 237 in the seventh round -- the Bills took massive Miami tackle
Seantrel Henderson
. At 6-foot-7, 331 pounds, Henderson is one of the draft's biggest linemen and would have gone much higher in the draft had it not been for his questionable judgment. Henderson was suspended three times at Miami for marijuana use and, after explaining those incidents to teams at the NFL combine in February, tested positive for marijuana at the combine. Bills GM Doug Whaley said Henderson "knows he has one shot," so the team will apparently have a minimal tolerance level for Henderson. After drafting him in the seventh round, the Bills likely won't think twice about cutting ties with Henderson should he run into trouble again.
May, 9, 2014
5/09/14
10:20
PM ET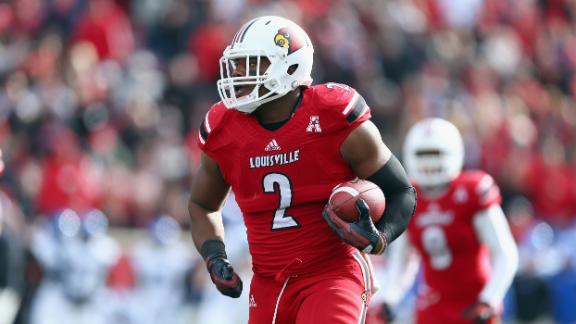 ORCHARD PARK, N.Y. --
The pick:
Preston Brown
, linebacker, Louisville

My take:
Not an overly surprising pick. The Bills were expected to go defense with their third pick after picking up a wide receiver and offensive tackle in the first two rounds. This was probably a case where the Bills weighed their grade on Brown against other potential targets left on the board, including Oregon State defensive end
Scott Crichton
and cornerback
Bashaud Breeland
. Don't expect Brown to start this season. He makes for an ideal reserve option behind
Keith Rivers
(on the strong side) and
Brandon Spikes
(in the middle).
Third-down questions:
The question mark with Brown could be on third down, as he's considered more of an early-down, run-stopping backer. The Bills will need to find an athletic option next to
Kiko Alonso
in their sub packages. Some teams have been in their sub defense up to 70 percent of defensive snaps. What happens if Alonso is injured?
Nigel Bradham
might be one possibility as a lighter, speedier linebacker but it's one of the thinner spots on the Bills' roster. I don't think Brown fills that hole.
What's next:
The Bills are likely done picking tonight. Their next scheduled pick is No. 109, in the fourth round. They have two fifth-round selections and a seventh-round pick remaining.