April, 18, 2011
4/18/11
11:18
AM ET
For the latest video installment of his "QB Camp," Jon Gruden meets with Missouri quarterback
Blaine Gabbert
, a possibility for the
Buffalo Bills
with the third overall pick.
Gruden scrutinizes one of Gabbert's biggest perceived flaws: a lack of experience handling direct snaps from underneath the center.
Gruden and Gabbert explore how that reputation might be a fallacy.
"Does that sting your hands?" Gruden asks. "Does that bother you while you're under there?"
Gabbert insists those snaps are not like sunlight to a vampire.
"Doesn't matter one bit," Gabbert says. "We work on it every day in practice. You eliminate the mistakes in the game."
But Gruden then picks apart how much harder Gabbert must work to sell fake handoffs and other footwork when dropping back from a direct snap to "be a great ball handler."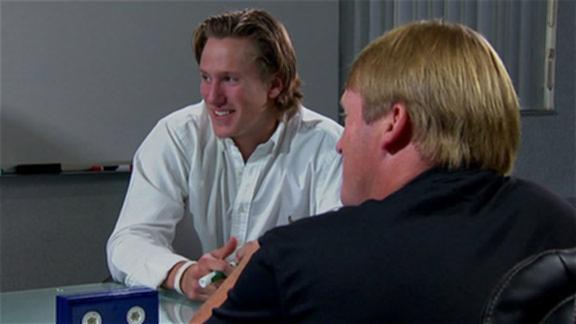 April, 14, 2011
4/14/11
11:00
AM ET
I have no idea what purpose
John Daly
served in the meeting room other than to protect his fellow Arkansas alum,
Ryan Mallett
, from tough questions in the latest edition of Jon Gruden's "QB Camp."
There was no need because Mallett handled himself pretty well. Gruden asked how Mallett, one of the most disputed players in this year's draft class, is coping with the criticism and speculation he has faced over the past couple months.
"I just do what I know how to do, just play football," Mallett said. "I try to learn the game more and more every day. I don't really pay attention to outside criticism unless it's from a coach. Then I would try to critique that and fix what a coach wants me to fix."
Gruden also asked Mallett to describe himself as a quarterback and as a teammate.
"I feel like I'm a drop-back guy, and I move in the pocket well," Mallett said. "I'm not the fastest guy in the world. I'm not
Mike Vick
or anything like that, but I feel like I escape pressure well, and I'm able to get the ball to the guys that make the plays with their feet.
"I'm a loyal teammate. I've always been loyal to my team. They way we work, we'd always work on our own a lot. So we always had great communication. That's what made us so good because we were all so close as friends and teammates. That's what helped us out in the season. "
Mallett also does an impressive job at the dry-erase board, explaining a specific play for Gruden.
Mallett is scheduled to meet with the
Miami Dolphins
on Thursday.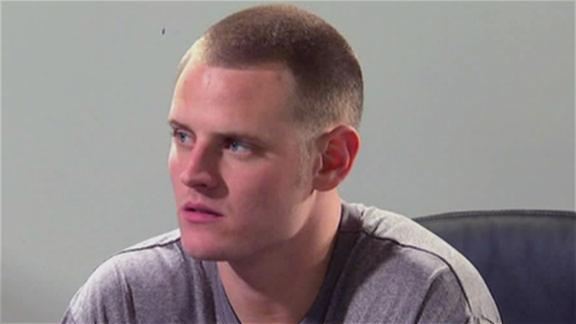 April, 13, 2011
4/13/11
7:13
PM ET
Jon Gruden's "QB Camp" catches up with Texas Christian quarterback
Andy Dalton
to dissect his skills and reveal some personality.
Dalton is considered among the second tier of quarterbacks in this year's draft class and could be of particular interest to the
Buffalo Bills
and
Miami Dolphins
.
Gruden calls Dalton "one of the great decision-makers in college football history," but is particularly critical of Dalton's penchant to "put the dagger in people" rather than make the safe play at times.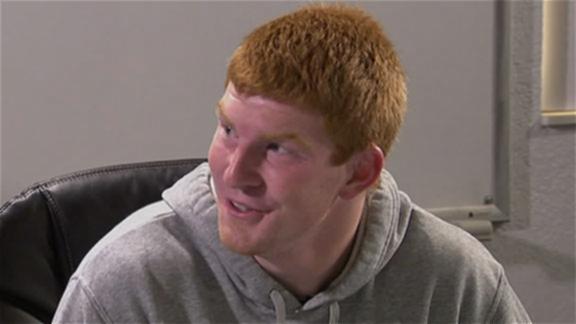 April, 13, 2011
4/13/11
10:22
AM ET
Jon Gruden's popular "QB Camp" series continues with Washington quarterback
Jake Locker
, who's scheduled to meet with the
New England Patriots
this week.
Gruden seems smitten with Locker and describes him as a linebacker in a quarterback's uniform. Gruden provides some words of caution about Locker's aggressive mindset while running upfield.
"When you run, you know what you try to do? You try to hurt people, don't you?" Gruden tells Locker. "You look like
Peyton Hillis
when you run the ball.
"You get hit a lot in every game I pick up [to review] -- hard. But do you think maybe we could use a little better ... I don't know. Get out of bounds or take care of your body, get-down mentality?
"Your ability to run is a weapon and a resource that has to be there for you for about the next 10 years of [your] career. But you don't want to abuse it."
Locker is projected to be drafted no earlier than the bottom third of the first round. He could be in play for the
Buffalo Bills
with the 34th pick. The
Miami Dolphins
also would be interested in a quarterback. They own the 15th overall pick but don't have a second-rounder.
Gruden suggests Locker could be a steal.
"The way you compete and the talent you have," Gruden said, "and just enough people are doubting you, which is perfect. I love to hear that people are doubting you right now. I really do because I got a feeling about you, you know?
"You've got to hope somebody passes you in the draft just so you can hold it against them for the next 20 years -- just like
Aaron Rodgers
did to me."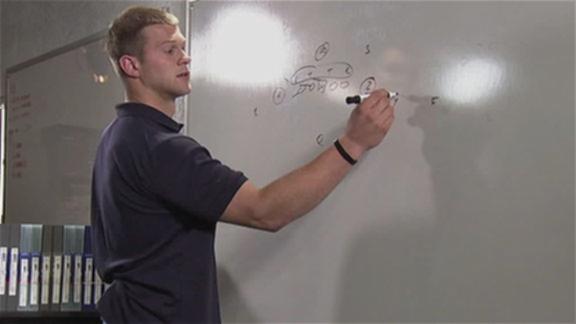 April, 9, 2011
4/09/11
2:37
PM ET
ESPN analyst and former head coach Jon Gruden has reprised his popular "QB Camp" series with the top quarterback prospects heading into the draft.
In this snippet from his visit with Heisman Trophy winner
Cam Newton
, Gruden asked him if he can be the emotional leader he was at Auburn the day he enters the NFL.
"I understand the respect," Newton said. "I understand I have to pay homage to the NFL, have to pay homage to the veterans that were before me. And I'm not going to say 'Hey, look. Hey, y'all listen to me.'
"I'm moreso a guy that leads by example, first off, before I even try to speak before anybody, because if somebody sees you doing the right thing first, then that gives leeway for somebody to somewhat follow you."