AFC East:

Randy McMichael
April, 22, 2011
4/22/11
2:53
PM ET
While working on
a feature about Tom Modrak's draft record
as
Buffalo Bills
vice president of college scouting, ESPN researcher John Fisher dug up some interesting data.
The Bills actually were the AFC East's most efficient club when it came to drafting starters since Modrak came aboard in 2002.
Several factors certainly play into that from team to team. Importance of the position, holes that allow for immediate contributions and reliance on free agents to fill out a roster all make a difference. So do the number of players drafted.
But, in general, I thought it was an interesting snapshot to share. Because the research was done to put Modrak's tenure in perspective, numbers are from 2002 through the present.

Buffalo Bills
First through third rounds:
28 players; 804 starts (15th)
Fourth through seventh rounds:
45 players; 417 starts (eighth)
Analysis:
Among AFC East teams, only the
New England Patriots
generated more starts within the first three rounds. No other division opponent found more starts from the fourth round and beyond. The Bills have whiffed badly on some early picks, as noted in Thursday's story about Modrak. But they have done well in locating solid help in the later rounds, namely 1,000-yard receiver
Steve Johnson
(seventh round), Pro Bowl defensive lineman
Kyle Williams
(fifth round) and top cornerback and Pro Bowl kick returner
Terrence McGee
(fourth round).

Miami Dolphins
First through third rounds:
25 players; 599 starts (31st)
Fourth through seventh rounds:
43 players; 333 starts (16th)
Analysis:
The Dolphins have done well with their recent first-round picks. Although receiver
Ted Ginn
with the ninth pick in 2007 was controversial, they found keepers with tackles
Jake Long
and
Vernon Carey
and running back
Ronnie Brown
. But the second and third rounds have been a wasteland: quarterbacks
John Beck
and
Pat White
, running back
Lorenzo Booker
, receivers
Patrick Turner
and
Derek Hagan
, linebacker
Eddie Moore
. Miami's best later-round pickups since 2002 have been franchise-tagged nose tackle
Paul Soliai
(fourth round), Pro Bowl safety
Yeremiah Bell
(sixth round) and tight end
Randy McMichael
(fourth round).

New England Patriots
First through third rounds:
31 players; 823 starts (12th)
Fourth through seventh rounds:
50 players; 379 starts (11th)
Analysis:
The Patriots have found their share of gems in the later rounds, including four eventual Pro Bowlers. They picked up cornerback
Asante Samuel
and kicker
Stephen Gostkowski
in the fourth round, center
Dan Koppen
in the fifth and quarterback
Matt Cassel
in the seventh. They've also done incredibly well with their first-round selections. Five of their past six first-rounders have gone to the Pro Bowl. Where the Patriots have been shaky is in the second and third rounds. They've gotten receiver
Deion Branch
, tight end
Rob Gronkowski
, tackle
Sebastian Vollmer
and safety Patrick Chung there, for instance, but they've also misfired with quarterback
Kevin O'Connell
, receivers
Chad Jackson
and
Bethel Johnson
and cornerback
Terrence Wheatley
.

New York Jets
First through third rounds:
24 players; 766 starts (19th)
Fourth through seventh rounds:
32 players; 314 starts (18th)
Analysis:
The Jets' start totals look worse because they haven't drafted as many players as the other AFC East teams. Their early round players average 32 starts, about 5 1/2 more than the Patriots. But the team that accumulated the most starts here -- the
Jacksonville Jaguars
with 1,172 -- averaged an extraordinary 43 per player. The Jets obviously failed with 2008 sixth overall pick
Vernon Gholston
and 2003 fourth overall pick
Dewayne Robertson
, but they've generally identified quality players inside the first three rounds, including All-Pros
Nick Mangold
and
Darrelle Revis
and franchise quarterback
Mark Sanchez
.
March, 12, 2010
3/12/10
12:54
PM ET
With the loss of
Benjamin Watson
and
no tight ends who've played in an NFL game
on their roster, the
New England Patriots
have a crater at the position.
In a piece for ESPNBoston.com, Mike Reiss examines the void, pointing out the Patriots don't even have a tight ends coach on their roster.
Writes Reiss:
Consider that back in training camp, Bill Belichick called the competition between Watson, Chris Baker, Alex Smith and David Thomas the best in his 10 years as head coach. Now consider that none of those players are on the current roster.

How does that happen?

In retrospect, they swung and missed at every turn.
What's left for the Patriots are
Rob Myers
and
Robbie Agnone
, a pair of undrafted rookies from last year's practice squad.
The Patriots have held free-agent interviews with three-time Pro Bowler
Alge Crumpler
and
Daniel Fells
. The latter re-signed with the
St. Louis Rams
. Reiss takes a look at the rest of the unemployed, including
Randy McMichael
and
Reggie Kelly
and notes this year's draft class is deep at tight end.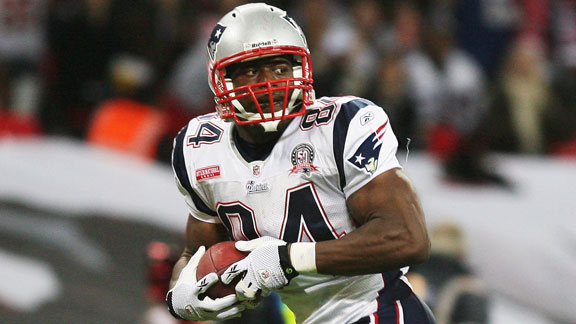 February, 24, 2010
2/24/10
2:00
PM ET
»
NFC Busts/Gems
:
East
|
West
|
North
|
South
»
AFC
:
East
|
West
|
North
|
South
»
Draft Watch
:
Biggest needs
(2/17) |
Busts/gems
(2/24) |
Schemes, themes
(3/3) |
Recent history
(3/10) |
Needs revisited
(3/17) |
Under-the-radar needs
(3/26) |
History in that spot
(3/31) |
Draft approach
(4/7) |
Decision-makers
(4/14) |
Dream scenario/Plan B
(4/21)
Each Wednesday leading up to the NFL draft (April 22-24), the ESPN.com blog network will take a division-by-division look at key aspects of the draft. Today's topic: Busts and late-round gems.
Buffalo Bills

The Bills' drafts have been pockmarked, at best. They haven't reached the playoffs in a decade, which means they should have benefited from desirable draft position throughout the 2000s. Even so, the Bills haven't obtained much star power in that span. A perusal of their draft history should come with a warning to Bills fans that it shouldn't be done without antacids. Only four Bills draft picks in the 2000s went to the Pro Bowl. The lone first-round choice to wear a Bills helmet in the Pro Bowl has been running back
Marshawn Lynch
, who did so as an alternate and lost his job to
Fred Jackson
last year. Their biggest bust was tackle
Mike Williams
, the fourth overall selection in 2002. Williams simply didn't have the heart for football and lasted three full seasons, none of which could be deemed remarkable. Buffalo's best draft choices in the 2000s have been top cornerback
Terrence McGee
and solid defensive tackle
Kyle Williams
. McGee was a fourth-rounder in 2003 and went to the Pro Bowl as a return man. Williams was a fifth-round pick in 2006 and for the most part has started since his rookie year, but there might not be a fit for him when the Bills transform into a 3-4 defense.
Miami Dolphins

The first player who comes to mind when considering Miami's recent busts is receiver and return man Ted Ginn. The ninth overall pick has come to symbolize the lost 2007 season under former general manager Randy Mueller and one-and-done coach Cam Cameron. The Dolphins had 10 draft choices in 2007, including four in the top 71, but only Ginn, defensive tackle
Paul Soliai
and punter
Brandon Fields
remain on the team. That class was a collective bust. Is it possible, however, that 2006 was worse? The Dolphins drafted five players (albeit three of them in the seventh round) and only one is on the roster. Defensive back
Jason Allen
, the 16th overall choice, has started 12 games in four seasons. The Dolphins have been overhauled so much under football operations czar Bill Parcells, most players on their roster haven't been around long enough to label draft gems or duds. Discoveries from previous regimes aren't with the club any longer. The Dolphins drafted guard
Rex Hadnot
in the sixth round in 2004. Tight end
Randy McMichael
, selected in 2002, might be the best fourth-round pick in franchise history. The greatest find on Miami's roster -- by far -- has been safety
Yeremiah Bell
, a sixth-round long shot from Division I-AA Eastern Kentucky. Bell didn't make the team as a rookie, fought his way up from the practice squad, overcame early injury problems and played in the Pro Bowl a few weeks ago.
New England Patriots

Tom Brady
not only is the greatest Patriots' draft discovery, but also the best of his generation. The 199th pick of the 2000 draft -- 16 slots after
Spergon Wynn
-- went on to win four AFC championships, three Super Bowls and two Super Bowl MVP awards. He's a five-time Pro Bowler and owns a few records. More recently, center
Dan Koppen
has proven to be a nice acquisition in the fifth round of the 2003 draft. Koppen has been New England's starter since Week 2 of his rookie season. He was named to the Pro Bowl for 2007. The Patriots also were able to spin quarterback
Matt Cassel
, a 2005 seventh-round pick, into the 34th overall choice in last year's draft. As for busts, the Patriots haven't been immune. They have an impressive first-round track record, but tight ends
Daniel Graham
and
Benjamin Watson
were hiccups. New England took Graham 21st overall, but he was erratic and produced one good season before leaving via free agency. Watson's tenure will be remembered similarly, but with more injuries. Wide receiver
Chad Jackson
was another prominent pick who flamed out. The Patriots wanted him badly enough to trade up 16 slots to snag him 36th overall four years ago. He missed his entire rookie season with a hamstring injury and left New England after three seasons with a grand total of five receptions for 83 yards.
New York Jets

The Jets don't have a lot of recent picks to scan. Since Mike Tannenbaum took over as general manager in February 2006, the Jets have made only 23 selections. They've drafted 13 players over the past three years. Maybe it's too soon to be slapping the bust sticker on pass-rusher
Vernon Gholston
, but through two NFL seasons, the sixth overall pick from 2008 has started three games and has been a healthy scratch for three games. Gholston has yet to record a sack and has made only 10 solo tackles.
Kellen Clemens
also falls into the failure category. The Jets used the 49th pick on him. Second-round quarterbacks are supposed to play and get paid accordingly. The Jets were so down on Clemens, they made major gambles to keep him off the field, trading for
Brett Favre
and moving up to select
Mark Sanchez
fifth last April. The Jets have had success unearthing talent in the fourth round. The list includes running back
Leon Washington
(2006), safety
Kerry Rhodes
(2005) and receiver
Jerricho Cotchery
(2004). The Jets made a fine selection when they used a seventh-rounder on running back
Derrick Ward
in 2004. But Ward didn't make the roster. The
New York Giants
signed him off the Jets' practice squad. He won a Super Bowl with the Giants and rushed for 1,025 yards a year later.
June, 26, 2009
6/26/09
9:45
AM ET
Posted by ESPN.com's Tim Graham
To get in the spirit of ESPN.com's all-decade week, I asked readers on Monday to select their AFC East team for the 20-aughts.
Although some insisted on submitting ballots that included a 4-4-4 defensive scheme and somebody kept signing on under different usernames to stuff the box for guard Adam Levitre (I think "they" meant Buffalo Bills rookie Andy Levitre), the results were sound.
Here are your picks along with my own.
| | |
| --- | --- |
| | |
| | Al Pereira/NFL |
| | The Jets' Curtis Martin eclipsed 1,000 yards rushing in five seasons this decade. |
OFFENSE
Quarterback: Tom Brady.
Of note: One vote came in for anybody other than the two-time Super Bowl MVP. Chad Pennington was the recipient.
My pick: Brady.
Running back: Curtis Martin.
Of note: There have been some stellar rushing seasons in the AFC East, but not much longevity. Martin's closest competition was Ricky Williams. Beyond that, nobody received more than two mentions. Thurman Thomas, who had 28 carries this decade, got a vote.
My pick: Martin.
Fullback: Tony Richardson.
Of note: Richardson's career credentials are remarkable. He has blocked for five 1,000-yard rushers. But last year was his first in the AFC East.
My pick: Larry Centers. He spent only three seasons in the AFC East, but he had 80 catches for the Bills in 2001, earning him Pro Bowl honors.
Receivers: Randy Moss, Laveranues Coles.
Of note: The only thing worse than Richardson getting votes after one year would be Terrell Owens after zero. Thankfully, nobody made that mistake. Moss and Coles were clearly ahead of the field, with Lee Evans coming in third and Chris Chambers fourth.
My picks: Moss, Eric Moulds.
Tight end: Randy McMichael.
Of note: Aside from Brady, no player was more unanimous at his position than McMichael.
My pick: McMichael.
Tackles: Vernon Carey, Matt Light.
Of note: Only four tackles were nominated, with Light edging out Jason Peters by one vote. Kareem McKenzie was a distant fourth.
My picks: Light, Peters.
Guards: Logan Mankins, Stephen Neal.
Of note: Ruben Brown, a nine-time Pro Bowler at left guard, received only six votes.
My picks: Brown, Mankins. If Neal can learn right guard without playing a down in college, then Brown can learn how to play there on my team.
Center: Kevin Mawae.
Of note: Nick Mangold came in second with half as many votes as Mawae, a player many readers felt should have been on the NFL's all-decade offense instead of Olin Kreutz.
My pick: Mawae.
DEFENSE

Defensive ends: Jason Taylor, Richard Seymour.
Of note: Not even close.
My picks: Taylor, Seymour.
Defensive tackles: Vince Wilfork, Pat Williams.
Of note: Williams edged out Kris Jenkins, who's coming off his lone season in the AFC East.
My picks: Wilfork, Ted Washington. Washington was a Pro Bowler for the Bills in 2000 and won a Super Bowl with the Patriots in 2003.
Linebackers: Zach Thomas, Mike Vrabel, Tedy Bruschi.
Of note: Thomas was omitted from the NFL all-decade defense, but he received the most votes of any AFC East linebacker. Joey Porter finished fourth, four votes behind Bruschi.
My picks: Thomas, Vrabel, Takeo Spikes. Many folks overlook Spikes because his teams never had success.
Cornerbacks:
Ty Law
,
Asante Samuel
.
Of note: Aside from Brady, nobody received more votes at his position than Law.
My picks: Law, Patrick Surtain. While Samuel was a Pro Bowler in 20
07, he started only three seasons for the Patriots. Surtain went to three Pro Bowls and was named All-Pro once this decade.
Safeties: Rodney Harrison, Brock Marion.
Of note: Marion edged Lawyer Milloy by a single vote.
My picks: Lawyer Milloy, Marion. Harrison had one All-Pro season with New England. Milloy was a two-time Pro Bowler and had productive seasons for the Patriots and Bills.
SPECIAL TEAMS
Kicker: Adam Vinatieri.
Of note: Some clown voted for Olindo Mare.
My pick: Vinatieri.
Punter: Brian Moorman.
Of note: Tom Tupa received a couple votes, but Moorman was the obvious selection.
My pick: Moorman.
Kick returner: Terrence McGee.
Of note: Leon Washington might have been impacted by readers splitting their votes for him between punt and kickoff returner.
My pick: Washington. He ran back three kicks in 2007, led the NFL in all-purpose yards last year and still might be getting better.
Punt returner: Roscoe Parrish.
Of note: He led the NFL in punt return yardage the past two years.
My pick: Parrish.