AFC East:

Randy Moss Trade 2010
November, 1, 2010
11/01/10
7:44
PM ET
FOXBOROUGH, Mass. -- To analyze the likelihood of your favorite team being awarded
Randy Moss
through waivers, it's a good idea to know the waiver order.
The order is determined by win-loss records, and AFC East teams are at each end of the process.
The winless
Buffalo Bills
have pole position because they own the worst record.
All it would take for Buffalo to render the waiver process moot would be a phone call from owner Ralph Wilson, but the Bills would have to pick up about $3.4 million of Moss' contract.
The
New England Patriots
are last in the order because they're 6-1. There's no point in putting in a claim if they want Moss back. If he passes by 31 other teams, then the Patriots might as well let him become a free agent and sign him to a cheaper contract.
The Patriots traded Moss to the Vikings a few weeks ago for a third-round draft choice. Boston Herald reporter Ian R. Rapoport jokingly asked Belichick if the Vikings had called to ask for their draft pick back.
"You know I can't comment on the status of any of the other players in the league or any other transactions or anything like that," said Belichick, clearly amused.
Comcast SportsNet New England columnist Tom E. Curran tried a follow-up hypothetical question about Moss going unclaimed.
"If the moon were made of Swiss cheese," Belichick interjected.
A likelier AFC East destination is South Florida.
The
Miami Dolphins
are 18th in line. If they hope to get Moss, then they'll need none of those 17 teams ahead of them -- the No. 10
San Diego Chargers
, No. 16
Seattle Seahawks
and No. 17
Chicago Bears
could use receiver help -- to put in a claim.
The No. 5
Denver Broncos
might feel like they still have a shot in the wacky AFC West. Broncos head coach Josh McDaniels was the Patriots' offensive coordinator when Moss and
Tom Brady
smashed records in 2007.
The
New York Jets
are 30th.
October, 18, 2010
10/18/10
12:21
PM ET
FOXBOROUGH, Mass. -- A look at the official NFL game book suggests
New England Patriots
receivers didn't do a thing Sunday to help fill
Randy Moss
' void.
Tate, now the Patriots' top deep threat, didn't have a catch despite
Tom Brady
targeting him four times in Sunday's 23-20 overtime victory over the
Baltimore Ravens
.
But ESPN Stats & Information noted data that indicates Tate made a substantial impact simply by being on the field. Tate doesn't have a single NFL touchdown reception yet, but the Ravens certainly paid attention to him.
When Tate lined up outside the numbers, he opened up the middle. Brady averaged 9.3 yards per attempt when Tate was split wide, completing four of seven attempts for 65 yards and three first downs. One of those plays was a Hail Mary pass at the end of regulation time and makes the numbers seem worse than they should.
When Tate lined up inside the numbers, Brady's average attempt dropped to 6.1 yards. Brady completed eight of 15 attempts for 92 yards and three first downs.
That's intense scrutiny of the numbers, but it's what ESPN Stats & Information does. And any figures pertaining to Moss' replacements are worth considering.
October, 7, 2010
10/07/10
11:10
PM ET
Monday night's game between the
New York Jets
and
Minnesota Vikings
offers all sorts of titillating personalities.
Jets running back
LaDainian Tomlinson
is headed for the Hall of Fame. Vikings running back
Adrian Peterson
might be on his way and could be the best in the business right now.
Brett Favre
is returning to the Meadowlands for the first time and duel with young star
Mark Sanchez
.
Favre has a new weapon
Randy Moss
. Sanchez has
Santonio Holmes
playing for the first time after a four-game suspension.
AccuScore's 10,000 simulations suggest the game will be determined by whomever can pass better. Both Tomlinson and Peterson average under 4 yards a carry against two stout run defenses in AccuScore's simulations.
The forecast has Sanchez finishing with a tidy 94 passer rating and Favre struggling with a 63. But if Favre can throw for at least two touchdowns and no more than one interception, then the Vikings will have a 61 percent chance to win.
AccuScore's final prediction, though, is that the Jets will win by a touchdown.
October, 7, 2010
10/07/10
5:22
PM ET
By
ESPN.com staff
| ESPN.com

Newly acquired Minnesota Vikings receiver Randy Moss addresses the media at his introductory news conference and floats this question:

"Did I want to get traded out of New England? I don't really know what the answer is."
October, 7, 2010
10/07/10
12:21
PM ET
At a Thursday news conference that lasted less than seven minutes,
New England Patriots
coach Bill Belichick sounded at times defiant, annoyed and businesslike while leaving most questions about the
Randy Moss
trade unanswered.
Belichick insisted the deal was not made because of disciplinary or contract issues, but he declined to elaborate on why the organization traded a first-ballot Hall of Famer and a seventh-round draft choice to the
Minnesota Vikings
for a third-round draft pick.
Belichick heaped praise on Moss. "A total fabrication" is what Belichick called reports of
Moss' refusal to speak with him on the team's return flight
after beating the
Miami Dolphins
on Monday night.
"There was never any incident or discipline problem with Randy," Belichick said.
"There never has been one with me in four years, and it certainly wasn't about contract and money. I think Randy showed the first year he was here what that was all about, he re-did his contract and made the whole deal work. I think you can eliminate those two things."
From there, however, the explanations were vague.
Belichick was not asked specifically about
reports of a verbal altercation between Moss
and quarterbacks coach Bill O'Brien.
Belichick insisted quarterback
Tom Brady
was not consulted about the move and was dismissive of the notion a player would have any say on a personnel decision such as this.
There was a moment where Belichick reminded everyone he knows what he's doing.
"In the end, that was the decision," Belichick said. "I have confidence in our players, that if they continue to work hard and improve that we'll be competitive and be able to win games. That's what we're here to do: win games.
"We've won more games than any other team in the last decade. Hopefully we'll continue to win them going forward. That's what we're here for."
October, 7, 2010
10/07/10
11:17
AM ET
October, 7, 2010
10/07/10
10:49
AM ET
The longer
Randy Moss
is gone from the
New England Patriots
, the more we'll probably learn how difficult he was to deal with toward to the end of his time with the team.
That's how it goes sometimes. An organization will defend a player as a consummate professional as long as he's a teammate, but when he leaves the stories start to leak out.
Boston Herald reporter Karen Guregian and former Patriots receiver
Troy Brown
have shared inside information about a growing rift between Moss and the coaching staff that become untenable.
Perhaps the last straw wasn't
Moss' locker room confrontation with quarterbacks coach Bill O'Brien
at halftime of Monday night's victory over the
Miami Dolphins
.
On the flight back from Fort Lauderdale, head coach Bill Belichick reportedly
went back to visit with Moss and was turned away
.
"The coach likely knew the situation had reached a point of no return," Guregian wrote.
Guregian on Tuesday night was the first to report Moss had requested a trade after the season opener.
Brown, appearing as a guest on Comcast SportsNet New England, told a similar account about the flight home and also said
he'd heard Moss had been "pouting" behind the scenes
.
"Apparently, Belichick came to the back of the plane to speak with Randy," Brown said, "and Randy just pretty much ignored him and didn't respond to anything he had to say.
"I guess there were a few other members of the team -- some front-office people and maybe some players -- that tried to talk to him, just talk to him in general, and he didn't respond to those guys, either.
"Obviously, the plane ride home for Randy wasn't a good one."
October, 6, 2010
10/06/10
4:27
PM ET
New York Jets
cornerback
Darrelle Revis
isn't sure if he's going to suit up Monday night against the
Minnesota Vikings
.
So what?
Revis already is playing verbal bump and run
with
Randy Moss
.
The
New England Patriots
traded Revis' archrival to the Vikings on Wednesday, setting up another potential showdown between superstars who have chirped back and forth for the past year.
The last time Moss ran a route against Revis, he blew by and scored a 34-yard touchdown with a gorgeous, one-handed grab in the end zone. Revis re-aggravated a hamstring injury on the play and has missed the two games since.
But in the second half of that Week 2 game against the Patriots, cornerback
Antonio Cromartie
held Moss without a reception. The Patriots, playing from behind, couldn't catch up and lost 28-14.
"In the second half, you could tell he was putting his foot on the brakes," Revis told reporters Wednesday at the Jets' facility in Florham Park, N.J. "I mean, everybody knows that's Randy. Sometimes he plays 100 percent. Sometimes he doesn't."
Revis called Moss a slouch in an interview
with
Deion Sanders
during last season's playoffs because Moss gives up on plays too often.
"You can tell. You can see the effort," Revis said. "Playing football, you can see the body language and effort of people, if a guy's going hard or a guy is hesitant. That's the way football is. The truth comes out. You could see it in that game."
October, 6, 2010
10/06/10
2:46
PM ET
October, 6, 2010
10/06/10
12:26
PM ET
The
New England Patriots
officially announced the
Randy Moss
trade and distributed a statement from head coach Bill Belichick:
"Over the course of the past several months, I have spoken with Randy and his representative about Randy's place on our team and his future in football. Consistent with my dealings with Randy from the day we acquired him through our conversation this morning, it has been honest, thoughtful and with great mutual respect.

"While I will keep private the details of internal conversations with players and staff, suffice it to say that many things were taken into consideration before making the trade. In this business, there are complex and often difficult decisions, but it is my responsibility to make them based on what I feel is best for our football team in both the short term and long term.

"I am grateful for the opportunity to have coached Randy Moss and aside from facing him as an opponent, I wish him the very best for the remainder of his Hall of Fame career."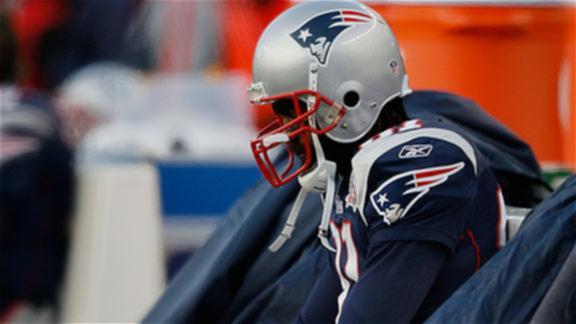 October, 6, 2010
10/06/10
12:06
PM ET
The
New England Patriots
' offense evolved to the point
Randy Moss
was marginalized through the first quarter of the season.
[+] Enlarge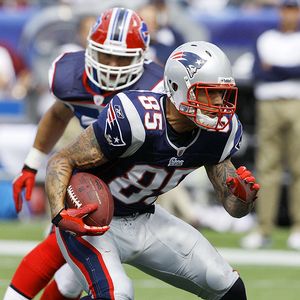 AP Photo/Stephan SavoiaThe Patriots have relied on mutiple tight end sets featuring players such as Aaron Hernandez, making Randy Moss expendable.
Patriots overlord Bill Belichick certainly had that in mind when
he opted to trade the first-ballot Hall of Famer
to the
Minnesota Vikings
, reportedly for a third-round draft choice.
Moss averaged 2.3 receptions per game and didn't have any catches Monday night, but the Patriots still managed to go 3-1 before their bye week. He had nine catches for 139 yards. Moss scored three touchdowns, tying him with
Wes Welker
for the team lead.
But the Patriots also have gotten two touchdowns apiece out of former practice-squad running back
BenJarvus Green-Ellis
, rookie tight end
Rob Gronkowski
and street free agent
Danny Woodhead
.
New England's playbook isn't what it used to be.
The Patriots don't rely on that spread-style offense of their past three seasons. They don't operate exclusively out of the shotgun anymore with three-receiver sets.
ESPN Stats & Information logs every NFL play and finds no other team operates with multiple tight ends more than the Patriots this season.
The presence of rookie tight ends
Aaron Hernandez
and Gronkowski and veteran
Alge Crumpler
have allowed the Patriots to use at least two of them on a league-high 146 plays so far, according to ESPN Stats & Information's research.
For comparison's sake, the
New York Jets
have gone with two tight ends on 88 plays, the
Miami Dolphins
on 48 plays and the
Buffalo Bills
on a league-low six plays.
ESPN Stats & Information indicates the Patriots are on pace to run 584 multiple tight end plays this year. They ran 360 last year.
You might be surprised to discover 19 teams have used at least three wide receivers more frequently than the Patriots this year. The Patriots are on pace to run only 356 plays with at least three wide receivers.
In last year's research, Stats & Information didn't break down formations of more than three receivers, but the most common set for the Patriots were three wides, one tight end and one running back. They operated with that grouping 534 times. The Patriots ran 300 plays out of a trips formation alone (three receivers on one side of the field).
With multiple tight ends,
Tom Brady
has completed 72.2 percent of his passes for 367 yards and five touchdowns.
Overall, Brady has completed 69.7 percent of his attempts for 911 yards and nine touchdowns.
Multiple tight ends haven't impacted the Patriots' running game, though. They are on pace to rush for 1,956 yards this year. They rushed for 1,921 yards last year.
I know that's a lot of formation data to digest.
But examining the Patriots' offense from this perspective helps to explain how Belichick and play-caller Bill O'Brien can justify unloading Moss four games into the season and still think they can get to the playoffs.
The big question, however, is how much Moss' mere presence on the field impacted the rest of the Patriots' offense. Moss kept defenses on red alert for the deep ball every time he was on the field. Defenders had to cheat his way, opening the offense for other targets.
Second-year receiver
Brandon Tate
has been sensational as a kick returner, but his next NFL receiving touchdown will be his first. Can he fill the void and stretch the field?
Given the direction of their offense, the Patriots felt comfortable enough to gamble and said goodbye to a proven force.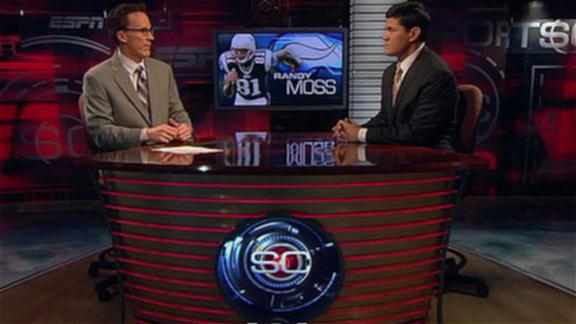 October, 6, 2010
10/06/10
10:07
AM ET
If
New England Patriots
coach Bill Belichick truly is a genius, then he had better have something up his hoodie we don't know about.
Wednesday's trade makes little sense given the information we have at our disposal at the moment.
[+] Enlarge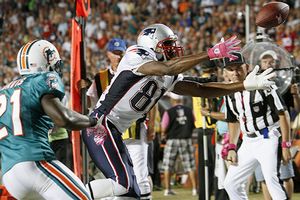 AP Photo/Wilfredo LeeRandy Moss reportedly had a confrontation with Bill Belichick following the Dolphins game.
The Patriots dealt star receiver
Randy Moss
to the
Minnesota Vikings
. ESPN's Adam Schefter reports
the Patriots will get a third-round draft choice
in exchange.
There are many ways to dissect the deal. The Patriots gave up only a fourth-round draft choice to get Moss from the
Oakland Raiders
in 2007. Moss spent three-plus seasons with the Patriots, helped
Tom Brady
set a few records along the way and was a major reason they came within one game of an undefeated season.
In that regard, the Patriots look like winners even though they couldn't hoist a Lombardi Trophy with Moss.
They gave up little to acquire a superstar who went to the Pro Bowl in two of his three full seasons and caught 50 touchdowns in 52 games. They went 40-12 with him, including an 11-5 campaign with
Matt Cassel
at quarterback.
But jettisoning Moss now is puzzling.
He's a game-changing receiver who keeps defenses honest and opens up the offense for players such as slot receiver
Wes Welker
and, this year, rookie tight ends
Aaron Hernandez
and
Rob Gronkowski
. Moss is an elite deep threat.
Even though Moss is entering the final year of his contract and he had only nine receptions through four games (the Patriots are 3-1), his value to New England's organizational objectives for this year obviously is worth more than a third-round draft choice in 2011.
The Patriots, much like the New York Yankees, are the kind of team that legitimately expects to win a championship every year.
Without Moss, the Patriots seem to be significantly weakened on offense, and that's particularly troubling given the way their defense has faltered this year. The Patriots will need to win some games by getting into shootouts to overcome their defensive vulnerabilities.
AccuScore calculates the Patriots are 10.5 percent less likely to make the playoffs without Moss.
There must be more to this story than the Patriots merely trying to acquire a draft asset for a player who would be an unrestricted free agent at the end of the season.
Moss popped off a few times this year
about not getting a contract extension from the Patriots and feeling unappreciated by the front office. Belichick publicly shrugged off those comments and heaped praise on Moss as a special player.
Reports surfaced Tuesday that Moss had requested to be traded after the season opener and, after being thrown at just once Monday night against the
Miami Dolphins
and finishing the game with zero receptions, had a confrontation with Belichick.
Maybe the trade makes the Patriots better simply by removing him, a classic addition by subtraction move to get the Patriots focused for the rest of the season.
We may learn more once Moss has unpacked his duffel bag in Minnesota.
Perhaps then this trade will make more sense.