October, 15, 2010
10/15/10
11:15
AM ET
After they dumped quarterback
Trent Edwards
and traded running back
Marshawn Lynch
in consecutive weeks, a lone member of the
Buffalo Bills
' 2007 draft class remained on the roster.
Just three years later, one keeper is a lousy return.
But consider how the rest of AFC East drafted in 2007.
Only six of 30 AFC East draftees from 2007 still are with the team that drafted them: two
New York Jets
, two
Miami Dolphins
, one New England Patriot and one Bill. (See chart below.)
[+] Enlarge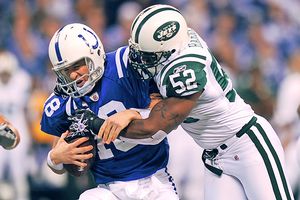 Anthony J. Causi/Icon SMIThe Jets traded second-, third- and sixth-round choices to move up and select David Harris.
The Jets were most effective. They drafted just four players. Their first two have been stars, and the last pick helped them acquire a standout receiver. They traded up to select star cornerback
Darrelle Revis
14th overall and top inside linebacker
David Harris
47th. Seventh-round pick
Chansi Stuckey
was sent to the
Cleveland Browns
in the trade that landed receiver
Braylon Edwards
.
The Patriots were the least efficient on nine picks, but they had only two selections inside the first four rounds. Their lone keeper was Pro Bowl safety
Brandon Meriweather
in the first round.
The Dolphins made 10 selections in what was the final draft class for general manager Randy Mueller and the only one for rookie head coach Cam Cameron. They famously misfired on ninth overall pick Ted Ginn, who was traded for a fifth-round pick this offseason, and second-round quarterback
John Beck
. Still around are defensive tackle
Paul Soliai
and punter
Brandon Fields
.
The last man standing from Buffalo's seven-man 2007 draft class is second-round linebacker
Paul Posluszny
.
So that's a 20 percent retention rate for the AFC East on all draftees and a 40 percent rate for those selected in the top three rounds.
With help from ESPN researcher Keith Hawkins and the Elias Sports Bureau, I wanted to find out how those percentages compared leaguewide.
Poorly, it turns out.
Of the 225 players chosen in other divisions that year, 100 have remained with the teams that drafted them. That's 44.4 percent overall, more than twice the AFC East rate.
When narrowing the field to players taken within the first three rounds, 89 prospects were absorbed into other divisions, and 54 have stuck, a success rate of 60.7 percent.
A few notes turned up by the research:
The Dolphins are the only team that has gotten rid of their top four picks.

Twenty-six teams have parted ways with at least one of their picks from the first three rounds.

Of the 19 teams that had at least one pick in each of the first three rounds, only the Pittsburgh Steelers retained all of them (Lawrence Timmons, LaMarr Woodley, Matt Spaeth).
March, 22, 2010
3/22/10
7:41
AM ET
Running back
Ronnie Brown
reportedly became the second
Miami Dolphins
player to be arrested for driving under the influence of alcohol within a month and the third Dolphin to be taken into custody over the past six weeks.
Jeff Darlington of the Miami Herald reports
Brown was arrested Friday night
near Atlanta while on a visit to his hometown. Dolphins cornerback
Will Allen
was
charged with DUI on Feb. 20 in Miami
.
Brown's arrest by itself shouldn't be alarming. He has been a role model up until this point. His arrest is inconsistent with everything else we've come to know about him.
But it's the latest in a long line of run-ins with the law for Dolphins since 2008.
Defensive tackle
Tony McDaniel
(domestic violence last month), defensive end
Randy Starks
(aggravated battery of a police officer), former fullback Reagan Mauia (battery) and former defensive back
Will Billingsley
(domestic violence) have gotten into trouble.
A man accused Allen of pulling a gun on him in a dispute over gambling debts in the spring of 2008. A couple of months earlier, inside linebacker
Channing Crowder
drew heat when he wrecked his SUV into a palm tree and, according to the police report, abandoned it by the side of the road with the keys in the ignition and a gun inside.
Several Dolphins players and even an assistant coach were charged with crimes in 2007 -- before the current front office and coaching staff took over.
Is that a troubling amount of indiscretions?
I ask because I'm not sure anymore.
Maybe this is a representative snapshot of the NFL.
April, 27, 2009
4/27/09
11:36
PM ET
Posted by ESPN.com's Tim Graham
While I was flying back to South Florida from my draft weekend in Buffalo, the Miami Dolphins announced Monday night they released quarterback John Beck.
The Dolphins have given up on a decorated college quarterback the previous front office drafted with the 40th overall selection a mere 24 months ago. Beck was supposed to be the quarterback of the future.
Monday's move underscores what the Dolphins emphasized after they drafted West Virginia's Pat White: They consider him a quarterback who also will play some receiver, not a ballhandler who can throw a little.
But what stands out to me is how abysmal Miami's 2007 draft class turned out to be. Conventional wisdom states a draft class should be evaluated after three years. This one has been gutted after two years.
That was former general manager Randy Mueller's last year and the only draft head coach Cam Cameron participated in before Wayne Huizenga hired Bill Parcells to handle football operations. Parcells fired Mueller and Cameron.
Of the 10 players Miami drafted in 2007, only three remain on the roster: a receiver, a punter and a reserve defensive tackle.
First round
Ted Ginn, Ohio State receiver: Still on the roster ... A sometimes-flashy receiver and return man but has done little to prove the Dolphins didn't reach by taking him ninth overall.
Second round
John Beck, Brigham Young quarterback: Released on Monday.
Samson Satele, Hawaii center: Traded to Oakland Raiders in March for a sixth-round draft choice and flopped fourth-round picks.
Third round
Fourth round
Paul Soliai, Utah defensive tackle: Still on the roster ... Zero career starts ... Dolphins gave him two one-game suspensions for undisclosed reasons.
Sixth round
Reagan Mauia, Hawaii fullback: Failed to make the team out of training camp last year.
Drew Mormino, Central Michigan offensive lineman: Failed his physical and was waived in May 2008.
Seventh round
Kelvin Smith, Syracuse linebacker: Played four games in 2007 ... Waived during 2008 training camp.
Brandon Fields, Michigan State punter: Still on the roster.
Abraham Wright, Colorado defensive end: Didn't play as a rookie. ... Waived in May 2008.
September, 9, 2008
9/09/08
1:12
AM ET
Posted by ESPN.com's Tim Graham

Grigsby
Less than 24 hours after their season opener, the Miami Dolphins waived fullback Boomer Grigsby and have signed Casey Cramer, who most recently played fullback and tight end for the Tennessee Titans.
"I'm out," Grigsby told ESPN.com. "They said they wanted to go in a different direction and make the position more tight end-ish."
Grigsby was among the new front office's first signings in March. He beat out incumbent Reagan Mauia, the only other FB in camp.
"It just goes to show how short-lived the NFL can be," Grigsby said. "You have to seize your opportunities. I know I seized those four preseason games, but I guess I didn't seize my one regular-season game."
Grigsby didn't make any glaring mistakes in Sunday's 20-14 loss to the New York Jets. He wasn't called upon for much. The Dolphins handed off to running backs Ricky Williams and Ronnie Brown 16 times all game and only four times in the second half.
Part of the reason Grigsby won the job was because he was a better receiver than Mauia. Grigsby caught four passes for 36 yards in the preseason.
Grigsby, converted from linebacker last season with the Kansas City Chiefs, is 5-foot-11 and 250 pounds. He apparently he couldn't handle this new role the Dolphins are envisioning.
Dolphins quarterback Chad Pennington completed 26 passes on Sunday, and 12 of them were to tight ends. Anthony Fasano had eight catches for 84 yards and a touchdown. David Martin had four receptions for 53 yards and a touchdown.
Cramer is a more "tight end-ish" 6-2 and 250 pounds. He has played 27 NFL games, mostly on special teams. He has two career catches. Last year for the Titans he played five games, including one of his two career starts.
August, 30, 2008
8/30/08
7:38
PM ET
July, 28, 2008
7/28/08
10:43
AM ET
Posted by ESPN.com's Tim Graham
Buffalo Bills
Miami Dolphins
New England Patriots
New York Jets