October, 20, 2010
10/20/10
3:52
PM ET
ORCHARD PARK, N.Y. --
Buffalo Bills
quarterback
Ryan Fitzpatrick
doesn't know of any other NFL player who wears his wedding ring on the field.
[+] Enlarge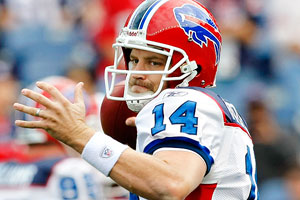 David Butler II/US PresswireQuarterback Ryan Fitzpatrick wears his wedding ring during games and practices.
"People take them off," Fitzpatrick told me Wednesday. "They're nervous about getting them caught. I wore it during training camp, and there's no issue. I just made the decision I would never take it off."
Odd as it may seem, Fitzpatrick keeps his ring on when playing a collision sport. It's kind of scary, and kind of neat.
Fitzpatrick doesn't care much about the risks involved with a ring on his exposed left hand. He doesn't cover it with a glove or athletic tape. The shiny platinum is easy to spot if you're looking for it.
This is the first year Fitzpatrick has played with his ring on. He never would try it if he were left-handed. The ball wouldn't feel right in his hand when throwing.
He said he didn't discuss his decision with his wife, Liza, but "She thinks it's cool."
A kicker certainly could get away with wearing rings.
Miami Dolphins
punter
Reggie Roby
used to wear a wristwatch during games.
New York Jets
punter
Steve Weatherford
once was photographed with his watch and wedding ring on while playing for the
New Orleans Saints
.
But scrambling around defenders intent on rendering you a crumpled heap is a different story.
What if Fitzpatrick were to instinctively stiff-arm a linebacker and got his finger entangled in his facemask? What if a helmet were to nail him right on the ring finger?
Or what if he were to lose it? Dolphins defensive lineman
Kendall Langford
lost a
$50,000 diamond earring on the practice field this summer
.
"It's tight on there, nice and snug," Fitzpatrick said.
Fitzpatrick slid the ring off to show me the engraving on the inside. It's inscribed with his wedding date, 6-24-06, but infinity signs are between the numbers instead of dashes.
Fitzpatrick met Liza when they were students at Harvard. They have two children: 3-year-old Brady and 1-year-old Tate. (Yes, they realize that's a
New England Patriots
passing combination these days.)
"I don't feel like I need to take it off," Fitzpatrick said. "It does symbolize something. It symbolizes my relationship with my wife and my family.
"It's something I like to do."
April, 11, 2009
4/11/09
7:10
PM ET
Posted by ESPN.com's Tim Graham
Two AFC East clubs remain alive in SportsNation's NFL draft class tournament.
The third-seeded 1985 Buffalo Bills and the eighth-seeded 1983 Miami Dolphins advanced to the quarterfinals. They'r coming out of different brackets and can face each other in the final to determine the best draft class of all-time.
But an all-AFC East championship doesn't appear likely. The Dolphins are up against the top-seeded 1974 Pittsburgh Steelers, a class that produced four Pro Football Hall of Famers: receivers Lynn Swann and John Stallworth, center Mike Webster and linebacker Jack Lambert.
The '83 Dolphins class featured quarterback Dan Marino, receiver Mark Clayton and punter Reggie Roby.
The '83 Bills are matched against a surprise quarterfinal entrant, the 22nd-seeded 1983 Denver Broncos.
The Bills have defensive end Bruce Smith, receiver Andre Reed and quarterback Frank Reich. But the '83 Broncos featured one of the greatest draft picks ever. Linebacker Karl Mecklenburg was selected in the 12th round. John Elway doesn't factor because he was drafted by the Baltimore Colts.
ESPN Stats & Information ranked the top draft class from each of the 32 clubs and seeded them into a five-round bracket to determine the best of all-time. SportsNation visitors are voting for the winners of each matchup.
The 1977 New York Jets and 1973 New England Patriots were eliminated in the tournament's first round.
ESPN Insiders can click on each team for fascinating, detailed analysis on each team, including honorable mention classes and the greatest draft picks in franchise history.
April, 1, 2009
4/01/09
4:48
PM ET
Posted by ESPN.com's Tim Graham
ESPN Stats & Information rated 13,808 draft picks to assemble a field of the NFL's top 32 draft classes for a tournament to determine the best of all-time. Fans will have a chance to vote starting Thursday.
Each team is represented and has been seeded No. 1 through No. 32 based on the best class in franchise history.
The classes were chosen using a formula that awarded points to each player for various individual and teams accomplishments.
1 point: Super Bowl loss
2 points: Offensive rookie of the year
2 points: Defensive rookie of the year
2 points: Pro Bowl
3 points: Super Bowl victory
3 points: second-team All-Pro
4 points: first-team All-Pro
6 points: AP Defensive Player of the Year
6 points: AP Offensive Player of the Year
8 points: AP Most Valuable Player
15 points: Hall of Fame
The Buffalo Bills earned the third seed because of their 1985 draft class, which included defensive end Bruce Smith, receiver Andre Reed and quarterback Frank Reich.
The Miami Dolphins are the No. 8 seed behind their 1983 draft class that featured quarterback Dan Marino, punter Reggie Roby and receiver Mark Clayton.
The New England Patriots are a fine example of how the formula isn't perfect. They're seeded 19th because some of their greatest players still are active and, therefore, ineligible for the Hall of Fame. Four of their top six classes, according to ESPN Stats and Information, have been drafted in the past 14 years. They are the best overall since 2000, when Bill Belichick came aboard.
But the formula rates the Patriots' best draft class as 1973, the year they drafted one of their few Hall of Famers, guard John Hannah, and running back Sam Cunningham.
The New York Jets are seeded No. 25 based on their 1977 draft class. The selected offensive lineman Marvin Powell, receiver Wesley Walker and defensive tackle Joe Klecko.
ESPN Insider subscribers can see detailed breakdowns and find out which classes received honorable mentions for each club.
February, 3, 2009
2/03/09
9:00
AM ET
Posted by ESPN.com's Tim Graham
The latest Pro Football Hall of Fame class was chosen Saturday. It was the 47th election, and for the 46th time, a full-time kicker or punter wasn't in the group.
They simply don't rate.
That's why Rick Sang founded the American Football Kicking Hall of Fame last year.
"The most impacting statement is that in 90 years of pro football, there's only one kicker inducted," Sang said. "You think about that. It's a major void.
| | |
| --- | --- |
| | |
| | Malcolm Emmons-US PRESSWIRE |
| | Jan Stenerud is the only kicker on the Hall of Fame. |
"The American Football Kicking Hall of Fame was about being proactive and not complaining about what the NFL wasn't doing. Their names aren't even coming up. There's so many guys you have to think about 'Who are they?'
"We just don't want them to be forgotten."
While part-time kickers such as Sammy Baugh, George Blanda and Lou Groza are enshrined in Canton, Jan Stenerud is the only pure leg-swinger to be honored.
The Kicking Hall of Fame inducted its second class two weeks ago. Added to the inaugural class of Baugh, Blanda, Groza and Jim Thorpe were Ray Guy, Pete Gogolak and Ben Agajanian.
"You make fun of kickers for not getting their uniforms dirty, or you say 'They don't hardly play.' And then you turn around and induct an owner," said Sang, also the director of ProKicker.com and a member of the Greater Augusta Sports Council in Georgia.
"It's a team sport, and if you're the best at your position and you impacted the game you deserve to be recognized."
Not acknowledging kickers isn't limited to Canton. Three AFC East teams fete their finest -- the Buffalo Bills have a Wall of Fame, the Miami Dolphins have an Honor Roll, the New England constructed the Hall at Patriot Place -- and none salute a kicker.
With Sang's cause in mind, here are the greatest kickers and punters in each AFC East club's history: