June, 13, 2011
6/13/11
11:13
AM ET
The news of Tom Martinez's rapidly deteriorating health hits close to home.
Not only has
Tom Brady
's personal passing coach been a great friend of the AFC East blog, but his situation is too similar to the man who taught me how to throw a ball, my father.
The San Jose Mercury News reported over the weekend doctors have
informed Martinez he has no more than a month to live
and as little as a week. Martinez has battled complications of diabetes for years. He is on dialysis and has heart problems.
"Physically I feel stronger than my numbers indicate,'' Martinez told the San Jose Mercury News. "My numbers say I'm basically gone. My blood pressure is too low for me to continue with dialysis and without dialysis poisons build up in my body. Doctors say without dialysis I have a week to go. We're looking into transplants. I would need both heart and kidney transplants done simultaneously.''
Martinez has been coaching Brady since the three-time Super Bowl champion was 15 years old and playing junior varsity at Serra High in San Mateo, Calif. Tom Brady Sr. took his wide-eyed son to get some pointers from Martinez, the respected head coach at the College of San Mateo.
Martinez continued to train regularly with Brady. They had a mechanics session as recently as eight days ago.
"There's so many people I owe so much to -- high school, college and the NFL,"
Brady told Sports Illustrated senior writer Peter King
. "But he is right at the top of the list. Second to none. He never held back with me. Even when I was going good, he'd watch me and call me and say something like, 'Your feet are way too slow in the shotgun. Speed it up!' or 'When you throw to your right, close your right shoulder.'
"I just can't say enough about him, and what he's meant to me. When I heard how serious it was the other night, I was there in bed with my wife, and it was just a sad moment. Very tough on his family, and on ours.''
Martinez always was available to speak with me about quarterbacks and throwing. When I got off the phone with him, I felt much smarter about football. He enjoyed sharing his knowledge.
He couldn't help but be honest. Sometimes he would avoid a question to protect Brady, but he revealed to me last summer
Brady played much of the 2009 season with broken ribs
and a broken finger. Before the 2010 playoffs,
Martinez visited with me about Brady's fantastic MVP season
.
Martinez often spoke to me about
JaMarcus Russell
or any other prospect he had worked with or currently trained. We were on the phone right before the draft to discuss his latest group, which included Iowa quarterback
Ricky Stanzi
.
I had a standing invitation from Martinez to attend one of his renowned passing camps for elite prospects -- not to observe, but to participate. He was willing to teach a 39-year-old former high school quarterback now on cholesterol medication the finer points because he knew it would make me a more enlightened NFL writer. That's the kind of guy Martinez is, and I'll always regret not being able to convince my editor to do that piece.
But this news is a thankful reminder that time is more precious than football. I had the chance to spend the weekend with my family in Ohio. My father has dealt with diabetes for three decades. He has congestive heart failure. He's on dialysis. And he's nine years older than Martinez.
So if you'll allow me to get maudlin for a moment, here's my request for today. Call somebody you love and tell them what they've meant to you. I'll bet they'd like that.
April, 5, 2011
4/05/11
4:56
PM ET
BUFFALO -- The
Buffalo Bills
own the third and 34th picks in this month's draft and have been looking hard at quarterbacks. They've spent time with
Cam Newton
,
Blaine Gabbert
and
Christian Ponder
.
[+] Enlarge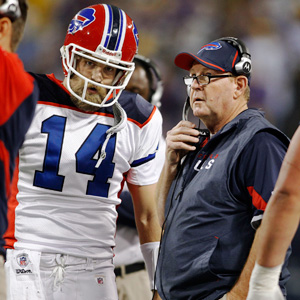 Bruce Kluckhohn/US PresswireBills quarterback Ryan Fitzpatrick is known for his football IQ.
What is head coach Chan Gailey looking for?
Gailey, a noted quarterback connoisseur, gave some insight Tuesday afternoon. He explained his chief criteria for a successful quarterback.
"The two most important things about playing quarterback in this league: accuracy and decision-making," Gailey said at a luncheon held by the Monday Quarterback Club at the Adam's Mark hotel.
"Would you like to have a guy that's mobile? Yes. Would you like to have a guy that is extremely intelligent and is smarter than the coach and can make good decisions on the field? You bet you would like that."
But Gailey continued to reiterate throwing the ball on target and making the correct reads.
Among the top quarterbacks in this year's draft class,
here are some 2010 completion percentages
:
Gailey elaborated on what goes into being a sharp decision-maker.
"Knowledge is part of decision-making," Gailey said. "Speed in making that decision is important because you don't have a lot of time, standing back there. And then how fast can you give back the information that you've been given.
"If it takes a guy four days to absorb it all and finally get it, that doesn't help us on a Wednesday practice if I gave it to him Tuesday. ... If I give [information] to them Tuesday, they've got to be able to give it back Wednesday."
Bills starter
Ryan Fitzpatrick
is known for his grasp of complex NFL concepts. The Harvard grad is entering his seventh season.
Speculating about a college quarterback's judiciousness and whether or not he's worth a third or 34th pick requires a leap of faith at some point.
"There are some things we can teach," Gailey said. "There are some things where a guy has a feel for the game and he understands what you're trying to get done."
March, 17, 2011
3/17/11
1:09
PM ET
The
Buffalo Bills
and
Miami Dolphins
are inspecting quarterbacks.
They're looking at game tape, attending pro days, hosting the top prospects for private workouts.
They'll study arm strength, command of the huddle and 40-yard dash times.
What about brain power?
ESPN's Chris Mortensen reported the Wonderlic intelligence scores from many of the notable quarterbacks who took the test lat month at the NFL scouting combine.
Some teams weigh Wonderlic scores more than others.
The generally accepted score that keeps teams comfortable is 20. Anything lower creates concern.
But it's not a definitive measurement either. Among widely reported scores, Hall of Famers
Jim Kelly
and Terry Bradshaw posted 15s,
Donovan McNabb
scored a 14 and
Ryan Leaf
posted a 27.
Dan Marino
's score is reported as a 16 or a 15, depending on the source.
Bills quarterback
Ryan Fitzpatrick
took the
test in a record nine minutes and scored a 48
.
"It is interesting that you will find guys that are really, really bright that just don't test well and just the opposite,"
New England Patriots
personnel executive
Floyd Reese said in a USA Today story a few years ago
, while working for the
Tennessee Titans
. "A guy will score a 40 and can't get across the street."
February, 25, 2011
2/25/11
12:23
PM ET
INDIANAPOLIS -- Auburn quarterback
Cam Newton
announced last week he would do all the throwing drills at the NFL scouting combine.
ESPN draft analyst Todd McShay, here with us at Lucas Oil Stadium, gave his take on how Newton's decision has impacted what other quarterbacks do at the combine.
McShay noted Missouri's
Blaine Gabbert
and Florida State's
Christian Ponder
aren't following Newton's lead and will not throw. But eight of the last 12 first-round quarterbacks didn't throw at the combine either.
McShay considers this year's quarterback crop to be bountiful, although without a surefire opening day starter. Still, he predicted eight quarterbacks could be taken within the first two rounds: Newton, Gabbert, Ponder, Washington's
Jake Locker
, Iowa's
Ricky Stanzi
, TCU's Andrew Dalton, Nevada's
Colin Kaepernick
and Arkansas'
Ryan Mallett
.
Mallett is under the most scrutiny of the QB class over growing concerns over ambiguous character issues.
The
Buffalo Bills
and
Miami Dolphins
are the likeliest AFC East teams to pick a quarterback early.
January, 12, 2011
1/12/11
4:37
PM ET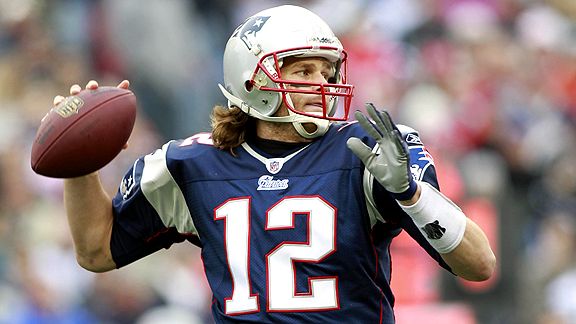 Greg M. Cooper/US PresswireQuarterback Tom Brady has thrown 36 touchdown passes and only four interceptions this season.
Tom Martinez might've known in the summer what kind of season
Tom Brady
was about to have.
Martinez is the man who taught Brady how to pass. They've been together for about half of Brady's life, since before his first junior varsity start.
As usual, they got together during the offseason in Southern California to hone Brady's mechanics. Martinez identified a few areas to tweak.
"By the end of it all, I'd never seen him better," Martinez said from his home in Menlo Park, Calif.
"It was hard to stand there and watch it. You've got to shake your head that you're really looking at what you think you are. He was so precise. You go, 'Holy mackerel. He's got to throw some balls away.' It was unbelievably impressive."
Even with that knowledge, Martinez was surprised to see Brady's remarkable season unfold the way it has. The numbers Brady has posted in his MVP-worthy season can't be chalked up merely to refined mechanics.
With a diminished supporting cast that features rookies, castoffs and injury replacements, Brady posted the fifth-highest passer rating in NFL history, led the league in touchdown passes, threw the fewest interceptions and broke records for turnover efficiency.
"To watch him play is like watching Pavarotti," Martinez said. "He's in total command."
The big man who coaches the
New York Jets
sounds like he's trying to disrupt Brady's virtuosity.
Rex Ryan has been belting out news-conference arias
in advance of Sunday's playoff game against the Patriots. Jets cornerback
Antonio Cromartie
took
a less subtle approach to insulting Brady
.
Brady's response: "We're just going to do our talking on the field."
The Patriots have performed impeccably all season. This year's production is more remarkable than what they accomplished in 2007, when they set the NFL record with 589 points and went 18-0 before losing in the Super Bowl.
The Patriots scored 518 points this season, seventh most in league history.
But the season becomes more incredible when you consider New England traded receiver
Randy Moss
, didn't have
Wes Welker
at full speed, relied on rookie tight ends
Rob Gronkowski
and
Aaron Hernandez
, didn't have Pro Bowl left guard
Logan Mankins
for half the season, lost right guard
Stephen Neal
after eight games and lost right tackle
Nick Kaczur
in training camp.
"Those two running backs," Martinez said of
BenJarvus Green-Ellis
and
Danny Woodhead
, "might not make some of the teams in the league."
And yet Brady made it all work, guiding the Patriots to 14 victories despite a transitional defense that used four rookies in the starting lineup some weeks.
Brady has worked with Martinez since he was 15 years old. Brady's father took him to see Martinez, then head coach at the College of San Mateo, for pointers. Brady became Martinez's star pupil.
Much like a highly sought session musician, Martinez has worked with players on an individual basis but never joined a team. His pre-draft tutelage famously helped
JaMarcus Russell
turn into the No. 1 overall draft pick. This year, he will work with Iowa's Ricky Stanzi and Mississippi's Jeremiah Masoli.
Most amazing about Brady's stat line are his four interceptions, the fewest from any quarterback with at least 300 attempts in NFL history. He hasn't thrown an interception since Week 6, a streak of 335 consecutive attempts.
Martinez chalks up that number to happenstance more than anything else. He claimed it's not necessarily indicative of Brady's excellence.
"That's like Joe DiMaggio's 56-game hitting streak," Martinez said. "He couldn't do that again if he lived to be 580 years old. There's a series of things that have to happen to keep that kind of a string going. When they all go together, you break the records.
"He could go back and play the season over again and throw 15 interceptions."
From Martinez's perspective, Brady's dominance can't be found in any box score.
"The key to me is that he's in total command both physically and mentally of what he's doing," Martinez said. "If you really study their offense, he's going to the open guy probably 85 percent of the time.
"If you go to the right guy, chances are you're not going to throw interceptions because that's the guy that's got single coverage, or that's the guy that gets open in the zone. He's not throwing into double coverage. He's not forcing balls. He knows who to go to, and he has the mechanics to make the throw."
Martinez also said Brady is thriving with the aggressive offense called by quarterbacks coach Bill O'Brien. The Patriots are no longer running what Martinez calls "dead plays," conservative calls that do little more than burn time off the clock.
The Patriots have scored at least 31 points in eight straight games, tying the NFL record held by the 2007 Patriots and 2000
St. Louis Rams
.
"What they're doing now is they're constantly attacking, and he's getting them into the correct play," Martinez said. "They don't run many dead plays where you ask: 'What are they running that for?' They're constantly attacking."
Deion Branch
was a Patriots receiver from 2002 through 2005 and was traded back Oct. 12. Branch was asked Tuesday what has been the biggest difference he has noticed in Brady and specifically mentioned Brady's deep ball.
"Early in his career, that was a weakness," Martinez said. "But that was such a part of Randy's game that [Brady] had to step his part of it up because Randy was outrunning the throws. That was one of his goals. Because he didn't throw them that often, mechanically they weren't thrown well."
That's one way Moss made Brady a more complete quarterback. When the Patriots traded Moss three games into the season, Martinez figured they would suffer.
"When Randy was gone, I don't think anybody predicted this," Martinez said. "I thought that Randy stretched the defense, which allowed all the other guys to run underneath stuff. With Welker doubled and Moss gone, it was hard to see them throwing it all over the yard."
Any yet Brady has compiled his most extraordinary season.
He'll be the consensus MVP. He'll almost certainly be voted first-team All-Pro for only the second time of his career. His name dots the record books even more.
And none of that will count if Brady doesn't remain in command like he has up until now and win the Super Bowl.
"The funny thing is, no matter what has happened to this point, this is one and done," Martinez said. "Somebody blocks a punt or picks one off and runs it back and all of a sudden you lose and didn't have that good a year.
"You're walking a fine line between being awesome and not getting it done."