April, 24, 2010
4/24/10
11:35
AM ET
A month ago, the only tight ends on the
New England Patriots
' roster were Robbie Agnone and
Rob Myers
, undrafted rookies on last year's practice squad.
They cut
Chris Baker
and let
Benjamin Watson
drift off into free agency.
The depth chart looked rather empty
.
Today, the Patriots have an impressive group of tight ends that should have them set for years to come.
The Patriots on Saturday morning selected Florida tight end
Aaron Hernandez
in the fourth round. They took Arizona's Ron Gronkowski in the second round Friday night, giving them two of the top four tight ends in this year's class, according to Scouts Inc.
Gronkowski is viewed as a more complete tight end, but had back problems that wiped out his junior season. Hernandez is the better receiver. Hernandez had 68 receptions for 850 yards and five touchdowns last year.
New England previously signed veteran
Alge Crumpler
, a two-time Pro Bowler who has
morphed into more of a blocker than a receiver
.
April, 23, 2010
4/23/10
7:16
PM ET
The
New England Patriots
traded a sixth-round pick to move up two slots and take Arizona tight end Rob Gronkowski with the 42nd selection in the draft.
Why the Patriots picked him:
The Patriots had a major need at tight end
, especially one who could catch after they declined to re-sign
Benjamin Watson
. They signed veteran free agent
Alge Crumpler
, who has evolved into more of a blocking tight end than a receiver.
Where Gronkowski fits:
Fantasy football alert! Gronkowski likely becomes a key red-zone target for
Tom Brady
. Aside from Gronkowski and Crumpler, the only tight ends on the roster are Robbie Agnone and
Rob Myers
, undrafted rookies last year without an NFL reception between them.
Scouts Inc. says:
Big, soft hands. Reliable pass catcher. Shows the ability to catch over his head and to adjust to the poorly thrown pass. ... Flashes the ability to win the jump ball and/or sneak down the seam. Has adequate-to-good straight-line speed but not elite. Does not show much wiggle after the catch, either. Has a nose for the end zone and does a great job of getting open as a red zone target. ... Solid overall blocker with room to improve in this area. Gives a solid effort and will fight to finish. Flashes a mean streak. Does a good job with angles in space and shows ability to serve as occasional lead blocker in a FB/H-back role.
March, 18, 2010
3/18/10
10:14
PM ET
The
New England Patriots
have a tight end who has caught an NFL pass.

Crumpler
Alge Crumpler
actually has snagged 367 of them for 37 touchdowns.
Multiple outlets are reporting the
Patriots have reached terms with Crumpler
, a four-time Pro Bowler who spent the past two seasons with the
Tennessee Titans
.
The Patriots had a major void at tight end
after losing free-agent
Benjamin Watson
to the
Cleveland Browns
and releasing
Chris Baker
. Those moves left them with only
Robbie Agnone
and
Rob Myers
, undrafted rookies on last year's practice squad, on their roster.
"It's a loss," Titans radio analyst and former tight end
Frank Wycheck
said of Crumpler's departure. "He's such a great professional, a stand-up guy win or lose. Theyr'e going to lose that leadership and that presence.
"The Patriots are getting a guy who fits the mold of what they've done over the years, bringing in guys you can trust to step up and play well."
In Crumpler's time with Tennessee, he evolved into a balanced tight end. He was known as a dangerous receiver for the
Atlanta Falcons
. He caught 24 touchdown passes in his last four seasons with them before joining the Titans as a free agent.
Wycheck said Crumpler excelled when the Titans gave him greater blocking responsibilities. Crumpler played a significant role in helping speedy running back
Chris Johnson
hit the corner throughout his 2,000-yard rushing season.
"He really blocked well, something he hasn't gotten enough credit for over his career," Wycheck said. "He's a really stout blocker, really holds the edge well.
"He embraced the role of going both on the line as a lead blocker and still being an effective receiver."
Crumpler had 27 receptions for a career-low 222 yards and one touchdown last season.
Bo Scaife
was the primary receiver at tight end, catching 45 passes for 440 yards.
Wycheck noted Crumpler won't be breaking down the middle of the field like he used to. But Crumpler still has incredible hands and the size to post up between the hash marks.
"It'll be a little bit of a change because everybody remembers Ben Watson tracking down
Champ Bailey
from behind," Wycheck said. "If you're expecting Alge to run like Ben Watson, that won't be the case."
"But I see him like
Tony Gonzalez
the past few years. Alge uses his smarts and experience. No one expects him to be the Alge that he was in Atlanta, but he's still playing really well and enjoying the game."
March, 12, 2010
3/12/10
5:38
PM ET
For those who didn't get a chance to catch my ESPN Radio segment Friday afternoon with Ryen Russillo of "The Scott Van Pelt Show," you can
experience the broadcast splendor right here
. For those who heard it live, I know you're eager to relive the magic.
Topics included:
March, 12, 2010
3/12/10
12:54
PM ET
With the loss of
Benjamin Watson
and
no tight ends who've played in an NFL game
on their roster, the
New England Patriots
have a crater at the position.
In a piece for ESPNBoston.com, Mike Reiss examines the void, pointing out the Patriots don't even have a tight ends coach on their roster.
Writes Reiss:
Consider that back in training camp, Bill Belichick called the competition between Watson, Chris Baker, Alex Smith and David Thomas the best in his 10 years as head coach. Now consider that none of those players are on the current roster.

How does that happen?

In retrospect, they swung and missed at every turn.
What's left for the Patriots are
Rob Myers
and
Robbie Agnone
, a pair of undrafted rookies from last year's practice squad.
The Patriots have held free-agent interviews with three-time Pro Bowler
Alge Crumpler
and
Daniel Fells
. The latter re-signed with the
St. Louis Rams
. Reiss takes a look at the rest of the unemployed, including
Randy McMichael
and
Reggie Kelly
and notes this year's draft class is deep at tight end.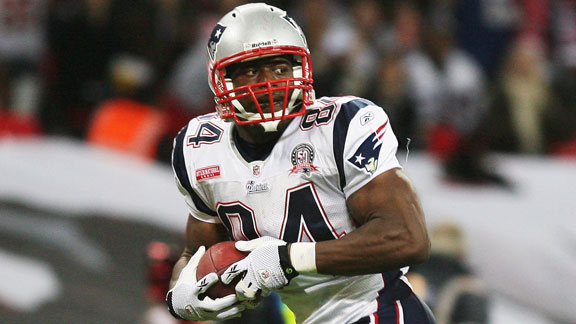 March, 4, 2010
3/04/10
10:25
PM ET
Remember when the
New York Jets
cut tight end
Chris Baker
and the
New England Patriots
pounced on him?
There was a sense the Jets had made a grave error.
When the Patriots sign somebody
, there's an assumption he's going to shine. That Baker would get to face his old team twice a year made it seem like bad news for the Jets.
On Thursday, the Jets looked even smarter and the Patriots a little less wise.
The Patriots released Baker after one unsatisfying season. He caught 14 passes for 142 yards and two touchdowns.
The Patriots' decision to release Baker was a curious one because they're thin at tight end.
Benjamin Watson
is an unrestricted free agent. The only tight ends on their roster are
Rob Myers
and
Robbie Agnone
, a pair of undrafted rookies on last year's practice squad.
Baker joins a long list of failed 2009 acquisitions that put a dent into the Patriots' reputation for salvaging veterans.
They were successful with cornerback
Leigh Bodden
and outside linebacker
Tully Banta-Cain
, but they also misfired on receivers
Joey Galloway
and
Greg Lewis
and tight end
Alex Smith
. The jury's still out on running back
Fred Taylor
, who missed much of last season because of ankle surgery and will be back in 2010.
May, 2, 2009
5/02/09
4:33
PM ET
Posted by ESPN.com's Tim Graham
For the first time in five years, J'Nathan Bullock pulled a helmet over his ears.
"It messed with all sorts of things," Bullock said Saturday by phone from the New York Jets facility in Florham Park, N.J.. "My neck, my vision, my timing, everything was off. I'm still getting used to it.
"Today, I woke up with a sore neck and my head was banging."
While most participants in this weekend's rookie camp can strap on their equipment as easily as most folks slip into a pair of loafers, Bullock is relearning even the simplest routines.
Bullock hasn't played football since high school. The Jets signed him as an undrafted rookie in hopes of turning him into a tight end.
Bullock was a 6-foot-5, 240-pound power forward at Cleveland State. He led the Vikings into the second round of the NCAA basketball tournament by averaging 15.2 points and 7.1 rebounds a game.
When he took off his football pads for the last time at Flint Northern High in Michigan, he figured it was forever.
"There weren't any thoughts about the NFL marinating," Bullock said.
Shortly after Cleveland State was eliminated from the tournament, he received queries from the Buffalo Bills and Chicago Bears.
That got him wondering.
"It caused some deep thought," Bullock said. "The idea resonated in my mind when actual teams started talking to me.
"I had aspirations to play in the NBA, but I took a turn. That's life."
Because Cleveland State doesn't offer football -- pro-football-reference.com lists no alumni in its database -- Bullock staged a workout for NFL scouts on the campus soccer pitch.
With visions of discovering the next Antonio Gates, a Kent State hoopster who went on to star for the San Diego Chargers, over half the league was represented at Bullock's workout. But Bullock said only the Jets sent a position coach. That won him over.
Bullock's goal is to make the 53-man roster. The Jets need help at tight end. Their depth chart consists of Dustin Keller and James Dearth, a long snapper with three catches in nine NFL seasons. The Jets released Chris Baker and haven't re-signed Bubba Franks.
The Jets didn't draft any tight ends. They brought in only Bullock, Utah State's Rob Myers and Arkansas' Andrew Davie as rookie free agents. Davie also is a long snapper. He caught eight passes for 71 yards and three touchdowns last year.
It would be interesting to see if he would clear waivers if the Jets tried to place him on their practice squad.
He insisted he isn't flippant about football, that he's not treating it as some fling before returning to the hardwood.
"Once something's on my plate, I go at it wholeheartedly," Bullock said. "I'm giving it 110 percent. I'm not going to cheat the Jets."
But Bullock admitted he had a rough time in his first two practices.
"I would want to make a better first impression because my expectations are high, probably too high," Bullock said. "I was fighting it all day [Friday]. I'm trying to learn the system and plays. It's hard to play naturally through all the mental parts.
"I haven't played up to my ability, but this is a different environment and we're at the beginning of the process."