March, 22, 2012
3/22/12
1:00
PM ET

The
Buffalo Bills
entered the 2012 offseason with a top priority of fixing its anemic pass rush. Two defensive ends and $142 million later,
consider that problem solved
with
Mario Williams
and
Mark Anderson
.
Now that the Bills set the edges of their new 4-3 defense, the team can focus on other areas. Let's get up to date on Buffalo's remaining needs and how this fits into the NFL draft.
Need No. 1: Left tackle
Analysis:
The Bills are still searching for a blue-chip prospect to protect quarterback
Ryan Fitzpatrick
's blind side. Left tackle was a revolving door in Buffalo last year, and that's a quick and easy way to lose games. This is a very important position that needs stability. I wouldn't be surprised if Buffalo takes a left tackle in the first round with the No. 10 overall pick. First-round possibilities include Iowa's
Riley Reiff
and Stanford's
Jonathan Martin
. Any top prospect at left tackle probably could start from Day 1 in Buffalo.
Need No. 2: Wide receiver
Analysis:
The Bills re-signed leading receiver
Steve Johnson
before free agency. That gave Buffalo some relief in addressing this need right away. But the Bills pass a lot on offense and need another dynamic talent in the lineup. The Bills nearly signed
Robert Meachem
, who decided instead to go to the
San Diego Chargers
. That was the target Buffalo wanted. But there are probably a few receivers in the draft the Bills like.
Need No. 3: Outside linebacker
Analysis:
The Bills took care of their defensive line, but their second level isn't that deep or talented.
Nick Barnett
is stable in the middle, but two outside spots remain a work in progress. Maybe
Shawne Merriman
has potential here. But he's coming off his second season-ending Achilles injury. No one knows at this point how well he can bounce back. The Bills also have a young linebacker in
Danny Batten
who has some potential. But can you start Batten for 16 games? An addition like Alabama's
Courtney Upshaw
could be solid. Upshaw is a good hitter who can also bring a pass rush off the edge. He could fall to the Bills at No. 10.
March, 14, 2012
3/14/12
11:05
AM ET
Former
Houston Texans
defensive end
Mario Williams
began
his free-agent tour
in Buffalo. But that will not be his last stop.
Williams
ESPN's John Clayton reports Williams will continue
to visit other teams
before making his decision. The
Buffalo Bills
put the full-court press on Williams during the first day of free agency Tuesday. They reportedly picked up Williams via a private plane in North Carolina and spent the entire day with him in Buffalo. The Bills also plan to spend some time with Williams today.
The Bills are hoping to make Williams one of the NFL's highest-paid defensive players. Williams, a former No. 1 overall pick, is a game-changer who will add an immediate pass rush to Buffalo's defense.
Bills general manager Buddy Nix said the team will be aggressive in free agency, and he proved it by starting top shelf with Williams. It's in Buffalo's best interest to sign Williams before he visits other teams.
The Bills already lost out on free-agent receiver
Robert Meachem
, who agreed to terms with the
San Diego Chargers
while visiting Buffalo. The Bills have to hope they don't suffer the same fate with Williams.
December, 1, 2009
12/01/09
2:22
AM ET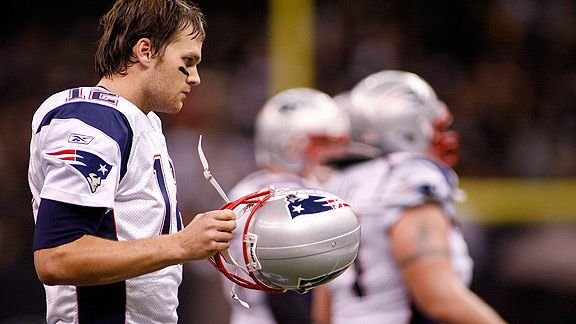 John David Mercer/US PresswireTom Brady and the Patriots needed a win over New Orleans to be considered an elite team.
NEW ORLEANS -- The
New England Patriots
confirmed what few had been thinking before Monday night.
They are not an elite NFL team. Not at this time. Maybe they can be again, but based on the way the
New Orleans Saints
pillaged them in the Superdome, the Patriots aren't in the conversation anymore about the best clubs in the game.
New Orleans thoroughly outclassed New England in a
38-17
laugher.
"There's obviously a big gap between us," Patriots quarterback
Tom Brady
said.
Drew Brees
made the Patriots' defensive backs, who had been thriving lately, look like a bunch of XFLers. He bombed them for five touchdowns, something that has never been done to a Bill Belichick-coached team.
"They were better than we were in every phase of the game," Belichick said in the postgame news conference. "I don't know any other way to put it. They were better coached. They played better on offense, defense, in the kicking game, they covered better than we did."
Belichick punctuated his response with incredulity at the questions about how his team failed to compete.
"They were obviously the better team," he said. "You guys
had to
see that. You were at the game."
It was a massacre. The 11-0 Saints made a deafening statement they're the NFL's best team. The Patriots merely whimpered in their final opportunity to record a signature victory before the postseason.
"They put it to us," Patriots receiver
Randy Moss
said. "We got our butts beat by 21."
New England (7-4), a team that likely will have to venture away from Gillette Stadium in the playoffs, is 0-4 in true road games and has come up short against two measuring sticks in the past three weeks.
They literally failed to measure up two weeks ago in Indianapolis. That heinous loss to the Colts resonates even more now.
"When we have expectations set high like we do, we take one game at a time," Moss said. "But we really see each week what teams are made of. I think we've shown we're up for a second, we're down for a second, we're up, we're down. It's kind of wavy right now."
At least now we know why Belichick went for it on fourth down from his own 28-yard line in the waning minutes at Indianapolis. His beloved former linebacker,
Tedy Bruschi
, criticized Belichick afterward for not showing enough faith in his defense to punt and force
Peyton Manning
to go 70 yards or so for the winning touchdown.
Belichick appears justified in the light of the bonfire Brees ignited here.
The game spiraled out of control so badly in the second half that Belichick raised the white flag, almost begging Saints coach Sean Payton to stop scorching his defensive backs. Belichick removed Brady from the game and inserted undrafted rookie
Brian Hoyer
, a signal to the Saints he'd seen enough carnage for one evening.
Nevada doesn't have as much open real estate as what Brees saw laid out before him.
To
Devery Henderson
for a 75-yard touchdown. To
Marques Colston
for 68 yards. To
Robert Meachem
for a 38-yard touchdown. To Henderson again for 33 yards.
"A lot of it had to do with us beating ourselves. A lot," Patriots nose tackle
Vince Wilfork
said. "Don't get me wrong. They came out and made plays and capitalized on [mistakes]. But it seemed like at times we couldn't stop them. That's a frustrating feeling.
"A lot of the plays we gave up out there, I could've completed the ball, or I could have ran the ball. Make an offense earn it, and we didn't do that at time. It cost us."
New England's defensive backs still had their eyebrows after the game, but you half expected to see them singed off. They looked like a quintet of
Deltha O'Neal
impersonators.
"We had several blown coverages defensively," Belichick said. "They took advantage of enormous mistakes on our part that they turned into huge plays. You can't make those kinds of mistakes against a good football team. We made too many of them."
Brees completed touchdown passes to five teammates. He finished with a 158.3 passer rating, nearly triple Brady's paltry 55.0 rating. Brady didn't have a touchdown. He threw two interceptions. A lot of his passes sailed.
More mystifying is that the Saints fielded a slapdash defensive backfield and Brady came into the game having thrown for 300 yards in five straight games, one shy of the NFL record.
His streak was snapped by a secondary that included Patriots castoff
Randall Gay
and rookie
Malcolm Jenkins
at cornerback, and
Mike McKenzie
, a street free agent two weeks ago, at nickel. Gay didn't play in the second half because of a leg injury.
The Patriots' chances to knock off the Saints seemed to get stronger when the inactive list was announced. On it were usual starting cornerbacks
Jabari Greer
and
Tracy Porter
, and dangerous running back
Reggie Bush
. Pro Bowl left tackle
Matt Light
and running back
Sammy Morris
returned from injuries for the Patriots.
"It wasn't nearly as competitive as we all were expecting," Brady said.
Where was
Wes Welker
? One week after Welker had the best game of his life, he had his worst of the season.
What about Moss? One reception for 9 yards in the first half, three catches for 67 yards all told.
New England's top target was
Sam Aiken
, mainly a special-teamer. He had seven catches for 90 yards, the best numbers of his career. But when Aiken is making your best plays and has two fewer receptions than Welker and Moss combined, chances are the Patriots will break your heart.
Belichick coached with conviction throughout the game. He kept his offense on the field for two fourth downs on their opening drive. They converted both, including
Laurence Maroney
's 4-yard touchdown run to put them up 7-3.
Yet, a fourth-down play doomed them. Belichick opted to go for it on fourth-and-4 from the Saints' 10-yard line with 4:12 left in the third quarter. A field goal would have put the Patriots a touchdown and a field goal behind. But Belichick knew his team needed a touchdown to keep pace with Brees.
Brady tried to force a pass to Moss in the left flat. McKenzie, out of football for 11 months before the Saints signed him, broke it up.
"That changed the momentum of the game," Saints safety
Darren Sharper
said.
The Patriots have a favorable schedule ahead. Just one of their final five opponents owns a winning record, the 6-5
Jacksonville Jaguars
.
Next up are the
Miami Dolphins
in Land Shark Stadium on a short week. If the Dolphins can pull out a victory, they would be one game behind the Patriots in the AFC East standings.
"We'll rally around each other," Wilfork said. "If not, it's going to be over real soon if we don't get it going. But I have faith in these guys that we're going to get it together."