December, 1, 2010
12/01/10
12:00
PM ET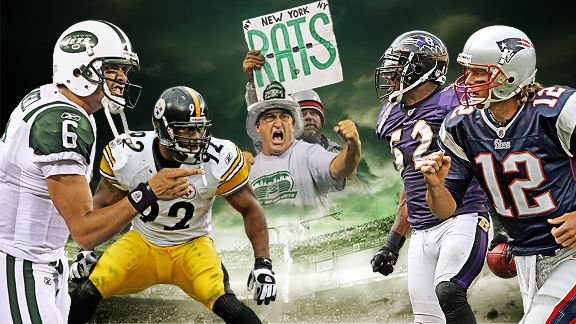 ESPN.com IllustrationTwo of our NFL bloggers weigh in on which division boasts the better rivalry.
Two of the NFL's hottest rivalries will take center stage in Week 13. Lucky for us.
The
Pittsburgh Steelers
will visit the
Baltimore Ravens
on Sunday night. The
New York Jets
then will visit the
New England Patriots
on Monday night. Combined record of the four teams: 34-10.
Millions of football fans will be tuned in to see both marquee matchups with superstars and storylines aplenty.
But which pairing represents the NFL's best divisional rivalry?
Each matchup has a history, quality quarterbacks and plenty at stake for the playoffs. A couple of feisty bloggers -- James Walker from the AFC North and Tim Graham from the AFC East -- will state a case for why his division has the better rivalry.
James Walker:
Tim, I just want to apologize in advance, because I don't think you have much of a leg to stand on comparing these two rivalries. Do you accept my apology?
Tim Graham:
If that's really what you think, then the only thing to accept is your resignation. The Jets-Patriots rivalry goes back 50 years, showcases ESPN's team of the decade versus the biggest media sensation, involves espionage, features incredible player and coaching crossover and will generate significantly more attention this week than the Steelers and Ravens. Yet I don't have a leg to stand on? This should be amusing.
Walker:
OK, let's get down to business. First, I'm going to tell you why the Jets-Patriots rivalry doesn't stack up to Ravens-Steelers. For starters, the Jets aren't even the Patriots' biggest rival in the AFC. The Colts are. Indianapolis and New England have played eight straight years in much bigger games -- sometimes with the Super Bowl at stake.
Meanwhile, there is no debating the Steelers and Ravens are each other's biggest rival. Both teams have played on the biggest stages, including the AFC Championship Game in 2008, when the Steelers went on to win Super Bowl XLIII. Finally, here's another difference: Pittsburgh and Baltimore both have championships within the past decade. When both rivals are able to reach the pinnacle while beating up each other along the way, that's when a rivalry is truly special. The Ravens and Steelers have it. The Colts and Patriots have it. The Jets and Patriots? I don't think so.
[+] Enlarge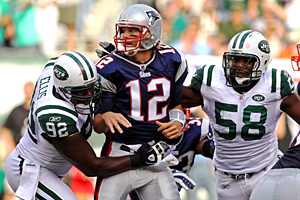 Ed Mulholland/US PresswirePatriots quarterback Tom Brady said earlier this season that he hates the Jets.
Graham:
Your opinion about the Colts representing a bigger rival than the Jets would be pertinent if the Patriots agreed with it.
Tom Brady
earlier this year declared "I hate the Jets," and he wasn't joking. The Patriots play the Jets twice a year. Division games are worth more than any other game in terms of importance. A Patriots-Colts game is more like a playoff exhibition.
You do make a good point about the Ravens and Steelers each winning a Super Bowl in the past decade. But recent titles don't necessarily make rivalries. If they did, then the Packers, Vikings and Bears don't have rivalries. Storylines and animus make rivalries. In that regard, Jets-Patriots is unsurpassed.
Walker:
Brady says he hates the Jets, but a rivalry is a two-way street. How much hatred does New York really have for the Patriots? It can't be too deep-rooted. Most of New York's key people recently came from the AFC North and other teams, including head coach Rex Ryan. I'd be willing to bet
Santonio Holmes
hates the Ravens more than he hates the Patriots. I know
Bart Scott
hates the Steelers. We've talked about it several times while he was in Baltimore.
Braylon Edwards
? He hyped his return to Cleveland 10 times more than this week's game against New England. Do you really think key players like Edwards,
LaDainian Tomlinson
and
Antonio Cromartie
have a feel for the Jets-Patriots rivalry? I doubt it.
But there is legitimate, two-way hatred between the Steelers and Ravens.
Hines Ward
hates the Ravens.
Ray Lewis
hates the Steelers. The markets of Pittsburgh and Baltimore simply cannot drive the point home like bigger cities New York and Boston can. For example, Ravens defensive end
Terrell Suggs
basically told me he doesn't like the Steelers, either, which is similar to what Brady said about the Jets. Yet it didn't get any attention. The Jets-Patriots rivalry may be unsurpassed in hype. But the Ravens-Steelers rivalry is unsurpassed in substance.
Graham:
Come on, James. You need to do more than take a glance at 2010 rosters to understand the Jets-Patriots rivalry. Every team has free agents who need to learn a rivalry. The point about Brady's hatred was that he never said that about the Colts, which you propose is a bigger rival for the Patriots than the Jets are.
But you want substance? How about Bill Parcells taking the Patriots to the Super Bowl and then leaving them for the Jets amid such controversial circumstances the NFL forced New York to send four draft picks to the Patriots over three years, including the first-round pick in 1999, as a penalty? How about the infamous
Curtis Martin
defection from the Patriots to the Jets and the infamous "poison pill" contract? How about Parcells abdicating his Jets job to Bill Belichick and then Belichick writing his resignation on a cocktail napkin moments before the Jets thought they were introducing him as their next head coach? How about the Jets blocking Belichick from joining the Patriots until he filed a federal lawsuit and then settling on the Patriots shipping five draft picks to the Jets over three years, including their 2000 first-rounder? How about Patriots defensive coordinator Eric Mangini departing to be Jets head coach and leaving the bridge in cinders? How about the Patriots filing tampering charges against the Jets on receiver
Deion Branch
? How about a little thing called Spygate? How about
Damien Woody
,
Danny Woodhead
,
Ty Law
,
Vinny Testaverde
,
Roman Phifer
,
Larry Izzo
,
Hank Poteat
and
Chris Baker
(among many other role players) wearing both uniforms within the past decade? Steelers-Ravens has nothing even remotely close to a third of that rundown.
[+] Enlarge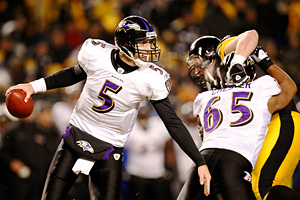 Gregory Shamus/Getty ImagesJoe Flacco will have to constantly prove himself against the Steelers and Ben Roethlisberger.
Walker:
Why you think playing for both teams makes it more of a rivalry is beyond me. I think it lessens your argument. I can't imagine
Ed Reed
or Lewis wearing a Steelers jersey. Ward would never sign a deal to play for the Ravens. Not in a million years. These two teams hate each other too much. Yet all these Jets and Patriots players simply flip-flop between teams at their leisure? That's weak and not the sign of a hated rivalry, in my opinion.
Graham:
That's rather Pollyanna to think Ravens would never go play for the Steelers or vice versa. Do you honestly believe if the Steelers had hired Ryan, then all of those players who followed him to the Jets wouldn't have gone to Pittsburgh? Please. Players pursue the best opportunity based on money, playing a system they love and a chance to win a title.
Here is how players switching teams make for a better rivalry: It thickens the plot. Fans who used to wear a player's jersey burn them. The expatriate player shares playbook secrets and other intelligence. That player has a chip on his shoulder and comes back to haunt his old team.
Walker:
Moving onto quarterbacks. I think there are some similarities between the teams' four passers.
Joe Flacco
is the third-year upstart trying to get to the championship level of
Ben Roethlisberger
, who already has two rings. Much of Flacco's status eventually will be determined by how much success he has against Roethlisberger and the Steelers within his division. It seems the Ravens and Steelers are always in the way and have to go through each other to have a deep run in the playoffs and get to the Super Bowl. What dynamic do you see developing with Brady and a young
Mark Sanchez
?
Graham:
I don't know if there's much of a quarterback comparison beyond the glamour element at this stage. Brady and Sanchez have a lot in common from an off-the-field standpoint. They sell a lot of jerseys, attract a lot of ladies, walk a lot of red carpets, appear in a lot of photo shoots and do a lot of cameos. But they're too far apart in experience to compare résumés.
[+] Enlarge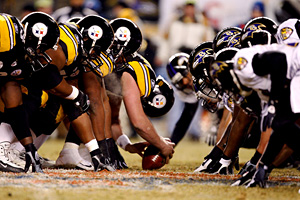 Streeter Lecka/Getty ImagesThe Ravens and Steelers have competed recently in many high-profile matchups -- including the 2008 AFC Championship Game.
I see the Jets and Patriots as more of a fan base and organizational rivalry: teams from two of the greatest sports markets, with two of the NFL's most influential owners, and two of the best defensive coaches in the game -- heck, two of the most controversial coaches of this generation. Ever since Ryan took over as Jets head coach, he has been tweaking Belichick. Some thought the rivalry would wane when the Jets fired Mangini, but Ryan -- a guy who helped build the Steelers-Ravens rivalry, by the way -- came along and made it juicier.
Walker:
Now is our favorite part. It's prediction time. It's no secret the Steelers and Ravens are built and play similarly. So it's usually a close game. Baltimore is going for its first series sweep since 2006, but Roethlisberger didn't play in the first meeting because of a suspension. Now he's back and is 7-2 all-time against Baltimore. But I have a feeling this is the Ravens' week. They are healthier overall, 5-0 at home and appear to be peaking at the right time. The Steelers, on the other hand, have been up and down. Both teams usually bring out the best in each other, but I'm picking the Ravens to win, 20-17. So who are you picking between the Patriots and Jets, Tim? Don't chicken out.
Graham:
I predict the loser of the Jets-Patriots game will have the same record as the team that wins the Ravens-Steelers game. Predicting a score has no bearing on our debate of which rivalry is better. But I will say the Jets and Patriots provide a rare showdown between teams with the NFL's best two records. This is only the fifth time in "Monday Night Football" history two clubs with records of 9-2 or better will play, and the first game under those circumstances that doesn't involve the
Joe Montana
-led
San Francisco 49ers
in Candlestick Park.
This is a special game befitting a special rivalry. Your game features clubs that needed overtime to beat the
Buffalo Bills
. I'll expect that resignation letter by kickoff.
September, 8, 2010
9/08/10
12:02
PM ET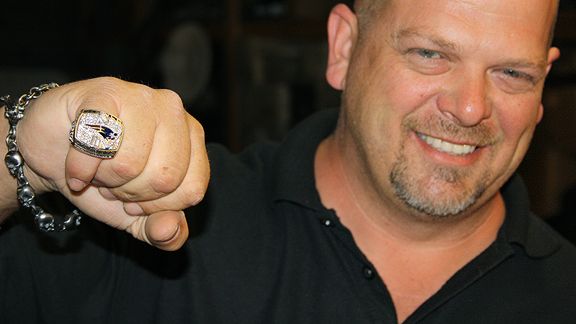 Laura Karaer"Pawn Stars" leading man Rick Harrison wears the New England Patriots' 2001 Super Bowl ring that used to belong to Brock Williams.
In the daily routine at his Las Vegas pawn shop, Rick Harrison ambles to his vault and takes inventory. He processes valuables cash-strapped folks deposited for collateral on loans. Whatever items are unclaimed after 120 days become his property.
In July 2006, he came across a sacred item abandoned.
"I actually made the joke that morning 'You know, one of these days I might open one of these envelopes and the Holy Grail's going to fall out,'" Harrison said.
What he came across that day was the NFL's holy grail, the object every player will pursue when the regular-season quest begins Thursday night: a sparkly Super Bowl ring.
A
New England Patriots
2001 championship ring now sits in Harrison's mirrored showcase, but you don't need to drop by Gold & Silver Pawn Shop at 713 South Las Vegas Blvd. to check it out.
That ring is the centerpiece of the opening to "Pawn Stars," the History Channel's hit series about the day-to-day operations of Harrison's family-owned shop. The most prominent item you see at the top of each show is the bauble and its shimmering Patriots logo.
To see the symbol of their franchise's
crowning achievement reduced to a pawn prop
must make the Patriots sick.
"That ring means the world to me," former Patriots linebacker Tedy Bruschi said. "When I look at it I think of guys like Roman Phifer, Drew Bledsoe and especially Dick Rehbein [the quarterback coach who died in August 2001]. So many men came together to bring the first-ever Super Bowl title to the fans of New England.
"Rings are hard to come by, but life can be even harder sometimes. If you needed the money, I understand. But if you just sold it for kicks, then you never truly understood the mission."
The "Pawn Stars" ring was issued to rookie defensive back Brock Williams, a third-round draft choice from Notre Dame in 2001. A knee injury prevented him from playing a down for the Patriots, but he was on the roster when they won that precious first title.
Williams did finally see some action, playing 10 games for the
Chicago Bears
and two more with the
Oakland Raiders
before recurring knee injuries forced him to retire.
[+] Enlarge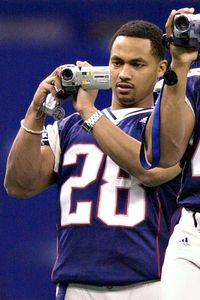 AP Photo/Steven SenneBrock Williams never played a down on the Patriots' 2001 team, but still received a Super Bowl ring.
Down on his luck and in need of a few bucks, Williams stopped by Harrison's pawn shop to hock the NFL's ultimate reminder of greatness.
Super Bowl XXXVI rings were the largest and most expensive produced up until then. They weighed 2.6 ounces, were
cast of 14-karat white gold and included 143 diamonds
. Faces featured Patriots logos in garnets and blue sapphires.
"It's the top of the heap," said Harrison. "The '01 Patriots ring is a pretty special ring."
Harrison recalled offering Williams a loan over $10,000. Williams declined, requesting just $2,600. By Nevada law, he had 120 days to pick up his item. With interest on the modest loan, he would've needed to pay about $3,600.
"We don't tell the customer this in the store, but we give everybody an extra three weeks because inevitably people are late," Harrison said. "So if people come in up to three weeks later, we say 'No problem.'
"But you can hold onto an item only so long. I've got a business to run."
Williams never showed up. To this day, he hasn't contacted Gold & Silver Pawn Shop about the item he left behind.
Harrison, a San Diego native who gave up his Chargers season tickets last year, has purchased several championship rings. He has a 1998
Denver Broncos
ring, a 2006 Miami Heat ring, a 1990 Cincinnati Reds ring, a Tampa Bay Rays 2008 ALCS ring and 50 or so college bowl rings. He has a couple of Olympic bronze medals.
But of the 40 to 50 championship rings pawned in his shop, all were reclaimed -- except this one.
"Most players, they treat them with reverence," Harrison said. "Apparently to some other players they don't mean as much."
Williams did not return messages for this story.
A couple Super Bowl XXXVI rings have changed hands for much more than $2,600.
Destitute linebacker Leonard Myers sold his on eBay for $32,600 in 2005. A staff ring (presented to a member of the front office)
sold at auction for $37,511 in 2008
.
Defensive back and special-teams player Je'Rod Cherry
raffled his ring for charity
in 2008. He said the ring raised $171,000 to build orphanages in Thailand and Cambodia, save children from sex trafficking there and feed impoverished children in Massachusetts and Ohio.
"A lot of people got help," Cherry said. "Children were taken out of brothels and given homes to live in. It's definitely something I'm proud to be a part of."
[+] Enlarge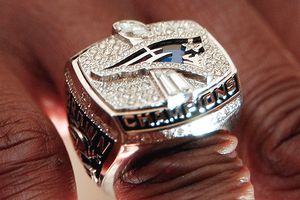 AP Photo/SEVANSBrock Williams' Super Bowl XXXVI ring isn't the only one that has changed ownership.
But to see one of those rings being lost for $2,600?
"Maybe if he was living in a third-world country, but he's living in America," Cherry said. "That money probably didn't go far.
"It saddens me that he was in that place, that the desperation kicked in and he needed to do that. I understand when you're struggling and need to do what you have to to get by. You have this nice ring and bills to pay."
Cherry, now an ESPNU broadcaster based in the Cleveland area, was on all three of New England's title teams and kept his other two rings. He could get the first one back if he wanted badly enough. It's back on the market for $40,000.
"If I didn't have two more it might be a greater sting to part with it," said Cherry, who also co-hosts "X's and O's with the Pros" on ESPN 850 in Cleveland. "But I do love what that ring represents, that Super Bowl championship."
That's certainly not what Williams' ring represents anymore on "Pawn Stars."
Now it's an eye-catching prop seen by multitudes. For the week ending Aug. 22, "Pawn Stars" ranked third and fourth in the cable ratings. Each episode drew more than 6 million viewers.
The
New York Jets
versus
New York Giants
preseason opener on "Monday Night Football" finished fifth with 5.6 million viewers. For another comparison, HBO's "Hard Knocks" has averaged about 845,000 viewers.
Harrison appeared on Tuesday night's "The Late Show with David Letterman," sitting down with the host for two segments, an invitation generally reserved for A-list celebrities.
Harrison told Letterman his business generates between $4 million and $5 million in jewelry-related pawn interest annually and that in a normal economy only 10 percent of hocked items go unclaimed.
But whatever's left behind doesn't compare to a Patriots ring.
Harrison said he won't sell the ring for less than $100,000, a wild sum, but one that reflects how much he loves the attention it generates for his store.
For him, the joy of owning a Super Bowl ring will last much longer than it did for Williams.
March, 16, 2010
3/16/10
2:48
PM ET