June, 1, 2011
6/01/11
11:00
AM ET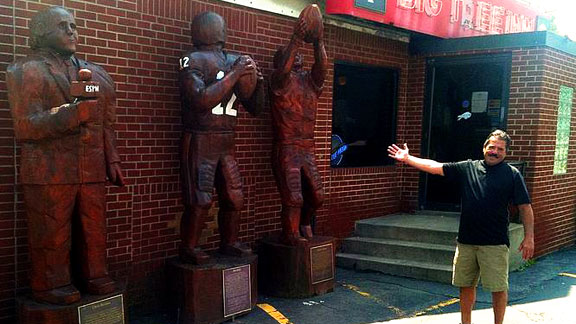 Tim Graham/ESPN.comOwner Dan DeMarco of the Big Tree Inn in Orchard Park, N.Y. The wooden statues, from left, are Chris Berman, Jim Kelly and Andre Reed.
The NFL lockout has put players and owners in limbo. The ripple effects are also felt by people whose lives or businesses touch their teams. Here are their stories:
ORCHARD PARK, N.Y. -- The Big Tree Inn has been a
Buffalo Bills
institution for decades.
The beloved watering hole and wing joint is about 600 yards of Abbott Road sidewalk away from Gate 4 at Ralph Wilson Stadium. Signed jerseys from
Jim Kelly
,
Thurman Thomas
,
Andre Reed
,
Kent Hull
,
Bruce Smith
and
Darryl Talley
adorn the walls of the modest 1,600-square-foot space.
Ruben Brown
, the perennial Pro Bowl guard, has his own corner.
The Big Tree Inn is a gathering spot for fans and a rite of passage for the players who pass through during the week -- and after home games -- to hang out with hardcore patrons. Wise visiting players place to-go orders for the bus ride to the airport or the outbound flight.
Reed called the Big Tree "a hallowed place," which, when he walks through the door, gives him the same feeling others might get when they walk into Fenway Park or Yankee Stadium.
"That was the first place I walked into as a so-called Bills rookie at that time," Reed said. "Every time you walk in there, you get a sense of what the Bills are all about."
You can imagine how much a Ralph Wilson Stadium neighborhood restaurant with 12 employees would rely on NFL games to remain profitable. With the lockout threatening to wipe out exhibitions and maybe even regular-season dates, Big Tree Inn owners Dan DeMarco and Brian Duffek are nervous.
"We're just praying," Duffek said on a quiet Tuesday afternoon at the bar. "If this is the crowd we have on a Sunday in October, we've got a big problem."
The Big Tree is as much of the game-day routine for many Bills fans as putting on a parka. Duffek said home games account for about 30 percent of the Big Tree's annual revenues. The till already had been shorted by games the Bills outsourced to Toronto through 2012.
In addition to the business' bottom line, bartenders could lose out on hundreds of dollars in tips each day. Hours likely would be cut for the whole staff.
"Everybody says 'There's only eight or nine home games,' but people don't realize that a home-game crowd starts showing up on Thursdays and pour into Mondays," DeMarco said from behind the bar. "People flock in from out of town and fill the motels around here. They give us four or five days of business every home game."
DeMarco joked about his regular crew of "season-ticket holders" who prefer to watch the home games at his place rather than in person.
A large wood carving of Reed stands outside the entrance, alongside versions of Kelly and ESPN's Chris Berman. Bottles of Reed's Over the Middle Sauce are stationed around the bar.
"It's been cemented in my life," Reed said. "When we became a team in the late 1980s and early 1990s, the Big Tree was a huge part of that.
"The camaraderie was always evident when we showed up there and, over some beers and some wings, would talk about our team and what our goals were. Every Friday we went to the Big Tree, talked about the week's practice and could be ourselves away from the coaches and the stadium. A lot of tension was released there. A lot of things were gotten off our chests in that place. Any time I go back up there, it's a lot of memories."
There are a lot of ghosts wafting around the Big Tree, but Sundays could make the place look like a ghost town if the lockout endures.
January, 13, 2011
1/13/11
1:36
PM ET
Time for another edition of "Speed Dial," where I call a few folks from my Rolodex to get their takes on a particular subject.
Today's question: In light of what
New York Jets
cornerback
Antonio Cromartie
recently said about
New England Patriots
quarterback
Tom Brady
, is there a
line that can be crossed when it comes to trash talking
?
Ruben Brown,
Buffalo Bills
guard (1995-2003):
"Beauty is in the eye of the beholder. If it's said to a player who will respond, then, yes, there is a line. But when it's a pro like Tom Brady, this is just going to roll like water off a duck's back. He'll say 'There's another crazy guy, talking smack.'

"You're totally wasting your time. It's like trying to call Peyton Manning out. Tom Brady and the elite, elite players, there's no real need to trash talk. Would he say that to Ray Lewis? No, because Ray would knock his block off. Those guys' work speaks for itself. What has Cromartie done compared to Tom Brady? Cromartie's not a Tom Brady, so Tom doesn't have to worry about him.

"I don't know if he really hates Tom or he's just getting himself pumped up for the game. I know plenty of times I've been psyched up for a game. You get tired of hearing the same questions over and over and you just lash out and say 'Screw that guy. I'm sick of hearing about him.' "
Ken O'Brien, New York Jets quarterback (1984-92):
"I think there definitely is a line and things that should not be said. I just think, regardless of the parties involved, that it's a common-sense thing. It comes down to the way you would want to be treated and the way you're raised. Just because you get asked a question, there's no need to sensationalize. In that situation, I think if you had time to think about it, you wouldn't want to say that.

"I don't even look at it in terms of being professional or affecting competition. It's not going to affect the outcome, and knowing Tom a little I'll bet he didn't think about it for two seconds. I look at it as how you represent yourself to people. I just think there's no place for that. Life's way too short. Talk about things that are positive, and you'll serve yourself a lot better."
Sam Madison,
Miami Dolphins
cornerback (1997-2005):
"It's the heat of the moment, and right now you're talking about the playoffs. You see the way their leader, Rex Ryan, is treating the situation. His players are taking the same approach their coach is dishing out. That's something that's brewing in the locker room among those guys, and [Cromartie] just had the nerve to say it.

"But when you get into it with one of the best quarterbacks in the league, you have to be ready to back it up. It gives Tom Brady more bulletin-board material. But all year, when wasn't there bulletin-board material coming from that Jets regime? It's just the way everybody's building up for a big football game."
April, 27, 2010
4/27/10
1:00
PM ET
»
NFC Big Question
:
East
|
West
|
North
|
South
»
AFC
:
East
|
West
|
North
|
South
Did the Jets make a wise decision in cutting Alan Faneca?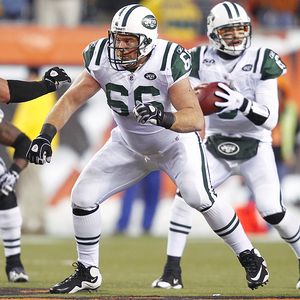 Joe Robbins/Getty ImagesIs a 33-year old Alan Faneca still better than a 22-year old prospect?
The Jets released nine-time Pro Bowl guard Alan Faneca over the weekend. I reached out to another nine-time Pro Bowl guard,
Ruben Brown
, formerly of the
Buffalo Bills
, to get his thoughts on the move.
Based on what you've seen from Faneca, did the Jets make the right call?
Ruben Brown:
I've been watching Alan. He's reached that stage in his career where that's all people can say about you, that you're slipping. He's risen to be one of the best to play the game in this era, and once you reach the top, what else can they say about you? You're going down.
But GMs and scouts don't always understand offensive-line play. The top notch guys -- premier guys like Alan Faneca,
Kevin Mawae
,
Olin Kreutz
-- they can play as long as they feel like playing because of their knowledge of the game.
The Jets drafted Vladimir Ducasse out of UMass in the second round. Plus, Faneca was going to make $7.5 million in base salary. I'm sure the contract played a little more into it than just a player slipping.
RB:
That probably played all into it. But can a 24-year-old kid dominate Alan Faneca to the point you put him on the bench? I don't think so.
Faneca is 33 years old. Can you explain why you believe an offensive lineman can play at an advanced age while other positions can't?
RB:
As a running back, your speed's always got to be up. As an O-lineman, it's so much about balance and strength and technique you can play when you're older. When you're a receiver or running back you have to run as fast as these young kids are running.
Alan Faneca lost a step, but his one step he lost still leaves him better than all the other guys waiting in the wings. Until you find a guy doing what he was doing when he was 26, 27, 28, then you don't get rid of him. It's not like he's going to drop off and be a CFL player.
What does losing a guy like Faneca do to the chemistry of the guys he's leaving?
RB:
Most offensive lines that are good are tight. They hang out together. They talk. Their families socialize together [Faneca and Jets center
Nick Mangold
were out to dinner with better halves
when Rex Ryan called to inform Faneca he was being cut
].
It's a blow to lose a brother, but offensive linemen know the axe is going to fall. Cuts are made in that room more than others it seems. You knew the axe is coming for you sooner or later. But you've got to go on. Hopefully, somebody else steps up with the Jets.
March, 12, 2010
3/12/10
1:50
PM ET
To mark the NFL's 75th draft next month, the league has launched a neat venture to sort out the 75 greatest draft picks and
determine the all-time most valuable selection
.
NFL.com editors narrowed each team's list of candidates down to the top 10, which seems a little unfair to the organizations steeped in history. The Dallas Cowboys' 20th most impressive pick is more deserving than the Houston Texans' sixth.
[+] Enlarge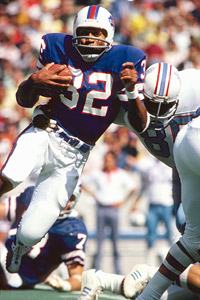 Malcolm Emmons/US PresswireO.J. Simpson is one of the best selections the Bills ever made.
I disagree with the decision to include players who didn't suit up for the teams that drafted them. For instance, tackle Leon Gray is listed for the Dolphins, kicker Gary Anderson for the Bills and punter Craig Hentrich for the Jets.
How can they be considered great draft picks if the teams that evaluated them declined to include them on their final rosters? Sounds to me like they were accidental draft picks more than savvy selections.
But if that's how they're going to do it, then I'd like to see Gary Fencik, a 10th-round pick in 1976, listed under the Dolphins.
Anyway, each team has 10 candidates fans can choose from when voting through April 18 at NFL.com. Parts of the list will be revealed on NFL.com and the NFL Network beginning April 19. The top 10 will be saved for the draft telecast.
The AFC East candidates, in alphabetical order:
Buffalo Bills:
Gary Anderson (seventh round, 1982); Ruben Brown (first round, 1995); Joe DeLamielleure (first round, 1973); Jim Kelly (first round, 1983); Reggie McKenzie (second round, 1972); Andre Reed (fourth round, 1985); O.J. Simpson (first round, 1969); Fred Smerlas (second round, 1979); Bruce Smith (first round, 1985); Thurman Thomas (second round, 1988).
Miami Dolphins:
Dick Anderson (third round, 1968); Larry Csonka (first round, 1968); Leon Gray (third round, 1973); Bob Griese (first round, 1967); Sam Madison (second round, 1997); Dan Marino (first round, 1983); Jake Scott (seventh round, 1970); Dwight Stephenson (second round, 1980); Jason Taylor (third round, 1997); Zach Thomas (fifth round, 1996).
New England Patriots:
Tom Brady (sixth round, 2000); Nick Buoniconti (13th round, 1962); John Hannah (first round, 1973); Mike Haynes (first round 1976); Lee Roy Jordan (second round, 1963); Ty Law (first round, 1995); Curtis Martin (third round, 1995); Lawyer Milloy (second round, 1996); Richard Seymour (first round, 2001); Andre Tippett (second round, 1982).
New York Jets:
Joe Fields (14th round, 1975); Mark Gastineau (1979); Craig Hentrich (eighth round, 2000); Keyshawn Johnson (first round, 1996); Joe Klecko (sixth round, 1977); Mo Lewis (third round, 1991); Joe Namath (first round, 1965); Marvin Powell (first round, 1977); John Riggins (first round, 1971); Wesley Walker (second round, 1977).
February, 16, 2010
2/16/10
4:36
PM ET
Welcome to the first edition of "Speed Dial," a running feature I've created in which I call three people in my cell phone address book and get their insight on a particular subject.
Today's question, in light of the party that refuses to end in New Orleans, is:
What would happen in Buffalo if the Bills won the Super Bowl?
Former Bills punter and linebacker Paul Maguire:
"If I could get back into the bar business for one day, it would be the day the Bills win the Super Bowl -- and maybe for the week after that. Then I could shut down. Buffalo is a hard-hat town. You give them a reason to celebrate, by God, they're going to celebrate. And they'll show you how.
"You don't ever stop celebrating the Super Bowl. I remember in the 1960s, when we won the AFL championship. I still lived in San Diego, and when I got back to training camp the following summer, they were still celebrating. And that was just the AFL championship. The people in Buffalo, if they ever would have won, my God ... They, above anybody, after being there four times, it would be truly hard to give up and every time you had a drink you'd have one to the Super Bowl champion. I don't think that would ever go away."
Nine-time Pro Bowl guard Ruben Brown, whose rookie season came two years after Buffalo's last Super Bowl appearance:
"Oh, man. The city would shut down for a month. And I'm not joking -- a month. This is the type of place you'd see the repeat of what's going on in New Orleans right now. They're starving. They want it as much as New Orleans wanted it or the people who wanted it for New Orleans. People who root for other teams would want that for Buffalo. The mayor would make a proclamation. All the kids would be out of school. The towns would change the names of the streets to the names of the players.
"The people of Buffalo are hearty people. Not much has gone right for them recently from a financial or economic standpoint. But everyone looks out for each other. It's the type of place that makes you feel like when you walk into your mom's house and smell the food that's on the stove. The only label they put on you is whether you're about family or a hard-working guy. That's all that matters here.
"When I was playing, I met a lot of fans who told me that's all they wanted in life. 'I want to live to see the day when the Bills win the Super Bowl.' Unfortunately, some of them haven't."
Bills Wall of Fame member Steve Tasker, who lost four straight Super Bowls:
"The rapture would run just as deep as in New Orleans. The thing, when you talk about Buffalo or Green Bay or the smaller-market teams that have been around forever, you're talking about every person in that town growing up with that team as their team. It's not the same as cities like New York or Los Angeles. It's you dad's team, your uncle's team, your cousin's team, the teacher's team, the cops, the lawyers, the butcher, baker and candlestick maker. It's a family team."
June, 26, 2009
6/26/09
9:45
AM ET
Posted by ESPN.com's Tim Graham
To get in the spirit of ESPN.com's all-decade week, I asked readers on Monday to select their AFC East team for the 20-aughts.
Although some insisted on submitting ballots that included a 4-4-4 defensive scheme and somebody kept signing on under different usernames to stuff the box for guard Adam Levitre (I think "they" meant Buffalo Bills rookie Andy Levitre), the results were sound.
Here are your picks along with my own.
| | |
| --- | --- |
| | |
| | Al Pereira/NFL |
| | The Jets' Curtis Martin eclipsed 1,000 yards rushing in five seasons this decade. |
OFFENSE
Quarterback: Tom Brady.
Of note: One vote came in for anybody other than the two-time Super Bowl MVP. Chad Pennington was the recipient.
My pick: Brady.
Running back: Curtis Martin.
Of note: There have been some stellar rushing seasons in the AFC East, but not much longevity. Martin's closest competition was Ricky Williams. Beyond that, nobody received more than two mentions. Thurman Thomas, who had 28 carries this decade, got a vote.
My pick: Martin.
Fullback: Tony Richardson.
Of note: Richardson's career credentials are remarkable. He has blocked for five 1,000-yard rushers. But last year was his first in the AFC East.
My pick: Larry Centers. He spent only three seasons in the AFC East, but he had 80 catches for the Bills in 2001, earning him Pro Bowl honors.
Receivers: Randy Moss, Laveranues Coles.
Of note: The only thing worse than Richardson getting votes after one year would be Terrell Owens after zero. Thankfully, nobody made that mistake. Moss and Coles were clearly ahead of the field, with Lee Evans coming in third and Chris Chambers fourth.
My picks: Moss, Eric Moulds.
Tight end: Randy McMichael.
Of note: Aside from Brady, no player was more unanimous at his position than McMichael.
My pick: McMichael.
Tackles: Vernon Carey, Matt Light.
Of note: Only four tackles were nominated, with Light edging out Jason Peters by one vote. Kareem McKenzie was a distant fourth.
My picks: Light, Peters.
Guards: Logan Mankins, Stephen Neal.
Of note: Ruben Brown, a nine-time Pro Bowler at left guard, received only six votes.
My picks: Brown, Mankins. If Neal can learn right guard without playing a down in college, then Brown can learn how to play there on my team.
Center: Kevin Mawae.
Of note: Nick Mangold came in second with half as many votes as Mawae, a player many readers felt should have been on the NFL's all-decade offense instead of Olin Kreutz.
My pick: Mawae.
DEFENSE

Defensive ends: Jason Taylor, Richard Seymour.
Of note: Not even close.
My picks: Taylor, Seymour.
Defensive tackles: Vince Wilfork, Pat Williams.
Of note: Williams edged out Kris Jenkins, who's coming off his lone season in the AFC East.
My picks: Wilfork, Ted Washington. Washington was a Pro Bowler for the Bills in 2000 and won a Super Bowl with the Patriots in 2003.
Linebackers: Zach Thomas, Mike Vrabel, Tedy Bruschi.
Of note: Thomas was omitted from the NFL all-decade defense, but he received the most votes of any AFC East linebacker. Joey Porter finished fourth, four votes behind Bruschi.
My picks: Thomas, Vrabel, Takeo Spikes. Many folks overlook Spikes because his teams never had success.
Cornerbacks:
Ty Law
,
Asante Samuel
.
Of note: Aside from Brady, nobody received more votes at his position than Law.
My picks: Law, Patrick Surtain. While Samuel was a Pro Bowler in 20
07, he started only three seasons for the Patriots. Surtain went to three Pro Bowls and was named All-Pro once this decade.
Safeties: Rodney Harrison, Brock Marion.
Of note: Marion edged Lawyer Milloy by a single vote.
My picks: Lawyer Milloy, Marion. Harrison had one All-Pro season with New England. Milloy was a two-time Pro Bowler and had productive seasons for the Patriots and Bills.
SPECIAL TEAMS
Kicker: Adam Vinatieri.
Of note: Some clown voted for Olindo Mare.
My pick: Vinatieri.
Punter: Brian Moorman.
Of note: Tom Tupa received a couple votes, but Moorman was the obvious selection.
My pick: Moorman.
Kick returner: Terrence McGee.
Of note: Leon Washington might have been impacted by readers splitting their votes for him between punt and kickoff returner.
My pick: Washington. He ran back three kicks in 2007, led the NFL in all-purpose yards last year and still might be getting better.
Punt returner: Roscoe Parrish.
Of note: He led the NFL in punt return yardage the past two years.
My pick: Parrish.

June, 23, 2009
6/23/09
11:09
AM ET
Posted by ESPN.com's Tim Graham
A month ago, Randy Moss declared himself "the best wide receiver of all-time, hands down" and scoffed than anybody would dare think otherwise.
| | |
| --- | --- |
| | |
| | US Presswire |
| | Receivers Terrell Owens and Randy Moss may both end up in Canton one day, but neither cracked ESPN.com's all-decade team. |
Keep him away from computers for a while.
ESPN.com unveiled it's all decade-offense, and Moss wasn't on it. Neither was Buffalo Bills receiver Terrell Owens.
The selections at receiver -- with input from NFL general managers, scouts, coaches and players -- were Marvin Harrison and Torry Holt instead. As AFC West blogger Bill Williamson explained in the story, criteria included stats, championships and Pro Bowls. ESPN.com's all-decade defense was announced Monday.
Moss, of course, is missing a Super Bowl ring. But he was a four-time Pro Bowler this decade. He has averaged 77 catches for 1,164 yards and 12 touchdowns the past nine years.
"I don't really like to judge people or other athletes," Moss told me in a telephone interview. "I know what I'm able to do on the field, but the things I'm able to do to dictate how a defense plays the game, I don't think there's no other receiver but myself and Jerry Rice to be able to do that."
In the same interview, Moss also struck a more modest tone when talking about his elusive title.
"I don't really know where I rank at, but as long as I get a Super Bowl ring before I leave this game, I think my life and my goal would be complete in the NFL," Moss said.
Owens can say the same. Owens, like Moss, has played in one Super Bowl and lost but owns some gaudy career numbers. Both are headed for the Pro Football Hall of Fame.
Do you think there are other AFC East omissions?
Curtis Martin and Ricky Williams might come to mind, but there's no way either should supplant LaDainian Tomlinson.
One obvious name to consider is center Kevin Mawae. In his six seasons this decade with the Jets, he was selected for five Pro Bowls. Selected instead was Chicago Bears center Olin Kreutz.
Buffalo guard Ruben Brown, a perennial Pro Bowler who played four seasons with Kreutz in Chicago, told me one entertaining night at the Big Tree Inn in Orchard Park, N.Y., that Kreutz could be the greatest center in NFL history.
February, 2, 2009
2/02/09
10:41
PM ET
Posted by ESPN.com's Tim Graham
Perennial Pro Bowl guard Ruben Brown announced his retirement Monday night on my friend Brad Riter's radio show on WECK in Buffalo.
While this isn't earth-shattering news -- Brown couldn't get a job in 2008 -- it does bring to an end one of the most decorated careers in Buffalo sports history.
"Thirteen years, nine Pro Bowls, two teams, four surgeries ... That's not bad," Brown said.
Brown also is one of my favorite barroom topics in Buffalo because every fan there seems to have a strong opinion of him. He went to eight straight Pro Bowls for the Bills, but many thought he was overrated and found his untimely penalties insufferable.
So where does Brown rank among the all-time great Bills?
He certainly deserves to be on the team's Wall of Fame at Ralph Wilson Stadium. Does his career warrant more? Players with lesser credentials have been inducted into the Pro Football Hall of Fame.
No opinion from me in that last sentence. Just framing the conversation.
Bruce Smith, selected Saturday as a first-ballot Hall of Famer, is the only Bill to have made more Pro Bowl teams than Brown. Jim Kelly and Thurman Thomas went to five apiece. O.J. Simpson was chosen for six. Andre Reed made seven Pro Bowls.
Brown never was an All-Pro and, of course, didn't win a Super Bowl. He arrived too late for the Bills' four consecutive Super Bowl streak. But eventually he did play in one, earning his ninth Pro Bowl selection with the NFC champion Chicago Bears in 2006.
"I was upset that here I was prepared ... and I didn't have any game to go out and test all of that work I've been doing as far as staying in shape and staying flexible out against any other athletes," Brown said.
"But I've already done it against the best. The top guys in the business, the guys that are going down as legends, I played against those guys, and I did all right. They taught me a lesson or two, but I did all right."
You can listen to Riter's interview with Brown, who has a weekly spot on the program. The retirement announcement comes in the second segment, but you can listen to anything Brown has to say and understand why he can leave the game. He has a bright future in broadcasting.
October, 15, 2008
10/15/08
2:27
PM ET
Posted by ESPN.com's Tim Graham
The New England Patriots went into this season a guaranteed playoff team. Sure, there were the obligatory Super Bowl hangover references, but nobody truly believed them.
One game into the season they were reclassified slightly. Maybe they weren't favorites to win it all without Tom Brady, but they still were a surefire postseason club.
2005 Standings Entering Week 7
Team
W-L
Bills
3-3
Patriots
3-3
Dolphins
2-3
Jets
2-4
2005 Final Standings
Patriots
10-6*
Dolphins
9-7
Bills
5-11
Jets
4-12
*made playoffs
After all, they didn't have to dominate to reach the playoffs. They merely had to finish among the top six teams in the AFC.
That's going to be tricky because there are doubts they'll finish in the top half of their division. Maybe not among the top three.
The AFC East is that competitive.
The first-place Buffalo Bills and the last-place Miami Dolphins are separated by two games. Then sandwiched between are the New York Jets and Patriots at 3-2.
How refreshingly competitive. The past two seasons the Patriots bolted to a forceful start and at least one of the other four teams did a face plant out of the blocks, creating a sizable gap in the standings.
Since the NFL realigned in 2002 and moved the Indianapolis Colts out of the division, the only time the AFC East standings have been this tight heading into Week 7 was in 2005, but none of the four teams had a winning record. The Bills and Patriots were 3-3. The Dolphins were 2-3. The Jets were in last place at 2-4.
This season, however, three AFC East teams are above .500, and the revitalized Dolphins are two plays away from being tied with the 4-1 Bills.
Givens no longer reside here.
2002 Standings Entering Week 7
Team
W-L
Dolphins
5-1
Bills
3-3
Patriots
3-3
Jets
1-4
2002 Final Standings
Jets
9-7*
Patriots
9-7
Dolphins
9-7
Bills
8-8
*made playoffs
"You could look ahead a year or two at the AFC East and see the toughest division in all of football," said former Dolphins linebacker Kim Bokamper. "It's good for competition, and no matter what players say, if you got the weak sister in there -- back in my day it was Buffalo -- you always were chalking up two wins. You don't have that anymore."
The Patriots, Jets and Dolphins all are 1-1 against each other.
Here's a breakdown of how the AFC East stacks up after six games:
Buffalo Bills (4-1)
The Bills might be the NFL's most balanced team. They don't rely on any one facet of their roster to bail out the others. A glance at the depth chart doesn't turn up an abundance of Pro Bowlers, but try to find a glaring weakness.
"Buffalo is the team to beat," Bokamper said. "With a healthy Trent Edwards, they are as good as any team in the AFC."
Edwards staying healthy is a real concern. He suffered a concussion in Week 5, and the Bills' offensive line has been playing on its heels at times.
The O-line still is dealing with the aftermath of left tackle Jason Peters' prolonged holdout. He missed voluntary offseason workouts, mandatory mini-camp and all of training camp before reporting without a new contract. Right tackle Langston Walker was moved to Peters' spot, further fiddling with the continuity.
"They just don't have it," said former Bills and Chicago Bears guard Ruben Brown, a nine-time Pro Bowler who still hasn't officially retired. "But the good thing is all these guys have worked together for a while. It'll start picking up, and now is the time to turn it on."
The Bills are the only AFC East team not to have played a divisional game, making for a rugged homestretch. Both Bokamper and Brown claim that augers well for them.
"I'm banking on the Bills beating the Jets each time, and I think that will shake up that division," said Brown, who is host to a weekly radio show that can be heard at BuffaloMainEvent.com. "It boils down to who wins out of the Jets and the Bills. That's where it's going to be."
New England Patriots (3-2)
| | |
| --- | --- |
| | |
| | Kim Klement/US Presswire |
| | Former Dolphins linebacker Kim Bokamper thinks a Randy Moss breakdown is forthcoming. |
For the first time under head coach Bill Belichick, the Patriots have suffered two losses of 20 or more points in the same season. There are 11 games to go.
"I think New England is going to take some more lumps," Brown said. "It's just time. They've been on top for so long."
The Patriots have been unable to reinvent themselves without the injured Brady, who last season conducted one of the most prolific offenses in football history. Now the Patriots have the AFC East's lowest-scoring offense with 89 points. The winless Cincinnati Bengals have scored 88.
"And the Randy Moss tantrum hasn't really set in yet," Bokamper said. "It's going to happen at some point. When that blooms anything can happen there."
New England also has shown troubles on defense, particularly in the secondary. Dolphins quarterback Chad Pennington owned the middle of the field in an eye-opening 38-13 laugher in Gillette Stadium. San Diego Chargers quarterback Philip Rivers chose to drop bombs on the Patriots' cornerbacks in Sunday night's 30-10 rout.
"As long as they have Bill Belichick and Randy Moss and all that talent they have there, they just need to treat it game by game," former New York Jets defensive lineman Marty Lyons said. "They didn't play well and made a lot of mistakes against the Chargers, but it's only one game. Belichick will learn more about his team, his quarterback and realize the NFL is a long season.
"They're well-equipped to make a strong run. You haven't heard the last of New England."
New York Jets (3-2)
The more Brett Favre becomes familiar with the Jets offense, the tougher they'll be to beat.
The Jets already have established themselves in the trenches. The Patriots line up Pro Bowlers from center out to left tackle, but the Jets' offensive line is the best in the division despite inserting free agents Alan Faneca and Damien Woody. The Jets' defensive line anchors a unit that's third-best against the run.
Favre through five games has a 103.0 passer rating, which would be the best in his career over a full season. He has even more potential because he's still learning the offense. Brown's days with the Bears taught him the best way to beat Favre is to knock him around, but the Jets' O-line will make that difficult.
"If you take him out of the game early you can win," said Brown, whose Bears were 6-2 against Favre's Packers. "You have to contest everything he does. But he's like Michael Jordan. If you keep it close, he's going to beat you."
The Jets need to better establish their running game. Thomas Jones hasn't eclipsed 100 yards since the season opener, but he scored two rushing touchdowns in Sunday's victory over the Bengals. He also had a receiving TD for the first three-score game of his career.
"They just have to take care of business," Lyons said of the Jets. "They don't have to win by 50 points. It doesn't have to look pretty. They just have to win. That would set up a big game against Buffalo.
"It's potentially a game for first place if both teams do what they're supposed to do. But they can't look ahead."
Miami Dolphins (2-3)
Let's see a show of hands from NFL head coaches: How many of you want to play the Dolphins?
Zero would be the appropriate response.
The Dolphins aren't handing out free wins anymore. Pennington's leadership, while not cutting it with the Jets coaching staff, has been perfect for the Dolphins. Running back Ronnie Brown is flashing All-Pro talent. Their revitalized defense, energized by linebacker Joey Porter and cornerback Will Allen, has given up the fewest points in the AFC East.
"Tackle to tackle on both sides of the ball, I don't want to say they're as good as anybody, but they can compete with anybody," Bokamper said.
And we're not even going to factor in the Wildcat, an entertaining offense that often overshadows what's going on in Miami.
Football operations boss Bill Parcells, first-year general manager Jeff Ireland and rookie head coach Tony Sparano have changed the culture dramatically. The Dolphins
are not losers anymore.

Brown calls the Dolphins the most dangerous team in the NFL, though he isn't quite sold on them for this year's AFC East race.
"It's five games into the season," Brown said. "It's going to get tougher. I don't think they're going to hold up in the long haul.
"Most teams that have new administrations, they start to wear down as the season goes on. Guys come in with a hard-line attitude and work the guys hard to develop an attitude or prove a point. That wears a team down. The only exception has been Jon Gruden in Tamp Bay, but he took over Tony Dungy's team, which was good to begin with.
"They're spirited. I think they're going to cause problems for people, but if they make the playoffs I'll be surprised."
August, 30, 2008
8/30/08
9:10
AM ET
Posted by ESPN.com's Tim Graham
Here's your Cutdown Day edition of the AFC East mailbag.
May you make it through the afternoon without hearing the words "Coach wants to see you. Bring your playbook."
Mr. Anonymous in Vienna, Va., writes: Eric Mangini's offense was a modified West Coast offense based on the weak-yet-accurate arm of Chad Pennington. Do you think this will change or be modified a little bit because of the arrival of a gunslinger like Brett Favre? Or do you think that the offense will remain like Green Bay's strict West Coast offense?
Tim Graham: The Jets went into training camp preparing for the possibility Kellen Clemens would be the starter, so the offense wasn't geared for Pennington. In fact, there was a strong sense the Jets wanted Clemens to win the job. Offensive coordinator Brian Schottenheimer surely will rely more heavily on different parts of the playbook now that Favre's around, but any drastic overhaul would force 11 guys to adjust as opposed to one.
---
Rob in Miami writes: What's the word on Wes Welker?
Tim Graham: We would have a better chance of finding out Welker's status if he were involved in Black Ops. You know how the FBI will declassify documents about a person only once they're dead? That might be when we find out how bad Welker's rib injury is.
---
Jesper in Copenhagen, Denmark, writes: How well do you think the RB duo of Laurence Maroney and LaMont Jordan in New England will do? Should one fear a meltdown in the secondary?
Tim Graham: I think Maroney and Jordan will be a formidable tandem for the Patriots. They're more than talented enough to give the Patriots an effective ground game week in, week out.
There are reasons to be worried about the Patriots' secondary. CB Fernando Bryant is respectable but not as good as Pro Bowler Asante Samuel, who left via free agency. Bryant also has a sketchy past when it comes to injuries. Rookie CB Terrence Wheatley will be a good one eventually, but he's not ready for an every-down role yet. FS John Lynch will be a steadying factor in some ways, but he can't be used in pass coverage anymore, especially not at the same time as SS Rodney Harrison.
August, 23, 2008
8/23/08
8:30
AM ET
Posted by ESPN.com's Tim Graham
This is supposed to be the preseason weekend we learn the most about how each team is coming together. The third exhibition game is when the first-stringers see the most action before sitting out the finale.
The AFC East, however, is in flux, especially on offense.
New England Patriots QB Tom Brady sat out Friday night because of his sore foot. Buffalo Bills QB Trent Edwards will miss Sunday night's game because of a deep leg bruise. Brett Favre still is trying to absorb the New York Jets' playbook and has played just two series. The Miami Dolphins still haven't settled on a starting QB and tonight won't have RB Ronnie Brown, who has a thumb injury.
There won't be as many on-field questions answered this weekend as there will be in other divisions.
So let's answer a few here in the weekly AFC East mailbag.
Joe in Buffalo writes: Honestly, it is sad that NFL Players Association executive director Gene Upshaw passed away, but the fact of the matter is that he treated the retired players like crap. HBO and other sports news outlets have covered Gene's incompetence in this field over and over. Gene may have been great at getting the whining babies of today's NFL paid, but he did nothing for the retired. The sport will be better without him.
Tim Graham: The chorus of detractors has observed the traditional moratorium since Upshaw's death, but you're not alone in your sentiments.
---
Nick in London, England, writes: You have to admire the Bills front office in their handling of the Jason Peters holdout. Given their fiscal position, they are absolutely right to wait it out. With the makeshift starting OL gashing the vaunted Steelers last Saturday, you also have to admire the coaches and players for their diligent work to overcome the loss of arguably their best raw talent. But how destabilizing do you think a potential Peters return could be for this team? Could the LT disrupt any of the good progress that the OL and the offense have made?
Tim Graham: Know how it feels when you rent a car on an extended trip and then return home to yours? That's what it would be like for the Bills' offensive line when Peters gets back. They'll reach in the wrong place for the gear shifter a couple of times and need to remember how differently the brakes feel. But it all will come back to them quickly and feel nice and familiar.
The player Peters' return mostly would affect is Langston Walker, who would move back to his right tackle position and probably feel much more comfortable. The other linemen are veterans, so they'll adjust easily enough.
---
Daryl in Alberta writes: Jets T D'Brickashaw Ferguson hasn't been mentioned much so far this summer. It's an important year for him, and the addition of G Alan Faneca leaves him with little excuse for not turning in a big year. How has he looked so far and do you think he's going to step it up this year?
Tim Graham: That Ferguson hasn't been in the spotlight probably is a good thing for him. From what I've seen, the entire Jets offensive line was playing well and developing chemistry before they acquired Brett Favre, a move that probably helps Ferguson as much as it does anybody on the offense.
Here's what nine-time Pro Bowl guard Ruben Brown told me during a recent conversation we had about blocking for a notoriously unpredictable quarterback:
It's easier for the O-line to block for these guys. If you're changing the pocket up, defensive linemen can get a bead on him. They can't rush up the field. It changes the way the defensive linemen rush. It'll help the O-linemen block better. I guarantee any good offensive lineman loves a quarterback like that. Brett will roll out and move and all that, and D'Brickashaw is the one who's going to benefit the most.
---
Chris Thompson in St. Paul writes: Who says the Vikings wanted Brett Favre? Quit making stuff up.
Tim Graham: When you're ready to dismount your unicorn, we'll talk.
---
Dave in Columbus, Ohio, writes: I am a huge Dolphin fan, and obviously am drinking the Tuna Kool-Aid. I was thrilled when the Jets landed Brett Favre because I knew we would make a run at Chad Pennington. With a healthy Ronnie Brown and a focused Ricky Williams, the receiving corps with All-Pro-caliber athlete Teddy Ginn and an O-line oriented head coach, is it crazy to dream of not being eliminated from playoff contention in the final weeks of the season?
Tim Graham: How do you type with a straightjacket on? Seriously, I think they can stay mathematically alive deep into the season, but they're clearly the worst team in the AFC East, and the AFC East has the easiest schedule in the conference. They'll be looking up at the Patriots, Jets and Bills with no shot at a wild card.