June, 14, 2011
6/14/11
1:00
PM ET
Jake Long
or
Joe Thomas
?
It's like deciding between
Tom Brady
and
Peyton Manning
. They're both elite. You can't go wrong with either pick.
But when you belong to ESPN.com's prestigious Power Rankings syndicate, you have to make tough choices.
In this week's left tackle poll, Thomas edged Long by one point. Long was listed first or second on each of the eight division bloggers' ballots. Three of them, including me, placed Long on top. Thomas received one third-place vote, but amassed five first-place votes to come out ahead.
The ballot I submitted:
Jake Long, Dolphins
Joe Thomas, Browns
Jordan Gross, Panthers
Michael Roos, Titans
D'Brickashaw Ferguson, Jets
Ryan Clady, Broncos
Chad Clifton, Packers
Donald Penn, Buccaneers
Doug Free, Cowboys
Andrew Whitworth, Bengals
Choosing between Long and Thomas is splitting hairs. They've been selected for the Pro Bowl every season in the NFL and are the reigning first-team All-Pros. Thomas was the third overall draft pick in 2007, Long the top choice in 2008.
But I gave Long the edge because of the circumstances he has dealt with in Miami.
Thomas has benefited from playing alongside reliable and steady left guard
Eric Steinbach
all four years. Steinbach has started 62 of a possible 64 games. For the past two seasons, first-round pick
Alex Mack
has shined, going to a Pro Bowl last year.
Long has had no such luxuries. He has played next to five left guards in his three seasons:
Justin Smiley
,
Andy Alleman
,
Nate Garner
,
Richie Incognito
and
Pat McQuistan
.
The Dolphins have been just as dicey at center. They should have their fourth different opening day starter in four years after drafting Florida center
Mike Pouncey
. They've used five centers the past three seasons.
Long also played at an All-Pro level last season despite a shoulder injury that had some wondering if he should shut it down.
New England Patriots
fans might be wondering why I didn't include
Matt Light
on my ballot. While he did go to the Pro Bowl as an alternate last year, Stats Inc. blamed him for 10 sacks for 78 yards in losses and four penalties -- all more than his previous two seasons combined.
April, 21, 2011
4/21/11
5:01
PM ET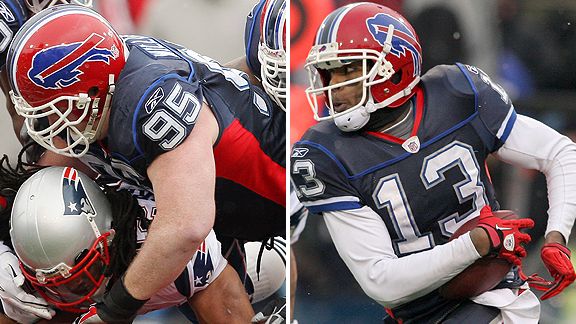 US PresswirePro Bowler Kyle Williams (left) and receiver Steve Johnson were both drafted in the later rounds.
ORCHARD PARK, N.Y. --
Buffalo Bills
fans have pondered some persistent questions over the years.
How would life have changed if Scott Norwood made that kick?
What will happen to the team when Ralph Wilson passes away?
Was the Music City Miracle really a forward lateral?
How on earth does Tom Modrak still have a job?
Modrak is Buffalo's vice president of college scouting. Modrak, formerly a
Pittsburgh Steelers
scout during their Steel Curtain years and director of football operations with the
Philadelphia Eagles
, has held the Bills' top scouting job since May 2001 and worked his first draft for them in 2002.
In that time, the Bills' streak of seasons without a playoff appearance has extended to 11 and counting. Despite holding prime draft-order slots, they have repeatedly squandered them with maddening first-round decisions.
The list is enough to make the most optimistic Bills fan groan: pass-rusher
Aaron Maybin
(zero sacks) 11th overall instead of
Brian Orakpo
(19.5 sacks) two years ago; small-school cornerback
Leodis McKelvin
11th overall instead of Pro Bowl left tackle
Ryan Clady
in 2008; safety
Donte Whitner
with the eighth pick in 2006 and then trading up for defensive tackle
John McCargo
; trading up for quarterback
J.P. Losman
in 2004; useless tackle
Mike Williams
fifth in 2002.
"Certainly we've had our misses up at the top," Modrak said Tuesday at a news conference to preview next week's draft. "We've done pretty well in the middle and at the end, the non-glamour kind of picks. But we've missed some. That is regrettable."
There are additional selections one can criticize: wide receiver
James Hardy
in the second round; running back
C.J. Spiller
ninth overall even though the Bills had a pair of 1,000-yard rushers already ...
[+] Enlarge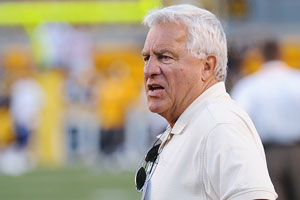 George Gojkovich/Getty ImagesDespite some high-profile misses, Tom Modrak's draftees have performed well on the whole.
OK. I'll stop now. That's enough to illustrate why there's frustration over Modrak and his scouting department's evaluation skills.
The fact Modrak joined the Bills to serve under former president Tom Donahoe -- an executive Wilson and Bills fans came to despise -- only adds to fascination of Modrak's continued employment.
Now that I've set the table, let's yank the tablecloth out from underneath the plasticware.
Data suggest the Bills haven't drafted much worse than the average NFL team since 2002.
ESPN researcher John Fisher -- he claims no relation to St. John Fisher, the namesake of the college where the Bills hold their training camp -- shuffled some spreadsheets and came up with some information that's not particularly damning when compared to the rest of the NFL.
The Bills have drafted five Pro Bowlers with Modrak in charge of scouting. That's tied for 14th in the league. One of those Pro Bowlers was Willis McGahee for the Baltimore Ravens, but Modrak was the chief scout who drafted him. What the Bills did with McGahee afterward that isn't his fault. Same goes for Marshawn Lynch.

Although a game started for the Bills isn't as impressive as a game started for the New England Patriots the past nine years, Bills draftees from the first through third rounds have started 804 games, 15th in the league.

Bills draftees from the fourth round or later have started 417 games, eighth in the league.

When it comes to individual statistics accumulated with the teams that drafted them, Bills taken from 2002 onward have ranked third in 1,000-yard rushing seasons, tied for seventh in 1,000-yard receiving seasons, 20th in total sacks and 19th in total interceptions.
While the Bills have missed badly on several of their prominent selections, they have done quite well in the latter part of the draft with gems such as cornerback and Pro Bowl kick returner
Terrence McGee
(fourth round in 2003), Pro Bowl defensive lineman
Kyle Williams
(fifth round in 2006), receiver
Steve Johnson
(seventh round in 2008) and left tackle
Demetrius Bell
(seventh round in 2008).
Top running back
Fred Jackson
and perennial Pro Bowl left tackle
Jason Peters
-- traded to Philly two years ago -- weren't drafted at all.
"If you look at other teams, they do it. They miss at the top," Modrak said. "When you don't win, it's magnified. It looks bad.
"But I think from a strictly homer point-of-view [late-round success] is the work and the labor that goes into it and the detail that's paid to those kinds of things. That does not say that other teams don't do the same thing, but we have a good group, and we fortunately have done that."
The Bills have had some obvious blind spots in the draft.
A refusal to pick a tackle earlier than the fifth round since 2002 has hurt them. Peters' success as a converted tight end is a factor in that trend, but the Bills were having contract problems with him while he still was on the roster. Foresight would've been helpful. But that's an organizational philosophy more than Modrak's domain.
The Bills' track record at tight end is miserable, too. They've drafted five:
Tim Euhus
,
Kevin Everett
,
Derek Schouman
,
Derek Fine
and
Shawn Nelson
. Everett was the lone selection sooner than the fourth round. A broken neck while covering a kickoff on opening day in 2007 ended his career.
That tight end quintet has combined to score five NFL touchdowns. Of the 143 tight ends drafted since Modrak joined the Bills, 43 of them have scored more than five touchdowns individually.
Some might also say finding a quarterback has been a failure. Starting quarterbacks, however, aren't easy for any team to locate.
Forty-seven quarterbacks have been drafted within the first three rounds since 2002. The only three teams not included in this pursuit have been the
Indianapolis Colts
,
New Orleans Saints
and
Dallas Cowboys
. The Bills took two within the first three rounds, Losman 22nd overall in 2004 and
Trent Edwards
92nd in 2007.
That league-wide group yielded nine Pro Bowlers, but just two of them -- 24th overall pick
Aaron Rodgers
and third-rounder
Matt Schaub
-- weren't selected in the top 11. Rodgers and Schaub served as backups for three seasons before they became starters.
Bills general manager Buddy Nix explained that scouting is only one of three critical phases that determine whether a draft pick explodes or fizzles.
"You've got to pick the right guy," Nix said Tuesday. "He's got to have enough athletic ability and enough intelligence, production to do the job, which is what you spend the year doing. We're scouts and personnel guys.
"The second phase, now -- and don't make light of it because it's just as important -- is coaching, strength coaches, trainers. That's the second phase, and both of those things have to be in place. If not, the development of the guy is retarded.
"I'm not going to name teams, but you can name teams every year that get top guys and they don't get any better. They actually may go the other way, and it's the developmental part."
Chan Gailey is Buffalo's fourth head coach -- fifth if you count interim coach Perry Fewell -- since Modrak came aboard. Coordinators have passed through a revolving door. The Bills also have overhauled their strength and conditioning program a couple times.
Nix then stressed that even if the precisely correct draft choice is made and the proper infrastructure is in place, a third phase still can torpedo development. The player can ruin his future if he's "not willing to be a professional and do everything it takes."
"You can go back and look at the so-called busts, and it's one of these three phases," Nix said. "You've got to have it all for them to be really good.
"So even though we put it all on one thing -- 'That was a terrible draft. That was a bust. Those idiots don't know.' -- that's just about a third of it."
Another element that must be considered when discussing Buffalo drafts is the question of who makes the final pick.
Nix and Gailey have been clear Nix makes the final call
, although Wilson still can exercise his ownership privilege.
Before Nix became GM last year, trying to decipher who was to credit or blame for a Bills draft choice was like a "Three Stooges" scene. The irate boss hears a commotion, storms into the room and asks "Say! What's the wise idea? Who did this?" Moe pointed at Larry. Curly pointed at Moe. Larry pointed at Curly.
Modrak has been a constant since 2002, but there have been many voices in the Bills' draft room in that period, from Donahoe to GM Marv Levy to chief operating officer Russ Brandon to the various opinionated head coaches who lobbied for prospects they hotly desired.
The Bills' scouting department clearly needs to step its game up to help turn around the franchise. They'll never be the kind of team that lures top free agents because of their market conditions. Buffalo simply isn't as sexy as Miami or San Diego or New York and doesn't offer a perennial chance to win like New England or Pittsburgh does.
But, believe it or not, the Bills' drafts could have been substantially worse since Modrak arrived.
March, 31, 2010
3/31/10
1:00
PM ET
»
NFC History
:
East
|
West
|
North
|
South
»
AFC
:
East
|
West
|
North
|
South
»
Draft Watch
:
Biggest needs
(2/17) |
Busts/gems
(2/24) |
Schemes, themes
(3/3) |
Recent history
(3/10) |
Needs revisited
(3/17) |
Under-the-radar needs
(3/26) |
History in that spot
(3/31) |
Draft approach
(4/7) |
Decision-makers
(4/14) |
Dream scenario/Plan B
(4/21)
Each Wednesday leading up to the NFL draft (April 22-24), the ESPN.com blog network will take a division-by-division look at key aspects of the draft. Today's topic: History in that spot.

Buffalo Bills:
The ninth spot has been a minefield in recent years. Although it's a premium pick, it hasn't produced a Pro Bowler. The
Washington Redskins
selected cornerback
Carlos Rogers
in 2005. He has been a consistent starter, but missed most of 2007 with a knee injury.
Detroit Lions
outside linebacker
Ernie Sims
started every game in his first three seasons but made only eight last year because of a shoulder injury and has been a disappointment. The
Miami Dolphins
used their ninth pick in 2007 on receiver
Ted Ginn
, a maddening player for Dolfans because he plays small.
Cincinnati Bengals
outside linebacker
Keith Rivers
has played in only 20 games in his two seasons, and
Green Bay Packers
defensive tackle
B.J. Raji
started one game as a rookie last year.

Miami Dolphins:
The 12th selection has been far more rewarding than the ninth over the past five years, producing four players who have been selected to six Pro Bowls. The
San Diego Chargers
found linebacker
Shawne Merriman
there in 2005, followed by
Baltimore Ravens
defensive tackle
Haloti Ngata
, Bills running back
Marshawn Lynch
and
Denver Broncos
left tackle
Ryan Clady
. Last year's No. 12 has a bright future, too. The Broncos grabbed running back
Knowshon Moreno
, who rushed for 947 yards and seven touchdowns as a rookie.

New England Patriots:
Some intriguing players have fallen to the 22nd pick, which the Patriots own. The
Minnesota Vikings
were thrilled to see receiver
Percy Harvin
still on the board last year. The
Dallas Cowboys
snatched
Felix Jones
in 2008, and he could be their featured back this year. Although it didn't work out, the
Cleveland Browns
thought they'd drafted their franchise quarterback when they landed Notre Dame star
Brady Quinn
at No. 22 in 2007. In the two drafts before that, the
San Francisco 49ers
chose defensive end
Manny Lawson
and the Baltimore Ravens landed erratic receiver
Mark Clayton
.

New York Jets:
The 29th overall selection has been good to the Jets before. That's where they picked up All-Pro center
Nick Mangold
in 2006. Other teams haven't been nearly as fortunate in that slot, but the
New York Giants
seem to have found a top prospect last year with receiver
Hakeem Nicks
. The others drafted at No. 29 over the past five years are 49ers defensive tackle
Kentwan Balmer
, Ravens guard
Ben Grubbs
and former Colts defensive back
Marlin Jackson
.
January, 29, 2009
1/29/09
12:00
PM ET
Posted by ESPN.com's Tim Graham
It would be like letting loose an 8-year-old in FAO Schwartz and telling him he could have anything he wants from the shelves, but only one item.
That would be a long, painstaking process.
To round out our AFC East project, I ask Buffalo Bills fans:

If money, contracts and salary-cap restraints were no object, and you could choose any player in the NFL to add to your team, whom would you acquire?
There are too many positions to consider, any number of decisions would be correct.
What about Arizona Cardinals receiver Larry Fitzgerald and moving Lee Evans to the No. 2 position?
Indianapolis Colts quarterback Peyton Manning because you know, unlike Trent Edwards, he consistently will play at an elite level and probably start all 16 games?
San Diego Chargers tight end Antonio Gates to fill an offensive role the Bills haven't had? Denver Broncos left tackle Ryan Clady, allowing them to move Jason Peters to the right side? New York Giants center Shaun O'Hara to anchor the line?
On the other side of the ball, Tennessee Titans defensive tackle Albert Haynesworth or Minnesota Vikings defensive end Jared Allen would facilitate a pass rush that was non-existent in 2008. Perhaps Baltimore Ravens free safety Ed Reed is the way to go.
Please share your thoughts below or drop a line in my AFC East mailbag. I will gather the responses and make a selection for each team Monday based on what you have to say.
January, 7, 2009
1/07/09
1:47
PM ET
Posted by ESPN.com's Tim Graham
As you've surely noticed by now, ESPN.com relaunched all of its pages Wednesday, giving the NFL section a brand-spanking-new look. Drop a note in the comments section below to let us know what you think.
| | |
| --- | --- |
| | |
| | Getty Images |
| | The Dolphins unveiled the Wildcat formation against the Patriots, and wound up winning their first game of the year. |
To stay in the spirit, let's relaunch this season for the AFC East with tweaks to the script.
What do you think would've happened:
1. What if Tom Brady didn't get hurt?
The New England Patriots finished 11-5 with Matt Cassel at quarterback but needed one more victory to reach the playoffs. How much would their record change with Brady healthy? Would Cassel have remained anonymous his whole career?
2. What if Brett Favre stayed retired?
The New York Jets probably wouldn't have traded Chad Pennington, but would they have insisted Kellen Clemens be the quarterback? Do they win nine games without Favre? Could the Miami Dolphins have won the division without Pennington?
3. What if the Dolphins hadn't tried the Wildcat in Foxborough?
It took guts for Dolphins coach Tony Sparano and his staff to unveil their gimmick offense. He admitted he was worried because, if it failed, he would be ridiculed. But the Wildcat didn't fail, and the Dolphins detonated the Patriots. The Dolphins avoided a 0-3 start and all of a sudden had reason to believe.
4. What if the Patriots had brought back Asante Samuel?
The Patriots let the Pro Bowl cornerback hit the free-agency market and never saw him again. They used the likes of retread Deltha O'Neal, Lewis Sanders, Mike Richardson and rookies Terrence Wheatley and Jonathan Wilhite.
| | |
| --- | --- |
| | |
| | AP Photo/Ross D. Franklin |
| | Trent Edwards didn't appear to be the same after suffering a concussion against the Cardinals. |
5. What if Trent Edwards hadn't suffered a concussion?
The Buffalo Bills quarterback was a popular subject in the national media for propelling the Bills to a 4-0 start with some fourth-quarter heroics. His confidence was soaring. Then Arizona Cardinals safety Adrian Wilson crushed him on a blitz. Edwards suffered a concussion, and while he looked sharp in beating the San Diego Chargers in his next game back, everybody wondered if the concussion contributed to the Bills' second-half collapse.
6. What if the Jets had drafted somebody other than Vernon Gholston?
The Jets had the sixth overall pick. They were infatuated with the Ohio State pass-rush specialist enough to snag him there even though many other teams had him slotted late in the first round or early second. Gholston proved to be a long-term project. He was invisible on Sundays and eventually deactivated. Might the Jets have been able to use Jerod Mayo? Sedrick Ellis? Derrick Harvey? Ryan Clady?
7. What if the Dolphins had drafted Matt Ryan instead of Jake Long?
The Long selection was a successful one, but as great as Ryan was in leading the Atlanta Falcons to the playoffs, Dolfans will be wondering for years what path their team would have taken if Ryan was the quarterback for the next 10 years.
8. What if the Bills had held off a couple of weeks on that Dick Jauron contract extension?
They probably wouldn't have given him one based on losing eight of their last 10 games. The Bills might be going through a head-coaching search right now.
December, 24, 2008
12/24/08
11:36
AM ET
Posted by ESPN.com's Tim Graham

Gholston
Pro Football Weekly has compiled its hits and misses from the 2008 rookie class, and the AFC East has representation on both sides.
Not surprisingly, PFW named New York Jets outside linebacker Vernon Gholston its No. 1 disappointment, but not a certified bust -- not yet anyway.
"Fifteen games into his pro career, Gholston's disaster of a rookie season is nearing a merciful conclusion," writes PFW's Matt Sohn wrote of the sixth overall draft pick from Ohio State. "Optimists can point to his special-teams work, pessimists will say he's already a bust, realists will say he's just utterly lost."
The only other AFC East player in PFW's top 10 rookie disappointments was Buffalo Bills receiver James Hardy at No. 6. The Bills drafted Hardy in the second round, but he has only nine receptions.
PFW found newcomers they liked within the division.
New England Patriots linebacker Jerod Mayo was listed at No. 5, which may sound low for the likely defensive rookie of the year, but the players ahead of him (Denver Broncos tackle Ryan Clady, Atlanta Falcons quarterback Matt Ryan, Baltimore Ravens quarterback Joe Flacco, Tennessee Titans running back Chris Johnson) deserve their rankings.
Dolphins tackle Jake Long appeared with Dolphins receiver Dave Bess on PFW's "On the Verge" list, a second set of 10 players it names alphabetically.
Bess, who was Colt Brennan's top receiver at Hawaii, is the only undrafted player out of the 20 roookies PFW sent to the head of the class.