March, 10, 2014
Mar 10
10:00
AM ET
In years past, our ESPN NFL divisional bloggers would compile lists of the top free agents within their respective divisions. We're continuing that tradition this offseason, but with a twist: We asked each of our ESPN NFL Nation bloggers to rank their team's free agents, which then were compiled into a master list for each division.
With the free-agent signing period opening Tuesday at 4 p.m. ET, here's our AFC East free-agent ranking:
Byrd
1. Jairus Byrd, Bills S:
Ball-hawking safety had four interceptions last season and was named to his third Pro Bowl in five years.
2. Aqib Talib, Patriots CB:
Matchup man-to-man cornerback was a centerpiece in the Patriots' game plans in 2013, with injuries the only real blemish on his resume.
3. Julian Edelman, Patriots WR:
Coming off a career-high 105-catch season -- staying healthy for all 16 games for the first time -- the receiver is poised to cash in.
4. Austin Howard, Jets T:
An ascending player who would generate significant interest if he hits the open market.
5. Paul Soliai, Dolphins DT:
He is one of the top run-stuffers on the market. Soliai can fit in the middle of a 4-3 or a 3-4 defense, which adds value.
6. Scott Chandler, Bills TE:
A 6-foot-7 tight end who posted career highs in receptions (53) and receiving yards (655) but was a non-factor in the red zone.
7. Randy Starks, Dolphins DT:
The Dolphins used the franchise tag on Starks in 2013 but only used him as a rotational player. A change of scenery is probably best for him.
8. LeGarrette Blount, Patriots RB:
The 250-pound running back was tough to bring down once he got rolling late last season; deserving of an upgraded contract.
9. Ryan Wendell, Patriots C:
Undersized center has the smarts and durability that could appeal to a team looking to fill a void in the pivot, but sometimes gets overpowered.
Spikes
10. Brandon Spikes, Patriots LB:
Hard-hitting linebacker is a top player against the run, but struggles at times in coverage.
11. Calvin Pace, Jets LB:
Recorded a career-high 10 sacks last season, but there will be a limited market because he'll be 34.
12. Chris Clemons, Dolphins S:
He's a decent safety with plenty of starting experience. Clemons is strong in run support and a sure tackler, but he struggles at times in pass coverage.
13. Nick Folk, Jets K:
Designated as a franchise player.
14. Dan Carpenter, Bills K:
Kicker is coming off his best season as a pro, converting 91.7 percent of his field goals, including every kick in the second quarter or later.
15. Alex Carrington, Bills DL:
Versatile lineman can play tackle in a 4-3 or end in a 3-4; started first three games in 2013 before an injury ended his season.
March, 7, 2014
Mar 7
11:00
AM ET
»
AFC Free-Agency Primer
:
East
|
West
|
North
|
South
»
NFC
:
East
|
West
|
North
|
South
Key free agents:
CB
Aqib Talib
, WR
Julian Edelman
, RB
LeGarrette Blount
, LB
Brandon Spikes
, C
Ryan Wendell

Where they stand:
The Patriots would like Talib back, and
Brent Grimes
' four-year, $32 million contract with $16 million guaranteed in Miami provides a ballpark for the marketplace. Is that too rich for the Patriots? The club would also like Edelman back, but after investing in a receiver with a similar skill set last offseason (
Danny Amendola
), it will be interesting to see how far the Patriots are willing to extend to do so. Talib is the key piece, and similar to
Wes Welker
last year, it makes sense to think the team will quickly move to Plan B if a deal isn't struck by the start of free agency.
What to expect:
The Patriots aren't flush with cap space, and Bill Belichick often says that free agency is one slice of the team-building process, along with the draft and trades. A focus on retaining their own, with a few complementary pieces from other teams added in free agency, would be our best guess as to how the Patriots approach things in 2014. Key spots in addition to retaining Talib and Edelman are adding a more dynamic presence at tight end, more pass-rush help and depth at defensive tackle.
February, 27, 2014
Feb 27
5:00
AM ET
With various top free agent lists starting to surface, let's narrow things down to the Patriots with a snapshot look at the team's free agents:
1.
CB Aqib Talib
-- Difference-maker when healthy and added a different dynamic to the cornerbacks room since November of 2012. A top priority for the team.
2.
WR Julian Edelman
-- Deserves everything coming to him after a terrific 2013 season. Patriots would obviously like him back, but if another team ups the bidding, he's probably gone.
3.
RB LeGarrette Blount
-- Mutual interest in his return. A player who seemingly has more value to the Patriots than most others, which makes us think it's a greater likelihood he's back.
4.
LB Brandon Spikes
-- The way 2013 ended makes it unlikely he returns.
5.
C Ryan Wendell
-- A scrappy heady performer, Wendell maximizes his talents. I don't evision the Patriots extending their budget to ensure his return, but if a market doesn't develop for him, he'd surely be welcome back in a situation where there might be top competition for the No. 1 job.
6.
TE Michael Hoomanawanui
-- Played his role well in 2013. Would think he's back unless another team unexpectedly ups the ante.
7.
LB Dane Fletcher
-- One of the Patriots' best special teams players. Would think there is a competitive bid to retain him.
8.
DE Andre Carter
-- They don't get much better from a locker-room perspective, but we'd be surprised if the team makes his return a priority at this point.
9.
TE Matthew Mulligan
-- More of a blocking presence, he filled his role well in 2013. Although the Patriots will probably look to add to the position, it wouldn't be a surprise if Mulligan competes for a roster spot again.
10.
WR Austin Collie
-- Veteran was dependable and should warrant serious consideration to re-sign.
11-.
OT Will Svitek
-- Smart, versatile veteran probably will see his spot go to a youngster, unless
Sebastian Vollmer
's recovery doesn't look promising.
September, 1, 2013
9/01/13
5:00
AM ET
Quick-hit thoughts on the NFL and the
New England Patriots
:
1. The Patriots kept just two quarterbacks on their initial 53-man roster, marking the fourth time in the past five years they have done so. How does that compare to the other teams in the NFL? By my count, here is the breakdown for 2013 after Saturday's cut-downs:
Four quarterbacks: three teams
Three quarterbacks: 15 teams
Two quarterbacks: 14 teams
The next step that will be interesting to monitor is how many of the 14 teams with just two quarterbacks add a third to their practice squad.
2. With all seven draft choices making the Patriots' initial roster, plus five undrafted players, that initially gives the club 12 of its 51 spots filled by rookies. Add in six draft picks from last year still on the roster, plus 2012 undrafted running back
Brandon Bolden
, and that's 19 players within their first two years in the NFL (35 percent of a 53-man roster). The Patriots have a solid veteran core, and trend older at some positions (defensive tackle, for example), but all in all, this is a very young team.
3. Let's play the armchair-general-manager game for the Patriots when it comes to their defensive tackle need and see if we can hit the bull's-eye. Here were a few players at the position we could envision being of interest to the Patriots on the waiver wire:
Marvin Austin (Giants):
The second-round pick out of North Carolina in 2011 hasn't panned out, as his rookie season was wiped out by a torn pectoral muscle and he didn't break through last year. He is 6-foot-2 and 312 pounds.
As ESPN Giants reporter Dan Graziano noted
, the Giants are pretty deep at defensive tackle, so part of Austin's release was a numbers game.
[+] Enlarge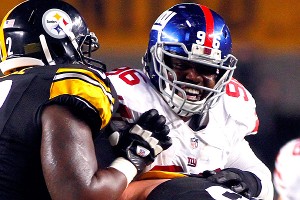 Justin K. Aller/Getty ImagesMarvin Austin, a second-round pick in 2011 who never found a groove with the Giants, could help New England at defensive tackle.
Kheeston Randall (Dolphins):
The 6-foot-5, 309-pounder who played collegiately at Texas appeared in 12 games for Miami last season. He was a 2012 seventh-round pick and has some physical traits (e.g. long arms) that might have some appeal to New England.
Adam Replogle (Falcons):
The undrafted rookie is 6-3 and 310 pounds, and started the final 47 games of his collegiate career at Indiana, where he was known for his work ethic and reliability. Patriots defensive line coach Patrick Graham had worked him out before the draft.
Torell Troup (Bills):
He has battled injuries in the past but has some physical traits (6-3, 327) that could be appealing as a bigger-bodied backup to
Vince Wilfork
and
Tommy Kelly
. Bill Belichick got to know him well on his annual pre-draft scouting trip in 2010. Troup, who played at Central Florida, was picked by the Bills in the second round that year. He has some partially guaranteed money in his contract, so it might be smarter, if interested, for the Patriots to see if he clears waivers and then bring him in.
4. While the Patriots are extremely thin at defensive tackle, which they figure to address with one of their open roster spots, it led us to check in on former New England tackles
Kyle Love
and
Brandon Deaderick
in Jacksonville. Both made the Jaguars' initial 53-man roster and are backups to
Sen'Derrick Marks
and
Roy Miller
, who were signed as unrestricted free agents this offseason. Deaderick missed the first two games of the preseason with a groin injury, but is now healthy. Looking back, it's only natural to wonder if the Patriots have any regret in parting ways with Love and Deaderick, as they created a void without having the reinforcements in place. In fairness, they were counting on Armond Armstead to play an integral role, but he later landed on the reserve/non-football illness list (he's out at least the first six weeks of the season) after undergoing surgery for an infection.
4b. One more check-in: Patriots 2009 second-round draft choice
Ron Brace
didn't make the initial 53-man roster with the Redskins. Given the depth questions at defensive tackle, would the Patriots consider bringing him back? Our guess: They probably look elsewhere.
5. Given the makeup of their initial roster -- with six receivers, five running backs, one fullback and three tight ends (one of whom,
Rob Gronkowski
, won't be ready for the season opener) -- the Patriots figure to trend more toward three-receiver and two-back sets than multiple-tight-end packages early in the season. So while this is a team that has a reputation as a two-tight-end offense, which goes back to 2011 with the dynamic duo of Gronkowski and
Aaron Hernandez
, the early part of this season is likely to have a different look. For the Sept. 8 opener at Buffalo, the three-receiver grouping might turn out to be the best matchup anyway, as the Bills are hurting at cornerback and it could hit their stress points from a depth perspective.
6. With
Elvis Dumervil
now in Baltimore, and
Von Miller
facing a six-game suspension to open the year, what's left for the Broncos at defensive end? The free-agent signing of veteran
Shaun Phillips
looks more significant now, as Denver will count on him to help fill the void along with
Derek Wolfe
(2012 second-round pick out of Cincinnati) and
Malik Jackson
(2012 fifth-round pick out of Tennessee). One lingering question is if the Broncos will be able to generate enough pass rush. As for Phillips, he jumped to the Broncos after spending the first nine years of his career with the Chargers, putting him in almost the same position as linebacker
Daryl Smith
, who signed with the Ravens after spending the first nine years of his career with the Jaguars. Both are stepping into important roles -- Phillips helping fill the Miller void and Smith part of the puzzle to account for Ray Lewis' absence -- which is a neat storyline for the Denver/Baltimore NFL season opener.
7. When it comes to the Patriots' rookie receivers, I think the pace of their progression goes in the reverse order of how they arrived: Undrafted
Kenbrell Thompkins
is furthest along, followed by speedy fourth-round pick
Josh Boyce
(Texas Christian) and then second-rounder
Aaron Dobson
(Marshall). The thought occurred to me as Thompkins was given the veteran treatment in the second half of Thursday's preseason finale, watching from the sideline as Boyce and Dobson were still on the field playing.
8. With news that the Bills signed center
Eric Wood
to a long-term contract extension, it served as a reminder that he was a player I believe the Patriots had targeted as one of their ideal choices in the 2009 draft. That was the year the team traded down twice -- from 23 (
Michael Oher
) to 26 (
Clay Matthews
) to 34, where they selected safety
Patrick Chung
. Had Wood been on the board at 34, I think he would have received strong consideration. Had they stuck at 26, maybe they would have taken him there. Not that the Patriots are currently hurting at center, as
Ryan Wendell
has developed into a solid starter, but there was a lot of smoke around the Patriots and Wood that year.
9. The Raiders did what I thought the Patriots might by keeping two punters on their initial 53-man roster, as they view both
Chris Kluwe
and
Marquette King
as assets. The thinking, it appears, is that maybe the Raiders could trade one of them for a draft pick, although it's hard to imagine that unfolding. As for New England, rookie
Ryan Allen
was so impressive that the Patriots didn't think he would clear waivers so they could bring him back on the practice squad (I thought that maybe by waiting a week or two, it would have a better chance of happening). So instead of keeping two, they just kept Allen and said goodbye to
Zoltan Mesko
, who should be punting somewhere in the NFL this season. He didn't lose the job as much as Allen won it.
10. Patriots players return to the practice field today and tomorrow. They were off Saturday, as owner Robert Kraft hosted his annual before-the-season party for players and their families on Cape Cod. The Patriots will also practice Monday, before a day off Tuesday.
August, 30, 2013
8/30/13
11:55
AM ET
FOXBOROUGH, Mass. -- Picked-up pieces after reviewing the first quarter of the Patriots' 28-20 preseason win over the Giants:

1. It seemed like the Patriots wanted to take a closer look at veteran safety
Adrian Wilson
and his effectiveness as a blitzer. Wilson blitzed on the first play of the game (the ball was out quickly) and then on the third-and-7 play (incomplete pass) that ended the Giants' second drive. On the second blitz, Wilson was met by running back
Andre Brown
and ridden out of the play, as quarterback
Eli Manning
stepped up to make his throw on the run. Then there was a third blitz from Wilson on the Giants' opening play of the third drive (off the defensive left side), when Manning completed a 37-yard pass to receiver
Louis Murphy
as Wilson was again picked up by running back
David Wilson
. He then blitzed again on the Giants' touchdown later in the quarter (wasn't close to disrupting the play). As the Patriots consider whether Wilson has a spot on their 53-man roster, I could envision them looking at these blitzes today and attempting to determine if Wilson can help them in that role.
2. Rookie defensive end
Michael Buchanan
(6-6, 255) was disruptive off the defensive left side, showing good power and multiple pass-rush moves, as well as how his long arms can affect passing lanes for opposing quarterbacks. In addition, he showed strength and technique to effectively set the edge, which is a necessity for any end (4-3) or outside linebacker (3-4) in the team's scheme. We got a good look at that on the Giants' second offensive play when Buchanan locked up with pulling guard
Chris Snee
, held his ground, and kept Wilson hemmed in as he was stopped for a modest 1-yard gain.
3. A good contrast to that play was seen later in the quarter on Wilson's 16-yard run on a pitch from Manning around left end. The Patriots' run force broke down, with right end
Jake Bequette
taking his first step inside, which was enough to lose containment. With linebacker
Dane Fletcher
also sealed off by left tackle
Will Beatty
, and cornerback
Marquice Cole
cleared out of the area because he was covering receiver
Hakeem Nicks
, it left a wide swath of real estate for Wilson. Some credit goes to the Giants for a well-blocked run, but it looked like it also could have been executed better from the Patriots' standpoint.
4. The top seven offensive linemen appear set for the Patriots (
Nate Solder
,
Logan Mankins
,
Ryan Wendell
,
Dan Connolly
,
Sebastian Vollmer
,
Marcus Cannon
,
Will Svitek
), so I spent some time watching the reserves beyond that to see if anyone stood out. Center
Matt Stankiewitch
(6-4, 305) would be the choice. The first play might have been his worst -- he was pushed back into quarterback
Ryan Mallett
by
Linval Joseph
-- but he seemed to settle in nicely over the remainder of the first quarter against first-unit competition. His athleticism to get to the second level of the defense was seen on receiver Josh Boyce's 18-yard reverse, when he sealed off linebacker
Dan Connor
. A nice play like that was later balanced off by failing to hold his block against defensive tackle
Mike Patterson
as Patterson pressured Mallett early in the second quarter. Like most rookies, Stankiewitch will benefit from some physical development, but he showed a scrappiness that made us take note.
5. There is a risk-reward that comes with every blitz, and the risk was evidenced on the Giants' first touchdown. On third-and-2 from the Patriots 3-yard line, the defense sent seven rushers. That created a man-to-man situation with receivers and defensive backs, with rookie cornerback
Logan Ryan
matched up against Nicks. The rush didn't get there and Manning had time to lock in on Nicks to complete a relatively easy touchdown. If you're going to send seven, that's a case where the rush has to get there quickly to help out the defensive backs. Didn't happen in that case.
August, 20, 2013
8/20/13
9:30
AM ET
If there is a silver lining for dealing with an injury to a player, it's that his absence creates an opportunity for one of his teammates.
In the case of Patriots right guard
Dan Connolly
, who is currently recovering from offseason shoulder surgery, it was
Marcus Cannon
who was called upon to fill in. A subsequent injury to Cannon opened the door for
Markus Zusevics
to earn guard reps, and then missed time for Zusevics led to veteran
Will Svitek
playing on the interior part of the line, rather than his customary tackle spot.
Head coach Bill Belichick recently highlighted Svitek's versatile skill set, noting that he can play either tackle position, a desirable skill set for teams looking to build their line depth.
The Patriots have long valued versatility among their offensive linemen, as there can be several moving parts along the line that force a team to shuffle the deck.
Focusing on the Patriots projected top seven linemen, position versatility is among the common denominators.
Guard Logan Mankins:
Belichick said during the 2012 season that he believed Mankins was probably capable of playing any of the five line positions if needed, though Mankins is entrenched at the left guard spot, where he's among the best in the game. He was also a standout left tackle in college at Fresno State.
Center Ryan Wendell:
Wendell took over starting center duties for the 2012 season, though he can flex to either guard spot as well. His modest size (6-2, 300) is offset by his technician-like approach and ability to leverage defenders. He's developed into one of the better centers in football.
Tackle Sebastian Vollmer:
Another player who has been entrenched in his current spot at right tackle, Vollmer has the requisite skills to swing to left tackle as well. In fact, he was likely the Patriots back-up left tackle last season, though
Nate Solder
was on the field for virtually every offensive snap.
Tackle Nate Solder:
Solder was a chess piece on the line as a rookie, playing at both tackle spots, as an extra lineman, and even getting preseason guards snaps. With his uncommon length and movement skills, playing multiple positions is well within his capabilities.
Guard Dan Connolly:
Like Wendell, Connolly has interior line flex. He started at center in 2011 before kicking out to guard last season. As things currently stand, he'd likely be called upon to take over at center if Wendell were to ever suffer an injury.
Guard Marcus Cannon:
A college tackle prospect, Cannon seems to be working more at guard these days. That being said, he can still serve as a reserve right tackle, and might be able to play left tackle in a pinch, too.
Tackle Will Svitek:
As we said off the top, Svitek has four position versatility, with the tools to swing to either tackle spot and play each guard post as well.
Among the remaining linemen on the roster, we have the best feel for Zusevics, who we've seen at both tackle and guard. The book is still out on
Josh Kline
,
Luke Patterson
,
Brice Schwab
and
Chris McDonald
, who we've seen in small doses this camp.
The Patriots could keep one or more of these five on the practice squad, or one could also emerge as a surprise keep on the 53-man roster. One has to figure that if any of them stick around, he'll have the versatility to play multiple line spots.
August, 9, 2012
8/09/12
12:00
PM ET
FOXBOROUGH, Mass. -- You would think there was a playoff game at Gillette Stadium this week.

In front of a packed house, the
New England Patriots
hosted the
New Orleans Saints
for a pair of high-quality joint practices. Even famous musician Jon Bon Jovi and supermodel (and
Tom Brady's
wife) Gisele Bundchen showed up for a glimpse of the action.
The talent on the practice field was immense. You had future Hall of Famers Brady and
Drew Brees
at quarterback, Pro Bowl tight ends
Rob Gronkowski
and
Jimmy Graham
and two hungry defenses eager to improve. The tempo was fast and intense.
The Patriots could have easily practiced against themselves this week like the rest of the league. But there is a method to Bill Belichick's madness. It's Super Bowl or bust for New England. And even in August, the Patriots want to test themselves as much as possible against another playoff contender.
"We know that there are a lot of other great organizations and teams and players and coaches out there," Belichick explained. "It's a good challenge every week, and certainly the Saints are one of the top teams in professional football. As I said, they're well-coached, they have great talent, good players, good scheme [and] they win a lot of games. We played against them two years ago, practiced against them two years ago in their championship season. There isn't any team we have more respect for than the Saints from top to bottom."
The reigning AFC champions are loaded. Their roster is deeper and more talented than last year's team that finished 13-3. With the easiest strength of schedule in the NFL, the Patriots are expected to match or surpass last season's win total. Some pundits even believe a 16-0 regular season is within reach. But let's not get too ahead of ourselves.
THREE HOT ISSUES
1. How much better is the defense?
The Patriots' defense has improved. New England was ranked 31st in total defense and 31st against the pass in 2011. So the Patriots cannot get much worse.
The Patriots invested all their draft picks except a seventh-rounder in defense. The biggest coups were first-round picks
Dont'a Hightower
at linebacker and defensive end
Chandler Jones
. Both rookies received a lot of reps with the first team this week and appear to be learning fast. They also provide athleticism and aggressiveness to New England's front seven.
Second-round pick and defensive back
Tavon Wilson
also has looked better than advertised. Belichick received a lot of criticism for drafting Wilson that high when most projected him to be a fifth- or sixth-round pick. Free agent
Steve Gregory
also is New England's starting safety and is an upgrade over the rotating door New England had at the position last year.
With a high-powered offense, the Patriots don't need a top-10 defense. But if the defensive-minded Belichick can get this group in the top 20, New England will be very hard to beat.
"We're just trying to be aggressive and be competitive in everything out there," Patriots cornerback
Devin McCourty
said of improving. "From the front all the way throughout the secondary, guys are just trying to develop an attitude. Defense has a lot to do with attitude and how you approach the game, so we're trying to keep attitude and trying to do it day in and day out."
[+] Enlarge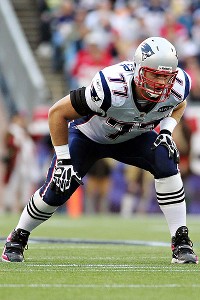 Stew Milne/US PresswireSecond-year left tackle Nate Solder has shined early in Patriots training camp.
2. Who will man the offensive line?
It is difficult to gauge the performance of the offensive line in training camp. About half of training camp practices are in shorts, and that significantly reduces contact in the trenches. But replacements need to be ready because four of New England's starters from last year are injured, retired or contemplating retirement.
New England's offensive line is a M.A.S.H. unit. Starting guards
Logan Mankins
(knee) and
Brian Waters
(personal reasons) have yet to practice with the team, and starting right tackle
Sebastian Vollmer
has a back injury. Longtime starting left tackle
Matt Light
retired, and so did free-agent signee
Robert Gallery
.
The Patriots are trying to find the right combination up front in training camp in preparation for Week 1 of the regular season. So far, the
best lineman in camp
has been second-year left tackle
Nate Solder
, who gained some starting experience last year in his rookie season.
Holdovers such as guard
Dan Koppen
,
Dan Connolly
,
Ryan Wendell
and
Marcus Cannon
are all trying to carve out roles -- at least until starters Mankins, Vollmer and (maybe) Waters return. Brady and the Patriots will pass the football a lot this year, so development of the offensive line is important.
"We're going to play whoever is here, and whatever happens, we're going to be here working hard," Solder said this week.
3. Who will run the football?
Dependable tailback
BenJarvus Green-Ellis
bolted to the
Cincinnati Bengals
in free agency. That leaves second-year tailbacks
Stevan Ridley
and
Shane Vereen
trying to pick up the slack in 2012. Neither player has much experience. Ridley did pretty well in limited playing time his rookie year, amassing 441 yards and a touchdown. Vereen was injured most of his rookie season and wasn't a factor.
Ridley
has the inside track
and has looked impressive. He has good vision and burst. Ball security has been the only question. But Ridley believes he made rookie mistakes that he will fix in Year 2.
"This year I'm going to go and do the best that I can to keep the ball high and tight," Ridley said. "I know that if I can keep the ball in my hands, I'm going to be on the field. So my work is cut out for me."
Backup running back
Danny Woodhead
also will assist Ridley and Vereen, particularly on third downs.
Reason for optimism
This is the best collection of talented skill players Brady has ever had. If everyone stays healthy, I do not see any reason the Patriots cannot be near the top of the league in scoring and passing offense. New England should average at least 30 points per game.
Brady has a Pro Bowl tight end in Gronkowski, a Pro Bowl receiver in
Wes Welker
, a top-five tight end in
Aaron Hernandez
and a much-needed deep threat in
Brandon Lloyd
. The Patriots' passing game should be able to do it all. Brady can go underneath to Welker and Gronkowski or deep to Lloyd and Hernandez. It will be very difficult for opponents to game plan.
"We're not taking anything for granted," Brady said. "We're trying to come out and string practices together."
Reason for pessimism
I'm still not confident in New England's secondary. This was the weakest part of the Patriots last year, and 2012 could be a repeat.
Cornerbacks McCourty,
Kyle Arrington
,
Sterling Moore
and
Ras-I Dowling
all have question marks. The Saints' offense had their way with New England's corners during this week's joint practices. No one among the Patriots' corners made enough plays to really stand out.
Perhaps the biggest problem is New England's corners are not shutdown, man-to-man defenders. That forces New England to play a lot of zone to try to get stops. That leads to a bend-but-don't-break mentality we saw last year.
Expect many opponents to attack New England's cornerbacks until this group proves it can cover and shut down receivers consistently.
OBSERVATION DECK
[+] Enlarge

AP Photo/Robert E. KleinNot many tight ends have the athletic ability to be a punt returner. The Patriots' Aaron Hernandez does.

Speaking of McCourty, he is playing exclusively at corner in training camp. It shows the coaching staff is comfortable that McCourty will bounce back from a shoulder injury and poor play that led to a position change to safety late last season. McCourty is competing hard and trying to get back to his rookie form, when he made the Pro Bowl in 2010.

How athletic is Hernandez? New England is experimenting with its No. 2 tight end at punt return and running back. Hernandez did a good job running the football in the Patriots' playoff win over the Denver Broncos. It was a nice wrinkle added by Belichick. Hernandez is elusive in the open field and has good hands, so returning punts could make sense as another way to get the ball into Hernandez's hands.

I'm not sure why more teams do not have joint practices in training camp. Both the Patriots and Saints gave rave reviews of how well things went this week. It was well organized; both teams got a lot of work done; and there were no injuries. Most importantly, it is a change of pace from hitting your teammates the entire summer. In talking with players, they got a kick out of practicing against an unfamiliar opponent.

The Brady-to-Lloyd combination is still a work in progress. Brady missed Lloyd on several opportunities this week, as the first-time teammates continue to work on their chemistry. Lloyd is the best deep threat Brady has had since Randy Moss. Brady and Moss got on the same page quickly in their first season together. Brady hopes for the same results with Lloyd.

Keep an eye out for undrafted rookie defensive end Justin Francis. I wasn't familiar with the Rutgers product before my training camp visit, but after a few practices, I noticed Francis stood out. Francis has a good motor and athleticism for a defensive end. Francis is a sleeper pick to make New England's 53-man roster, but he must show that he can translate his play on the practice field to the preseason games.

The No. 2 quarterback race between Brian Hoyer and Ryan Mallett favors Hoyer at this stage of camp. Hoyer had a solid week of practice leading into Thursday's preseason opener. Hoyer was more accurate and made some nice throws. Mallett has a lot of physical ability but has a lot to work on. He had trouble with taking some of the velocity off his passes when needed. The preseason games will matter most, but Hoyer has the lead so far.

Linebacker Bobby Carpenter has been a pleasant surprise for New England. The former first-round pick has underachieved at his previous stops in Dallas, Miami and Detroit. But Carpenter has fit in well as a backup linebacker for the Patriots in training camp and is in good shape to make the team. Carpenter even got a little work with the first team this week because of injuries.
December, 26, 2010
12/26/10
8:08
AM ET
The
New England Patriots
will be shorthanded Sunday in Ralph Wilson Stadium.
On Christmas night they announced six players wouldn't dress against the
Buffalo Bills
because of injuries.
Most notable is rookie tight end
Aaron Hernandez
, who is battling a hip problem. Hernandez had two touchdown receptions last week against the
Green Bay Packers
.
His absence could mean a big day for rookie tight end
Rob Gronkowski
in his homecoming.
Gronkowski is from suburban Buffalo
.
Also out are right guard
Dan Connolly
(concussion), outside linebacker
Jermaine Cunningham
(calf) and defensive linemen
Mike Wright
(concussion),
Myron Pryor
(back) and
Brandon Deaderick
(shoulder). All have started this year.
Connolly, who made highlight reels with his 71-yard kickoff return last week, has been one of New England's most valuable depth players. He has started 13 games, filling in at left guard until
Logan Mankins
ended his contract dispute and then at right guard when
Stephen Neal
suffered a season-ending shoulder injury.
Ryan Wendell
or
Quinn Ojinnaka
will replace Connolly at right guard.
Cunningham has started 11 of the Patriots past 12 games.
Wright, Deaderick and Pryor have combined for 11 starts.
August, 26, 2008
8/26/08
5:31
PM ET

Posted by ESPN.com's Tim Graham
The New England Patriots have gotten their roster down to 75.
They have released CB Jason Webster, FB Kyle Eckel and OL Ryan Wendell. They also placed G Stephen Neal on the physically unable-to-perform list and T Ryan O'Callaghan on injured reserve.
Neal and O'Callaghan have shoulder injuries. Neal won't be eligible to play until after Week 6, presumably leaving his starting right guard position for Billy Yates and Russ Hochstein to keep warm.
Webster was one of the Patriots' bigger offseason acquisitions, signing a one-year deal for $819,000 in March. The eight-year veteran was among a group of cornerbacks brought in through free agency and the draft to fill the void from Asante Samuel's free-agent departure to the Philadelphia Eagles.
Webster, who missed 15 games last year for the Buffalo Bills because of a broken forearm, returned to practice Monday for the first time since July 26, when a hamstring injury sidelined him.
July, 31, 2008
7/31/08
12:18
PM ET
Posted by ESPN.com's Tim Graham

FOXBOROUGH, Mass. -- New England Patriots QB Tom Brady was back on the field Thursday morning after getting an excused absence from Wednesday's late practice.
C Ryan Wendell was taken off the PUP list and on the field, too. The fans rejoiced.
CB Fernando Bryant showed no residual effects from his scare Thursday, when he banged his left knee on the ground and needed medical assistance before getting up.
Brady was on target when they ran their goal-line offense. He and WR Randy Moss seem to have telepathic powers. Brady throws the ball in just the right spot, and Moss perfectly contorts his body to shield the ball from the defender and make the easy grab.
Moss didn't address reporters again Thursday, making it a full week into a camp without speaking into a microphone. He has been gracious with fans, signing autographs and posing for pictures along the ropes.
This morning featured a little good-natured rookie hazing. A remote portion of the practice field was turned into a swamp and the veterans ordered the rookies to dive in.
Not exactly a Code Red. If this is hazing, then everybody who played in last year's Monday night game between the Steelers and Dolphins at Heinz Field should start a fraternity.
"We've really been pretty tame about it around here," ILB Tedy Bruschi said. "They tell a joke. They sing a song. You dive through a puddle. Sometimes you get a haircut. I had my haircut by Ben Coates 13 years ago, and I had a big head of hair. He took it all off."
With hazing on the mind, some of today's questions dealt with whether there's veteran privilege in the NFL.
S Rodney Harrison on needing to prove himself every year: "We all should because we're all one play away from never playing this game. So it doesn't matter if you're in your 15th season and you're 35 years old or you're 22. It's about not taking anything for granted when you get on this field."
Bruschi: "Let's talk about a guy like Larry Izzo, that's been strictly special teams all 13 years and still has to prove he can play backup inside linebacker. He's had to do that year in and year out and have his job threatened every year. Yet here he is. He's a great example of trying to improve on what you did the year before."