October, 26, 2014
10/26/14
2:53
PM ET
EAST RUTHERFORD, N.J. -- Somewhere, Leon Lett is shaking his head.
The former
Dallas Cowboys
defender -- known for his premature touchdown celebration against the
Buffalo Bills
in Super Bowl XXVII -- might have a few words of advice for current Bills receiver
Sammy Watkins
after the rookie's snafu in Sunday's game against the
New York Jets
.
[+] Enlarge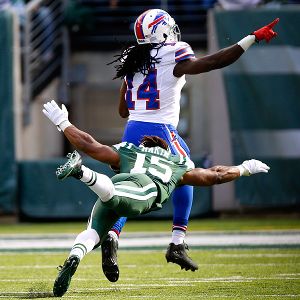 AP Photo/Kathy WillensBills WR Sammy Watkins' premature celebration cost him a touchdown when New York's Saalim Hakim tackled him at the 5-yard line.
The fourth-overall pick will make the highlight reels for the wrong reasons after he was stopped short of a touchdown on an 84-yard catch in the second quarter. Watkins, who thought he had a free pass to a touchdown, raised his arm in celebration as he neared the end zone and was tackled by
Saalim Hakim
at the 5-yard line.
Whoops.
Making matters worse, it
wasn't even a full-time defender
who chased down Watkins. Hakim, playing only his third defensive snap of the season in spot duty for a shaky Jets' secondary, is a return specialist and receiver.
Bills coach Doug Marrone pulled Watkins aside after the play. "I said, 'There were people on that sideline' -- meaning his teammates -- 'that were upset. We're playing our butts off and we don't have time for stuff like that,'" Marrone said. "Those are the things we have to work on -- winning and growing up."
Luckily for Watkins, fullback
Frank Summers
bailed him out two plays later with a 2-yard touchdown run, putting the Bills ahead,
21-7
.
Lesson learned, rook.
December, 24, 2013
12/24/13
7:00
AM ET
One last look back at the
New York Jets
' 24-13 win over the
Cleveland Browns
:
Geno Smith
delivered his best performance in two months -- easily. What impressed me the most was the poise he demonstrated on third down. As expected, the Browns came after him, rushing five or more on eight of his 12 dropbacks. They sent a couple of corner blitzes, probably going to school on the Jets-Panthers tape from the previous week. But Smith, afforded terrific pass protection, was unflappable.
He completed 9 of 12 passes on third down, including three conversions on third-and-10 or greater. To me, Smith's best play came on a third-and-12 to
Jeremy Kerley
. It came against a Cover 2 look, with Kerley beating linebacker
D'Qwell Jackson
into the soft middle for 22 yards. It was significant because, in a similar situation four weeks ago against the
Miami Dolphins
, Smith was intercepted by linebacker
Dannell Ellerbe
on a throw to the slot receiver.
Progress? Yes, but keep in mind the Browns were ranked 27th in third-down defense.
Other takeaways from the game:
1. The Marty Bunch:
Offensive coordinator Marty Mornhinweg did a nice job of using bunch formations to create separation for the receivers. A good example was Smith's 6-yard touchdown pass to
David Nelson
. They had three tight ends on the field -- unusual for third-and-6 -- with Nelson lined up in a bunch to the right. He got a free release and ran a post route through bracket coverage. Smith anticipated Nelson's break, winding up before Nelson turned for the ball -- just like you draw it up. Later, Nelson had a 15-yard reception out of another bunch formation.
2. Welcome back, wideouts:
This may have been the best game for the wide-receiving corps, which produced 11 catches, 123 yards and two touchdowns. It had better numbers against the
Cincinnati Bengals
(15 for 130), but that was a blowout loss. The Browns used a lot of "off" coverage, playing into the Jets' hands. Everybody knows you have to play aggressive press coverage against the Jets' wideouts.
3. Tone's time almost up:
It was a disappointing day for
Santonio Holmes
, who had as many drops (two) as receptions. On the positive side, he did a nice job of shielding cornerback
Buster Skrine
in the end zone on Smith's 17-yard touchdown scramble. Curiously, Holmes didn't partake in the celebration. Smith was mobbed by seven teammates, but Holmes, nearby, didn't join in, looking like he was sulking.
4. Reed responds in backup role:
Safety
Ed Reed
, replaced by
Antonio Allen
in the base defense, played his best game as a Jet. In fact, the much-maligned safety group allowed only one completion in five targets, recorded an interception (Reed) and broke up two passes -- a solid performance. Then again, what do we writers know about football, right, Ed?
5. Flawless protection:
Kudos to the offensive line -- no sacks, no quarterback hits. I've been critical of rookie left guard
Brian Winters
, but this was one of his better games. He had a key block on
Bilal Powell
's 39-yard run.
6. Defensive hiccup:
The Jets were gashed on
Edwin Baker
's 5-yard touchdown run. It happened with defensive tackle
Sheldon Richardson
(shoulder) temporarily out of the game. His replacement,
Leger Douzable
, was double-teamed. Outside linebacker
Quinton Coples
fell victim to a trap block, creating a crease for Baker. Afterward, Rex Ryan took responsibility, saying he should've used the goal-line defense instead of the base.
7. Not so special
: Special-teams mistakes have cost the Jets 10 points in the last two games. There was the blocked punt in Carolina, and the failed fake punt against the Browns.
Josh Bush
, a safety, took the direct snap and uncorked a Tebow-esque pass into the ground, missing a wide-open
Isaiah Trufant
. They will say it should've worked because he was open, but I didn't see the point in resorting to trickeration against a hapless team like the Browns. The Jets also allowed a 50-yard kickoff return at a critical point in the game, but it was a treat to see
Saalim Hakim
turn on the jets and track down
Fozzy Whittaker
. Dude can fly.
December, 19, 2013
12/19/13
6:15
PM ET
FLORHAM PARK, N.J. -- Out of playoff contention, the
New York Jets
are planning to use the final two games to evaluate certain young players. Reading between the lines, it could mean Rex Ryan feels secure and isn't worried about having to win the final two games to save his job.
Or it could mean nothing. It could mean general manager John Idzik is calling the shots. There are many ways to interpret it.
Bush
"We're going to utilize out entire defensive roster the next couple of weeks and we'll get a chance to evaluate some guys who haven't played as much," defensive coordinator Dennis Thurman said, mentioning safeties
Josh Bush
and
Jaiquawn Jarrett
among that group.
Thurman emphasized they're still trying to win the games. He acknowledged "it can be difficult" to balance it, adding, "But we have to try to do it. It's something that's important to us, to get a look at these guys on tape in game action against another team's first unit."
There was no official word on whether they will take the same approach on offense, but it wouldn't be surprising to see wide receiver
Saalim Hakim
, running back
Alex Green
and tight end
Zach Sudfeld
in expanded roles.
The Jets are starting five rookies on both sides of the ball, so it's not like the bench is filled with young players starved for playing time.
If Bush and Jarrett see more time, it would appear that future Hall of Famer
Ed Reed
would have a reduced role. Reed, 35, has played the vast majority of the defensive snaps since signing with the Jets last month.
Statistically, this has been a disappointing season for the defense, which ranks 12th in yards allowed. In eight seasons as a defensive coordinator (
Baltimore Ravens
) and head coach, Ryan's defense has ranked no lower than eighth -- and that was last season.
In the preseason, Ryan predicted a top-five finish.
"I just assumed that's where we'd always be," he said. "I'd just assumed we'd be there, but to me, it's just the wins and the losses. I think that's the disappointment. That's where the disappointment comes in."