August, 4, 2014
8/04/14
3:20
PM ET
DAVIE, Fla. -- A daily review of the hot topics coming out of
Miami Dolphins
training camp:
Dolphins starting quarterback Ryan Tannehill had perhaps his worst practice of training camp Monday. Tannehill threw three interceptions in team drills, including two returned for touchdowns by cornerbacks Cortland Finnegan and Will Davis. Tannehill's third interception was to safety Reshad Jones. Tannehill's day was erratic, and it comes following a good performance Saturday during the Dolphins' annual scrimmage. To his credit, Tannehill didn't play with many of his key wide receivers and worked with a new center in Samson Satele.
The "Player of the Day" was Davis, who was all over the field. Davis had the pick-6 off Tannehill and at least three pass-breakups in team drills. The second-year cornerback has a penchant for making plays and is now working on his consistency. "I just had aggressive opportunities to make plays, and I made them," Davis said. "It was one of those days where I came in, made a play early, which fills you up, and then you're reacting right [to the ball]."
Miami's injury list continues to grow. Today I wrote about ailments affecting tight end Charles Clay (knee), backup quarterback Pat Devlin (hamstring) and kicker Caleb Sturgis (groin). During practice the Dolphins suffered additional injuries to defensive end Olivier Vernon, tight end Michael Egnew and offensive lineman Nate Garner. The Dolphins had several full-padded practices in the past week, and the injuries are adding up.
The Dolphins continued to mix and match on the offensive line. Satele and Sam Brenner rotated with the starters at center. Shelley Smith took snaps with the first team and second team at guard. Miami is still using a lot of combinations on the offense line and eventually must settle on a starting five to begin developing continuity.
The Dolphins will take the field again at 8 a.m. Tuesday for their 10th practice of training camp. Miami continues to prepare for its first preseason game against the Atlanta Falcons on Friday. Dolphins head coach Joe Philbin said he will determine playing time for the offense and defense after practice on Wednesday.
July, 30, 2014
7/30/14
4:00
PM ET
DAVIE, Fla. – A daily review of the hot topics coming out of
Miami Dolphins
training camp:
It was another sloppy day for the offense. The Dolphins are experiencing growing pains learning an up-tempo scheme under first-year coordinator Bill Lazor. This was one of those sessions where the Dolphins had poor throws, numerous drops and offensive line issues. I counted at least five drops by Miami receivers in what was probably the worst practice by the offense since the opening day of training camp. "I obviously haven't looked at the film yet, but my instincts tell me that the defense had the upper hand," Dolphins coach Joe Philbin admitted.
The center position is starting to become a major concern. For the second day in a row, Shelley Smith had two errant snaps to quarterback Ryan Tannehill. The second bad snap was a ground ball that skipped past Tannehill in team drills. Soon after, backup center Nate Garner finished practice on the first team. Miami tried several different combinations in an effort to find the best five on the line. In addition to Garner, rookie guard Billy Turner also worked with the first-team offense at times on Wednesday.
The play of the day goes to Dolphins wide receiver Brian Hartline. Early in team drills Hartline beat cornerback Jamar Taylor deep for a 60-plus yard touchdown reception. Miami's offense protected Tannehill enough for him to throw a pretty deep ball that Hartline caught in stride. To Taylor's credit, he responded with an interception of Tannehill and had a couple of tipped passes.
The three punt returners Wednesday were receivers Marcus Thigpen, Jarvis Landry and Rantavious Wooten. Thigpen is the incumbent but must compete to keep his job with punt and kick returns.
On the injury front, Dolphins receiver Mike Wallace had the day off. He said earlier this week his hamstring was tight. Backup center Sam Brenner, who was carted off the field Tuesday, did not practice but spent time on the sideline watching the offensive line. Pro Bowl center Mike Pouncey (hip) and running back Knowshon Moreno (knee) continue to be on the physically unable to perform list and worked on the side with a team trainer.
The Dolphins will continue their training camp Thursday at 8 a.m. ET.
July, 24, 2014
7/24/14
3:20
PM ET
The
Miami Dolphins
will begin their 2014 training camp on Friday amid many expectations following last year's 8-8 season. This is an important season for many within the organization, starting with head coach Joe Philbin and quarterback
Ryan Tannehill
, who are both 15-17 the past two seasons.
ESPN.com's Dolphins blog will be there every step of the way for Miami's training camp. Here are some things we will be monitoring closely as practices begin:
1. Dolphins' plan at center
Pouncey
The Dolphins have been mum on their contingency plans at center since starter
Mike Pouncey
underwent
recent hip surgery
. Pouncey initially was expected to miss approximately four to six games. But the Miami Herald reported Wednesday that Pouncey could be out as many as eight weeks. Friday's first practice will reveal what Miami's coaching staff has in mind. It could be
Sam Brenner
or
Nate Garner
at first-team center. Maybe guard
Shelley Smith
moves to center. But what happens Friday might not stick two weeks from now or in Week 1 against the
New England Patriots
. However, this is a valuable time for Miami to start figuring out how to replace its Pro Bowl center.
2. Ryan Tannehill's development
Tannehill
All eyes will be on Miami's third-year quarterback as he tries to put together his first winning season. Tannehill is learning a new, up-tempo scheme under first-year offensive coordinator Bill Lazor. There were some growing pains in organized team activities and minicamp, with a mix of good and bad practices from Tannehill. He must put together a strong and consistent training camp, starting Friday.
3. Rookie development
In an important season, the Dolphins cannot afford to have a repeat of 2013 with their rookie class. Miami needs valuable draft picks such as
Ja'Wuan James
,
Jarvis Landry
,
Billy Turner
and
Walt Aikens
to immediately contribute and find roles. The Dolphins got very little from last year's draft class, and it was a significant reason they were unable to get over the hump. For Miami to reach its potential, the Dolphins must get quality production from both their first- and second-year players.
June, 30, 2014
6/30/14
9:50
PM ET
One term you hear over and over from the
Miami Dolphins
' coaching staff is "position flexibility." Head coach Joe Philbin values players who can be plugged in at multiple spots, even if they're better at some positions than others, because injuries happen.
Colledge
Philbin wants as many versatile players on his roster as possible. Going by that train of thought, Monday's signing of veteran offensive lineman
Daryn Colledge
to a
one-year contract made sense
for the Dolphins. Miami did not sign a true center to replace injury Pro Bowler
Mike Pouncey
, who is out for at least 3-4 months following hip surgery. The Dolphins got a dependable, durable player who provides options for Miami's offensive line.
Colledge, 32, is a longtime starter for the
Green Bay Packers
, where Dolphins head coach Joe Philbin was an assistant, and most recently the
Arizona Cardinals
. He's started 97 consecutive games dating back to the end of the 2007 season. Colledge is a "plug-and-play" veteran who could be ready by Week 1 despite missing Miami's entire offseason program.
The bigger question is this: Where would Colledge play?
Most of Colledge's experience is at guard, and moving a new player out of his natural place may be a bit risky. The Dolphins have plenty of in-house options, such as moving starting right guard
Shelley Smith
to center or playing backups
Sam Brenner
or
Nate Garner
at center. The Dolphins will have a full training camp and preseason to work through their options. Colledge provides flexibility to move players around. They can try his hand at center or he can become a valuable backup.
Either way, Miami is expected to have five new starters on its offensive line when it hosts the
New England Patriots
in the regular-season opener. It's not an idea situation, especially when learning a new scheme under first-year offensive coordinator Bill Lazor. But the Colledge signing at least is a step in the right direction.
June, 24, 2014
6/24/14
11:00
AM ET
The bad news struck down like a hammer on Monday afternoon. ESPN's Adam Schefter reported
Miami Dolphins
Pro Bowl center
Mike Pouncey
will miss 3-4 months following major hip surgery.
Pouncey was probably the player the Dolphins could least afford to lose early in the season. According to his timeline, Pouncey could miss the first couple of games or even be put on the physically unable to perform list (PUP) and miss the first six games, depending on his progress. Either way, it's horrendous news for a Dolphins team trying to end a five-year playoff drought.
But now it's time for Miami to move forward and find the best contingency plan possible. Here is a look at the Dolphins' remaining options at center:
Brenner
1. Sam Brenner
Why it can work:
When Pouncey missed time during mandatory minicamp, Brenner was the starting center and received a bulk of the reps. That's a clue to what Miami's top in-house contingency plan is. Brenner, as an undrafted rookie, shined at guard last year. He was a four-game starter who performed well in a short period and impressed the coaching staff. The Dolphins may ask him to do the same for a month or so to start this season.
Why it can't work:
Brenner has never started at center at any level. He played guard for the Dolphins last year and guard and left tackle in college for the University of Utah. The fact that Miami worked Brenner as the No. 2 center this offseason shows its coaching staff believes he can make the transition. But you never know for sure until Brenner performs well in a real game situation. Do the Dolphins want Brenner learning on the job against the AFC East rival
New England Patriots
and
Buffalo Bills
? Both opponents have good players on the defensive line.
Garner
2. Nate Garner
Why it can work:
Garner is Miami's most versatile backup. Despite his lanky frame (6-foot-7), Garner started at center for two games last season when Pouncey had a health ailment. The Dolphins were 1-1 in those games and Garner held his own. Dolphins head coach Joe Philbin may revert back to what was comfortable for him last season in game situations (Garner) versus what he's currently doing in practice (Brenner).
Why it can't work:
Garner hasn't played center during the entire offseason program. Those reps went to Pouncey and Brenner. For the Dolphins to completely switch the plan at this stage and go back to Garner would seem like a patch-work idea. Garner's biggest strength is he can play every position. But the bad news is he's average -- at best -- at every position. Average may not be good enough in the middle of Miami's offensive line.
Smith
3. Shelley Smith
Why it can work:
Smith, who signed as a free agent from the St. Louis Rams this year, has experience at center. The Dolphins have looked into it a little just on an exploratory basis. But this option has to receive more consideration now that Pouncey is on the shelf. Smith is probably the best player of the aforementioned group.
Why it can't work
: Smith only has eight career starts in four seasons, including just two starts in 2013. It's important for Miami to get Smith comfortable in his new surroundings and a new offense under first-year coordinator Bill Lazor. By all accounts, Smith is holding his own at right guard. Do the Dolphins want to take that momentum from Smith? I've never subscribed to the theory that you weaken one position (right guard) to fix the other (center). Now, you've weakened two positions.
The Dolphins have a full training camp and preseason to figure this out. Miami will take the field in Week 1 with a new center and without Pouncey on Sept. 7 against the Patriots.
June, 23, 2014
6/23/14
6:41
PM ET
For months, the main concern for
Miami Dolphins
fans centered around Pro Bowl center
Mike Pouncey
potentially missing the start of the regular season because of
his involvement in last year's bullying scandal
. Many wondered if a NFL-mandated suspension was looming, but it turns out it doesn't matter.
Pouncey will be sidelined anyway for the start of the 2014 season because of hip surgery,
ESPN's Adam Schefter reports
. Pouncey is expected to miss the next three to four months, which includes all of training camp, the preseason and the start of the regular season.
This is a huge loss for Miami. A strong case can be made that Pouncey is the one player Miami can least afford to lose. Not only is Pouncey one of Miami's top two or three players, he is the center who works closest with young quarterback
Ryan Tannehill
and in charge of calling pre-snap protections at the line of scrimmage. Without Pouncey to start the regular season, the Dolphins are expected to have five new starters on the offensive line in Week 1.
Speaking of Week 1, that is when the rival
New England Patriots
come to Miami. The Dolphins are an awful 4-8 against division foes the past two seasons and need to start the division games on the right foot. The same goes for Week 2 against the
Buffalo Bills
, who swept the Dolphins last season. Both opponents have solid defensive lines who will look to take advantage of Miami's plight without Pouncey.
The Dolphins' offensive line was awful last year and allowed a franchise-record 58 sacks. New Dolphins general manager Dennis Hickey spent the entire offseason remaking the offensive line center around Pouncey. Now, Pouncey won't be available in September. Schefter also reports running back
Knowshon Moreno
will miss several weeks and should return at some point in training camp, which is of lesser concern.
Where does Miami go from here?
The Dolphins have three options at this stage. First, they can go with undrafted second-year player
Sam Brenner
, who received second-team reps at center this offseason and filled in at guard last season for the suspended
Richie Incognito
. Second, versatile backup
Nate Garner
also played center last season in place of Pouncey for two games and could be the second in-house plan. The third option is to look for outside help via trade or free agency, which could be slim pickings at this stage of the offseason.
Whatever choice Miami makes, it's replacement plan won't be nearly as good as Pouncey. He is one of the top centers in the NFL and the drop off will be significant no matter who plays in Week 1.
This is a make-or-break year for many in Miami's organization to make the playoffs. The Dolphins need a fast start to accomplish that task and it just became much more difficult.
May, 24, 2014
5/24/14
9:30
AM ET
DAVIE, Fla. – The mammoth size was apparent on the first day of
Miami Dolphins
rookie camp. So was the youthful exuberance.
First-year offensive linemen
Ja'Wuan James
and
Billy Turner
looked the part of two major building blocks in Miami's 2014 draft class. The Dolphins invested first- and third-round picks, respectively, in hopes that James and Turner can fix Miami's struggling offensive line.
[+] Enlarge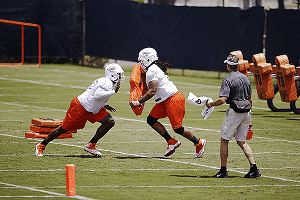 AP Photo/Wilfredo LeeRookies Ja'Wuan James, left, and Billy Turner are aiming to be immediate contributors on Miami's rebuilt offensive line.
James and Turner have the potential to become Miami's dynamic rookie duo in the trenches. Both were in shape and ready to begin competing for starting jobs when the veterans returned for organized team activities next week.
"It felt good to get back out here," James said after Friday's practice. "I haven't played football in a long time. We've been practicing to be track stars through this whole draft process. So it's good going out there and competing."
Dolphins first-year general manager Dennis Hickey was left with an empty cupboard on the offensive line when he joined the team in January. On the field, Miami's offensive line allowed a franchise-record 58 quarterbacks sacks and had an inconsistent running game that was ranked 26th in the NFL. There also was a bullying scandal off the field involving three starters: center
Mike Pouncey
and former guards
Richie Incognito
and
John Jerry
.
A major overhaul of the offensive line was needed, and Miami could have as many as four new starters this season. Hickey and the Dolphins are hoping James and Turner are NFL-ready rookies. Both are former team captains and four-year starters with 105 combined collegiate starts.
"Well, I know those guys are talented players, and through our research we felt like they had the makeup that could contribute and help our team," Hickey said. "So, obviously, that's why we drafted them. They played a lot of football. They're both smart and they're both tough and we're excited to have them. They've done an outstanding job so far."
Turner will have the hardest time of the two rookies to win a starting job. Miami has an opening at one guard position, but there are a lot of competitors with more NFL experience. Holdovers
Nate Garner
,
Sam Brenner
and
Dallas Thomas
are all potential competitors for Turner this summer, and the coaching staff will not play favorites.
We will know more about Turner's game once he puts the pads on in training camp. At North Dakota State, Turner was known for his mean streak and dominant play against small-school competition. He will try to translate that style to the NFL level.
"I like to hit people. That's why I play the game, that's why I play offensive line," Turner said. "I'm an aggressive guy. ... Coming off the ball being as aggressive as I can is how I play."
May, 9, 2014
5/09/14
1:30
PM ET
DAVIE, Fla. -- The NFL draft's first round is in the books for the
Miami Dolphins
. They selected former University of Tennessee right tackle
Ja'Wuan James
at No. 19 overall to boost their offensive line.
But what's next for the Dolphins in Rounds 2 and 3?
Here is a preview of where the Dolphins stand:
Friday's picks
: No. 50 (second round) and No. 81 (third round)
Remaining needs
: Guard, linebacker, safety
Analysis:
The Dolphins filled a major need at right tackle by drafting James, but
many question whether it
was a good value pick. Either way, it's time for Miami to move forward. The Dolphins still have several needs to address. There is still a hole at guard on the offensive line. Miami signed free agent
Shelley Smith
but the other spot is wide open. Currently
Sam Brenner
,
Nate Garner
and
Dallas Thomas
are all backups competing for that spot. The Dolphins also could use help at middle linebacker.
Dannell Ellerbe
played out of position last year and struggled. He could move outside if the Dolphins find a potential starting middle linebacker in the second or third round. Miami missed on former Alabama middle linebacker
C.J. Mosley
, who was taken by the
Baltimore Ravens
at No. 17. The Dolphins also could use depth at tight end, receiver and running back, although they have starters at those positions. The draft still have some good prospects in Day 2 available at those positions.
Potential targets
: UCLA G
Xavier Su'a-Filo
, TE
Austin Seferian-Jenkins
, WR
Marqise Lee
, RB
Carlos Hyde
, RB
Tre Mason
, LB
Chris Borland
December, 29, 2013
12/29/13
2:27
PM ET
MIAMI – The
New York Jets
lead the Dolphins, 14-7, at intermission.
Here are some thoughts at halftime:
For the second meeting this season, Miami's offense is having success throwing at Jets rookie cornerback Dee Milliner. Dolphins quarterback Ryan Tannehill attacked Milliner several times for key receptions, including a 5-yard touchdown throw to Miami receiver Mike Wallace in the second quarter.
The Dolphins received some bad news in the first quarter when leading receiver Brian Hartline re-injured his knee. His return is listed as questionable by Miami. Hartline caught two passes in the first quarter for 38 yards. The production took him over 1,000 yards receiving for the second straight season. Hartline became the fifth receiver in Dolphins history to post back-to-back 1,000-yard seasons.
Miami's Nate Garner started at guard for Sam Brenner. But both players rotated in the first half. The Dolphins have had trouble at the guard spot this year between injuries and the suspension of starter Richie Incognito.
Dolphins head coach Joe Philbin won an officiating challenge in the first quarter. He is 7-1 on challenges this season.
Miami playoff hopes rest on this second half. But it will take a second-half comeback.
November, 27, 2013
11/27/13
4:00
PM ET
DAVIE, Fla. -- The
Miami Dolphins
(5-6) continued their preparation for Sunday's huge AFC East matchup against the
New York Jets
(5-6).
Here are some notes from Wednesday's practice:
November, 24, 2013
11/24/13
11:56
AM ET
November, 17, 2013
11/17/13
7:52
PM ET
MIAMI -- Observed in the locker room after the
Miami Dolphins
'
20-16 win
against the
San Diego Chargers
.
Thomas
Happy times:
It was a much more joyous locker room Sunday than what we've seen recently from the Dolphins (5-5). Many players were smiling and were very happy after picking up a key win against San Diego (4-6). The Dolphins had lost five of their past six games before Sunday. But now they are back at .500 and in the playoff hunt.
Checked out:
Dolphins tailback
Daniel Thomas
had a solid game, rushing for 57 yards and a touchdown on 10 carries. However, Thomas went into the X-ray room afterward to get checked out for an unspecified injury. Thomas finished the game and it didn't appear the injury was serious.
Brenner gets congrats:
Miami backup lineman
Sam Brenner
made his first career start at guard after center
Mike Pouncey
was a late scratch with an illness. Brenner held his own and helped the Dolphins rush for 104 yards on 19 carries. Brenner received a lot of congrats from his fellow offensive linemen in the locker room for stepping up.