August, 25, 2010
8/25/10
3:47
PM ET
Who was the greatest NFL player to wear a specific jersey number?
SI.com decided to find out and produced a list sure to create debate.
The package, which includes plenty of vintage photos
, was published Wednesday.
SI.com's Richard Deitsch explained the process
:
A team of SI.com's finest numerologists crunched the data on jersey numbers to come up with the best performers in professional football at each number from 00 to 99. We based our decision on a combination of impact on the game, statistics and team success during the player's time wearing that number.
Here are the AFC East fellows who made the rundown from 00 to 99 ...
4.
Brett Favre
, Jets quarterback: Hey, he spent a season there.
12.
Tom Brady
, Patriots quarterback: Deitsch called this the toughest call over Terry Bradshaw. There's also Joe Namath and Roger Staubach.
13. Dan Marino, Dolphins quarterback: This selection was listed among the eight simplest to make.
23. Troy Vincent, Patriots and Bills defensive back: Next runner-up was Mel Gray.
39. Larry Csonka, Dolphins running back: Selected ahead of Hall of Famer Hugh McElhenny and Patriots fullback Sam Cunningham.
55.
Junior Seau
, Dolphins and Patriots linebacker:
Willie McGinest
and
Joey Porter
mentioned as "worthy of consideration."
57. Dwight Stephenson, Dolphins center: Thin crew when
Bart Scott
was in the all-time mix.
62. Jim Langer, Dolphins center: Name another No. 62. Quick!
67. Reggie McKenzie, Bills guard: Member of O.J. Simpson's famed Electric Company, but ahead of Dolphins guard Bob Kuechenberg?
73. John Hannah, Patriots guard: Other AFC East runners-up include Joe Klecko and Bob Baumhower.
August, 12, 2010
8/12/10
12:54
PM ET
FOXBOROUGH, Mass. -- Sam Cunningham saved me from excruciating pain and certain ridicule in front of hundreds of people.
Behind an end zone of the
New England Patriots
practice fields, we were reminiscing about his playing days when some people screamed "Heads up!"
My instinct was to look at the far field, where the Patriots and
New Orleans Saints
were running 11-on-11 drills. Saints kicker
Garrett Hartley
had been working out on the closest field but would need to go wiiiiiiiiiide left to send a ball our way.
[+] Enlarge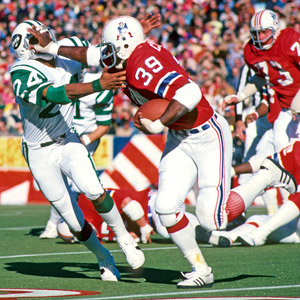 Dick Raphael/US PresswireSam Cunningham spent all 10 of his NFL seasons with the New England Patriots.
Hartley did, and thankfully Cunningham still has those soft hands or else I'd have reprised
Hans Moleman in "Man Getting Hit by Football
."
With the ball flying right toward a most delicate region and me looking into the sun, Cunningham reached over and snared it like it was a Steve Grogan backfield toss.
"I hadn't caught a football in I don't know how long," Cunningham laughed.
At that moment, I enshrined Cunningham into the Tim Graham Hall of Fame, which I'm sure falls just short of measuring up to the honor the Patriots will bestow on him Thursday afternoon.
The hard-charging fullback known as "Bam" will be inducted into the Hall at Patriot Place.
"We came, we put in our work as hard as we could and much as we could and for the fans and the people to appreciate it," Cunningham said. "At the end of the day, that's all you want. You make your money, you spend your money and you do whatever you do. The appreciation factor is something that never goes away."
He is said to have helped integrate college football in the South with a dominant performance for USC against Alabama in 1970 and spent all 10 of his NFL seasons with the Patriots. He's still the franchise leader with 1,385 rushing attempts and 5,453 yards. His 43 rushing touchdowns rank second.
Cunningham had one of the greatest seasons at any position in Patriots history in 1977, when the Patriots set an NFL record with 3,165 rushing yards. The record hasn't been legitimately approached despite the addition of two more regular-season games.
That year, Cunningham ran for a team-high 1,015 yards and four touchdowns and caught 42 passes for 370 yards and a touchdown. He went to the Pro Bowl the next season, running for 768 yards and eight touchdowns.
"He played at a time where a lot of people don't really probably right now appreciate what fullbacks were in the '70s and early '80s," Patriots coach Bill Belichick said. They were "guys that not only blocked, but ran the ball, caught it and really never came off the field ... not just on first down or third down or those kind of specialty players.
"He was a big ball carrier, a hard guy to tackle, a very good runner, a good blocker, caught the ball well, very good in short-yardage and goal line."
But Cunningham's teams reached the postseason only three times, the last coming in 1982, when he played in only six games.
"We were off the radar a little bit, but I guarantee you the teams we played didn't really want to play us," Cunningham said. "People looked at us as an also-ran team, but we had players from programs that had won and didn't like to lose and a coach that didn't like to lose and held us accountable.
"History looks back differently than those teams were at that time. The teams we played understood the talent we had and what we could do if they took us lightly."
August, 11, 2010
8/11/10
6:49
PM ET
FOXBOROUGH, Mass. --
Laurence Maroney
wears No. 39, as Sam "Bam" Cunningham did for the
New England Patriots
three decades ago.
[+] Enlarge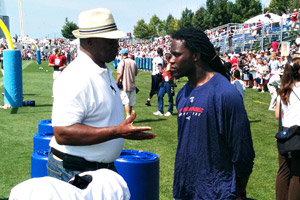 Tim Graham for ESPN.com Laurence Maroney wears the same number as former Patriots running back Sam Cunningham (left).
That's pretty much where the similarities end when it comes to their running styles. Maroney is a shifty sort who aggravates fans with his hesitancy. Cunningham was a head-down, straight-ahead battering ram who delivered punishment more than he avoided it.
Suffice to say, Patriots fans would love to see a little Bam in Maroney's game.
For now, they'll have to settle for some of Cunningham's words in Maroney's ear.
The two running backs met for several minutes after Wednesday morning's practice outside Gillette Stadium. Cunningham is in town for Thursday afternoon's induction into the Patriots' Hall of Fame.
"It's nice motivational insight that he gave to me that I'm going to take with me and run with it," Maroney said.
"Just showing our respects because I didn't really find out when they gave me the number the legacy behind the number until, like, my second year. ... He was telling me 'This is our number. Just keep it going.' "
Before they met, I had a chance to ask Cunningham for his take on Maroney, the 21st overall draft choice in 2006.
"How can I say this?" Cunningham said. There was a long pause. "I'm not intensely focused on the running backs, but when Laurence came to the team and I looked at his resume from where he came from, I thought it was a good opportunity for him to make an impact."
That hasn't happened to the degree the Patriots have hoped. Maroney had a career-high nine touchdowns last year, but he has battled injuries and fumbling problems. His highest rushing total was 835 yards in 2007.
Cunningham was a fullback from a different era. In 1977, when they played 14 games, he ran for 1,015 yards and caught 42 passes for another 370 yards. He went to the Pro Bowl a season later, rushing for 768 yards and eight touchdowns.
"There are some fans that dislike him with a passion, you know?" Cunningham said with a laugh. "Some love him, too. But we're two different kinds of backs. He's nowhere near as big as I am, and they don't run the same offense. They don't even play the same football we did in my day.
"I could take him back and show him film. In our day we had different kinds of running backs, too. We had one that was 5-5, 155 pounds named Mack Herron.
"So you look at me and you look at [Herron] and say 'How does he survive in this world?' Well, he does. He finds a way. Laurence has to find that way to do that."
June, 30, 2010
6/30/10
1:30
PM ET
Notable players:
QB
Tom Brady
, RB
Corey Dillon
, WR
Deion Branch
, WR/DB
Troy Brown
, TE
Daniel Graham
, T
Matt Light
, DE
Richard Seymour
, OLB
Willie McGinest
, OLB
Mike Vrabel
, ILB
Tedy Bruschi
, CB
Ty Law
, CB
Asante Samuel
, S
Rodney Harrison
, K
Adam Vinatieri
, ST
Larry Izzo
.
[+] Enlarge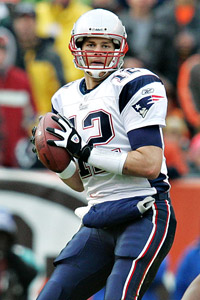 Matthew Emmons/uS PresswireTom Brady and the Patriots collected their third Super Bowl win in four seasons.
Analysis:
The
New England Patriots
are the only AFC East club with three championship seasons to consider, and one could argue with conviction their best team didn't win the Super Bowl.
But 2004 stands apart. The Patriots claimed their third Vince Lombardi Trophy in four seasons to establish themselves as one of the all-time great teams. Brady and head coach Bill Belichick ensured their place in Canton.
The Patriots picked up where they left off after winning Super Bowl XXXVIII the year before. They increased their win streak to an NFL record 21 games. They ranked fourth in scoring and second in points allowed. They lost two games all season, Week 8 at the
Pittsburgh Steelers
and Week 15 at the
Miami Dolphins
.
After beating the
Indianapolis Colts
for the second time and holding
Peyton Manning
's offense to three points in the divisional round of the playoffs, the Patriots scored 41 points to avenge their defeat in Pittsburgh.
In Super Bowl XXXIX, the Patriots beat the
Philadelphia Eagles
more comfortably than the 24-21 score indicates. Adam Vinatieri didn't need to drill a field goal in the closing seconds for a change.
Most impressive win:
The Patriots never were more dominant than they were in Week 10 against the
Buffalo Bills
, a borderline playoff team that won three out of four heading into Gillette Stadium and six straight afterward. The Patriots rolled up a season-high 428 offensive yards and limited the Bills to 125 yards to win 29-6.
What can Brown do for you?
Pretty much whatever you could ask of him. Brown caught only 15 passes in the regular season, but in Week 9 against the
St. Louis Rams
, he entered the game as an emergency defensive back when Samuel went down with an injury. Brown finished the season with three interceptions (one shy of the team lead) and broke the Super Bowl record for punt returns.
Honorable mention
2007:
It's the greatest NFL team not to win the championship. Brady,
Randy Moss
and
Wes Welker
rewrote a good chunk of the offensive record book, but the Patriots fell short of finishing the season undefeated, losing in the Super Bowl to the
New York Giants
.
2001:
New England won its first championship with an offense that ranked sixth in scoring and a defense that ranked sixth in points allowed. Belichick's controversial decision to stick with Brady when
Drew Bledsoe
returned to health created a superstar.
2003:
New England went 14-2 to win its second title in three years. The offense was pretty mediocre, but the defense posted three shutouts, gave up six points or fewer five times and averaged 11.9 points against over the final 10 weeks of the regular season.
1976:
Patriots fans thought a storybook season was unfolding in the bicentennial. Steve Grogan and Sam Cunningham led the Pats to an 11-3 record, but a controversial late-hit call helped them lose to the
Oakland Raiders
in the playoffs.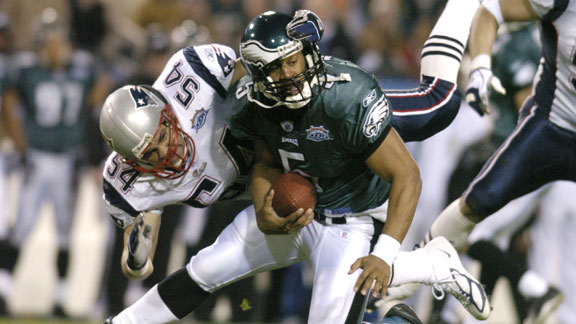 June, 14, 2010
6/14/10
2:01
PM ET
New England Patriots fans have voted Sam "Bam" Cunningham into the team's Hall of Fame.

He was selected ahead of two other finalists, center Jon Morris and defensive tackle Houston Antwine.

Cunningham was the Patriots' all-time leading rusher when he retired with 5,453 yards and 43 touchdowns.

"As a fan, I loved Sam 'Bam' Cunningham," Patriots owner Robert Kraft said. "He was an old-school fullback, who would punish would-be tacklers. Yet his signature carry was the one where he would leap over the line of scrimmage at the goal line to score a touchdown."

Cunningham was the fullback on New England's 50th anniversary team. He led the Patriots in rushing six times during his nine seasons and went to a Pro Bowl.

He had an epic season in 1978, rushing for 1,015 yards while leading the Patriots with 42 receptions. That year, the Patriots set an NFL record that would stand for 31 years with 3,165 rushing yards.
April, 14, 2010
4/14/10
6:09
PM ET
Overlooked amid the
Brandon Marshall
fuss was the
New England Patriots
announcing three finalists for their Hall of Fame.
The nomination committee selected center Jon Morris, defensive tackle Houston Antwine and fullback Sam "Bam" Cunningham as this year's candidates.
The Patriots are the only NFL team that allows fans to make the final call for induction. You can
cast your vote at Patriots.com through May 31
. The verdict will be revealed in June. The induction will take place prior to the preseason home opener Aug. 12.
Morris has been a finalist the past three years. The Holy Cross grad spent 11 seasons with the Patriots. He was chosen the team's top rookie in 1964, named a Pro Bowler or AFL All-Star seven times and selected as the center for the Patriots' 50th anniversary team last year.
Antwine is a finalist for the second time. He played 11 seasons for the Patriots and led them in sacks from 1967 through 1969. His 39 sacks still rank 10th in franchise history. Antwine was a Pro Bowler or AFL All-Star six times. He and
Vince Wilfork
were the defensive tackles on the golden anniversary squad.
Cunningham was the fullback on the 50th anniversary team. He retired from the Patriots as their all-time leading rusher with 5,453 yards and 43 touchdowns. Cunningham led the Patriots in rushing six times during his nine seasons and went to a Pro Bowl. He had an epic season in 1978, rushing for 1,015 yards while leading the Patriots with 42 receptions. That year, Patriots set an NFL record that would stand for 31 years with 3,165 rushing yards.
June, 10, 2009
6/10/09
8:14
PM ET
Posted by ESPN.com's Tim Graham
FOXBOROUGH, Mass. -- New England Patriots owner Robert Kraft made an appearance at Wednesday's minicamp session to discuss fullback Jim Nance's induction into the team's Hall of Fame.
Nance was the AFL's most valuable player in 1966. He's second to Sam "Bam" Cunningham on the Patriots' all-time rushing yardage list.
"He was an attraction," Kraft said of Nance. "He brought fans to the games and that was very important in building a loyal fan base.
"Four decades later, we still have many season ticket holders who became fans of the Patriots in the 1960s because of players like Jim Nance. The fact that he still holds some prominent rushing records 38 years after his playing career speaks volumes."
Then conversation quickly turned to the topic of the day: Nose tackle Vince Wilfork's contract situation.
Wilfork skipped all of New England's organized team activities, which were voluntary, because he's entering the final year of the six-year deal he signed as a rookie in 2004 and wants an extension.
His base salary will be $2.2 million, but he's worth far more because he's among the best at such a critical position in the Patriots' 3-4 defense.
"Every year we have these business issues that have to get worked out, and one way or another they'll get worked out, and hopefully Vince will be here for the long-term," Kraft said.
"Vince and I have a great relationship. We actually chatted at the [Patriots Charitable Foundation] golf tournament on Monday. We both understand that this is not personal in any way. This is just each side doing their business and one way or another I'm sure things will get resolved."
That Wilfork showed up Wednesday for the start of mandatory minicamp was an encouraging sign for Kraft.
But the influential owner pointed out the difficulties in perennially maintaining a talented roster while remaining under the salary cap.
"It's hard on both sides because, look, we're blessed with a lot of good players on this team," Kraft said. "Unfortunately, the nature of the business if you want to win every year and to put yourself in position to be able to try and win every year, you need to make decisions and prioritize.
"There's a limited amount of money we can spend. So we're always trying to balance that and keep a team together and put ourselves in the best position to win."
February, 16, 2009
2/16/09
11:15
AM ET
Posted by ESPN.com's Tim Graham
After two weeks of polling, the ballots have been counted to determine your picks for the Mount Rushmore of each AFC East team.
To play off ESPN's quest to determine the best sports Mount Rushmore from the 50 states, Washington, D.C., and Puerto Rico, I solicited your thoughts on the four legends who best symbolize the Buffalo Bills, Miami Dolphins, New England Patriots and New York Jets.
Patriot Nation responded with 16 nominees, and the polling was the closest among the four AFC East clubs.
The final four are quarterback Tom Brady, head coach Bill Belichick, linebacker Andre Tippett and guard John Hannah. The last two are in the Pro Football Hall of Fame. The first two are on their way.
Brady and Belichick were runaway selections. Tippett and Hannah tied for third, while owner Robert Kraft was one vote behind them. Fan-favorite receiver Troy Brown finished one vote behind Kraft.
Top 10 voting went like this:
1.Tom Brady
2. Bill Belichick
3. Andre Tippett
John Hannah
5. Robert Kraft
6. Troy Brown
7. Tedy Bruschi
8. Drew Bledsoe
9. Steve Grogan
10. Adam Vinatieri

Here are a few of the comments from the readers who participated:
Mike in Natick, Mass., writes: My Top 4: Tom Brady Bob Kraft John Hannah Bill Belichick I think Brady and BB are on the list for obvious reasons. Hannah was one of the most, if not the most dominating interior linemen in the league in his era, maybe even the most dominating lineman. And Bob Kraft took a franchise which was heading in the wrong direction since Super Bowl XX. He bought the franchise, hired the best coach at the time to run his team (though Parcells didn't have full control) and eventually built a state of the art stadium. He has taken the team from a second class citizen in the NFL to the benchmark of success and the class of the NFL. For as much as anybody else has done for the New England Patriots on the field, the Patriots would not be who they are today without the ownership of Bob Kraft.
Jeff W in Boston writes: Hey Tim, As for a Patriots Mount Rushmore, it's a very difficult decision, but I have to go with championships. Tom Brady obviously makes it in, as does Bill Belichick. My last two choices are a bit more controversial, but I think they represent everything the Patriots stand for. Those two would be Bob Kraft and Troy Brown. Kraft turned around a losing culture and helped make the Patriots relevant, while Brown was the ultimate team player. It's tough for me to leave Andre Tippett off of here, and while he was certainly one of the top Patriots players of all time, I have to think of who brought championships to New England.
Quinton from Parts Unknown writes: I would say Brady, Belichick, Bob Kraft, and my uncle Bruce Armstrong(LT) who after his 14 year career ended up with the patriots record for career and consecutive starts and bridged that gap from the bad years to the good.
Pats_fan_1961 writes: I would have to put at least one member from the original AFL days, and one from today's team, and fill in the other two spots in between. So, My selections would be Gino Capaletti, John Hannah, Andre Tippett, and "In Bill We Trust" Belichick.
Gino was Mr. Patriot in the 60s, you have to include him. Honorable mention: Steve Grogan, Sam Cunningham, Darryl Stingley, Steve Nelson, Mike Haynes, Babe Parelli, Tom Brady, and Tedy Bruschi, Billy Sullivan, and finally Bob Kraft.
Sullivan gets an honorable mention because, after all, he was the founder of the Patriots, and Sam "Bam" Cunningham was the best back the Pats have ever drafted and remained a Patriot.
rickstoneburnersr writes: How could you leave out Tedy Bruschi and Adam Vinatieri? Also give Drew Bledsoe some respect, don't forget what the team was like before Bledsoe. Patriots Rushmore: Tom Brady, Drew Bledsoe, Tedy Bruschi, and Adam Vinatieri!!!