April, 21, 2011
4/21/11
4:05
PM ET
A few months back, Andre Reed got into the culinary business with his "Over the Middle" sauce.
Did he branch out Thursday by spilling the beans?
Reed has been chosen to represent the
Buffalo Bills
next week at the NFL draft in Radio City Music Hall. All 32 clubs will have a former star in attendance to announce the second-round picks.
The
New England Patriots
will have Hall of Fame outside linebacker Andre Tippett there. The
Miami Dolphins
and
New York Jets
don't own second-round picks, but cornerback Sam Madison and defensive lineman Marty Lyons will be in the rotation.
Reed tweeted a potential preview message to Florida State quarterback
Christian Ponder
:
@cponder7 Lookin forward to calling your name Draft Day!!!!!!!!!Bills brash like ur style.
Reed deleted the note and quickly
posted another tweet that toned down the excitement
.
@cponder7 Lookin forward to the possibility of calling your name Draft Day!!!!!!!!!Bills brash like ur style.
The Bills own the third and 34th picks in the draft. Mock draftniks project Ponder to be available early in the second round, but waiting might not the safest approach to getting a quarterback.
Some analysts wonder if there will be run on quarterbacks late in the first round. The Patriots hold the 33rd choice and will be fielding calls for it in the hours between the end of the first round and the start of the second round.
"It could be a record number," Bills general manager Buddy Nix said Tuesday about first-round quarterbacks. "There's so much need for a quarterback."
February, 27, 2011
2/27/11
8:27
AM ET
INDIANAPOLIS -- If money is the best way to measure the worth of a player, then nose tackle
Paul Soliai
is better than
Zach Thomas
,
Jason Taylor
,
Sam Madison
and Nick Buoniconti in
Miami Dolphins
history.
Soliai has signed his franchise tag. That means he's guaranteed about $12.5 million for next season, the average of the five highest-paid NFL defensive linemen.
No Dolphins defensive player has come close to making that much money for one season of work.
Soliai's agent,
David Canter, tweeted the signing Saturday night
.
Soliai is important to the Dolphins' defense because he's a solid 3-4 nose tackle, one of the more premium positions in the game.
But he hasn't been to so much as a Pro Bowl.
Dolphins outside linebacker
Cameron Wake
was a Pro Bowler and second-team All-Pro this past season. Defensive lineman
Randy Starks
was a Pro Bowler, too.
Strong safety
Yeremiah Bell
went to the Pro Bowl two seasons go. The Dolphins made
Karlos Dansby
the highest-paid inside linebacker at an average of about $8 million a year.
So you have to ask: Where does Soliai rank as the best defender on the Dolphins' current roster?
January, 13, 2011
1/13/11
1:36
PM ET
Time for another edition of "Speed Dial," where I call a few folks from my Rolodex to get their takes on a particular subject.
Today's question: In light of what
New York Jets
cornerback
Antonio Cromartie
recently said about
New England Patriots
quarterback
Tom Brady
, is there a
line that can be crossed when it comes to trash talking
?
Ruben Brown,
Buffalo Bills
guard (1995-2003):
"Beauty is in the eye of the beholder. If it's said to a player who will respond, then, yes, there is a line. But when it's a pro like Tom Brady, this is just going to roll like water off a duck's back. He'll say 'There's another crazy guy, talking smack.'

"You're totally wasting your time. It's like trying to call Peyton Manning out. Tom Brady and the elite, elite players, there's no real need to trash talk. Would he say that to Ray Lewis? No, because Ray would knock his block off. Those guys' work speaks for itself. What has Cromartie done compared to Tom Brady? Cromartie's not a Tom Brady, so Tom doesn't have to worry about him.

"I don't know if he really hates Tom or he's just getting himself pumped up for the game. I know plenty of times I've been psyched up for a game. You get tired of hearing the same questions over and over and you just lash out and say 'Screw that guy. I'm sick of hearing about him.' "
Ken O'Brien, New York Jets quarterback (1984-92):
"I think there definitely is a line and things that should not be said. I just think, regardless of the parties involved, that it's a common-sense thing. It comes down to the way you would want to be treated and the way you're raised. Just because you get asked a question, there's no need to sensationalize. In that situation, I think if you had time to think about it, you wouldn't want to say that.

"I don't even look at it in terms of being professional or affecting competition. It's not going to affect the outcome, and knowing Tom a little I'll bet he didn't think about it for two seconds. I look at it as how you represent yourself to people. I just think there's no place for that. Life's way too short. Talk about things that are positive, and you'll serve yourself a lot better."
Sam Madison,
Miami Dolphins
cornerback (1997-2005):
"It's the heat of the moment, and right now you're talking about the playoffs. You see the way their leader, Rex Ryan, is treating the situation. His players are taking the same approach their coach is dishing out. That's something that's brewing in the locker room among those guys, and [Cromartie] just had the nerve to say it.

"But when you get into it with one of the best quarterbacks in the league, you have to be ready to back it up. It gives Tom Brady more bulletin-board material. But all year, when wasn't there bulletin-board material coming from that Jets regime? It's just the way everybody's building up for a big football game."
March, 24, 2010
3/24/10
11:26
AM ET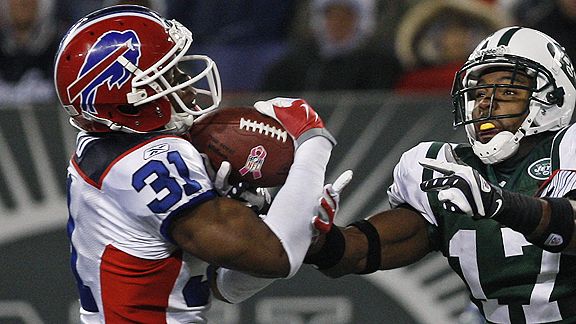 Ed Mulholland/US PresswireLed by rookie Jairus Byrd, the Buffalo secondary was one of the deepest in the league.
ORLANDO, Fla. -- The
Buffalo Bills
are an organization engulfed by uncertainty.
Who will be their quarterback?
What difference will new head coach Chan Gailey and rookie general manager Buddy Nix make?
Will Pro Bowl pass-rusher
Aaron Schobel
play or retire?
Can running back
Marshawn Lynch
bounce back?
How will they transition into their new 3-4 defense?
One area that cannot be questioned is the depth in Buffalo's secondary.
The Bills' defensive backfield isn't loaded with star power, but the quality of depth is remarkable.
The Bills ranked second in pass defense last year despite injuries pushing them to the limit. Ten defensive backs started for them.
Right cornerback
Leodis McKelvin
, the 11th overall pick from 2008, lasted only three games before getting hurt. Free safety
Donte Whitner
, the eighth overall pick from 2006, lost his job to rookie
Jairus Byrd
, who tied for the NFL interception lead and was selected for the Pro Bowl. Left cornerback
Terrence McGee
missed five games with a knee injury. Strong safety
Bryan Scott
started six games at linebacker.
Despite all that, the Bills allowed only 184.2 passing yards a game and 14 touchdowns. They snagged 28 interceptions, second in the NFL.
Now that's depth.
"I've gone to a lot of teams," Gailey said at the NFL owners meetings. "I don't know that I've ever gone to a team that the secondary -- I'm talking corner and safety position -- is as strong as we have right now overall.
"When I went to Dallas, when I went to Miami, when I went to Pittsburgh they were all good. But I'm not so sure that this isn't the strongest group."
Gailey isn't about to compare them player for player. After all, when he was head coach of the
Dallas Cowboys
he had cornerback Deion Sanders and safety Darren Woodson together.
"Those are two pretty good players," Gailey said. "We had a couple of other good players, but we were always trying to fill a hole."
Gailey joined the
Denver Broncos
as a defensive assistant the year safety Dennis Smith and cornerback Louis Wright went to the Pro Bowl. The Broncos later lined up Smith and Steve Atwater at safety while Gailey was there.
Gailey was on the
Pittsburgh Steelers
' offensive staff when they had future Hall of Famer
Rod Woodson
. As offensive coordinator of the
Miami Dolphins
, Gailey practiced against three repeat Pro Bowlers:
Sam Madison
,
Patrick Surtain
and
Brock Marion
.
No, the Bills aren't that good yet. Gailey isn't going to make like
New York Jets
coach Rex Ryan and proclaim they could reach legendary status. On Tuesday, Ryan said his star cornerbacks,
Darrelle Revis
and
Antonio Cromartie
,
remind him of the renowned Los Angeles Raiders tandem
of Mike Haynes and Lester Hayes.
What the Bills do have is a quality starter and backup at every spot. One of only three assistants Gailey retained from Dick Jauron's staff was defensive back coach George Catavolos.
"Even the backups at Buffalo, I'm talking about eight players, your top eight players," Gailey said, "this is as strong a group as I've ever been around."
The importance of depth in the secondary can't be emphasized enough.
As
Detroit Lions
head coach Jim Schwartz explained Wednesday morning, you can't have too many serviceable defensive backs.
"You're going to play more defensive backs than you are at other positions," said Schwartz, known as one of the NFL's brightest defensive minds. "You're not just going to play four. You're going to play five for half the game and you may even have a quarter of the game when you're playing six defensive backs.
"The other thing to look at is defensive backs get hurt at a higher rate than just about every other position on the field. Other positions have gotten bigger and bigger and bigger. Defensive backs have stayed the same, particularly corners. So with everybody else getting bigger and corners staying the same, it's not a matter of if somebody gets hurt and has to miss a game, it's a matter of when."
Five Buffalo defensive backs finished the season on injured reserve, including both of the opening-day starting cornerbacks, McGee and McKelvin.
Schwartz mentioned another important facet of defensive backfield depth.
"One person in the secondary that doesn't play well makes the whole secondary look bad," Schwartz said. "It's how the whole group plays, and if there's one weak link in that chain, then the whole group can look bad, and offenses are real good at finding that one guy and exploiting him."
Nobody can look at the Bills and call their secondary a weak link.
March, 12, 2010
3/12/10
1:50
PM ET
To mark the NFL's 75th draft next month, the league has launched a neat venture to sort out the 75 greatest draft picks and
determine the all-time most valuable selection
.
NFL.com editors narrowed each team's list of candidates down to the top 10, which seems a little unfair to the organizations steeped in history. The Dallas Cowboys' 20th most impressive pick is more deserving than the Houston Texans' sixth.
[+] Enlarge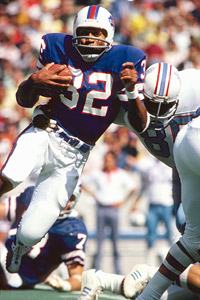 Malcolm Emmons/US PresswireO.J. Simpson is one of the best selections the Bills ever made.
I disagree with the decision to include players who didn't suit up for the teams that drafted them. For instance, tackle Leon Gray is listed for the Dolphins, kicker Gary Anderson for the Bills and punter Craig Hentrich for the Jets.
How can they be considered great draft picks if the teams that evaluated them declined to include them on their final rosters? Sounds to me like they were accidental draft picks more than savvy selections.
But if that's how they're going to do it, then I'd like to see Gary Fencik, a 10th-round pick in 1976, listed under the Dolphins.
Anyway, each team has 10 candidates fans can choose from when voting through April 18 at NFL.com. Parts of the list will be revealed on NFL.com and the NFL Network beginning April 19. The top 10 will be saved for the draft telecast.
The AFC East candidates, in alphabetical order:
Buffalo Bills:
Gary Anderson (seventh round, 1982); Ruben Brown (first round, 1995); Joe DeLamielleure (first round, 1973); Jim Kelly (first round, 1983); Reggie McKenzie (second round, 1972); Andre Reed (fourth round, 1985); O.J. Simpson (first round, 1969); Fred Smerlas (second round, 1979); Bruce Smith (first round, 1985); Thurman Thomas (second round, 1988).
Miami Dolphins:
Dick Anderson (third round, 1968); Larry Csonka (first round, 1968); Leon Gray (third round, 1973); Bob Griese (first round, 1967); Sam Madison (second round, 1997); Dan Marino (first round, 1983); Jake Scott (seventh round, 1970); Dwight Stephenson (second round, 1980); Jason Taylor (third round, 1997); Zach Thomas (fifth round, 1996).
New England Patriots:
Tom Brady (sixth round, 2000); Nick Buoniconti (13th round, 1962); John Hannah (first round, 1973); Mike Haynes (first round 1976); Lee Roy Jordan (second round, 1963); Ty Law (first round, 1995); Curtis Martin (third round, 1995); Lawyer Milloy (second round, 1996); Richard Seymour (first round, 2001); Andre Tippett (second round, 1982).
New York Jets:
Joe Fields (14th round, 1975); Mark Gastineau (1979); Craig Hentrich (eighth round, 2000); Keyshawn Johnson (first round, 1996); Joe Klecko (sixth round, 1977); Mo Lewis (third round, 1991); Joe Namath (first round, 1965); Marvin Powell (first round, 1977); John Riggins (first round, 1971); Wesley Walker (second round, 1977).
January, 5, 2010
1/05/10
5:47
PM ET
Ted Ginn is blazingly fast and has shown flashes of game-breaking talent during his three seasons with the
Miami Dolphins
.

Ginn
But there's no escaping Ginn has been an incredibly frustrating player for Dolfans to watch since he entered the league as the ninth overall selection in the 2007 draft ahead of players such as
Patrick Willis
,
Darrelle Revis
,
Lawrence Timmons
,
Dwayne Bowe
,
Brandon Meriweather
and
Robert Meachem
.
Ginn has had his share of apologists within the Dolphin family, but don't count retired cornerback
Sam Madison
among them.
Madison, a four-time Pro Bowler who still refers to the Dolphins as "we,"
delivered a scathing critique of Ginn
during an interview on former Dolphins tight end Joe Rose's show on Miami sports radio station WQAM.
"Ted Ginn is not a No. 1" receiver, Madison said. Madison declared undrafted slot receiver
Davone Bess
is the best target on Miami's roster.
Ginn has been electric on kick returns and occasionally gets behind the secondary, but Madison understands how fans can get upset when Ginn catches a pass and hits the turf or scurries out of bounds.
"He dodges tacklers," Madison said. "Instead of delivering the blow, he's running away from it. That's going to get him in bad situations. When you catch the ball, you have to have bad intentions.
"If you look at a guy like
Hines Ward
, when he catches the ball he's turning around and looking up. Ted Ginn is usually catching the ball, running backwards and slipping and falling. You may be able to run through one of those tackles or the defensive back may miss or fall down and then you can use your speed. But he's always ducking and dodging."
Madison finished his career with the
New York Giants
and defended Ginn when they played at Wembley Stadium in 2007. Madison immediately recognized Ginn couldn't cope with contact.
"We knew we could take him out of the game because we heard he wasn't physical," Madison said. "I go over there and I jam him and he can't get off the jam. Then I tell the rest of the guys. Now, the whole team is gunning to make him quit by hitting him hard and making you get down on the ground."
August, 7, 2009
8/07/09
9:24
AM ET
Posted by ESPN.com's Tim Graham
New York Jets
Buffalo Bills
Miami Dolphins
New England Patriots
April, 25, 2009
4/25/09
5:34
PM ET
Posted by ESPN.com's Tim Graham
The father of Connecticut cornerback Darius Butler told the South Florida Sun-Sentinel that the Miami Dolphins have promised to select his son if he's still available at No. 25.
Sun-Sentinel reporter Zach Buchanan quotes Mitchell Butler III as saying "The Dolphins gave him a promise that they'll take him if he's around."
The Dolphins have a need at cornerback. They lost veteran Andre Goodman to the Denver Broncos and replaced him with Eric Green, who lost his starting job with the Arizona Cardinals last year.
Miami hasn't had promising youth at cornerback for years, churning through a series of free agents to man the position.
The last time the Dolphins had a top cornerback prospects to groom were Patrick Surtain and Sam Madison in the late 1990s.