May, 25, 2011
5/25/11
11:03
AM ET
Football Outsiders senior writer Mike Tanier put together his
10 most disappointing trades of the past quarter century
for ESPN Insider.
Forty percent involved AFC East clubs, and in only one case were they not the suckers. In some instances there were no winners on either side of the deal.
The
Miami Dolphins
were indicted twice. Their succession of quarterback trades from 2005 through 2008 ranked eighth. Tanier called them a "series of ill-conceived trades for backups and has-beens."
The Dolphins' 1992 trade of Sammie Smith to the
Denver Broncos
for Bobby Humphrey came in at No. 7. It was "a one-for-one, headache-for-headache deal that turned out to be a waste of everyone's time," Tanier wrote.
Fourth on the list was the
New York Jets
' 2003 draft trade with the
Chicago Bears
. The Jets moved up to fourth in the order and drafted
Dewayne Robertson
. The Bears eventually drafted defensive end
Michael Haynes
(not
Ty Warren
) and quarterback
Rex Grossman
in the first round.
The
New England Patriots
came out ahead in the 2006 deal that ranked 10th. They dealt receiver
Deion Branch
to the
Seattle Seahawks
for a first-round draft choice that became Pro Bowl safety
Brandon Meriweather
. Three seasons later, the Patriots got Branch back for a fourth-round pick.
March, 26, 2011
3/26/11
1:35
PM ET
In a column for ESPN Insider, draft institution
Mel Kiper listed the 40 biggest non-quarterback busts

since he put out his first draft guide in 1978.
Five AFC East picks made the cut. Here they are along with Kiper's comment:
Linebacker Tom Cousineau, Bills, first overall in 1979: "He was kind of an undersized guy, even in 1979, and his career didn't match his work in Columbus."
Running back Sammie Smith, Dolphins, ninth overall in 1989: "Smith played with a bruising style for FSU but wasn't explosive enough in the NFL."
Tackle Mike Williams, Bills, fourth overall in 2002: "An absolute mammoth at 370-plus pounds, Williams got starts but never lived up."
Defensive tackle Dewayne Robertson, Jets, fourth overall 2004: "Only 16 sacks in his career for a guy we thought would really penetrate and be a menace."
Outside linebacker Vernon Gholston, Jets, sixth overall in 2008: "Finally time to call it what it is. Amazing physical skills, but not even Rex Ryan could save him."
March, 4, 2011
3/04/11
9:31
AM ET
When word got out the
New York Jets
would release defensive end
Vernon Gholston
, I solicited your nominees for the AFC East's biggest draft busts.
These disappointments received the most votes for each club:

Buffalo Bills
Defensive end Aaron Maybin (11th in 2009)
Tackle Mike Williams (fourth in 2002)
Quarterback J.P. Losman (22nd in 2004)
Defensive tackle John McCargo (26th in 2006)
Defensive end Erik Flowers (26th in 2000)
Comment:
Sadly, Buffalo's list suggests readers don't remember the team before the Music City Miracle. Last year's strong safety,
Donte Whitner
, finished sixth. Epic busts Walt Patulski (first in 1972), Tony Hunter (12th in 1983) and Perry Tuttle (19th in 1982) received only one vote each. Nobody mentioned running back Terry Miller (fifth in 1978).

Miami Dolphins
Receiver Yatil Green (15th in 1997)
Receiver Ted Ginn (ninth in 2007)
Running back John Avery (29th in 1998)
Cornerback Jamar Fletcher (26th in 2001)
Receiver Randal Hill (23rd in 1991), Eric Kumerow (16th in 1988), running back Sammie Smith (ninth in 1989)
Comment:
The Dolphins were the most nominated team in this exercise. They led with 16 nominees and the number of votes cast. Green didn't play in his rookie or sophomore seasons because of injuries and lasted eight games his third year. My pick would have been Kumerow, whose career consisted of three seasons, zero starts and five sacks.

New England Patriots
Running back Laurence Maroney (21st in 2006)
Receiver Chad Jackson (36th in 2006)
Receiver Hart Lee Dykes (16th in 1989)
Cornerback Chris Canty (29th in 1997)
Offensive lineman Eugene Chung (13th in 1992), defensive end Kenneth Sims (first in 1982), linebacker Chris Singleton (eighth in 1990)
Comment:
I was surprised Sims didn't receive more attention. He was the No. 1 choice ahead of Marcus Allen, Gerald Riggs, Mike Munchak, Jim McMahon and Chip Banks. Maroney received the most votes, but he also generated the most spirited debate because many readers disagreed he should be considered a bust. Jackson was a second-round pick, but the Patriots traded up 16 spots to get him.

New York Jets
Running back Blair Thomas (second in 1990)
Defensive end Vernon Gholston (sixth in 2008)
Tight end Kyle Brady (ninth in 1995)
Defensive tackle DeWayne Robertson (fourth in 2003)
Receiver Johnny "Lam" Jones (second in 1980)
Comment:
There was a lot of material to work with here. I was satisfied readers emphasized the magnitude of the bust over the freshness of Gholston's release by voting for Thomas. The next running back off the board in 1990 was Emmitt Smith.
March, 1, 2011
3/01/11
2:20
PM ET
Every NFL team has drafted a few colossal busts.
The
Buffalo Bills
drafted Notre Dame defensive end Walt Patulski first overall in 1972 and Ohio State linebacker Tom Cousineau first overall in 1979.
The
Miami Dolphins
selected Florida State running back Sammie Smith ninth in 1989. The
New York Jets
selected Southern Methodist defensive back Russell Carter 10th in 1984.
Recent years have brought us Dolphins receiver
Ted Ginn
, Bills tackle Mike Williams and
New England Patriots
receiver
Chad Jackson
.
After spending a few days in Indianapolis at the NFL scouting combine and upon learning Monday night the New York Jets have parted ways with 2008 sixth overall draft choice
Vernon Gholston
, let's gather a list of the biggest busts in AFC East history.
Submit your candidates for each team in the comments section below this article and state your case.
I will compile the suggestions and come up with a worst five draft picks for each franchise later this week.
March, 1, 2011
3/01/11
10:18
AM ET
This blog item doesn't pertain to the AFC East sincerely.
But it's too fun to pass up. I'll find a way to stretch it.
ESPN Radio host Doug Gottlieb has assembled a tournament bracket to
determine the greatest sports video game of all-time
. You cast the votes.
Thirty-two entries made the field, and it's difficult to argue with the No. 1 seeds in each of the four regions: Tecmo Super Bowl, NHL '94, Mike Tyson's Punch-Out and NBA Jam.
That's a murderer's row and darn near an exact lineup of my personal favorites.
The Madden franchise is represented by its 2005 version (Ray Lewis cover) and is a controversial No. 2 seed in the Tecmo Super Bowl region. That will be an elite eight matchup for the ages.
The Madden edition I recall most fondly is '92. I was so dominant my big brother actually would find opponents for cash games that required an hour-long drive to a neutral site. I was undefeated in those showdowns. That's listed on my resume.
I'm truly terrible on the PlayStation3 model. I'm more of a "Red Dead Redemption" guy these days. Anybody know where I can pick up a John Marston rookie card?
What a snub not to see Earl Weaver Baseball in the tournament. Yet Duck Hunt made the cut. Incredible.
I was disappointed to see my beloved SNK Baseball Stars as a No. 7 seed. Arch Rivals, the arcade game that devoured my quarters in the basement of the Baldwin-Wallace College student union, is the No. 5 seed in the same region.
So let's make this an AFC East-related post somehow.
For your stroll down memory lane, here are the top Tecmo Super Bowl players from the division. I mistakenly listed the 1994 Super Nintendo version earlier. I've also added the Indianapolis Colts to round out the division. Thanks to readers redvenomweb and ucnu112 for their help on tracking down the 1991 rosters:
Buffalo Bills -- Bills QB (licensing issue), running back Thurman Thomas, receiver Andre Reed, defensive end Bruce Smith.
Indianapolis Colts -- Quarterback Jeff George, running back Albert Bentley, receiver Bill Brooks.
Miami Dolphins -- Quarterback Dan Marino, running back Sammie Smith, receivers Mark Clayton and Mark Duper.
New England Patriots -- Quarterback Steve Grogan, running back John Stephens, receiver Irving Fryar, linebacker Andre Tippett.
New York Jets -- Quarterback Ken O'Brien, running back Blair Thomas, receiver Al Toon.
Now who wants to run down with me to the 7-11 to pick up a couple two-liters, a bag of Funyons and some beef jerky, then pull up the footstool and pop in a cartridge?
May, 7, 2010
5/07/10
3:50
PM ET
In honor of the
Oakland Raiders
dumping quarterback
JaMarcus Russell
three years after they drafted him No. 1 overall, I've put together a list of each AFC East team's biggest busts.
These are my picks, and they're open for debate. Add your picks in the comments section below.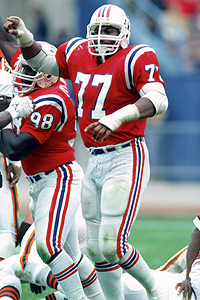 George Gojkovich/Getty ImagesNew England drafted Kenneth Sims with the first overall pick in 1982.
Buffalo Bills
1. Walt Patulski, defensive end
(first overall, 1972): Who? Exactly the point. He played four uninspiring years for the Bills and one more for the St. Louis Cardinals.
2. Mike Williams, tackle
(fourth overall, 2002): A good case can be made for Williams to be at the top of this list. He spent four mediocre seasons at right tackle, not even making it over to the blindside.
3. Tony Hunter, tight end
(12th overall, 1983): In arguably the greatest first round in NFL draft history, the Bills managed to find a dud two slots ahead of the pick they used on
Jim Kelly
. Hunter lasted two seasons in Buffalo, starting 12 games and catching 69 passes.
4. Terry Miller, running back
(fifth overall, 1978): It's tough to replace O.J. Simpson, but the Bills thought they had their man with Miller. He rushed for 1,060 yards and seven touchdowns as a rookie. Over his next -- and final -- three seasons combined, he rushed for 523 yards and one touchdown.
5. Perry Tuttle, receiver
(19th overall, 1982): In two seasons with the Bills, he managed four starts and 24 receptions. Taken one slot after him was Mike Quick.
Miami Dolphins
1. Eric Kumerow, defensive end
(16th overall, 1988): Three seasons, zero starts, five sacks.
2. Billy Milner, tackle
(25th overall, 1995): He lasted two NFL seasons, starting nine games at right tackle as a rookie. In his second season, the Dolphins traded him to the
St. Louis Rams
for
Troy Drayton
. The Rams cut Milner, who retired.
3. Sammie Smith, running back
(ninth overall, 1989): He showed promise here and there, rushing for 831 yards and eight touchdowns in his second season. But he was hated by Dolfans for his costly fumbles.
4. Jason Allen, defensive back
(16th overall, 2006): He has made a dozen career starts and contributes most of his time to special teams.
5. Yatil Green, receiver
(15th overall, 1997): I nearly listed Ted Ginn here, but he added value as a return specialist and actually won a game for the Dolphins last year. Green's career lasted eight games.
New England Patriots
1. Kenneth Sims, defensive end
(first overall, 1982): Sims played a full season just once in his eight seasons and played three games or fewer three times. He recorded 17 sacks
2. Eugene Chung, offensive lineman
(13th overall, 1992): Chung started 14 games as a rookie and all 16 as a sophomore, but that was all. Chung played three games in 1994 and was gone.
3. Chris Singleton, linebacker,
and
Ray Agnew, defensive tackle
(eighth and 10th overall, 1990): I couldn't pick one without the other. The Pats traded the third overall pick to the
Seattle Seahawks
for these two. The Seahawks took future Hall of Famer
Cortez Kennedy
. In between Singleton and Agnew, the Dolphins drafted potential Hall of Fame tackle
Richmond Webb
.
4. Hart Lee Dykes, receiver
(16th overall, 1989): Two seasons, 18 starts, 83 receptions, seven touchdowns, out of football.
5. Andy Katzenmoyer, linebacker
(28th overall, 1999): A neck injury was at issue, but he left the team without permission and was cut after his second season. He made 14 starts.
New York Jets
1. Blair Thomas, running back
(second overall, 1990): Over four seasons with the Jets, he rushed for five touchdowns.
2. Johnny "Lam" Jones, receiver
(second overall, 1980): He finished his career with 138 receptions for 2,322 yards and 13 touchdowns.
Art Monk
might've been the better choice.
3. Dave Cadigan, guard
(eighth overall, 1988): He spent six seasons with the Jets, but he totaled 13 starts through his first three seasons. The
Minnesota Vikings
found Hall of Fame guard
Randall McDaniel
with the 19th pick.
4. Reggie Rembert, receiver
(28th overall, 1990): A triple whiff. The Jets couldn't sign Rembert and were forced to deal him. They sent him to the
Cincinnati Bengals
for offensive lineman Scott Jones and linebacker
Joe Kelly
. Rembert finished his career with 36 catches and one touchdown.
5. Alex Van Dyke, receiver
(31st overall, 1996): I considered
Vernon Gholston
here, but went with Van Dyke based on his 26 career catches and three receivers taken soon after him.
Amani Toomer
,
Muhsin Muhammad
and
Bobby Engram
did OK.