May, 26, 2011
5/26/11
1:00
PM ET
Examining the most crucial event in the history of every team in the division.
That was the question readers had to answer to determine the key event that shaped the
New England Patriots
. Is Bill Belichick the reason for their success, or was it
Tom Brady
who turned his head coach into a genius, or was it Robert Kraft's decision to hire Belichick in the first place that made all of the above possible?
Among the AFC East clubs in ESPN.com's
"Flash Points" series
, the Patriots' poll generated the most votes and the closest race.
Readers went with Brady, claiming the Patriots' decision to select him 199th in the 2000 draft was the moment that most impacted the franchise's fortunes.
But Brady was the only AFC East winner not to collect a majority of the votes. He received 46 percent of the nearly 60,000 cast. The decision to hire Belichick was second at 34 percent.
Kraft's purchase of the team received 10 percent, and the 1993 combo of hiring Bill Parcells as head coach and drafting
Drew Bledsoe
first overall got 8 percent.
Sportsguy1236 reasoned:
"Whats more important to a team? Best QB in the league or best coach in the league? I think Kraft and Belichick make a close tie for second behind Brady. Reason being, I think Brady would have been successful anywhere, but Belichick and Kraft rely on each other. Belichick wants full control and Kraft gives it to him."
InStint733 disagreed:
"OK, Brady being drafted is not a flash point. Drew getting hurt and Tom coming in to take over is a flash point. Tom Brady's story is a great one, but I have to give Belichick more of the success pie than Brady. I'm a big believer that defense wins championships and Belichick always has a good top 10 D no matter who plays."
JETS: Namath chooses AFL over NFL
We go from the AFC East's closest poll to the most lopsided. Of all the candidates for the most seminal
New York Jets
moment, readers overwhelmingly went with Joe Namath's decision to spurn the NFL monolith and join the upstart AFL.
It was the first flutter of a remarkable butterfly effect. Without that moment, Namath doesn't make the guarantee, the Jets don't win their only Super Bowl and Namath probably doesn't become a cultural icon. Nothing else in Jets history can compare to what Namath did for the organization.
A distant second was the 2008 hiring of Rex Ryan as head coach at 19 percent, followed by the 1997 hiring of Parcells at 7 percent and the formation of the New York Sack Exchange at 2 percent.
Bbarkz took exception with the choices in the poll:
"I'm a big Jet fan, but if you were going to say defining moment for the franchise, the only possible option is the guarantee. It's not only the Jets defining moment, but you could argue it was the defining moment for the NFL as we know it."
That's true, but if Namath goes to the NFL, then the guarantee doesn't happen.
Eric5741 summed up the Ryan hire finishing second in the poll:
"The team has been so bad for so long that Jets fans can't help but brag about two AFC Championship losses. ... So just give them a break. It's not their fault that their team has done nothing since most of them have been alive."
DOLPHINS: Undefeated in 1972
The
Miami Dolphins
generated the fewest votes among the AFC East polls, but readers were generally convinced their undefeated 1972 campaign was the most influential moment in franchise history.
The 1972 season collected 56 percent of the votes. The team's decision to hire head coach Don Shula away from the Baltimore Colts in 1970 came in second at 21 percent. Drafting quarterback
Dan Marino
in 1983 was third at 20 percent. The dramatic turnaround from a one-win team to division champs in 2008 took the other 3 percent.
The 1972 season is symbolic and keeps the Dolphins a topic of conversation every season a team can get off to a hot start. The comparisons will not go away until another team manages to win every game, including the Super Bowl.
The unbeaten feat makes Miami special. So I understand why readers chose it.
But my pick would be Shula's hiring. Without him as head coach two years earlier, can we assume the Dolphins would have run the table in 1972 and won back-to-back championships? No, we could not.
The initial exchange in the comments section under the poll ...
Gofins7933 wrote:
"Everybody knows us for our perfect season in '72. That has to be the most defining moment for us."
Marek13brave replied:
"Without the signing of Shula there is no perfect season in '72."
Gofins7933 countered:
"Even my mom knows about the Fins perfect season. She doesn't know who Shula is."
BILLS: Norwood's kick sails wide
The
Buffalo Bills
went to four consecutive Super Bowls. Their best chance to win one and avoid the misery of being a perennial bridesmaid came at the end of their first appearance.
In the "Flash Points" poll, 59 percent of readers voted for Norwood's miss. Then came
Jim Kelly
finally being forced to sign with the Bills after the USFL collapsed, followed by the 1985 promotion of Bill Polian to general manager at 8 percent, and linebacker Mike Stratton's "hit heard 'round the world" on
San Diego Chargers
running back Keith Lincoln in the 1964 AFL Championship Game at 6 percent.
Reader mdavila07 wrote:
"It's definitely the Norwood miss. The Bills' legacy would be completely different if they won a Super Bowl. Not to mention, if you tell anyone you're a Bills fan, what do they bring up? Wide right and four straight Super Bowl losses. That is what the Bills are known for, their defining moment."
Dan_Daoust suggested another option:
"Doesn't it have to be the Music City Miracle? The Bills had a Super Bowl-caliber team (or at least defense) that year, they got knocked out, and they've been a league doormat ever since. Wide right is an obvious choice, but it wasn't really a fortune-defining moment. The Bills made three more Super Bowls right after that, after all. The MCM, on the other hand almost seems to have had the effect of kicking the team in the groin and then standing on its neck."
I agreed with MattRichWarren's take:
"It's going to be Wide Right, but that team doesn't exist without Polian's vision and drafting skill. I went with Polian because it's the right answer."
May, 11, 2011
5/11/11
1:00
PM ET
What key event significantly changed the fortunes of the Bills -- for better or worse? Give us your take and we'll give you our definitive moment on May 26.
The
Buffalo Bills
are synonymous with heartbreak, but some pivotal moments have brought their fans joy.
Buffalo's options for this project include the signature moment of the club's early years, "The Hit Heard Round the World." With the Bills a heavy underdog in the 1964 AFL title game, linebacker Mike Stratton set the tone by detonating Chargers star running back Keith Lincoln. Stratton broke Lincoln's ribs. The Bills won that game and successfully defended their title the next season.
A pivotal moment of the Bills' glory years was promoting ace scout Bill Polian to general manager in 1985. Polian's drafts propelled the Bills to four straight Super Bowls in the 1990s.
But would that team have come together without
Jim Kelly
? The Bills drafted him 14th overall in 1983, but he avoided the team as long as the USFL was in business. Even when the USFL was in its death throes and the Houston Gamblers went out of business, Kelly tried to cling with the New Jersey Generals, but the league disintegrated, forcing him to Buffalo.
Then there was Scott Norwood's missed 47-yard field goal in Super Bowl XXV. The moment turned out to be Buffalo's best chance to win a Super Bowl, but the kick went wide right.
Submit your vote with the SportsNation poll. If you vote Other, please give us your suggestion in the comments area below this article.
April, 21, 2011
4/21/11
5:01
PM ET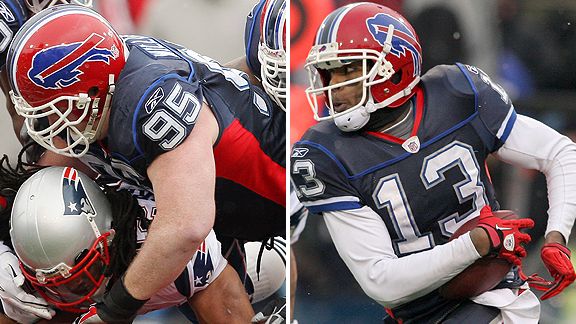 US PresswirePro Bowler Kyle Williams (left) and receiver Steve Johnson were both drafted in the later rounds.
ORCHARD PARK, N.Y. --
Buffalo Bills
fans have pondered some persistent questions over the years.
How would life have changed if Scott Norwood made that kick?
What will happen to the team when Ralph Wilson passes away?
Was the Music City Miracle really a forward lateral?
How on earth does Tom Modrak still have a job?
Modrak is Buffalo's vice president of college scouting. Modrak, formerly a
Pittsburgh Steelers
scout during their Steel Curtain years and director of football operations with the
Philadelphia Eagles
, has held the Bills' top scouting job since May 2001 and worked his first draft for them in 2002.
In that time, the Bills' streak of seasons without a playoff appearance has extended to 11 and counting. Despite holding prime draft-order slots, they have repeatedly squandered them with maddening first-round decisions.
The list is enough to make the most optimistic Bills fan groan: pass-rusher
Aaron Maybin
(zero sacks) 11th overall instead of
Brian Orakpo
(19.5 sacks) two years ago; small-school cornerback
Leodis McKelvin
11th overall instead of Pro Bowl left tackle
Ryan Clady
in 2008; safety
Donte Whitner
with the eighth pick in 2006 and then trading up for defensive tackle
John McCargo
; trading up for quarterback
J.P. Losman
in 2004; useless tackle
Mike Williams
fifth in 2002.
"Certainly we've had our misses up at the top," Modrak said Tuesday at a news conference to preview next week's draft. "We've done pretty well in the middle and at the end, the non-glamour kind of picks. But we've missed some. That is regrettable."
There are additional selections one can criticize: wide receiver
James Hardy
in the second round; running back
C.J. Spiller
ninth overall even though the Bills had a pair of 1,000-yard rushers already ...
[+] Enlarge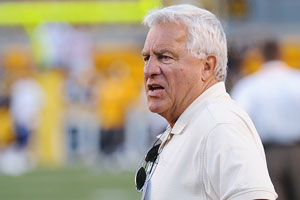 George Gojkovich/Getty ImagesDespite some high-profile misses, Tom Modrak's draftees have performed well on the whole.
OK. I'll stop now. That's enough to illustrate why there's frustration over Modrak and his scouting department's evaluation skills.
The fact Modrak joined the Bills to serve under former president Tom Donahoe -- an executive Wilson and Bills fans came to despise -- only adds to fascination of Modrak's continued employment.
Now that I've set the table, let's yank the tablecloth out from underneath the plasticware.
Data suggest the Bills haven't drafted much worse than the average NFL team since 2002.
ESPN researcher John Fisher -- he claims no relation to St. John Fisher, the namesake of the college where the Bills hold their training camp -- shuffled some spreadsheets and came up with some information that's not particularly damning when compared to the rest of the NFL.
The Bills have drafted five Pro Bowlers with Modrak in charge of scouting. That's tied for 14th in the league. One of those Pro Bowlers was Willis McGahee for the Baltimore Ravens, but Modrak was the chief scout who drafted him. What the Bills did with McGahee afterward that isn't his fault. Same goes for Marshawn Lynch.

Although a game started for the Bills isn't as impressive as a game started for the New England Patriots the past nine years, Bills draftees from the first through third rounds have started 804 games, 15th in the league.

Bills draftees from the fourth round or later have started 417 games, eighth in the league.

When it comes to individual statistics accumulated with the teams that drafted them, Bills taken from 2002 onward have ranked third in 1,000-yard rushing seasons, tied for seventh in 1,000-yard receiving seasons, 20th in total sacks and 19th in total interceptions.
While the Bills have missed badly on several of their prominent selections, they have done quite well in the latter part of the draft with gems such as cornerback and Pro Bowl kick returner
Terrence McGee
(fourth round in 2003), Pro Bowl defensive lineman
Kyle Williams
(fifth round in 2006), receiver
Steve Johnson
(seventh round in 2008) and left tackle
Demetrius Bell
(seventh round in 2008).
Top running back
Fred Jackson
and perennial Pro Bowl left tackle
Jason Peters
-- traded to Philly two years ago -- weren't drafted at all.
"If you look at other teams, they do it. They miss at the top," Modrak said. "When you don't win, it's magnified. It looks bad.
"But I think from a strictly homer point-of-view [late-round success] is the work and the labor that goes into it and the detail that's paid to those kinds of things. That does not say that other teams don't do the same thing, but we have a good group, and we fortunately have done that."
The Bills have had some obvious blind spots in the draft.
A refusal to pick a tackle earlier than the fifth round since 2002 has hurt them. Peters' success as a converted tight end is a factor in that trend, but the Bills were having contract problems with him while he still was on the roster. Foresight would've been helpful. But that's an organizational philosophy more than Modrak's domain.
The Bills' track record at tight end is miserable, too. They've drafted five:
Tim Euhus
,
Kevin Everett
,
Derek Schouman
,
Derek Fine
and
Shawn Nelson
. Everett was the lone selection sooner than the fourth round. A broken neck while covering a kickoff on opening day in 2007 ended his career.
That tight end quintet has combined to score five NFL touchdowns. Of the 143 tight ends drafted since Modrak joined the Bills, 43 of them have scored more than five touchdowns individually.
Some might also say finding a quarterback has been a failure. Starting quarterbacks, however, aren't easy for any team to locate.
Forty-seven quarterbacks have been drafted within the first three rounds since 2002. The only three teams not included in this pursuit have been the
Indianapolis Colts
,
New Orleans Saints
and
Dallas Cowboys
. The Bills took two within the first three rounds, Losman 22nd overall in 2004 and
Trent Edwards
92nd in 2007.
That league-wide group yielded nine Pro Bowlers, but just two of them -- 24th overall pick
Aaron Rodgers
and third-rounder
Matt Schaub
-- weren't selected in the top 11. Rodgers and Schaub served as backups for three seasons before they became starters.
Bills general manager Buddy Nix explained that scouting is only one of three critical phases that determine whether a draft pick explodes or fizzles.
"You've got to pick the right guy," Nix said Tuesday. "He's got to have enough athletic ability and enough intelligence, production to do the job, which is what you spend the year doing. We're scouts and personnel guys.
"The second phase, now -- and don't make light of it because it's just as important -- is coaching, strength coaches, trainers. That's the second phase, and both of those things have to be in place. If not, the development of the guy is retarded.
"I'm not going to name teams, but you can name teams every year that get top guys and they don't get any better. They actually may go the other way, and it's the developmental part."
Chan Gailey is Buffalo's fourth head coach -- fifth if you count interim coach Perry Fewell -- since Modrak came aboard. Coordinators have passed through a revolving door. The Bills also have overhauled their strength and conditioning program a couple times.
Nix then stressed that even if the precisely correct draft choice is made and the proper infrastructure is in place, a third phase still can torpedo development. The player can ruin his future if he's "not willing to be a professional and do everything it takes."
"You can go back and look at the so-called busts, and it's one of these three phases," Nix said. "You've got to have it all for them to be really good.
"So even though we put it all on one thing -- 'That was a terrible draft. That was a bust. Those idiots don't know.' -- that's just about a third of it."
Another element that must be considered when discussing Buffalo drafts is the question of who makes the final pick.
Nix and Gailey have been clear Nix makes the final call
, although Wilson still can exercise his ownership privilege.
Before Nix became GM last year, trying to decipher who was to credit or blame for a Bills draft choice was like a "Three Stooges" scene. The irate boss hears a commotion, storms into the room and asks "Say! What's the wise idea? Who did this?" Moe pointed at Larry. Curly pointed at Moe. Larry pointed at Curly.
Modrak has been a constant since 2002, but there have been many voices in the Bills' draft room in that period, from Donahoe to GM Marv Levy to chief operating officer Russ Brandon to the various opinionated head coaches who lobbied for prospects they hotly desired.
The Bills' scouting department clearly needs to step its game up to help turn around the franchise. They'll never be the kind of team that lures top free agents because of their market conditions. Buffalo simply isn't as sexy as Miami or San Diego or New York and doesn't offer a perennial chance to win like New England or Pittsburgh does.
But, believe it or not, the Bills' drafts could have been substantially worse since Modrak arrived.
January, 31, 2011
1/31/11
11:07
AM ET
Buffalo Bills
fans will wince at the idea, but I encourage them to check out a Buffalo News package that looks back 20 years on Super Bowl XXV, the first and most heartbreaking of the Bills' four consecutive trips to the NFL championship game.
[+] Enlarge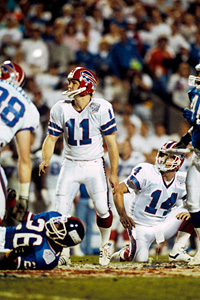 Manny RubioBuffalo's Scott Norwood misses a 47 yard field-goal attempt as time expires in Super Bowl XXV.
Buffalo News columnist Jerry Sullivan, beat reporter Mark Gaughan and editor Greg Connors presented
a compelling retrospective of a bittersweet event
that began with Whitney Houston's moving national anthem and F-16s whooshing overhead.
"Then I remember the Apache gunship flies over," Bills special-teams star Steve Tasker told Sullivan. "They weren't supposed to fly low, but it seemed to me I could see the whiskers on the guy hanging off the sides. It was as though he wasn't just flying for the ceremony. He was watching over us, like, 'Go ahead and play because I'm on guard.' That was awesome."
The game, however, will forever be remembered for how it concluded.
Scott Norwood's 47-yard field-goal attempt sailed wide right. The Bills lost by a point.
The Buffalo News spoke with two dozen members of the team and uncovered intriguing new information.
For instance, holder Frank Reich revealed for the first time that Norwood kept hooking his practice kicks to the left before the game, possibly impacting his fateful kick. Long snapper Adam Lingner told the story of how Norwood's successor, Steve Christie, noticed the laces were not spun to the proper place, suggesting Reich's hold wasn't as good as believed.
Sullivan also wrote about the
brotherhood that was forged and how much the 1990s Bills loved to party
. Another piece laid out all the
"what-if" scenarios that could have made the difference
. The two biggies for me: Bruce Smith's inability to strip Jeff Hostetler on a second-quarter safety and failing to stop Mark Ingram on third-and-13 in the third quarter.
In the style the Buffalo News now handles its Monday coverage of games, Gaughan breaks down Super Bowl XXV with a
quarter-by-quarter report of how the game unfolded
.
Connors added a feature on Van Miller, "the man who will
forever be known as the voice of the Bills
," and his recollections of the Bills' heyday. The story includes Miller's call of Norwood's kick.
January, 30, 2011
1/30/11
2:27
PM ET
Miami Dolphins
Buffalo Bills
New England Patriots
New York Jets

June, 30, 2010
6/30/10
12:30
PM ET
Notable players:
QB
Jim Kelly
, RB
Thurman Thomas
, WR
Andre Reed
, WR
James Lofton
, C
Kent Hull
, DE
Bruce Smith
, OLB
Cornelius Bennett
, OLB
Darryl Talley
, ILB
Shane Conlan
, CB
Nate Odomes
, ST
Steve Tasker
.
[+] Enlarge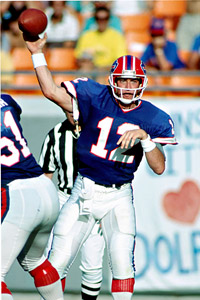 US PresswireJim Kelly threw 24 touchdown passes and just nine interceptions in 1990.
Analysis:
The
Buffalo Bills
went to an unprecedented four straight Super Bowls in the 1990s and lost them all.
Buffalo's best shot was its first, and not merely because it came down to a last-second field goal attempt that went wide right. That squad was its most complete on both sides of the ball.
The 1990 Bills are known as one of the best teams not to win the Super Bowl. Their 13-3 record is tied for the best in franchise history. They ranked first in scoring offense and sixth in scoring defense. Kelly led the NFL in passer rating, Thomas led in yards from scrimmage and Smith was voted defensive player of the year.
The Bills rolled through the regular season. They went undefeated at home and seemed to be surging down the homestretch. They outscored their first two playoff opponents 95-37, but went up against the NFL's best defense when they met the
New York Giants
in the Super Bowl.
The Bills led the Giants by nine points in the second quarter and held a two-point lead in the fourth quarter. But the Bills trailed by a point when Scott Norwood lined up from 47 yards away for what would have brought Buffalo its first major championship. The kick sailed wide of the upright.
Most impressive win:
The Los Angeles Raiders went into the AFC Championship Game at Rich Stadium with only four losses while allowing an average of 16.4 points. The Bills annihilated the Raiders 51-3 with the help of six interceptions. The score was 41-3 at halftime.
Norwood not to blame:
Did Norwood really choke? To claim he did is to suggest a successful kick was probable. The fact is, Norwood never had made a field goal longer than 49 yards in his six NFL seasons. That meant 47 yards was about the limit of his range. He made 6 of 10 attempts from 40-plus yards that season. The fateful attempt also was on grass, a surface he was kicking on for only the fourth time.
Honorable mention
1964:
The Bills won their first of back-to-back AFL championships with a squad that ranked first in total offense and defense. They outscored opponents by an average of 11 points a game.
1991:
The Bills rebounded from their "Wide Right" heartbreak, repeating their 13-3 record and reaching the Super Bowl again. They scored at least 34 points nine times.
1993:
Buffalo won the AFC championship a fourth straight time. The offense ranked sixth in total yards, while the defense ranked fifth in yards allowed and had a league-high 47 takeaways.
January, 28, 2010
1/28/10
4:34
PM ET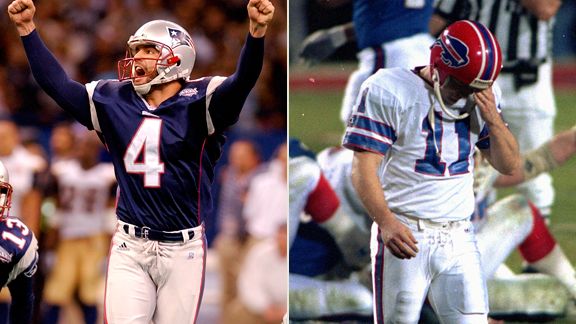 AP PhotoAdam Vinatieri and Scott Norwood played key roles in the best and worst AFC East Super Bowl plays.
ESPN's John Clayton put together his list of the
10 most memorable plays in Super Bowl history
.
AFC East clubs have been involved in many unforgettable moments, and in attempting to put together a list, the heartbreakers seemed more distinguished than the triumphs. Rather than combine them, I've decided to break down the five best plays and the five worst.
Think I missed one or disagree with the way I ranked them? Add your suggestions in the comments section below.
Five best
1. Vinatieri's field goal clinches Patriots' first title:
With broadcaster John Madden advising the
New England Patriots
to kneel out the clock and go to overtime,
Tom Brady
orchestrates a drive against the
St. Louis Rams
that lays the foundation for a Hall of Fame career.
Adam Vinatieri
kicked a 48-yard field goal as time expired to win Super Bowl XXXVI.
[+] Enlarge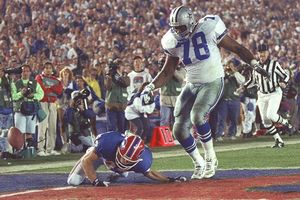 Getty ImagesDon Beebe saved a Dallas touchdown and proved that showboating doesn't pay.
2. Beebe strips Lett:
Super Bowl XXVII was getting out of hand when the
Dallas Cowboys
sacked
Buffalo Bills
quarterback Frank Reich, forcing him to fumble. Leon Lett scooped the ball and rumbled for what should have been a 60-yard touchdown, but he celebrated too soon. Don Beebe racing from behind knocked the ball out of Lett's hand at the goal line to revert possession to the Bills.
3. Law's interception:
In the second quarter and with the favored Rams ahead 3-0, Law made a statement when he intercepted a
Kurt Warner
pass and returned it 47 yards for a touchdown. The Patriots went on to score 17 straight points. The Rams never led again, and the Patriots launched a mini-dynasty.
4. Walker's kickoff return TD:
In a game full of big plays, Fulton Walker returned the first kickoff for a touchdown in Super Bowl history. Walker went 98 yards to give the
Miami Dolphins
a 17-10 halftime lead, but the
Washington Redskins
scored 17 points in the second half to win.
5. Maynard's incomplete bomb:
Speedy receiver Don Maynard was a significant contributor to the
New York Jets
' championship team, but he was shut out in Super Bowl III. "I didn't catch a single pass," Maynard recently told the Bergen Record, "
but I really had a great game
." With no score, Maynard raced behind the Baltimore Colts secondary for what should have been a long touchdown. Joe Namath barely overthrew him, but the play spooked the Colts enough to double- and triple-team Maynard the rest of the game, leaving George Sauer free to catch eight passes for 133 yards.
Five worst
1. Wide right:
So many fates swung on Scott Norwood's right hip socket when he attempted a 47-yard field goal that would've beaten the
New York Giants
in Super Bowl XXV. Norwood's kick sailed wide ride, spoiling what would turn out to be the Bills' best shot to win any of their four straight Super Bowls. The kick also propelled Bill Parcells to legend.
[+] Enlarge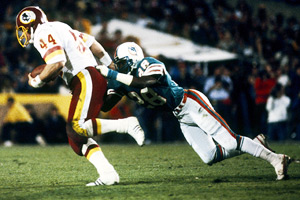 Alan H. Schwartz/Getty ImagesJohn Riggins broke a tackle from Don McNeal en route to a 43-yard touchdown run.
2. Tyree's catch:
Giants afterthought
David Tyree
made the most miraculous catch in Super Bowl history to help ruin the Patriots' pursuit of perfection in 2007. In the final minute and down by four points,
Eli Manning
made an unbelievable scramble and heaved the ball to Tyree, who outbattled Patriots safety
Rodney Harrison
and made the reception by pinning it against his helmet.
3. Riggins' run:
Redskins locomotive John Riggins made an iconic run in Super Bowl XVII that still symbolizes power football at its finest. On a fourth-and-1 play in the fourth quarter, Riggins ran off left tackle and steamrolled Dolphins cornerback Don McNeal on his way to a 43-yard touchdown to give the Redskins their first lead.
4. Howard's 99-yard return:
Desmond Howard
sealed a victory for the
Green Bay Packers
when he returned a kickoff 99 yards in the fourth quarter against the Patriots in Super Bowl XXXI. Howard was awarded the MVP for rolling up 244 return yards.
5. Yepremian's blunder:
The Dolphins were trying to achieve perfection in 1972 and seemed to have everything under control against the Redskins in Super Bowl VII. The Dolphins were ahead 14-0 with about two minutes left, when Garo Yepremian lined up for a 51-yard field goal. The kick was blocked and ricocheted to Yepremian, who comically tried to pass. The ball rolled off his hand and was bobbled. Mike Bass snatched it out of the air and ran 49 yards for a touchdown.
March, 2, 2009
3/02/09
7:57
PM ET
Thurman Thomas isn't talking proud about his
Buffalo Bills
anymore.
The Hall of Fame running back, speaking at a fundraiser this weekend in Corning, N.Y.,
sounded quite ashamed
of what's been going on with his old team.
Corning Leader reporter John Zick covered the event, during which Thomas fielded questions from the 100 or so folks in attendance.
"The team I can't stomach the most when I watch them is probably the Buffalo Bills," Thomas said. "I'm serious. They stink."
Buffalo has gone 7-9 three straight seasons and hasn't made the playoffs since 1999.
Thomas was asked his thoughts about troubled Bills running back
Marshawn Lynch
, who last summer was involved in a hit-and-run incident and last month in California was charged with possession of a loaded, concealed and unlicensed firearm.
"If I was the GM, he'd be out of there," Thomas said.
When asked if he still keeps in touch with Scott Norwood, the kicker who missed what would have been the winning field goal in Super Bowl XXV, Thomas cracked "Who?"
January, 30, 2009
1/30/09
12:02
AM ET
Pro Football Hall of Fame running back Thurman Thomas

drops by "Mike & Mike in the Morning" in Tampa to talk about the Super Bowl and the Buffalo Bills' inability to win one despite four straight tries.
Thomas admitted the pressure became intense after the second loss. He also explains how the Bills converted him from a run-only back at Oklahoma State into a receiving threat.
October, 2, 2008
10/02/08
8:15
AM ET
Posted by ESPN.com's Tim Graham
Excuse the good people of Western New York if their television ratings for Thursday night's vice presidential debate don't match the national average.
| | |
| --- | --- |
| | |
| | US Presswire |
| | Jim Kelly and the Bills went to four straight Super Bowls. |
Many of them will be reliving the most agonizing night of their sporting lives.
Nearly two decades after Scott Norwood's kick soared outside the right upright in Super Bowl XXV, there wouldn't seem to be any new ground to cover. But NFL Network's compelling documentary series "America's Game: The Missing Rings" provides a glimpse of the 1990 Bills that will make the loss feel plenty raw. The episode debuts at 10 p.m.
Alec Baldwin narrates the episode, which is anchored by stark interviews with head coach Marv Levy, quarterback Jim Kelly and linebacker Darryl Talley talking about their loss to the New York Giants.
It was the closest the Bills came to winning one of their four straight Super Bowl appearances.
Here are some of the excerpts:
"Knock, knock. Who's there? Owen. Owen Who? Oh and 8." -- Talley, recalling a joke before Levy took over.

"We would give up stupid plays. We missed tackles in that game, and we usually didn't miss tackles. I missed one that I think was one of the most crucial plays of the game. I went right over the top of [Giants quarterback Jeff Hostetler]. I take full responsibility for it. I wish I could take all of them back, but none more than that." -- Talley

"It came down to everything I dreamt of as a little kid. Two minutes left in the game, the ball is in my hands and it's the Super Bowl. I knew the confidence we had in our kicker. My goal was to get inside the 30-yard line." -- Kelly

"If there was any thought in my mind, believe it or not, was if [Norwood] makes this shot, there are still four seconds left. What do we do?" -- Levy

"Don't worry about it. I missed tackles. The game should never have come down to that. We all had chances to make plays that would have made a difference." -- Talley, recalling what he said to Norwood after the miss

"After we lost the second Super Bowl, I was on a call-in show and I had a fan on a call tell me, 'Coach, I can't take it anymore. I don't want to go back to the Super Bowl next year. It hurts too much.' I told him, 'I appreciate your anguish. I share it. But I'm glad you're not on my team.'" -- Levy

"We all had to take the blame. We had four bites at that apple, but never swallowed." -- Talley