December, 13, 2013
12/13/13
5:00
AM ET
We normally use this space to highlight members of the Patriots' upcoming opponent who have ties to the organization.
Those names were highlighted prior to the first time they played the Dolphins, so we'll audible a bit this week and look at current members of the Patriots who have ties to the Dolphins.
Defensive end Rob Ninkovich.
Before he became a blue-chip defensive end and captain for the Patriots, Ninkovich had a winding path that took him from New Orleans to Miami (and eventually back to New Orleans). He played in five games for the Dolphins, posting two tackles.
Guard Chris Barker.
Barker was signed by the Dolphins as an undrafted free agent in May after a productive career at Nevada. He was released by the team on Aug. 31 and subsequently claimed by the Patriots. He's a reserve interior lineman now.
Special-teams coach Scott O'Brien.
When current Alabama coach Nick Saban was with the Dolphins in the same capacity, he brought O'Brien aboard to serve as the football operations coordinator/assistant to the head coach. The two had worked together previously in Cleveland. O'Brien spent two seasons (2005-06) in Miami.
And a bonus connection:
Defensive tackle A.J. Francis
was claimed by the Patriots after being waived by the Dolphins at the end of training camp, and eventually wound up on the practice squad. The Dolphins recently re-signed Francis to their own active roster, as he's now back with the team he began his NFL career with.
August, 31, 2011
8/31/11
1:41
PM ET
Of all the roster moves the Patriots made over the last few days, the release of safety
James Sanders
was most surprising. He had been a lock on previous 53-man projections as a steady presence along with
Brandon Meriweather
and
Patrick Chung
.
So when looking at ESPN's
fourth version of dueling roster projections
, the safety position now has a new look. Meriweather, Chung and second-year man
Sergio Brown
top the depth chart, and now a fourth spot could be open for either
Josh Barrett
or
James Ihedigbo
.
Barrett was claimed on waivers from the Broncos last year but spent the season on injured reserve. He has a background with special teams coach Scott O'Brien when the two were both in Denver. Meanwhile, Ihedigbo played on the "Big 4" special teams units (kickoff coverage, kickoff return, punt coverage, punt return) on Saturday, a sign that he could become a core special teamer.
Tough call.
October, 5, 2010
10/05/10
2:20
AM ET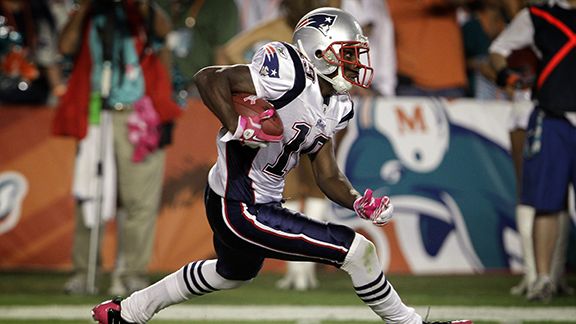 AP Photo/Lynne SladkyNew England's Brandon Tate returned the opening kick of the second half 103 yards for a score.
MIAMI -- With nearly a full quarter left to play Monday night,
Miami Dolphins
fans started shuffling up the Sun Life Stadium steps and out the tunnels.
The Dolphins had been ahead at halftime yet were down by only 20 points. It might as well have been 200.
A victory was hopeless at that point. Forget their big-armed quarterback. Never mind their superstar receiver. Their potent backfield pair was moot. Their respected defense didn't matter either.
There was no reason to have an ounce of faith in the Dolphins with 14:05 still on the clock against the
New England Patriots
.
In reality, the Patriots' lead was conquerable. How they accumulated it, however, was completely demoralizing.
In the first 15:55 of the second half,
Brandon Tate
returned a kickoff for a touchdown, Patrick Chung blocked a punt to set up a quick touchdown and
Kyle Arrington
returned Chung's blocked field-goal attempt for a touchdown to thrust them toward a
41-14 throttling of the Dolphins
.
"It was a mess," Dolphins head coach Tony Sparano said. "It's embarrassing, and these fans deserve better than that."
Special teams doomed the Dolphins so badly you have to wonder if coordinator John Bonamego can keep his job. (
Update:
Bonamego was fired Tuesday
.)
The Dolphins had little shot to be competitive once they surrendered game-breaking after game-breaking after game-breaking play in the kicking game.
"It's just one strike, one big play that just deflates your team," said Dolphins cornerback
Nolan Carroll
, who was on the field for Tate's 103-yard kickoff return to open the second half. "It takes the air out of you."
Dolphins quarterback
Chad Henne
wasn't exactly
Dan Marino
.
Scott Mitchell
maybe. Henne threw three bad interceptions, one of which Chung -- you can easily imagine Sparano throwing his head back and shouting to the heavens "Chuuuuuuuuung!!!" -- returned 51 yards for a touchdown to complete the scoring.
But he had a hot start, completing his first seven passes for 93 yards and a touchdown. The Dolphins had a 7-6 lead at the intermission.
"We had momentum coming into the second half," Carroll said. "We felt pretty good about our defense going out on the field and stopping them."
The Dolphins' defense played a solid game. Although it was hardly on the field in the second half, it limited
Tom Brady
to one touchdown pass and
Randy Moss
to zero catches for only the fifth time in his career.
About the only thing the Patriots didn't spring on special teams was a fake kick for a touchdown, but that at least would have incorporated the element of surprise.
"It seemed like they drained us," Dolphins linebacker
Tim Dobbins
said of the special-teams breakdowns. "We tried to fight back, and they just kept making plays and making plays."
Sparano spat out a laugh when asked whether the special teams coach or his players were to blame.
[+] Enlarge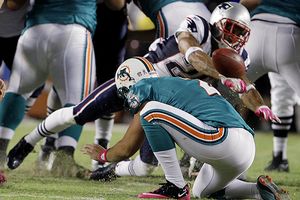 AP Photo/Lynne SladkyPatrick Chung's block of this Miami field-goal attempt was scooped up by Kyle Arrington and returned 35 yards for a touchdown.
"Next question," he eventually muttered.
The Dolphins stagger into their bye week with a 2-2 record after opening the season with a pair of road victories. That seemed encouraging, a 2-0 start against the
Buffalo Bills
and the
Minnesota Vikings
and with all of their home games left. You had to like the Dolphins' chances to make the playoffs.
They're 0-2 at home and facing a rugged second quarter of the schedule. Their next four games are at the
Green Bay Packers
, versus the
Pittsburgh Steelers
, at the
Cincinnati Bengals
, and at the
Baltimore Ravens
.
Miami has much to think about on special teams, many flaws to correct.
Perhaps the week off will help Bonamego work through some issues. Perhaps it's the perfect time to bring in somebody else.
"It's not him, not at all," Carroll said in defense of Bonamego. "It starts with the players on the field. He can only do so much for us. It's our job to execute. He knows exactly what he's doing. He does his job to a 'T.' Now it's on us to execute."
Brandon Fields
, who had two punts blocked in the preseason, had one stuffed for the second straight week -- and on a similar crisscross ploy each time. The
New York Jets
pulled it off eight days earlier in roughly the same spot on the field. The Dolphins even released linebacker
Erik Walden
for blowing his assignment.
Sparano said they worked all week on preventing the block from happening again.
On the blocked field goal, a 53-yard attempt by Pro Bowl kicker
Dan Carpenter
that could have drawn the Dolphins within 10 points, Chung split linemen
Lydon Murtha
and
Joe Berger
on the left side.
Sparano said Chung's blocks were unrelated in terms of scheme or philosophy, which, to me, is worse than if there'd been a common thread. That means the Dolphins had two glaring weaknesses Patriots special teams coach Scott O'Brien exploited.
Answers are in short supply.
Fields, Carpenter and long-snapper
John Denney
weren't interviewed after the game and had cleared out of the locker room by the time Sparano's postgame news conference ended. The Dolphins don't allow assistant coaches to be talk to the media after games.
"It's a bad taste in your mouth," Sparano said, "but we put ourselves in this position. So we're going to have to deal with it. We're going to have to taste it now for the next couple weeks."
January, 14, 2009
1/14/09
9:30
PM ET
Posted by ESPN.com's Tim Graham
The New England Patriots have lost another key member of their football operations.
On the same day the Kansas City Chiefs introduced former Patriots vice president of player personnel Scott Pioli as general manager, new Cleveland Browns head coach Eric Mangini plucked special teams coach Brad Seely off the Patriots' staff.
Seely will get a promotion to assistant head coach. He was on Bill Belichick's staff for all four Super Bowl appearances. Seely joined the Patriots in 1999 and was retained when Belichick became head coach a year later.
The Patriots reportedly will bring in former Denver Broncos special teams coach Scott O'Brien, who was let go when Mike Shanahan was fired. O'Brien worked under Belichick with the Cleveland Browns.
Reports also had linked Seely to the Denver Broncos, where Josh McDaniels took over as head coach Monday. McDaniels was the Patriots' offensive coordinator and quarterbacks coach.
Patriots secondary coach Dom Capers, a long-time defensive coordinator, also could be on the move, further depleting the Patriots of more brain power.
At least Patriot Nation can count on defensive coordinator Dean Pees not going anywhere.