August, 11, 2011
8/11/11
8:47
AM ET
By
ESPN.com staff
| ESPN.com
Buffalo Bills
Receiver Lee Evans is
trying to ignore rumors
that the team might trade him. Evans said he is happy in Buffalo and wants to stay with the team, but anything involving a trade is "out of [his] control."
Receiver Roscoe Parrish
injured his leg
in practice Wednesday night was ruled out of the team's first preseason game against Chicago.
Miami Dolphins
After a portion of a team practice ended up onYouTube, the team is asking fans to
not post practice videos online
.
Reggie Bush is
unlikely to return punts
for the Dolphins -- at least for now. Bush isn't listed among the three punt returners on the team's initial depth chart, but coach Tony Sparano said Bush "may do it at some point down the road."
New England Patriots
Chad Ochocinco and Albert Haynesworth have
restructured their contracts
, presenting low-risk, high-reward scenarios for the team, according to Mike Reiss of ESPNBoston.com.
Reiss counts off
the main things he'll be looking
for in the Patriots' preseason opener against the Jaguars.
New York Jets
Former defensive lineman Sean Gilbert, who just a year ago played a prominent role is Darrelle Revis' holdout -- is
serving as a Jets coaching intern
.
All eyes will be on wideout Plaxico Burress
at practice Thursday, according to ESPNNewYork.com's Rich Cimini. "If Burress doesn't practice Thursday, following a day of rest, we'll know the ankle injury is more serious than the Jets are letting on."
September, 7, 2010
9/07/10
10:15
AM ET
ESPN "First Take" debate maven Skip Bayless took on Sirius Satellite host Bomani Jones about whether the
New York Jets
or cornerback
Darrelle Revis
won their resolved contract dispute.
Jones sided with Revis.
"He gets $32 million guaranteed," Jones said. "He avoids going to training camp, and we're going into a lockout with an uncertain labor situation, and he will get the money that he wanted to hold out for. He didn't have to do it for a full year like his Uncle
Sean Gilbert
did before [with the
Washington Redskins
in 1997]. ... I can't see how he's anything but the winner."
Bayless viewed the situation much differently.
"Darrelle Revis lost badly here," Bayless said. "When the GM of the Jets [Mike Tannenbaum] says 'It was a great deal for Darrelle but a responsible deal for the Jets,' that's advantage: team. And remember: If it was all about holding out for
Nnamdi Asomugha
kind of money, I think he lost terribly.
"The fact that Rex Ryan flew down and talked to Darrelle in Miami had to really set off his agents. I can't believe they signed off on that because I think it gave the team a big advantage."
September, 6, 2010
9/06/10
6:50
PM ET

New York Jets general manager Mike Tannenbaum discusses how the club and cornerback Darrelle Revis reached agreement on a four-year contract extension that makes both sides happy.
September, 6, 2010
9/06/10
2:25
AM ET
Everybody associated with the
New York Jets
-- their players, their management, their fans -- can exhale now.
And the rest of the AFC East may feel free to curse.
All-intergalactic cornerback
Darrelle Revis
is back. Fittingly, he'll end his 36-day holdout and get back to work on Labor Day.
[+] Enlarge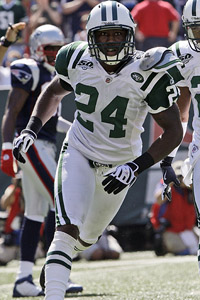 AP Photo/Frank Franklin IIDarrelle Revis is ending his holdout and heading back to the Jets.
Late Sunday, just before midnight, the Jets found sweet relief from a contract dispute that had tainted their summer. After knocking heads for seven months, the sides had a breakthrough in negotiations and quickly came to an agreement on a new four-year contract.
"I think I had to medicate the head coach," Jets general manager Mike Tannenbaum said of Rex Ryan's reaction to the deal being struck.
The Jets weren't banking on Revis to be in uniform when they open their season on "Monday Night Football" against the
Baltimore Ravens
at the Meadowlands -- or any other week.
The Jets spent the offseason loading up for a Super Bowl run, and the front office convinced itself Revis wouldn't be on the team.
"Until it was done," Tannenbaum said on a conference call that began after 1 a.m. Monday morning, "I really didn't think he was going to be here. ... There was no reason to think he would be."
Tannenbaum admitted he had been abusing his Netflix subscription lately to stave boredom. Negotiations with Revis' agents stalled. He had little to discuss about Revis and vanishing hope.
There were fundamental differences. Revis wanted to be the NFL's highest-paid cornerback, but the standard established by the
Oakland Raiders
with
Nnamdi Asomugha
distorted the market. Besides, Revis had three years left on his current contract.
"I really wasn't optimistic," Tannenbaum said. "It was really, collectively, a hard set of dynamics. I'm an optimist by nature, but, gosh, this was really hard."
But Revis is their best player, one of the NFL's best at
any
position. How could they be taken seriously as Super Bowl contenders without him?
They probably couldn't, and the Jets knew it.
That's why Ryan and owner Woody Johnson flew to South Florida on Saturday to meet face-to-face with Revis. Also present were Revis' mother, Diana Gilbert, and his uncle,
Sean Gilbert
, a former defensive lineman who sat out an entire year in a contract clash with the
Washington Redskins
. The fact Sean Gilbert was advising his nephew was added reason for pessimism.
Tannenbaum called the South Florida meeting pivotal to striking a deal.
"There's no question that without that step we wouldn't be standing where we are right now," Tannenbaum said.
Revis will show up at the Jets facility Monday to sign the deal. Financial terms haven't been disclosed yet.
But fans probably don't care much about that anymore outside of curiosity over what they were forced to fret over while Revis missed training camp and all four preseason games.
"This is an intermediate step to what we hope will be an entire career of Darrelle as a Jet, for him to retire as a Jet, for him to hopefully go to the Hall of Fame one day as a Jet, to go in our Ring of Honor," Tannenbaum said. "This is the next step in that process."
Now the Jets don't have to find out how their defense will look without him. There were theories either way.
Some analysts felt the Jets would be fine without him
, that they'd receive sufficient cornerback play from
Antonio Cromartie
, first-round draft choice
Kyle Wilson
and
Dwight Lowery
. Others, including ESPN analyst
Darren Woodson
, thought
the Jets would suffer and not even make the playoffs
.
"Now we can put it behind us," Tannenbaum said, "and move on to Baltimore."
And we can go to bed.
January, 14, 2010
1/14/10
4:41
PM ET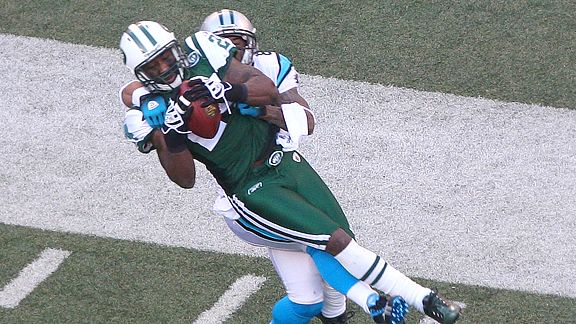 Al Pereira/Getty ImagesDarrelle Revis led the league with 37 passes defensed and recorded six interceptions this season.
The twisting-turning point came down the right sideline. That's when the
Cincinnati Bengals
decided to attack
Darrelle Revis
. That's when they lost.
The Bengals were tied with the
New York Jets
and driving in the second quarter of the Jan. 9 wild-card playoff game in Paul Brown Stadium. Nine plays into their series, the Bengals had advanced to the Jets' 41-yard line. It was third-and-6.
Carson Palmer
took the shotgun snap and got foolish.
Chad Ochocinco
, split right and with the NFL's best cover cornerback playing him heads up, released to get outside and flew. Not even a single move, much less a double move.
Palmer took three steps and fired a back-shoulder throw to Ochocinco that never arrived. Revis, defending the inside, rotated his entire body counterclockwise and snatched the underthrown ball. He spun once more to gather his feet and dashed 20 yards.
Four plays later, the Jets scored a touchdown and took a lead they never surrendered. Revis' play was pivotal -- literally and figuratively.
"When you have a choice, you're going to avoid him like the plague," ESPN analyst Trent Dilfer said. "I was shocked Carson Palmer took that shot. I'm shocked they'd even go there. That's usually a route you use to take advantage of a corner that doesn't belong because you know he can't make the play."
If offenses should know anything about playing the Jets, it's that Revis almost certainly will make the play.
More dominant pass coverage is almost unfathomable. Revis has become the NFL's preeminent lockdown cornerback, drawing comparisons to Deion Sanders and Rod Woodson and propelling the Jets' defense to the top of the charts.
Revis finished the regular season with six interceptions and a league-leading 37 passes defensed. He will be a major concern for the
San Diego Chargers
' prolific aerial attack Sunday in Qualcomm Stadium.
"I don't like the term 'shutdown corner' because I think that's hard to find, and it gets thrown around pretty loosely," Chargers head coach Norv Turner said, "but I think I might use that term with Revis. He's awfully impressive on tape. He just goes after it, and he plays every play like this game is meant to be played, and he is very impressive."